I bet that most Jeep owners will relate when I mention a situation when you are driving, and the weather gets so beautiful that you wish you could enjoy it to the fullest. Unless you are driving with a soft top on or a bikini top, something like that is hardly possible. However, there is always an alternative to consider – Bestop Sunrider for Jeep Hardtop is the answer. Haven't heard about it? Then you have come to the right place since the brand has it covered for many Jeep models, who knows maybe yours is on the list?

Bestop Sunrider for Jeep Hardtop (Updated October, 2023)
Product
Product Information
View on Amazon

Editor's Choice

Best Features:
– Easy to install
– Made of quality material
– Instruction and required hardware provided
– No drilling required
Fits Models: Jeep Wrangler JK 2/4-door (2007-2018)
Weight: 37 pounds
Available Options:
– Black Diamond
– Black Twill

Best Features:
– Improved innovative design
– Simplified installation
– No modification is required
– Fits the factory frame perfectly
Fits Models:
Jeep Wrangler JL (2018-2020)
Jeep Gladiator JT (2020)
Weight: 25 pounds
Available Options:
– Black Diamond
– Black Twill
Bestop 52450-17 Black Twill Sunrider for Hardtop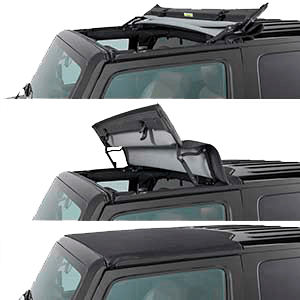 Many factors make the ride enjoyable. There is no use denying it. However, feeling the sun on your skin and the wind rustling through your hair is priceless, especially when the scenery adds up to the picture. All that is possible with a bikini or soft top on. However, neither option will save you from the rain should the weather change, besides in most cases, these are summer-only variations. If you are looking for a solution that will be handy all year long, then you should consider a Sunrider for the hardtop.
It is not that easy to choose a quality Sunrider as it is in the case with a bikini top or a soft top, plus the cost is also quite high. That is why I suggest you pay attention to the brand with a flawless reputation, and that is undoubtedly Bestop. The brand offers different types of Sunrider depending upon the model of your Jeep. It is essential that you choose the one suitable for your year and model otherwise, you may face some unpleasantries with the installation, which will not happen if you opt for proper equipment.
Bestop Sunriders for hardtops are made of duality twill material so that they are not only durable but also light and 100% protective. With a Sunrider like that at your disposal, you do not need to worry about sudden weather change, and possible leakage since the item comes with seamless sealing. Apart from that, the Sunrider is designed to be installed in a matter of half an hour with no drilling or other mods required. Besides, all the needed hardware is provided.
Lastly, the Sunrider for hardtop from Bestop comes with a lifetime warranty, and that is surely the investment well spent.
Product Rating
Quality of Material
4.9/ 5
Pros & Cons
Made of premium quality twill
Mildew and leakage protection
Simple and effortless installation
All the hardware provided
Yearly protection
Lifetime warranty included
Costly investment
Some customers claim it to be a little noise while on the road
Recommendations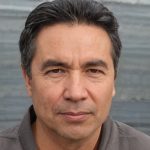 If you are looking for the Sunrider that will serve you well and will allow you to enjoy every ride to the fullest, then Bestop Sunriders for hardtops are the ones to at least consider.
Conclusion
All in all, it is safe to say that supreme comfort requires considerable investment. However, if you choose a quality item, it is going to serve you a lifetime, and that is a worthy benefit to consider, especially if these are Bestop Sunriders that we are discussing.