Are you one of those die-hard off-roading fans that prefer to drive around without Doors? If the answer is yes, then you might want to check out what the quick-release mirror market has to offer. These are very easy to install and to remove thanks to the bolt-on design. The adjustable arms, in turn, add to visibility and always keep you aware of what's happening on the sides and in the back.
If you type something like "best quick release mirrors Jeep Wrangler", you'll end up with hundreds of options. Which ones are worth your attention? Which mirrors will be a good investment for your hard-earned bucks? I have asked those same kinds of questions and had to sort through numerous offers before I came up with the following list. It includes three high-quality quick-release mirrors that will take your off-roading fun to the next level.
Buyer's Guide
The best thing about quick release mirrors is that you get to keep them even when you "lose" the doors. But how do you find that one and only set of mirrors that will bring a smile to your face? There are several key factors that you need to consider to make a conscious choice (and not just pick the brightest or the biggest set). Let's talk about the most important aspects of quick-release mirrors right now!
Styles and Colors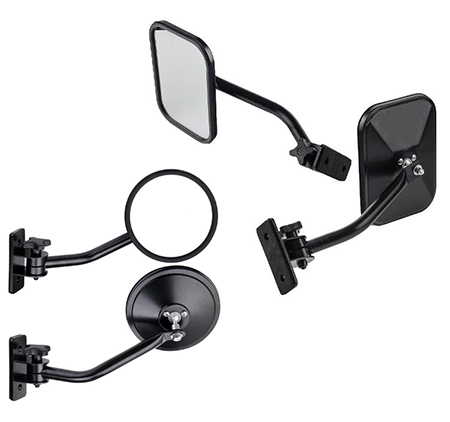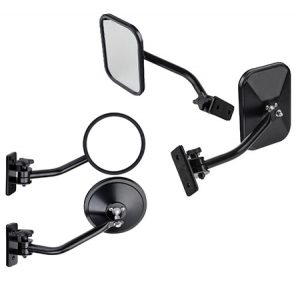 Rectangular is the most common style/design when it comes to quick release Side Mirrors. But, there are also round, stubby round and stubby rectangular variations. The way a mirror looks doesn't really make much difference in how good or bad it is. This is all about visual appearance. The same is true for the colors: mostly, you'll find various shades/types of black. We've got regular, textured, and glossy black.
A quick note: rectangular mirrors are the most popular ones. And, according to some experts, they're also more rugged, but this isn't, in any way, backed by facts.
Stability and Flexibility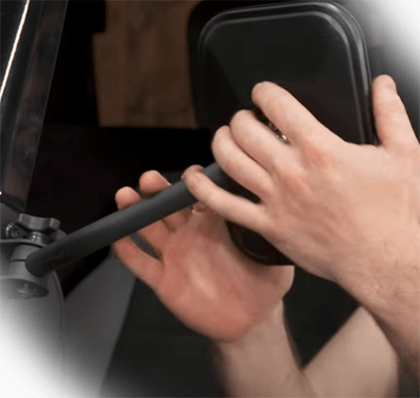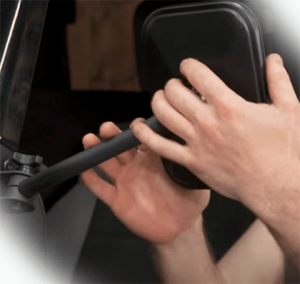 Off-roading is fun for the driver and the passengers, but the bumpy road can be quite a rollercoaster for the mirrors. That's why you need a set that won't fall off and break when you hit rough terrain. Look for mirrors that come with a locking knob and strong bracket arms. They will make sure there's no wobbling or wind noise (whistling). The mirror sets by Rugged Ridge, LIBERRWAY, and FreeForm that you see on my list are an excellent choice in this regard.
The bolt-on design allows for quick installation and release: you won't have to spend a lifetime lining everything up perfectly. With it, you'll get to forget about drilling, bending, looking for the proper bolts, and all that nonsense. As for the adjustable mirror arm, it increases visibility for the driver and allows you to "fine-tune" the mirror and set it up the way you want.
Anti-Rust and Corrosion Protection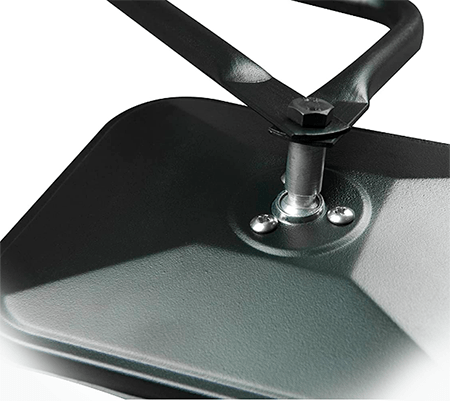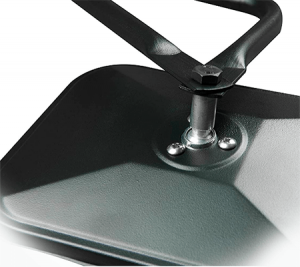 When driving through water, snow, mud, sand, and dust, it's not just the mechanical parts that are in danger. The mirrors also need protection against rust, corrosion, and debris. Otherwise, they'll start to look old and damaged in the blink of an eye. The best-selling sets on the market are made of anodized steel. This is one of the most resistant materials on the planet and will do an excellent job of keeping contamination at bay.
Warranty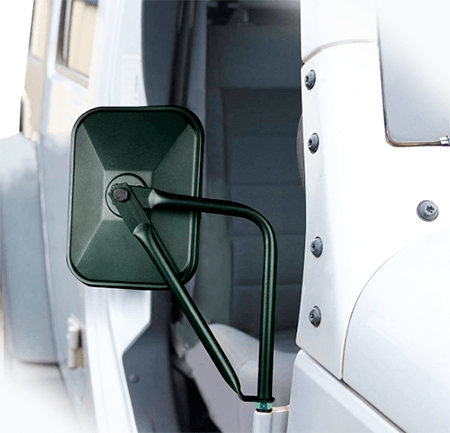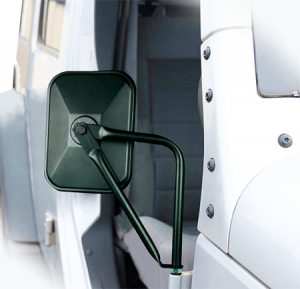 Rugged Ridge always offers a five-year warranty, no matter what device/hardware you buy from them. LIBERRWAY provides a two-year warranty, which is also quite good. But not all manufacturers are this generous. So, before committing to a set of quick-release mirrors, always check whether they come with a warranty or not. Despite the strong grip and high material quality, it's still quite easy to break them, especially when driving through uncharted lands.
Price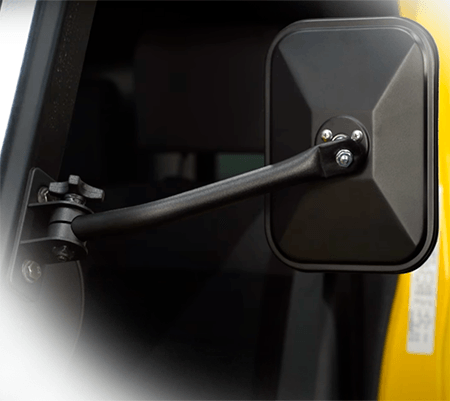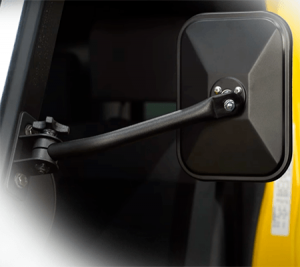 This is always a key factor – more so when you're on a tight budget. The good news is – most quick-release mirror sets are available at a reasonable price. When shopping for third-party gear/devices, it may be a good idea to pick a couple of options that you like and put them next to each other. That's exactly what I did in the comparison table. This helps to make the right decision and find the perfect balance of quality and price.
Best Quick Release Mirrors Jeep Wrangler (Updated December, 2023)
Product
Product Information
View on Amazon

Editor's Choice

1) Rugged Ridge 11025.18 Quick Release Mirror

Best Features:
– Includes all the necessary mounting hardware
– Backed by a five-year warranty
– Available in different styles and colors
Q-ty: One or Pair
Color:
– Textured Black
– Black- Gloss Black
– Stainless
– Textured Black
Style:
– Rectangular
– Round
– Stubby Rectangular
– Stubby Round
Fits Models: Jeep Wrangler TJ, JK (1997-2018)

2) Door Off Mirror by LIBERRWAY

Best Features:
– No wobbling thanks to steel bracket arms
– Provides a wider vision than stock mirrors
– Excellent wind-proof design (reduces whistling)
Q-ty: Pair
Fits Models: Jeep Wrangler TJ, JK (1997-2018)

3) Jeep Mirrors by FreeForm

Best Features:
– Omni-dimensional bolt for easy adjustments; tri-screw design holds the mirror steady
– Powder-coated; strong metal
– An affordable purchase; includes a non-slip dashboard mat as a bonus
Q-ty: Pair
Fits Models: Jeep JL, JK, TJ, LJ, YJ, & CJ (1984-2020
Conclusion
As you can see, each set of mirrors comes with a list of features that make it stand out. With Rugged Ridge, you'll get a five-year warranty and several configurations/styles to choose from. LIBBERWAY offers a wider-than-average vision, whistling reduction, and strong steel arms. Finally, FreeForm is the most affordable pick. It's also powder-coated and easy to adjust to your liking. There's enough to choose from, and it all comes down to your personal needs.
No matter which set of quick-release mirrors you choose, they'll be of great help both on and off the road. An extended view, ease of installation, and good looks are just some of the perks that you'll get. If you still don't feel like my top three picks are exactly what your heart desires, check out the Buyer's Guide once again – it will help you come up with the right decision!