Hey guys, I'm Andy and today I'm going to cover different types of tops for your Wrangler. Choosing a convertible top for your Wrangler, whether it's hard top or Soft Top for Jeep Wrangler, can be a little tricky given the many options available. Here we will discuss three different types of hard tops and four different types of soft tops, installing them on Jeeps and unlocking to show you the different advantages so that it can help you choose the best for you and Your Wrangler. We will look at the installation on both the JKs and JL. So, let's jump into the hardtops.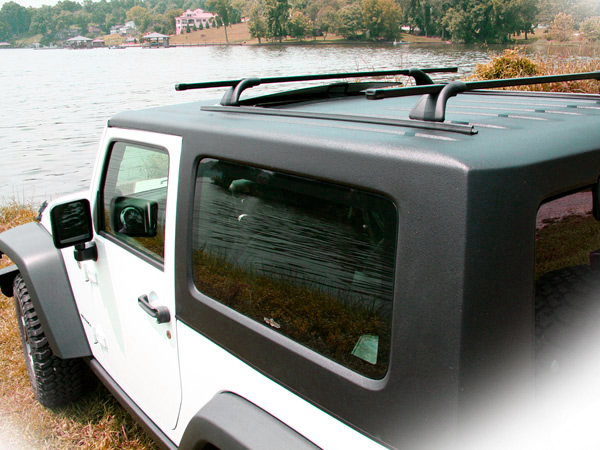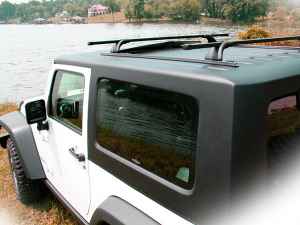 The first type of hard top I'll cover is a one-piece top. Well, the name is pretty self-explanatory considering that the entire convertible top is just one piece and doesn't have removable panels in the front as is the case with factory hardtop. This is a very common design for the older generation Wranglers like the YJ and TJ, as well as for two-door JK and JLs due to the shorter wheelbase. Now the design will usually take a more traditional OEM approach with a square back design on the JK. This design is great if you're looking for a no-fuss hardtop and really don't need all of the bells and whistles that some of the other options have. Now that you don't have to worry about the extra panels on the front of this hardtop, these tend to be a cheaper option when compared to some other options.
Well, the theme that is mounted on a Wrangler is the one-piece hard top in black. This top will have a factory-like design with the square back look like I mentioned earlier. What I personally like about this one, and about aftermarket hardtops in general, is the fully carpeted interior lining. This helps with temperature control in your cabin area and in the meantime also helps with noise reduction. Now this hood also has a gas spring for the rear window as well as a 31% tint of the windows for additional styling and of course insulation. If you want to keep things simple when choosing a hard top, this style is definitely a great choice. However, if you are looking for a slightly harder top setup then the next style might suit you best.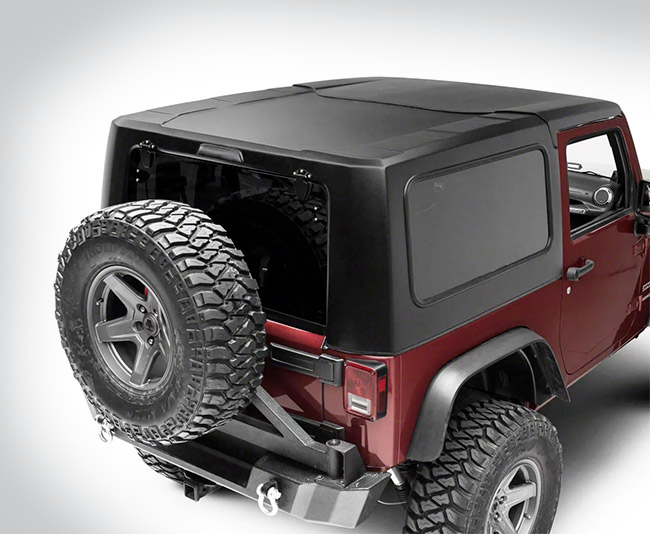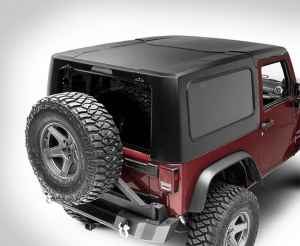 Next, let's take a look at a two-piece design and again the name says it all. This top is usually divided into two sections directly on your Centrecat soundbar. Now, just like the newer factory hardtops, you can remove the front panel for a more open driving experience in your Jeep without having to remove the heaviest part, the back, of your hardtop. With the two-piece function, you now have a little more flexibility in terms of freedom and configuration of your convertible top compared to a one-piece design. Today these types of hard tops usually offer different styles like a fastback look or even incorporate a sunroof to give your interior a different feel. While not all two-piece hardtops are created equal or have the same extras, they are perfect for someone looking for a more extraordinary top experience.
There is the DV8 Offroad Ranger Hardtop. This particular top will take an OEM approach when it comes to function and even some of the squareback styling. Although it has a traditional squareback look, the DV8 top will now also have ribs on the top and sides to make it stand out from the rest. Now, as we discussed the last option, this style will also feature carpeting for insulation, shock-assisted rear windows, and tinted windows for that extra styling. If you're a fan of the two-piece design but are looking for something more to make your Jeep stand out, the next style is definitely going to be for you.
As you just read about the last two hardtops, both have a more traditional squareback style that is similar to the factory top. Now is a fast-back top or a slant-back top for the Wrangler owners who want to change it up from normal styling. Well this style of the top is hugely popular for that aggressive pre-runner aesthetic. Not only does this look great when it's mounted on the Jeep, but it also helps with your aerodynamics, considering the shape of the canopy is sloped backwards. This will help you both with your MPG and with your handling when driving your Jeep on the road or even off-road. Well, I would keep in mind with this type of canopy that your cargo space is limited due to the angular design. If your Jeep storage space is a concern, a traditional squareback top might be a better choice. But if you're okay with sacrificing some cargo space for this style then this is for you.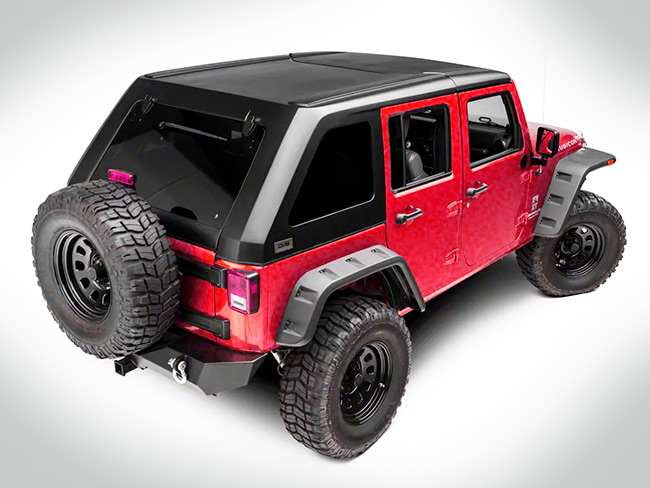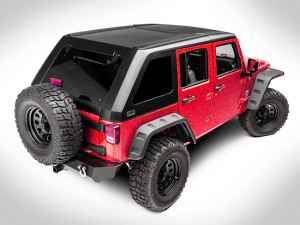 So, let's look at the two-piece sloping hardtop in black. This hood is now a hand-layered, multi-layer fiberglass construction and will have properties similar to the last we discussed with the assisted rear window, carpeting and removable faceplate. Not to mention there's a carbon fiber fairing at the back for extra styling. Well, this choice is mounted on a four-door, so the slope is a little more defined than on a two-door because the actual roll bar is constructed underneath. Now, the quick rear options for the two-door will still have the slant, but it just won't be as over the top as the four-door. So, I would keep that in mind when looking for a fastback top for your two-door hatchback. The big takeaway from this, however, is the aggressive look that makes this style a great choice for the Jeep owner who really wants their Wrangler to stand out. So, this is going to be a wrap for the hard tops.
Now we can look at some soft tops. The first style we'll discuss is a complete replacement top. This will be great for you guys who currently have a hard top on their Wrangler but want to upgrade to a Soft Top for Jeep Wrangler in the summer months or warmer months and need all of that hardware to install on your Jeep. Now the hardware will include the frame system, the head or door frame, the tailgate trim, and everything in between. Now this is also a great choice for someone who currently has a convertible top but may have damaged or defective hardware that they want to replace while getting an upgrade or refresh of their fabric in the meantime.
Complete soft tops now fall into two main categories when it comes to styling. There are options that have a square back look that is very similar to the factory, and then there are options with a quick back style that has a sloping design that encircles the rear roll bar. Many complete tops will also come with other features from the factory design. Some may have a high-quality twill material that is slightly heavier than the factory black diamond. Some options have zipperless windows or minimal zippers on the canopy design, and some even have the option to be converted into a bikini top by simply removing the rear windows for a more open driving experience.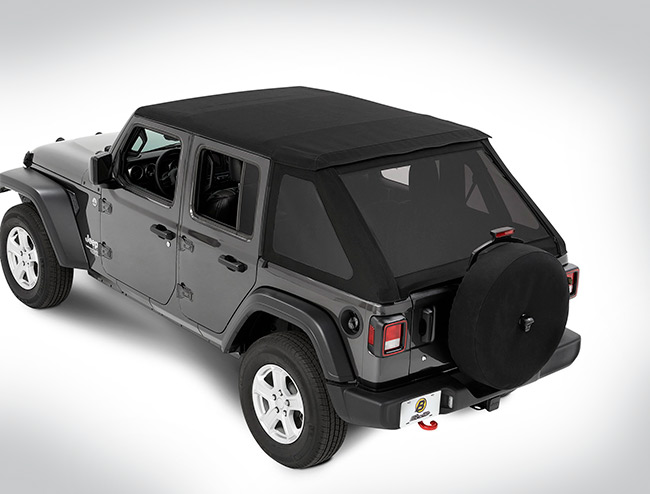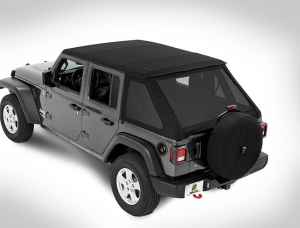 There is the canopy Bestop Trektop NX soft top in black twill, and it will have most of the features I just mentioned. Starting with the material, this will feature the black twill which has some advantages including being heavier, which offers better soundproofing, better insulation, better durability and is more resistant to UV rays and is now becoming a standard black diamond vinyl there is also a minimalist zipper design on the back of the canopy so you can easily remove the rear windows and turn them into a bikini top. This hood also has a Sunrider function that gives you an even more open-air driving experience.
However, if you're not looking for a full top, just looking for a refresher on your fabric, then the next top may be more suitable for you. The next style top we'll look at is a factory style replacement top. Well this is going to be great for you guys who currently have a soft top on your Wrangler and your frame is in good shape, but you want to replace the fabric for a freshened look to your Jeep. Now the fabric tends to wear out and even damage over time, which shows its age, and a replacement hood is the perfect refresher for your Jeep to make all the difference. Now the canopy usually comes straight out of the box with just the fabric and windows installed and installed over your factory frame system and houses all of the factory hardware, including the headliner, door panels and tailgate molding, as well as all of the other hardware in between. Not to mention, they will be very similar to the factory top, considering they have the square back look and will be installed over the factory frame system. While this style top is very similar to the factory, it may have some additional features, including DOT-approved tinted glass or even the high-quality black twill material I talked about earlier.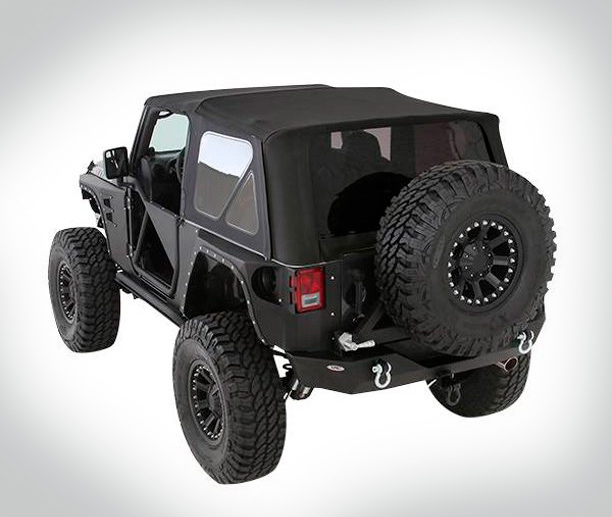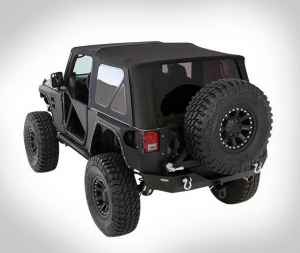 Let's discuss the Smittybilt OEM replacement top with tinted black diamond vinyl windows. Now this will again be very similar to the factory top with the squareback design and black diamond vinyl material. This hood will also have these DOT approved tinted windows, which is a big upgrade if you currently have non-tinted windows on your factory top and are looking for a more elegant look while also taking advantage of some insulation because of that tint. Not to mention this top installs and slides over the frame and hardware just like your factory top wood as I mentioned earlier. If you're happy with your factory top and are just looking for some extra protection while your full top is removed from your Wrangler, then the next style will come in handy.
The next top we'll look at is a mesh top. Well, this will be great for you out there who are happy with your full hard top or full soft top on your Wrangler but are looking for a little extra protection while the full top is removed from your Jeep. This will also be great if you have the Sunrider back or Freedom panels open or off your hard top and are looking for that extra protection again. Well, the sun can be pretty overwhelming when you're driving around with a full canopy, and a mesh canopy gives you and your passengers the extra protection you need from the overwhelming sun and harmful UV rays. Now, these UV rays can also lead to excessive wear and tear or even excessive fading of your interior. Such a canopy not only protects you and your passengers, but also the interior of your Jeep. In contrast to a vinyl material, this one has a perforated material so that it still lets light and air through. However, it will keep a lot of the UV rays out and keep a cool and comfortable environment in the Jeep while enjoying the outdoor driving experience. Well, thanks to the perforated material, this will do a really good job with sun protection and excessive wind while you are driving around with the full canopy on your Wrangler. However, in unexpected weather, it may not provide the greatest possible protection from rain and other unexpected weather conditions. Not to mention, these hoods come in several different colors and even designs too, perfect when you want to customize your Jeep, when your entire hood is off, or when you want to customize an existing color scheme.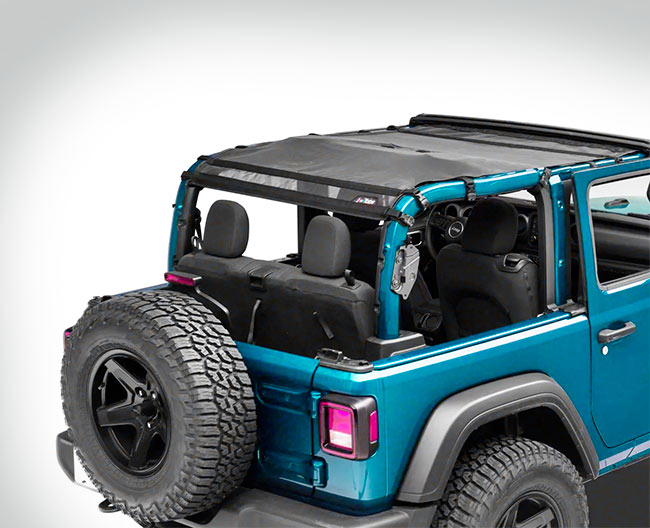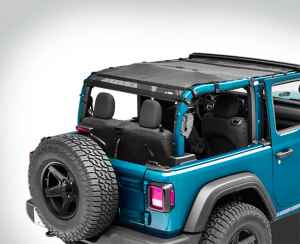 The top that I want to present to you at the JK is the JTopsUSA mesh parasol in black. Now this will be an extended canopy that extends from the windshield to the back of the roll bar, maximizing your protection for your interior as well as for you and all passengers in your Wrangler. Now, not all of these mesh tops are expanded. Some of them will also have a penumbra design that only covers the two front seats. Well, this half design will be great for you guys who have the Sunrider feature back or the Freedom panels removed and just need that front seat protector. This JTopsUSA mesh sunshade will also feature a deep and durable attachment system with multiple magnets, grab bars, hooks and durable nylon straps. Some tops may have a similar fastening system, or they may have Velcro or bungee strings so you can put the mesh top on and off very easily when needed. Now this particular top will also have a very durable construction made of a PVC-coated nylon material. And it will also block up to 80% to 90% of the UV rays, so you can stay protected and cool in your cabin area while being equipped with the OEM hood and hard top. And as I mentioned earlier, many tops come in a variety of colors and designs so you can customize it to match your Wrangler's color scheme. Well, if you're a fan of many of these benefits this mesh top has to offer, but are looking for a little more protection, the next top might be more for you.
So, the last top style we'll look at is a bikini top or a crop top. Just like the last option, this won't be a replacement top or a full top, just providing a layer of protection while the entire top is removed from your Wrangler. Well this will help you with some protection and create a barrier against these harmful UV rays. But unlike the mesh top we just discussed, it gives you more protection in bad weather because it's made of a vinyl material. Now this vinyl doesn't let light through the material itself so you can make sure you are completely protected from the sun and have a cool and comfortable ride in your cabin area with a bikini top on while wearing that too protecting from the mesh Top. The vinyl material of the bikini top or slip top will be very similar to the factory soft top material, so you can be sure that it will have the same properties and will last for a long time.
Now these tops are usually offered in two different styles. You usually have an extended canopy that goes from the windshield to the back of the roll bar, and then you have half canopies that only cover the two front seats. Now I want to mention that these style tops usually need a quick release header to install on your Wrangler. However, they are very affordable. There is the elongated Smittybilt top in a black diamond vinyl material. Now this is going to be an extended canopy and I tried to attach it to the front with a quick release head and then attach it to the back tub with a couple of straps and hooks at the very back. Well, this particular canopy is made from a tough black diamond vinyl material that can withstand all weather conditions again and is attached to the Jeep at the same time with the aforementioned quick-disconnect header as well as several buckles, hooks and Velcro straps to keep it in place remains and offers a very comfortable driving experience while your complete hood is removed. These multiple attachment points ensure a snug and secure fit on the Jeep and ensure that it protects you, your passengers and your interior from inclement weather as well as from the sun, even when your doors are closed.
Again, choosing the right top for your Wrangler can be a huge commitment and, with all the options available, a challenge. Hopefully this breakdown made it a little easier to narrow down your choices so you can pick the right convertible top for you and your Jeep.