Hi guys! It goes without saying that it's always a complex task to choose the best headlights for Jeep Wrangler but today I'll change your opinion. Well, here we'll dismantle Jeep headlights and I'll explain the different light bulbs, case types, color temperatures, beam patterns, brightness and overall functionality of each type, all of the help that sheds some light on an otherwise foggy topic.
To begin with, there are two main components to consider when looking at headlights. First is the type of lightbulb that produces the light. Second, it is the type of enclosure that focuses on that light. For instance, we can try to install all of this on a JK and to give the test some control so we can better understand the actual differences in beam pattern, color and intensity. But remember, no matter what generation of Jeep you have, all of this information applies.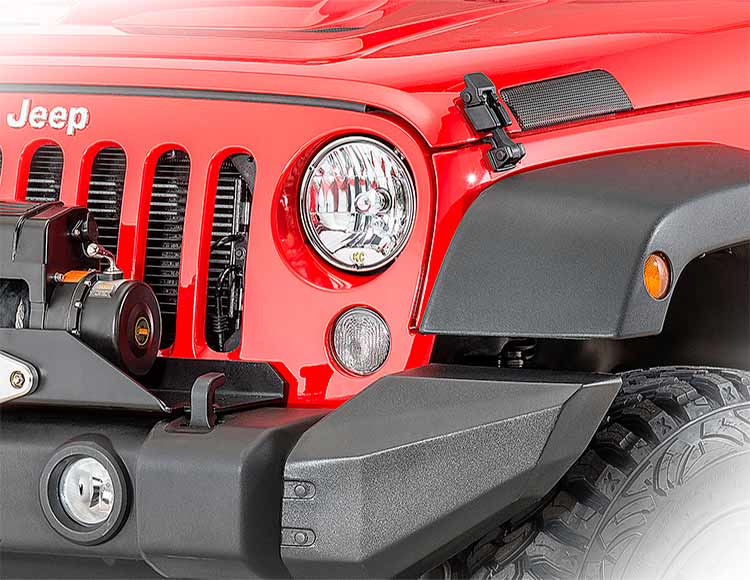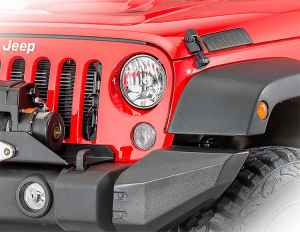 Starting with the tried and tested halogen headlights, we'll work through each of the options. By the way, halogen headlights have been standard equipment since the glory days of the Willys Jeep through to the modern JL. These lights work by moving an electrical current through a filament in a lightbulb with halogen gas trapped in it. The filament glows when it's hot. That shine is what reflects off the chrome back onto the street in front of you. These are very simple when it comes to functionality. For example, here is an instance of halogen headlights – the KC HiLiTES H4 conversion kits. A set of headlights like this one is great when you want to improve light output but want to keep the factory aesthetic intact. I like these because they take the factory H13 bulb and convert it to a better H4. Not only does the H4 give you a brighter hotspot, it also expands the area of light coverage to become larger vertically. The same applies to the high beam.
Moreover, this kit includes the lightbulb, case and conversion cable, but if you want to keep your factory cases and just upgrade the lightbulb, only the conversion cable is available, like this one, KC's H13 to H4 conversion cable.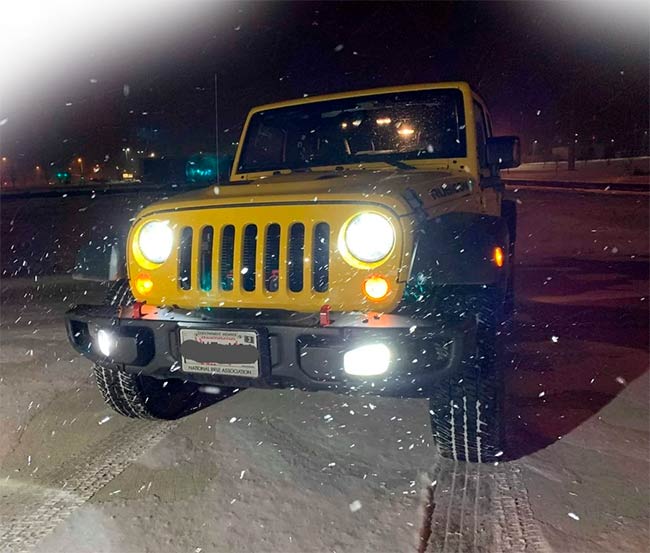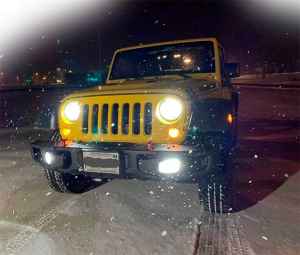 Compared to other options, halogens produce a warm, yellow light. A reflector housing like this one is simpler than other options. The philosophy here is to diffuse light in all directions, resulting in a functional, if messy, light image. The hotspot is decently bright. You can use this as the default in terms of brightness. They're also more inefficient than other options because they generate a lot of heat. This can actually work in your favor by keeping yourself thawed during the winter months. Replacing halogen lamps is easy.
However, you should be careful not to touch the lightbulb itself. The natural oils on your fingertips tend to heat up and shorten their lifespan. Halogen lamps generally have a shorter lifespan, give or take 1,000 hours, but they are very inexpensive and very easy to replace.
If you want to improve lifespan while taking light output to the next level, HIDs may be the option for you. HID stands for high-intensity discharge. These are sometimes called xenon lights because HIDs use xenon gas in the bulb. This type of light uses a low voltage, high current electricity that is bent over electrodes to create its light. Just like halogens, these can be found using a custom-made reflector housing or a projector housing. We'll go into the differences between these two a little later.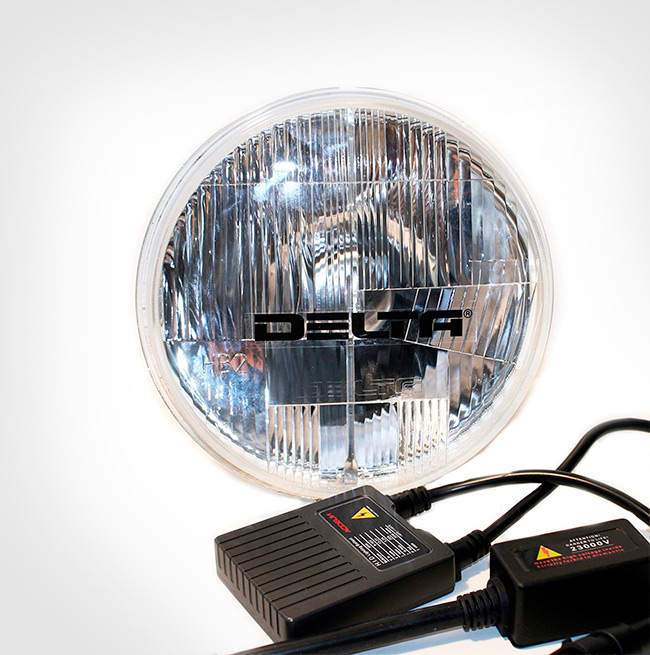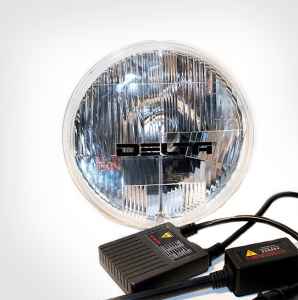 There are specifically the Delta 7-inch HID headlights. It's a solid choice. Well, if you have a HID lightbulb with all of the ballasts and harnesses you need to do this completely plug and play with an H4 or H13 connector. They use a custom-built reflector housing specially designed around this HID and that is key to not blinding other drivers on the road. HIDs generally produce a cleaner and brighter light that appears with a tint towards the blue side with a very slight hint of green in it.
The HID-specific reflector housing bundles the light more strongly than the standard halogen reflector and gives you the rectangular light image with a really intense hotspot right in the middle. The hotspot brightness is clearly an improvement over the halogens. HID bulbs are really easy to replace too, but they are more expensive if they ever fail. HIDs come with a ballast because starting the light takes a lot of energy. The ballast will maintain the correct lower voltage even after starting. That can add a bit to the installation just because you deal with a little extra wiring when going to a HID.
In terms of lifespan, HIDs last between 2,000 and 5,000 hours, much longer than halogens but not as long as our next option, the LED. Last but not least, there is actually a more modern option.
Led Headlights for Jeep Wrangler and Jeep Gladiator light emitting diodes work when electrons jump from a high energy electrode to a low energy electrode. The law of conservation of energy states that excess energy has to be directed somewhere and is emitted as light. So, this is how LEDs work for our purposes.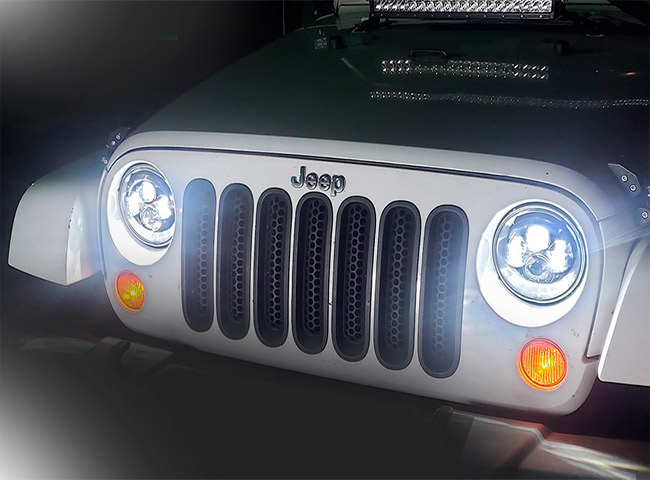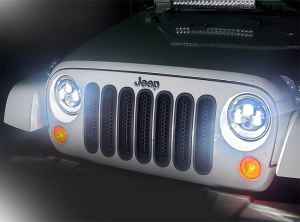 LEDs are extremely efficient and produce little to no heat. As a result, LEDs last much longer than halogen and HID lamps. We're talking about 15,000 hours of service life. Because they use so little energy, retrofitting LEDs can sometimes make Jeeps do weird things. Think of hyper-flashing LED turn signals, for example. For this reason, LED headlights with an anti-flicker box are often found. This acts as a resistor and is effectively tricking the jeep into thinking that it is running a higher energy halogen or HID lightbulb. LEDs can be any color, but are usually a bright white, slightly on the blue side.
As an option, there are the axial LED headlights with high and low beam. This super-efficient LED stands in front of a classic reflector housing. It gets a modern twist on the styling with a tinted lens and split-level design that gives the light beam pattern its sharper cutoff on top. Also, these hotspots are very bright vertically and in the center, while at the same time they cast a lot of light to the sides. For an even more modern look, let's move on to the next option, the projector headlamp.
One of the fastest growing options on the road is the LED projector headlight. This uses the same LED technology as the previous option but combines it with a projector lens. A projector focuses the light beam similar to how you can focus sunlight with a magnifying glass. This helps direct the light exactly where it should be on the street in front of you. This technology is also available with HIDs, but has recently proven to be the most popular in combination with LEDs. LEDs also seem to have become the new industry standard. In fact, Jeep is offering LED headlights as a factory upgrade for the new JL.
If you're wondering what is in a projector with the Axial Daymakers, here is the answer. The combination of the black housing with the additional side accent lighting that flanks the main projector gives you a modern and aggressive stealth fighter look. In the low beam, projectors at the top give you a very sharp cutoff line with a really bright and relatively dense high beam scattering. This is the tightest beam pattern you've seen so far. Hotspots are very bright and very narrow, and they put the light exactly where you need it on the street in front of you. High beam takes brightness to the next level while maintaining the same light pattern. The color temperature is a light white that slopes very slightly to the blue side. These are a great option for anyone looking for a very bright and modern designed LED projector headlight.
Well, guys I hope you enjoyed my take on the Headlights category, and when you go shopping, I hope I can help. If you want to learn more, I have detailed breakdown articles for all of the products we discussed today and for many headlights you haven't read. Take care, and drive safely!