There's nothing quite like the feeling of rushing through a forest, mountain, or the hills behind the wheel of a brick-strong Jeep Wrangler. It gives you pure joy when you're one on one with nature, pushing the pedal to the floor and taking it all in. But what if you could record all that and keep your precious memories forever? The problem is – how do you know which one is worth the price? How do you find that perfect mix of affordability, quality, and reliability?
Well, I have got you covered: in this post, I'll help you find the best dash cam for Jeep Wrangler! I manually tested dozens of cameras and picked three of the best available devices. They are well worth the money and will serve you for a very long time. With that said, each dash cam has its pros and cons, which is why it's so important to pay attention and take it all in.
One final thing: these will not only record your off-road adventures but also have raw footage that could help in case you get in legal trouble, or someone steals your steel horse. Alright, now let's get down to business!
Best Dash Cam for Jeep Wrangler Review
1. APEMAN Dash Cam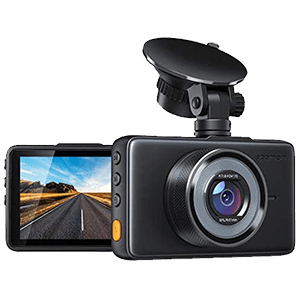 If it's a seamless 1080P video recording on a budget that you're looking for, APEMAN might have exactly what you need. This Jeep Wrangler dash cam is very easy to install and operate, and it's got a nice set of extra features. Those include a G-Sensor that detects any shakes/hits and locks the footage instead of re-recording it. I was satisfied with its real-world performance during our extensive tests.
Night vision is another stand-out techy feature: it allows shooting video during the night. While it's not the most impressive night vision system, it still does an amazing job of recording without any light sources. Thanks to the 170-degree wide-angle lens, the camera will capture more than your eyes can see. Looped videos and a 24-hour parking mode are also a part of the deal, along with a 3-inch LCD screen. Sadly, C450 doesn't support Wi-Fi.
Pros & Cons
Simple installation and operation, even for a novice
G-Sensor: records accidents and collisions
Three-inch LCD screen
Recommendations: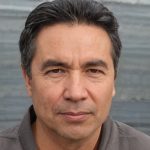 All in all, APEMAN did a decent job with this dash cam. It is reasonably-priced, easy to use, and includes collision sensors along with night vision. If you're not too disappointed by the lack of Wi-Fi support, you might want to take a closer look at this gadget. For the average fan of off-road recording, C450 can be a safe bet.
2. Rexing Ultra HD Dash Cam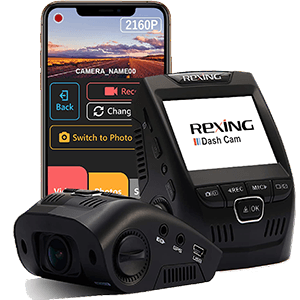 People that put video quality first and want to record in true 2160p (AK 4K) will find Rexing's offer to be quite compelling. This dash cam is all about top-notch clarity, and you'll be able to notice the tiniest details. On top of that, V1-4K withstands extreme temperatures. We're talking about a range of -20 to 176 degrees (Fahrenheit) – that's achieved thanks to the built-in super-capacitor.
As for the advanced parking monitor, it will automatically start recording (for 20 seconds) whenever detection/shaking is detected. Like the previous dash cam, V1-4K comes packed with a 170° lens, a G-sensor, and also has a loop recording feature. This is a rather small device and won't cover half of the windshield. Sadly, the front shield is the only place where it can be attached. The good news is – Wi-Fi is fully supported.
Pros & Cons
True 4K quality
Handles extreme temperatures (-20 to 176°F)
Clever parking-monitor and G-Sensor systems
Only sticks to the front shield
Recommendations: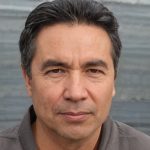 Wi-Fi, 4K recording, and an advanced super-capacitor – those are the three words that describe the Rexing dash cam perfectly. If you're looking for those exact features, along with a collision sensor, and smart parking system, V1-4K will most likely be money well-spent. But remember: it doesn't "stick" anywhere, except for the front shield.
3. VAVA Dual Dash Cam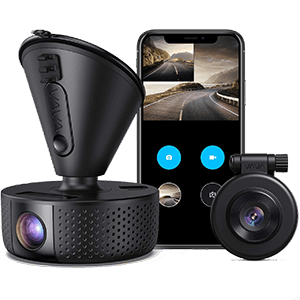 This is a rather interesting dash cam. First of all, it is capable of 360° recording. Secondly, while in this mode, you'll only get full HD, the single frontal camera can record in QHD (2560×1440). The built-in night vision sensors (provided by Sony) also deserve our praise and provide above-average recording quality. Loop recording, parking, and G-sensors, along with Wi-Fi, are even more reasons to consider this device over the competition.
However, Wi-Fi isn't its strongest suit. Unless you use the brand-new VAVA Dual Dash cameras, you'll be frustrated by horrible connectivity and below-average mobile app functionality. Thankfully, that's not a problem with the new firmware. VAVA started as a crowd-funded project, which explains the initial software imperfections.
Pros & Cons
360° recording - captures everything
QHD frontal camera; full HD front-back recording
Impressive night vision quality
Poor mobile app-camera connection on older firmware
Recommendations: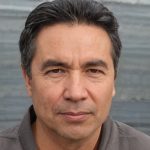 If you need 360-degree recording and above-average night vision quality, VAVA's Dual Dash cam has got you covered. But, as mentioned, make sure to buy the latest edition with the newest firmware. Otherwise, you won't be able to fully enjoy the Wi-Fi compatibilities.
Best Dash Cam for Jeep Wrangler (Updated September, 2023)
Product
Product Information
View on Amazon

Editor's Choice

1) APEMAN Dash Cam

Best Features:
– User-friendly setup
– Includes a collision/accident sensor
– Three-inch LCD
Camera Type: Front
Max Video Resolution: 1080P FHD
Lens Angle: 170 deg
Storage: 32GB, Class 10 Micro SD Card
Wi-Fi: N/A

2) Rexing Ultra HD Dash Cam

Best Features:
– Exceptional quality in 4K
– Advanced parking-monitor system
– Withstands extreme temperatures
Camera Type: Front
Max Video Resolution: 2160P 4K
Lens Angle: 170 deg
Storage: Up to 256 GM Micro SD Card
Wi-Fi: Yes

3) VAVA Dual Dash cam

Best Features:
– Rotates 360°
– QHD frontal camera
– Impressive night vision quality
Camera Type: Front + Rear
Max Video Resolution:
– 1920x1080P@60fps,
– 1920x1080P@30fps
Lens Angle: 155 deg
Storage: Up to 128GB MicroSD Card
Wi-Fi: Yes
Conclusion
And that's pretty much it for our list of the best dash cams for a Jeep Wrangler! We checked out three outstanding offers from trusted companies and pinpointed their strong sides and weak sides, giving you a clear picture of what to expect from each device. If you're not looking for something too fancy, APEMAN's camera might be a good choice. It's relatively affordable, highly reliable, and captures everything in full HD.
The fans of 4K will probably save some hard-earned cash to spend on Rexing's Ultra HD dash camera and enjoy high-definition filming. And what about VAVA – why would you want to pick it over the competition? Well, it's like the golden middle between APEMAN and Rexing. And, it can be a wiser pick, especially for someone who's in the market for an all-purpose type of dash cam with 360° recording. Make your choice wisely and enjoy your off-road footage!