Did you know that brand-new seats are one of the most expensive accessories for your Jeep? That's right, and unless you're super careful, they'll be taken over by dust, dog hair, spilled liquids, and scratches. So, how can you protect your seats and save yourself an expensive trip to the closest auto shop? I've got the answer right here: seat covers. They are available at a reasonable price, take very little time to "install" and can brighten up the interior.
So, what do the Best Jeep TJ Seat Covers look like? Which brand should you trust, and why? You don't even have to think about all that – I did all the thinking for you. And, after three weeks of extensive testing, I came up with the following list of the top-four covers for the TJ. Here they are!
Best Jeep TJ Seat Covers Review
1. Rough County Seat Covers Set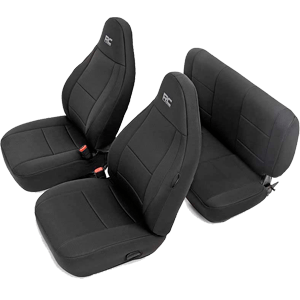 It may seem that there is nothing that you would like to protect your Jeep seats from because you are just too neat a driver. However, just imagine getting stuck somewhere in the mud, and then, after you get your truck out, you will have to get in and continue the journey. How clean do you imagine you would be? With County seat covers, you won't have to worry about things like that. The fabric the covers are made of, neoprene to be more precise, is waterproof and mud-resistant.
Apart from that, the covers from Country are surprisingly well-fitted for a TJ model so that they will fit like a glove. Also, given covers are upgraded with foam padding so that they are ultra-comfortable to sit on, no matter how long your journey is. As for the installation they say that even a kid would do it and I tend to believe that since all the setup process will take you as many as a couple of minutes.
Last but not least, the price for such a quality set will not blow a hole in your pocket since the covers are certainly budget-friendly.
Pros & Cons
Soft to your touch and comfy to sit on
Fit the seats seamlessly
Foam padding for improved ride quality
Increased durability
Neoprene allows the seats to breathe
Unfit for machine wash or dry
Can't withstand hot objects
Recommendations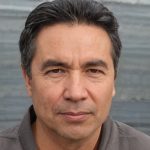 County seat covers offer great quality for a small price, and there is no use denying it. Besides, the covers are designed to last so that the price you pay will pay you off for quite some time, and that is a great advantage to consider.
2. Bestop Seat Covers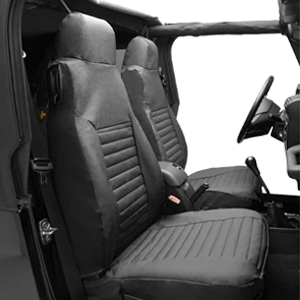 If you are more a leather-seat kind of person, then Bestop has your back here. The fact is that no matter the excellent quality or the brand name, Bestop offer their customer to purchase the Seat Covers separately for either front or rear seats. However, both sets are made of great quality vinyl fabric, which is not only durable but also water- and fire-resistant. Apart from that, both cover sets are super easy to clean, and that is certainly a huge plus if you have pets or kids or if you enjoy muddy roads and journeys a little too much.
There are three main hues that the seat covers from Bestop come in, no matter which color you choose, you can expect it to last as long as the covets themselves due to increased UV ray resistance of the material.
What is more, the manufacturer claims the seats to be scratch-resistant too so that you can carry almost anything in the back without the slightest concern.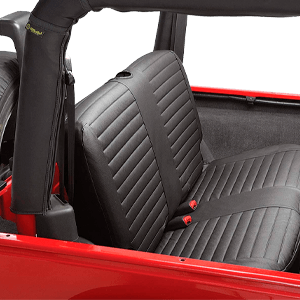 When it comes to the installation, it is safe to say that both sets are super-easy to install due to the bungee-cord attachments. What is more, you can even adjust the covers in case something seems or feels too loose. The rear covers are designed in such a way that in case you have a child seat tether to attach, there will be no issues arising, special openings are added.
Pros & Cons
The design resembles factory seats seamlessly
Vinyl fabric is durable, water-, fire- and also scratch-resistant
The installation is effortless and fast
Both sets are more expensive than average seat covers
The material may heat up during warm seasons
Recommendations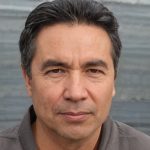 Some view it as a disadvantage that the front and rear seat covers are sold separately. I say that it is a benefit since you can give the one set a try before you choose to get a second one. Overall, the set is definitely worth the price, and if you are willing to spend a little extra on your vehicle's interior, I would certainly recommend Bestop seat covers.
3. Totally Seat Covers Set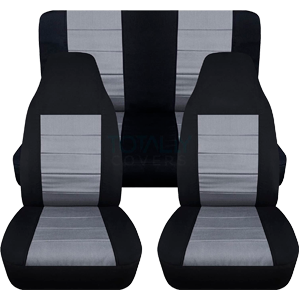 It is true that not every driver is equally fond of leather-like seats that is why Totally chose to make theirs from cotton. If you think that cotton is less durable than any other fabric – you are deeply mistaken. The only, I say mild, disadvantage of cotton covers is that they are not waterproof.
On the bright side, the covers are literary the brightest since there is a vast variety of hues to choose from to customize the covers to your interior well. Besides, unlike many other covers available on the market, Totally allows their covers to be machine-washed by on a cold cycle only, yet machine-dry is not an option.
The installation is pretty basic and thus simple, but the fitting is supreme. If you don't know that these are actually the covers, it is hard to tell them from factory seats themselves. As for the price, it is certainly a little higher than the average, but it is still affordable, and the quality of the item proves to be worth it.
You can also look at the analogue of Custom Neoprene Seat Cover from GEARFLAG:
View on YDEMOT
Pros & Cons
Made of breathable cotton
Foam padding improves the ride quality
The covers are allowed to be machine-washed
Fair-priced item
Multiple seat cover color combos to choose from
Not waterproof
Can't be machine dried
Recommendations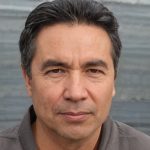 Those of you who are looking for Jeep TJ seat covers that can be easily and seamlessly introduced into the existent interior, then Totally covers are for you. They are cotton-made, but the quality is no worse when compared to covers made of different materials.
Buyer's Guide
What's the most important thing about seat covers? Is it the material quality, or maybe weather resistance? What should be the #1 priority for you when scrolling through hundreds of different options online? In this guide, you'll learn about the most crucial, key factors that set an excellent seat cover from a poor one.
Material Quality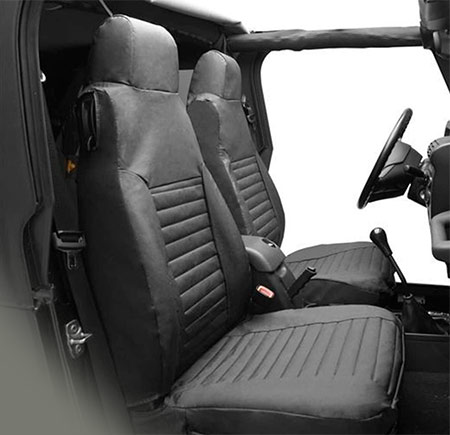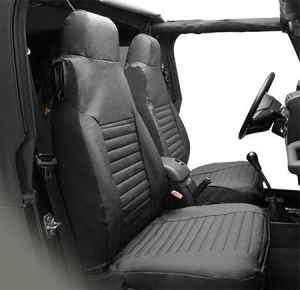 It's safe to say that it's the quality of the used materials that define how comfortable the ride will be for you and your passengers. Some brands use neoprene (premium-quality synthetic rubber), while others prefer leather-like vinyl. Cotton is also a decent material for seat covers. So, which one should you choose? Honestly, all three are pretty great and will keep you nice and comfy even on the bumpiest ride.
Resistance
Even if you live in a cloudy area, the seats (and the covers) are constantly exposed to the sun. It has a very negative effect, and, over time, they lose their properties and good looks. But if you see "resistance to UV rays" in the specs that means you won't have anything to worry about. Protection against water is also important.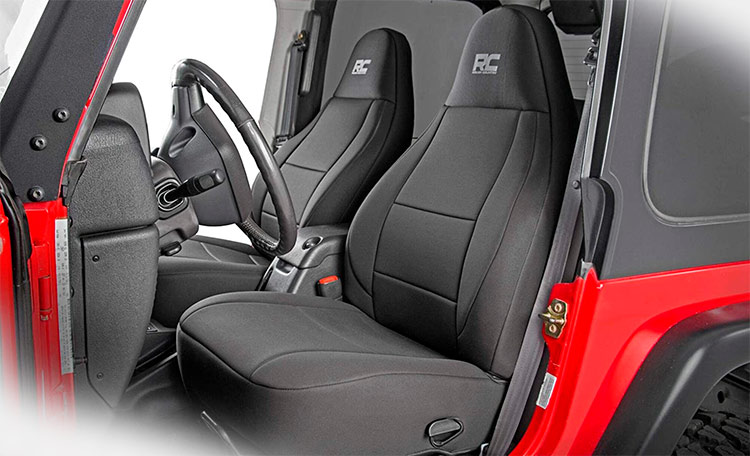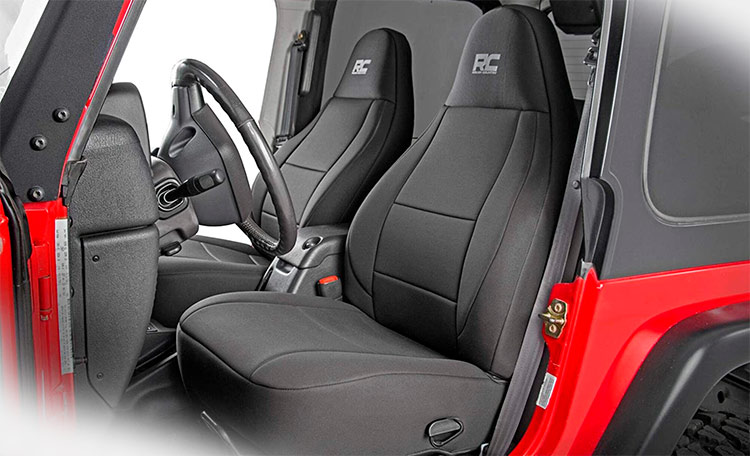 If it's raining outside, or if your kids and pets play in the snow and jump straight into the car, the seats will get dirty. Lucky for us, water-resistant seats will be able to handle it all, along with humidity.
The Package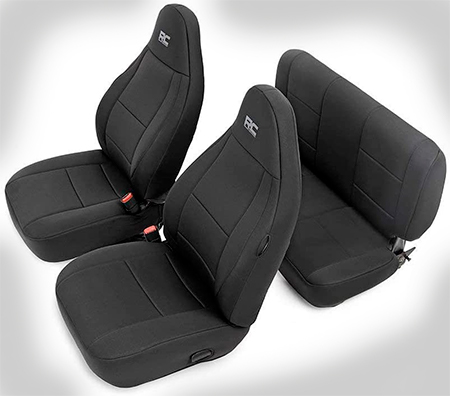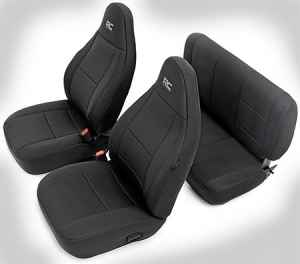 Ask yourself: do you only need new seat covers for the front, or the back as well? There are dozens of different sets available at online and local stores. In my experience, if you get one of those all-in-one packages, you get to save a bit compared to buying covers for the front and rear seats separately.
Comparison Table – Best Jeep TJ Seat Covers (Updated December, 2023)
Product
Product Information
View on Amazon

Editor's Choice

1) Rough County Seat Covers Set

Best Features:
– Neoprene-made and resistant to both water and UV rays
– User-oriented price
– Simple and effortless installation
Type: Front and Rear Covers
Material: 4 Layer Neoprene, Foam Padding
Waterproof: Yes
Fits Models: Jeep Wrangler TJ (1997-2002)
Available Options:
– Seat Covers for Wrangler TJ (2003-2006)

2) Bestop Front Covers

Best Features:
– Made of leather-like vinyl
– Improved design and durability
– Matches factory seats perfectly
Type: Front Covers
Material: 2-ply, laminated 600-denier polyester
Waterproof: Yes
Color:
– Spice
– Black Denim
– Charcoal/Gray
Fits Models: Jeep Wrangler TJ (1997-2002)
Available Options:
– Front Covers for Wrangler TJ (2003-2006)

3) Bestop Rear Covers

Best Features:
– Made of high-quality vinyl
– Designed to fit the seats seamlessly
– Child seat tether openings included
Type: Rear Covers
Material: В2-ply, laminated 600-denier polyester
Waterproof: Yes
Fits Models: Jeep Wrangler TJ (1997-2002)
Available Options:
– Rear Covers for Wrangler TJ (2003-2006)

4) Totally Seat Covers Set
Conclusion
To sum all up, it is safe to say that seat covers are always more of a necessity than a customization item.Moreover, apart from protecting your car seats from stains, spills, and scratches, seat covers can also improve the comfort level of your ride, especially during long journeys. They offer additional padding and support that can reduce fatigue and prevent back pain. Furthermore, seat covers are a great way to customize your vehicle's interior and express your personality and style.
However, the great variety of covers available on the market makes it quite challenging to choose a set you deem worthy. I decided to try to guide you in the right direction by sharing with you a list of my most-favorite seat cover brands. All of them are of excellent quality, even though prices vary. The main difference lies in the style you prefer, whether it is a casual or elegant outlook that you seek most, you can easily pick the best-fitting option from the list above, and I know that you won't be disappointed. So, invest in a good set of seat covers today and enjoy the many advantages they have to offer.