Are you one of those city folks that love to get out into the countryside and take the whole family with you? If the answer is yes, then you probably already know what a tailgate table is. Just like the name suggests, it's a relatively small table that "sticks" to the tailgate and serves as cargo storage extension. For camping out in the wilderness in a minimalistic style, these tables are a God-sent.
Choose Your Option!
In this post, I'll help you pick the best tailgate table for Jeep. Right now, the market is overwhelmed with hundreds of offers – sadly, most of them aren't worth it. The tables from my list, however, will be money well-spent, as I took a lot of time testing dozens of brands before picking my top three. They fit different Wrangler models, though; so, make sure you purchase the one that's compatible with your vehicle.
Buyer's Guide
Tailgate tables come in all shapes and sizes, and it's very important to know in advance what it is that you want to make the right choice. In this Buyer's Guide, we have a list of the key aspects that you should always consider before proceeding with a purchase. Don't worry: I won't get into technical details but rather talk about things from the point of view of a regular customer.
Ease of Installation and Use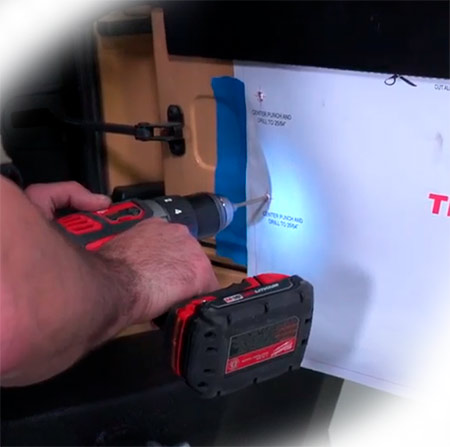 Prepare yourself for some drilling! That's right: to mount the table to your Jeep's tailgate, you'll need to drill holes for it. This thought can be a bit scary at first, but if you follow the instructions clearly, you'll be done in no time. On average, it takes 1.5-2 hours to install, which is kinda long. Luckily, some brands are easier to mount than others. For example, Mopar from my list takes about 20-30 minutes to install. Look for something similar.
Some companies like TeraFlex include an installation tool so that you won't have to spend extra bucks on it. As for ease of use, make sure that the tailgate table that you like is easy to fold and collapse. That way, you'll be able to save precious space in the trunk while still keeping the table mounted. And when there's a dinner coming up, just lift the table, and that's it!
Material Quality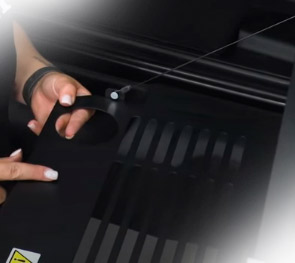 First of all, I'm talking about sturdiness and durability. Mostly, tailgate tables are made of metal steel or aluminum – both materials are equally reliable and flexible. Protection against rust, corrosion, and other types of contamination is also a must. True, you won't be dragging that table through mud, snow, or deep water streams, but that doesn't mean protection isn't necessary.
Rain is one of the biggest "enemies" for aluminum and steel, and you don't want to end up with a corroded table. Powder coating is usually the best solution to this problem. So, check the specifications to make sure that the powder coat (black texture, most likely) is a part of the deal.
Extra Slots and Holes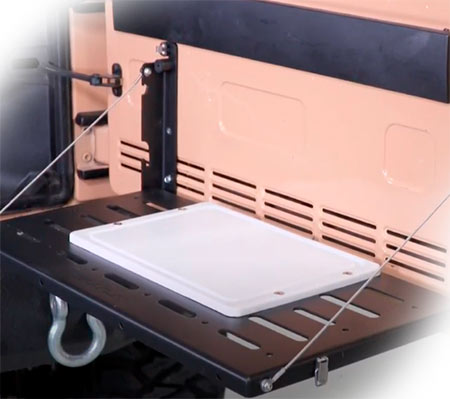 These are usually used to hang pans and cutlery. While most best-selling tables do have extra slots/holes for accessories, you'll still need to verify this before committing. Sometimes, you're a bit short of space when camping out, and a tailgate table that can hold all of your knives, spoons, and forks can be a life savior.
Compatibility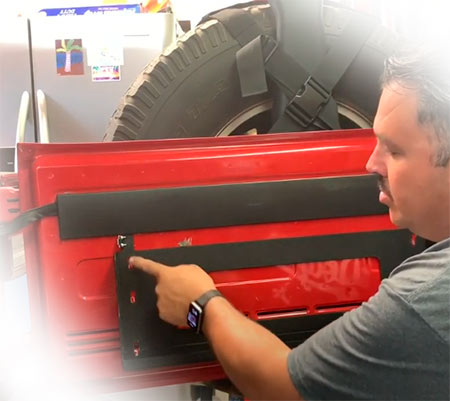 Last but not least, the table needs to fit your Jeep's tailgate. I already mentioned this in the beginning. The specs will tell you exactly which Jeep models are compatible with the table. The dimensions and weight should also be considered. Something like 30 x 15 will be a good place to start. As for the weight, look for a table that doesn't weigh more than 20 pounds, as that may put unnecessary strain on the tailgate. Ten to fifteen pounds is the golden middle.
Best Jeep Wrangler JK Tailgate Table (Updated October, 2023)
Product
Product Information
View on Amazon

Editor's Choice

EAG Metal Tailgate Table for Jeep JK

Best Features:
– Easily foldable and collapsible to save space
– Made of metal steel; highly durable
– Black powder coat protects against rust/corrosion
Dimension: 22.x 12.76 inches
Load Capacity: 100 lbs
Weight: 16.2 pounds
Fits Models: 2007-2018 Jeep Wrangler JK, JKU

BORDAN Tailgate Table

Best Features:
– Includes slots and holes for attaching accessories
– Comes packed with the installation tool
– Lightweight aluminum
Dimension: 27 x 15
Weight: 7.9 pounds
Fits Models: 2007-2018 Jeep Wrangler JK, JKU
Best Tailgate Table for Jeep Wrangler JL (Updated October, 2023)
Product
Product Information
View on Amazon

Editor's Choice

Mopar 82215416AB Jeep JL Tailgate Table

Best Features:
– Easy, straightforward installation (+/- 20 minutes)
– Trendy, up-to-date design
– Designed and made in the US
Dimension: 31 x 14 inches
Weight: 10.4 pounds
Fits Models: 2018-2020 Jeep Wrangler JL

EAG Tailgate Table Foldable Jeep Wrangler JL

Best Features:
– A bottle opener provided
– Durable and rust-resistant coating
– Storage-saving foldable design
Dimension: 23.90×12.44 inches
Load Capacity: 100 lbs
Weight: 11.4 pounds
Fits Models: 2018-2020 Jeep Wrangler JL
Conclusion
A tailgate table is a camper's best friend. It eliminates the need to carry "classic" tables that weigh a ton and take precious cargo space. Affordable, sturdy, and practical, a tailgate table is one of the most popular accessories among Jeep Wrangler owners. In this review, I checked out three leading offers from Mopar, EAG, and TeraFlex. If you're looking for a US-made product that's not very hard to install, Mopar has got you covered.
EAG is all about durability and protection against rust and corrosion. Plus, this tailgate table is easy to fold and collapse to free up space. And what does TeraFlex has to offer? First of all, the package includes an installation tool. Secondly, the table has slots/holes for attaching accessories. Which company, in your opinion, has the best offer? And why would you pick it over the competition? Share in the comments!