If you're a big fan of off-roading, a set of Jeep door storage hangers might be a good investment. The reason – most folks prefer aftermarket tube doors over the factory ones, as they extend the view, protect against debris, and keep the interior nice and cool. So, where do you keep the stock doors – just stack them on top of each other?
That can result in paint scratch, or something worse. The good news is – with the best Jeep Wrangler door hangers, you won't have to worry about that. They take very little space and can be easily mounted to, say, one of the walls in the garage. For the sake of this review, I manually tested dozens of offers from leading brands and am now more than happy to share my top-five picks with you!
Best Jeep Door Hangers Review
1. Arc Off Road Jeep Door Hangers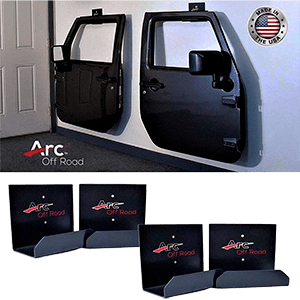 If you're looking for top-of-the-line durability and reliability in a set of Jeep door hangers, Arc Off Road might have just the right offer for you. First of all, this is a 100% US-made product. It was designed, crafted, and rigorously tested multiple times before hitting the market. Secondly, these Jeep door hanger brackets are equally good at holding both the front and rear doors, which is a big pro.
The only downside – while the installation process is pretty simple and not at all time consuming, you might have to drill new Holes. The factory ones are just too small and the included bolts simply won't "squeeze" through. Thankfully, a set of high-quality aftermarket bolts won't cost you much. Besides, these racks are compatible with most Jeep models and will look good on any wall.
Pros & Cons
Market-leading durability and longevity
Can hold both front and rear doors
A 100% US-made product
You might have to drill new holes
Recommendations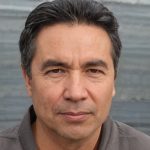 Durable, long-lasting, and capable of holding all of your Jeep doors – that's these brackets in short for you. They are being produced in the States and are specifically designed to hold a wide range of Jeep vehicles. Some drilling might be involved, but that's a relatively minor con.
2. Sunluway Jeep Door Wall Hangers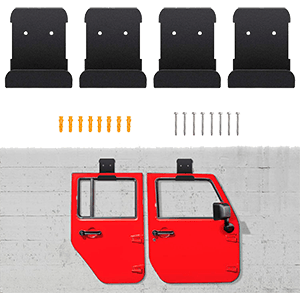 With this next company, you can expect to get a very good deal at a reasonable price. Sunluway's set of door hangers for wall use is, indeed, quite affordable and almost on par with the rivals. The bolts that come as part of the package are very cheap. Now, they will hold for quite some time, but I'd still get a couple of new ones whenever possible. Other than that, the installation process is as simple as it gets and will only take five minutes.
Another standout feature – the company backs up its product with a generous warranty. It includes a 30-day satisfaction guarantee, which is essentially a refund policy. Premium support and a one-year manufacturer's warranty are part of the deal as well. So, yes, even though it's kinda cheap, you will get a decent set of brackets with Sunluway.
Pros & Cons
Effortless, straightforward installation
A low-budget purchase with good value
Backed by a generous warranty deal
The included bolts are a bit cheap
Recommendations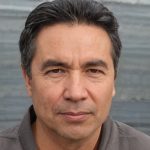 Affordability and ease of installation are these door hangers' biggest selling points. The satisfaction/premium support warranty is another big enough reason to put it on your list of must-haves. The included hardware is average at best - that won't cause much trouble right from the start, though.
3. Seven Sparta Jeep Door Hangers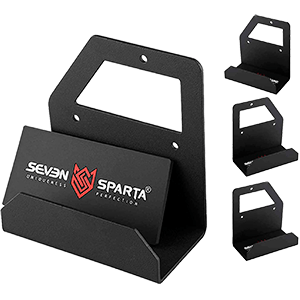 Here, we have a set of door hangers with the highest capacity. They can hold anything up to 100 lbs. – even the biggest and heaviest doors won't be a hard task for them. On top of that, they arrive in a protective, impact-resistant box. Sadly, unless you've got some backing to, well, back the brackets up, it might be a bit tricky to mount them.
To be fair, that's actually a universal problem with door hangers. On the bright side, they are 100% scratch-resistant and rust-free. The included rubber gasket is quite good at keeping rust and scratches at bay. So, you can rest assured that the hangers won't get corroded and the doors won't get any accidental scratches.
Pros & Cons
Scratch-resistant, rust-free finish
Extended capacity – up to 100 lbs.
Come packed in a protective box
Will be hard to mount without proper backing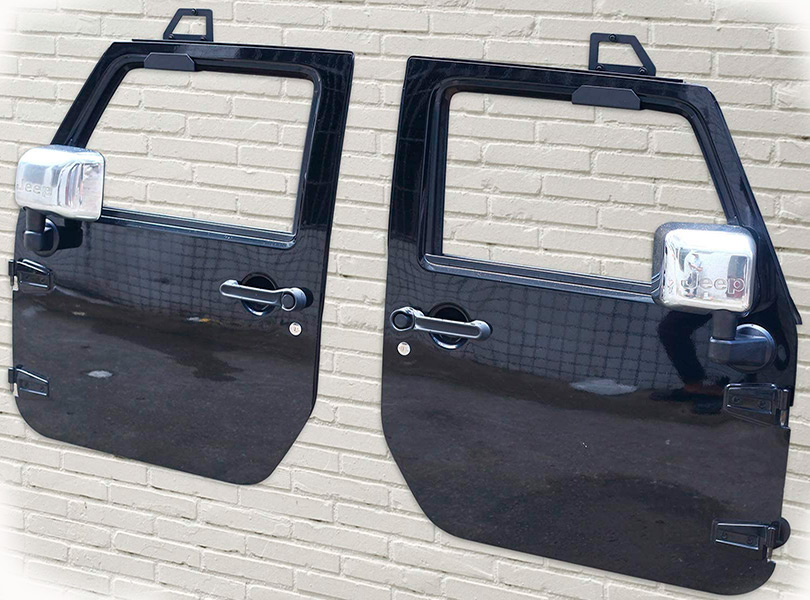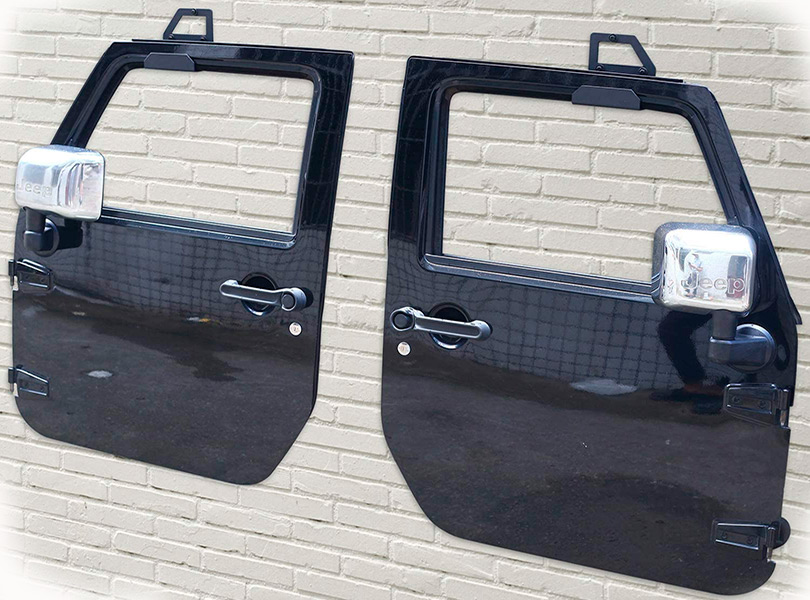 Recommendations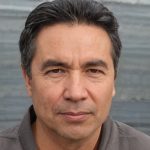 Installation might take you a while, especially if you don't have much experience with basic tools. But, the scratch-resistant finish, impressive capacity (up to 100 lbs.) and generous package make the Seven Sparta door hangers a reasonable investment for most Jeep owners.
4. JoyTutus Jeep Door Storage Hangers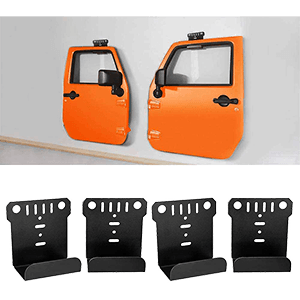 The first thing you need to know about these hangers – they won't damage the walls in any way. Not scratching, no peeling – none of that. True, the other products on the list are quite good in this regard as well; yet, JoyTutus made them extra safe. The textured black powder, in turn, protects against rust and corrosion. It's also worth mentioning that you'll get a free foam protectant with these brackets.
It can be easily cut into several smaller pieces for maximum efficiency. My only complaint has to do with the (minor) quality control issues. Some users report missing a screw (or two). Others receive packages with small dents here and there. Still, at the end of the day, these hangers will be money well spent. They don't cost much and won't leave your wallet empty.
Pros & Cons
Won't scratch/peel off the walls
Textured black powder – excellent anti-corrosion protection
Premium-grade cotton included
Minor quality control issues
Recommendations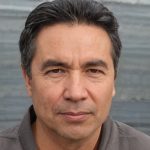 Worried that you might damage the walls with a set of aftermarket door hangers? Then you might give this JoyTutus set a try. They are nice and smooth and won't peel off the paint or scratch the walls. And, despite the quality control issues, the package does include a premium-grade protectant strip.
5. Jeep Door Hanger Storage by Vijay Store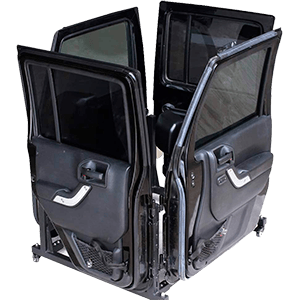 If you're a bit bored by the ordinary Jeep door hanger ideas that we've been discussing so far, Vijay probably has something that will interest you. As far as the most efficient and flexible Jeep Wrangler and Gladiator door hangers go, this one is right up there among the leaders. It's incredibly lightweight but impact-resistant at the same time. Plus, it has four wheels that make it easy to move the whole thing around.
That's right: this is a mobile Jeep door hanger cart. It is fully compatible with a wide range of Jeep vehicles (or, rather, doors), dating back to the 80s and up to the latest Gladiator, as I just mentioned. More good news: while it will take some screwing before you get there, the installation process is very easy and straightforward. On a side note, the included user manual is a bit confusing – you'll be better off on your own.
You can also look at the analogue of Door Hanger Storage Rack from Hooke Road:
View on desertcart.us
Pros & Cons
Lightweight and incredibly impact-resistant
Efficient, and comes with a set of wheels
Compatible with a long list of Jeeps
The included instructions aren't particularly helpful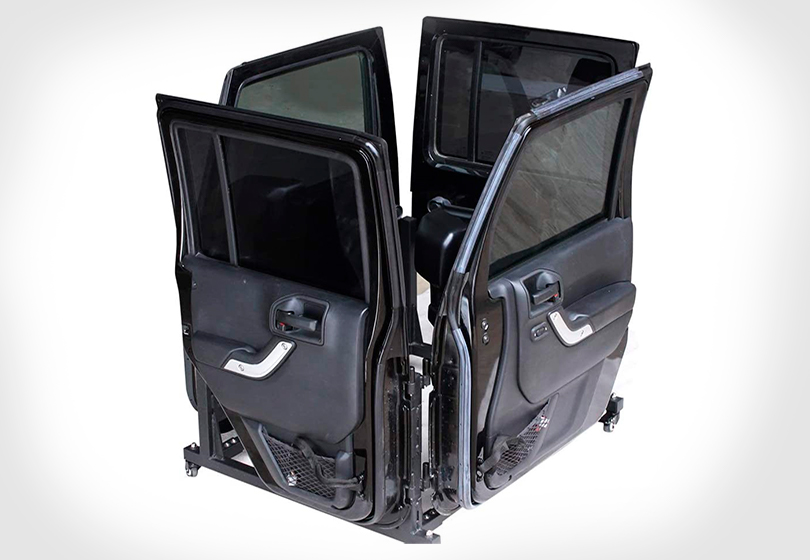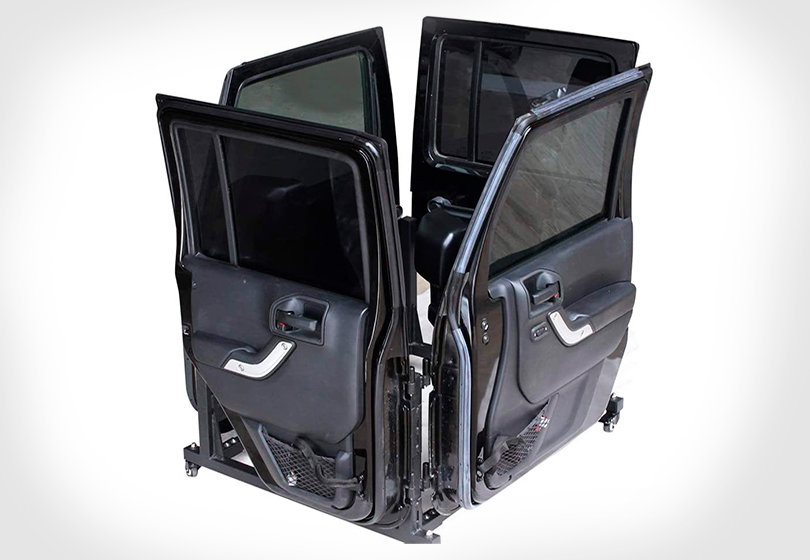 Recommendations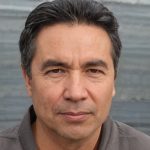 Of all the Jeep half door hangers that we've discussed today, this is definitely the most exciting one. It's a bit expensive, and the instructions are vague at best, but the mobility, efficiency, and flexibility make it all worth your while.
Buyer's Guide
That's it for my list of the finest wall mount Jeep door hangers. I'm pretty sure that at least one of these options will be a good deal for you. If not, or if you're used to making decisions on your own, this Buyer's Guide is for you. Join me, and let's check out the most important aspects that need to be considered before making a purchase. We'll also talk about the "DIY or Buy" dilemma and see whether it will be worth your time and energy or not.
Capacity
This is the first thing that you need to check in the specs. Capacity refers to how much weight the door hangers can hold. The average number is 60 pounds (~27KG), which is more than enough for most Jeep doors. At the same time, some sets of four can be a bit heavier. If that's the case, go for something stronger. For example, with the Seven Sparta brackets (available on the list), you'll get extended capacity (up to 100 pounds).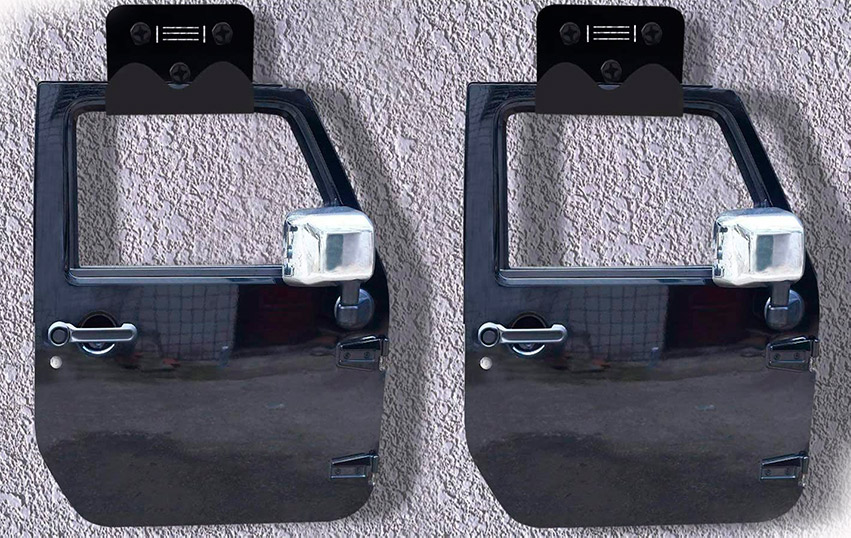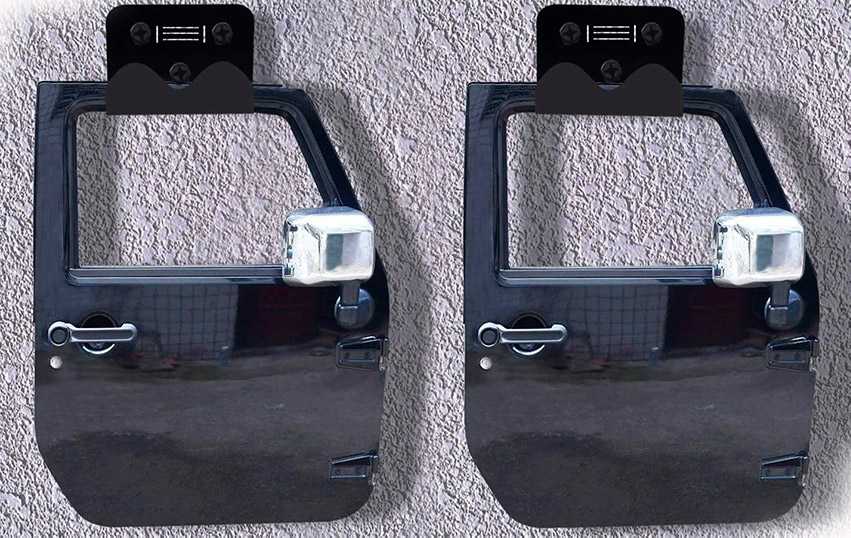 Of course, if it's just rear of front door hangers that you're dealing with, the capacity will be much lower. So, always keep in mind the number and the weight of your Jeep's doors back at home to make the right choice. Weak hangers will cause a lot of trouble and may even damage the walls. Overly-strong ones, in turn, are an unreasonable purchase, unless you need that extra capacity.
Anti-Scratch/Rust Protection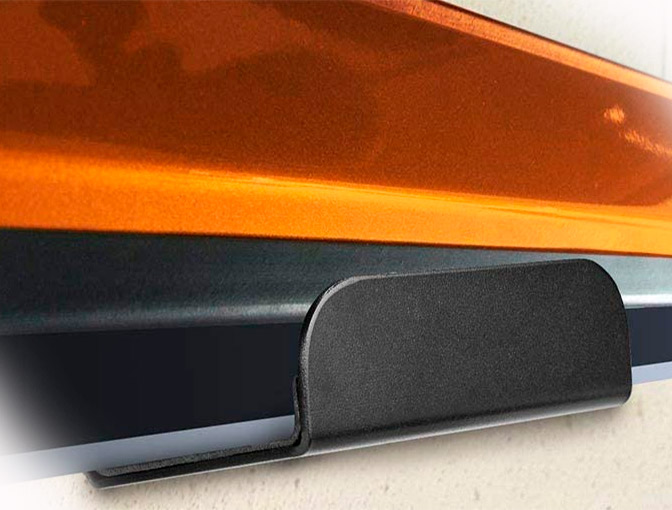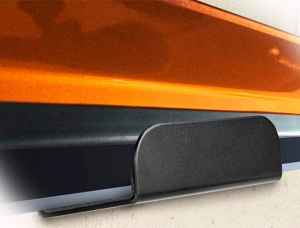 Regardless of the walls, the room/space, or the doors, without proper anti-corrosion protection, the hangers will get rusty over time. This is pretty much inevitable, which is why it's important to look for anti-rust protection. A scratch-proof finish will also be a good investment. And this doesn't refer to the brackets, but the doors. A low-quality set of racks will end up scratching the doors, forcing you to pay a mechanic to fix that.
Warranty Deals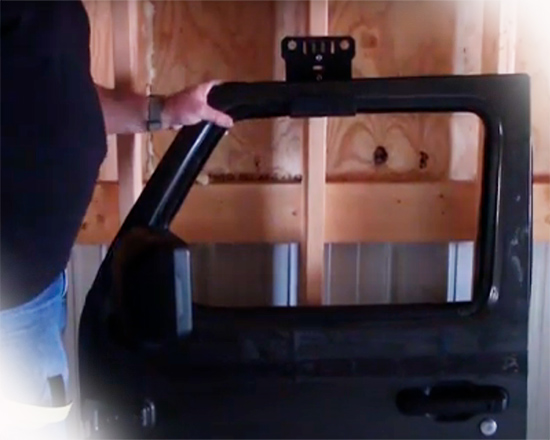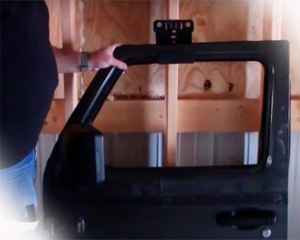 Some Jeep drivers don't even realize how beneficial it is to have their brand-new racks protected by a manufacturer's guarantee. Most companies offer a 30-day refund. This means you can get the purchase price back if you're not fully satisfied with the product. The more generous brands back everything up with a one-year warranty and even premium support.
And how about going DIY?
Last, but not least, let's talk about homemade Jeep door hangers. They aren't the most advanced or complicated aftermarket parts – maybe you'll be better off with a makeshift set of holders? My answer is no. First of all, pro-grade brackets don't cost a lot but do carry excellent value. The money that you might save isn't gonna be worth the time or the nerves.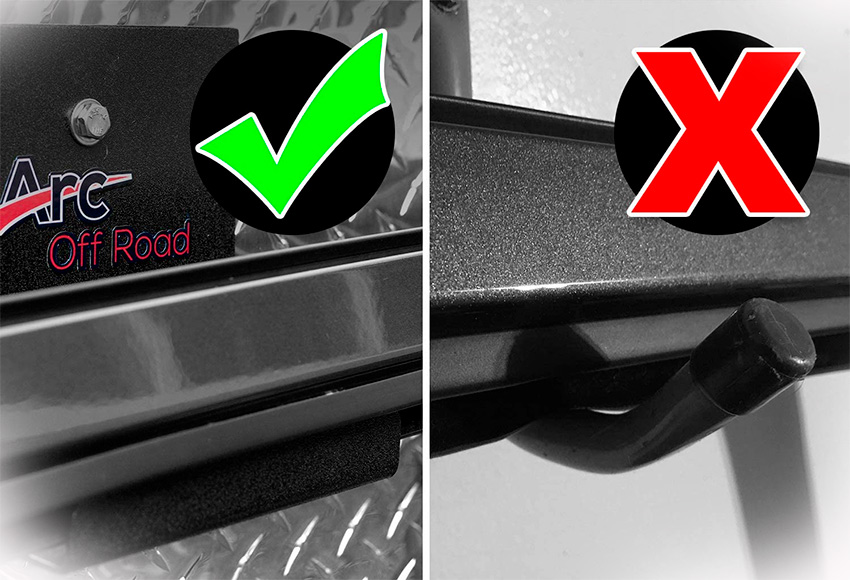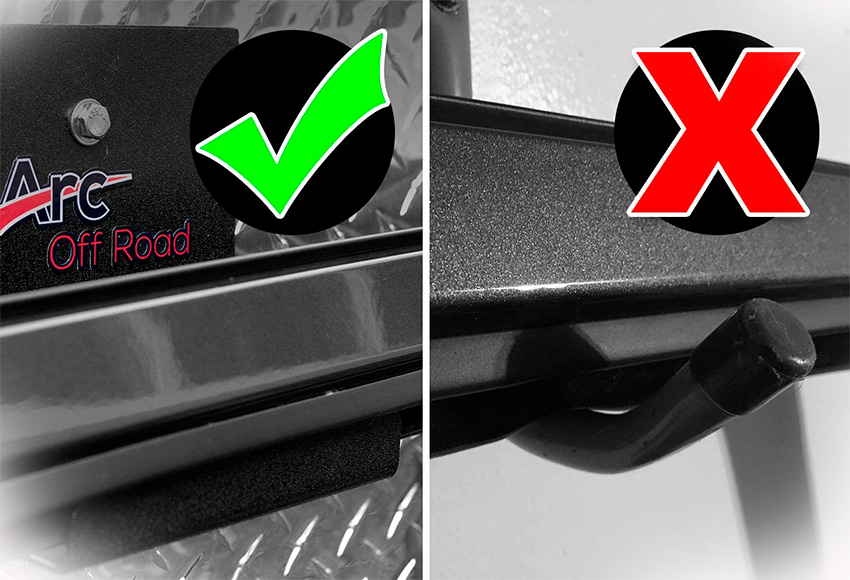 Secondly, you'll probably end up scratching/damaging the doors with your homemade brackets. So, if you were planning on a Jeep door hangers DIY project, I don't really think you should proceed with it.
Best Jeep Door Hangers (Updated December, 2023)
Product
Product Information
View on Amazon

Editor's Choice

1) Arc Off Road Jeep Door Hangers

Best Features:
– Impressive durability and longevity
– Easily handle both front and rear doors
– Designed, made, and tested in the US
Material: 1/8″ solid steel
Capacity: up to 60 lbs
Fits Models: Jeep Wrangler CJ, YJ, TJ, LT, JK, JKU, JL, JLU (1956-2020)
Jeep Gladiator JT (2019-2020)

2) Sunluway Jeep Door Wall Hangers

Best Features:
– Easy, user-friendly installation
– One of the most affordable picks
– Backed by a 30-day refund and a 12-months satisfaction warranty
Material: High quality 42CrMo steel
Capacity: up to 60 lbs
Fits Models: Jeep Wrangler CJ, YJ, TJ, LT, JK, JKU, JL, JLU (1956-2020)

3) Seven Sparta Jeep Door Hangers

Best Features:
– Premium-grade scratch-resistant finish
– Impressive capacity – easily hold the heaviest door sets
– Arrive in a secure package
Material: 1/8" premium quality Q235A Steel
Capacity: up to 100 lbs
Fits Models: Jeep Wrangler YJ, TJ, JK, JKU, JL, JLU (1956-2020)

4) JoyTutus Jeep Door Storage Hangers

Best Features:
– Won't damage the walls
– Textured black powder protects from rust
– The package includes high-quality foam cotton
Material: 1/8" premium quality Q235A Steel
Capacity: up to 60 lbs
Fits Models: Jeep Wrangler CJ, YJ, TJ, LT, JK, JKU, JL, JLU (1956-2020)
Jeep Gladiator JT (2019-2020)

5) Jeep Door Hanger Storage by Vijay Store

Best Features:
– Lightweight, impact-resistant
– Incredibly efficient and space-saving design
– Fits a wider range of Jeep vehicles
Dimensions: 38×25
Fits Models: Jeep Wrangler YJ, TJ, JK, JKU, JL, JLU (1987-2020)
Jeep Gladiator JT (2019-2020)
Conclusion
Door hangers are quite affordable, easy to use, and will serve you for many years (if not decades). They might not be the most exciting aftermarket purchase for your Jeep, but they can, most certainly, be of great help. This is especially true during the off-roading season when most drivers leave the stock doors back home. Today, we checked out five of the best door hangers for Jeep available on the market right now.
If you're looking for a low-budget option, Sunluway Store might be worth your attention. It also includes a generous warranty. The Seven Sparta set, in turn, boasts industry-leading capacity. Yes, there's enough to choose from. All you have to do is pay extra attention to the pros and cons to make the right decision! Go some questions left? Fire away in the comments!