Looking for the best OBD2 scanner for Jeep, but can't seem to find the right one? This is a very common problem among fans of trucks, SUVs, and even regular sedans and crossovers. But don't you worry: our team of experts has your back on this and is ready to share a list of the top three scanners on the market. They tested a huge number of third-party products and picked only the ones that offer a good balance of price and quality.
An OBD2 scanner is essentially a diagnostic tool that can read a large library of codes and tell you, the driver, exactly what's wrong with the Jeep. In some cases, a scanner can also help fix some troubles without taking the vehicle to the closest dealer. Let's take a quick look at what Autel, LAUNCH, and KONNWEI have to offer!
Best OBD2 Scanner for Jeep Review
1. Autel MS300 Universal OBD2 Scanner Jeep Code Reader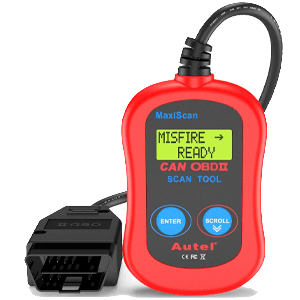 This is one of those can't-go-wrong-with types of devices. Autel did a wonderful job of making it a low-budget purchase while still packing it with all the necessary features. The old-school design is cool, and the overall construction quality is decent. The user interface is friendly, straightforward, and easy to navigate. It's not very fast, however, and takes some time to read codes/run diagnostics.
On the bright side, this is a risk-free purchase: the company offers a 30-day refund and replacement guarantee. The standard one-year US seller support is also a part of the deal. As for the standout features, the MS300 Universal scanner can read and clear pending and brand (manufacturer) specific codes. It can also turn off the frustrating "check engine" light and read emission-related data (fuel, misfire, O2 sensors, and more).
Pros & Cons
Risk-free purchase (30-day refund/replacement guarantee)
Highly affordable purchase
Catchy retro design
Takes some time to get things done
Recommendations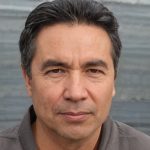 Autel created one of the handiest OBD2 scanners on the market. While it could be faster and more responsive, the interface is clear, and the backlit screen is easy to make sense of. The list of features is solid, and the "cartoony" design is also a pro. The reasonable price-tag, in turn, is MS 300's biggest selling point. If that's what you're looking for to diagnose your Jeep, Autel might have just the right device.
2. LAUNCH OBD2 Scanner CR319 Code Reader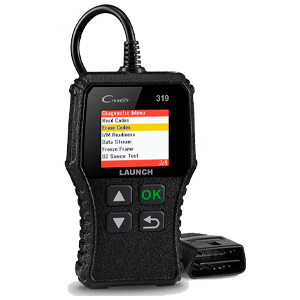 As far as the most affordable and feature-packed OBD2 scanners go, CR319 is one of the obvious leaders. The interface is available in different languages (seven in total) and is quite straightforward. On top of that, it includes ten functions, which is pretty impressive, especially compared to many rivals. Along with the more "traditional" features, LAUNCH includes an O2 sensor, an EVAP system, and On-board monitor, and other tests.
Fuel efficiency and emissions can be checked as well. CR319 is a good pick for properly diagnosing trouble codes and troubleshooting the "check engine" light. The large DTC library, in turn, makes it easier (and faster) to identify codes – you won't have to Google almost anything. The only downside – the cable is too short.
Pros & Cons
User-friendly, easy to use
Enhanced OBDII functionality (ten diagnosis modes)
Multi-lingual interface (7 languages to pick from)
Recommendations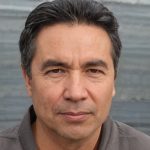 For reading and clearing diagnostic trouble codes, this sensor is a safe bet. It works with absolutely all Jeep models and even your kid will make sense of the user interface. Available in seven languages (all European, though, no Asian or Arabic), it comes with enhanced functionality and can help you fix complicated problems without getting techy. Too bad the cord is too short, but that's not really a big con.
3. KONNWEI KW850 Professional OBD2 Scanner Auto Code Reader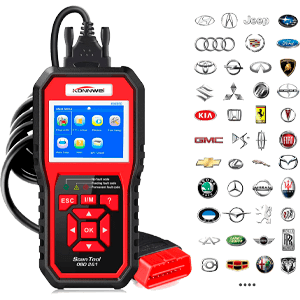 This is the most expensive scanner on today's list, but it will be money well-spent. KONNWEI developed one of the most advanced and informative user interfaces out there. It is very fast, accurate, includes four graphs and live data streams (graphic and numeric), all of which makes diagnostics that much easier. The list of functions includes data storage, oxygen sensor, monitor, and I/M readiness tests, live Battery monitoring, and more.
For quickly reading/erasing engine failure codes and testing the Jeep's battery, KW850 is a good tool. The library comes with 8K+ code definitions, the built-in software works faster than the rivals, and the cable is 4.5-inches long – you can use it even when standing outside of the vehicle.
Pros & Cons
Graphical display (with live data streams)
Four graph data values
Fast and accurate diagnosis
Expensive (but worth the price)
Recommendations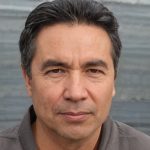 KW850 is an advanced OBD2 scanner with a long list of features and a techy interface. It's pretty big and heavy (compared to other diagnosis tools, of course), and feels great in one's hand. Plus, it's made of durable, long-lasting materials and will serve you for many years. A powerful device like this one can save you many trips to the mechanics (and lots of money).
Best OBD2 Scanner for Jeep (Updated September, 2023)
Product
Product Information
View on Amazon

Editor's Choice

1) Autel MS300 Universal OBD2 Scanner Jeep Code Reader

Best Features:
– Risk-free purchase
– Highly affordable
– Catchy old-school design
Protocols: KWP2000, ISO2000, ISO9141, J1850 VPW, J1850 PWM, and CAN

2) LAUNCH OBD2 Scanner CR319 Code Reader

Best Features:
– User-friendly interface
– Enhanced OBDII functionality
– Multi-lingual (available in 7 languages)
Protocols: CAN , ISO9141, KWP2000, J1850 PWM, J1850 VPW

3) KONNWEI KW850 Professional OBD2 Scanner Auto Code Reader

Best Features:
– Graphical display with live data streaming
– Four graph data values
– Incredibly fast diagnosis
Protocols: KWP2000, ISO2000, ISO9141, J1850 VPW, J1850 PWM, and CAN, J1859-41.6, J1850-10.4
Conclusion
Regular diagnosis is a vital part of keeping your Jeep "healthy" and avoiding any big (and unexpected) expenses. A modern-day OBD2 scanner is one of the best tools for troubleshooting and fixing something before it's too late. All the scanners that we reviewed today are equally easy to use, reliable, and flexible, meaning they work not only for a Jeep, but other brands as well. Plus, they don't need a battery or charger to work.
If you're looking for something affordable, yet capable, LAUNCH may be an excellent choice. KONNWEI is for folks that want the best quality and are ready to spend a top dollar on that. As for Autel, it's like the golden middle between the two. Which reader do you think is the most reasonable choice? Share your opinion on the comments section!