It is difficult to believe that winch belongs to the variety of Jeep accessories, which are often underrated. The fact is that in the majority of cases, people think that its primary purpose is to enhance the vehicle's appearance. However, I would like you to pay greater attention to its heavy-duty application.
Whether it is heavy-item transportation or mere off-roading, winches that can haul 12000 pounds or more will turn out to be of great use. Drivers who take your truck or your Jeep outdoors often, I can assure you that going into the wild without a practical winch at hand is a risky business.
There are all sorts of unpredictable situations and terrains to deal with. Even if you do not find yourself regularly stuck somewhere in the middle of nowhere, at times, you may be the one who is offering a helping hand to another Jeep stuck in the mud.
Choose Your Option!
Surely, serious off-roading implies that there are more useful accessories added to your Jeep equipment list, but today we are going to center our attention at some of the top 12000-pound winches. These are the recent additions to the market so that you can find the one that suits your needs and preferences best. Apart from that, we will also highlight the factors and tips which will increase the chances of a successful purchase significantly.
1. Smittybilt 97412 XRC Winch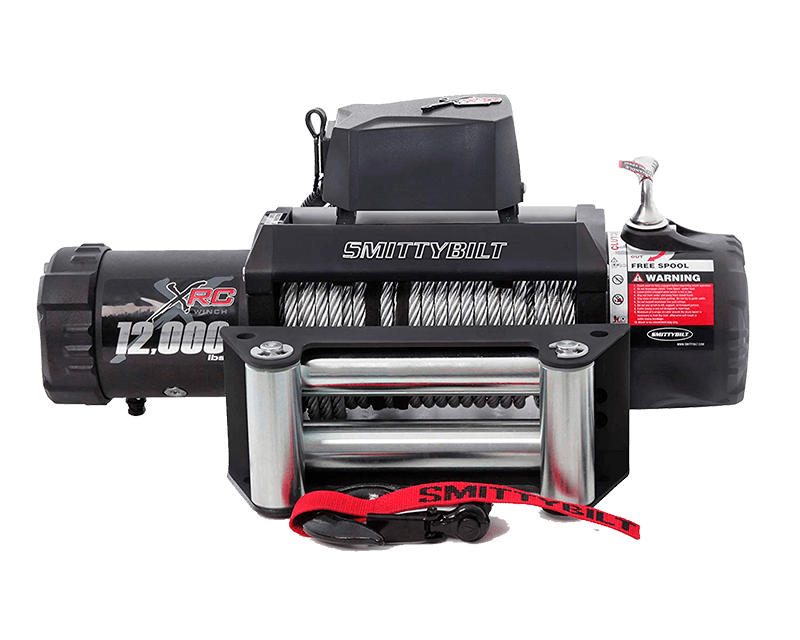 When you are in need of a winch, you require the one that will work fast and efficiently, and there is rarely room for malfunctions. In their majority, winch owners choose to use the aforementioned device not only for their outdoor expeditions but also as those helpful assistants in their daily activities.
The XRC Winch from Smittybit is a desirable item precisely because of the way it can work efficiently and quickly. Use the large hook included with this winch to grab hold of the target and activate it to quickly pull the item it in.
Pros & Cons
Waterproof design protects from corrosion
Fast retraction
Powerful cable
Installation may turn out to be challenging
The winch may dent
The 6.6 horsepower motor supplies more than enough juice to immediately haul in sizable pieces of cargo. The steel cable reacts and retracts remarkably fast as well. You'll be able to get a ton of work done in a hurry by relying on this winch.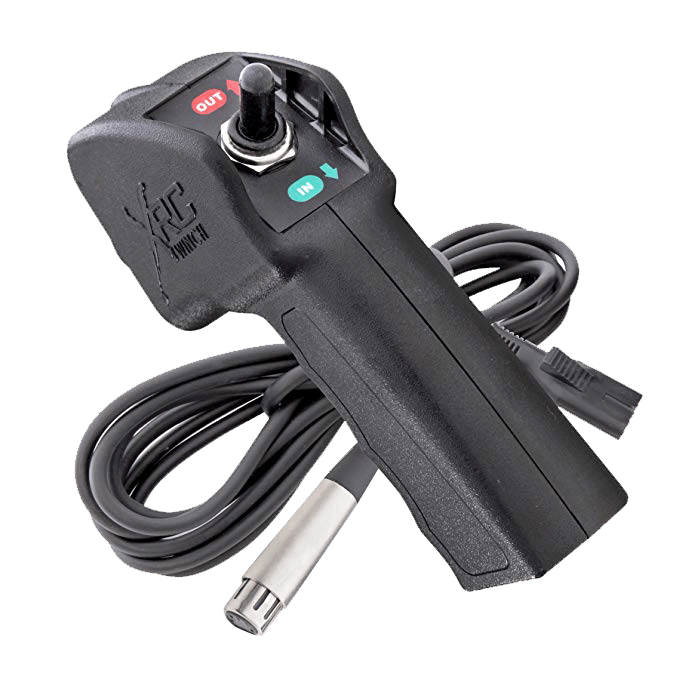 It's also possible to continue working in poor conditions with the help of this winch. The IP67 waterproof rating is an indicator of what you can expect.
Getting this winch from the package to the front of your vehicle can be somewhat of a challenge, especially if you're new to the task. Customizations may end up being necessary.
The bigger gripe I have is that the folks at Smittybit could have used better materials to make this winch. Plastic is present all throughout this winch, and while it doesn't break or crack easily, the material is noticeably more susceptible to dents and scratches. Forms of damage like that can pile up, and they can turn a previously reliable winch into one that looks bad on the front of your truck.
Key Features:
Hook for the winch is well-sized and will be able to grab hold of bulkier loads
Steel cable retracts quickly and quietly into the drum
Waterproof body preserves the internal components of this machine
Recommendations: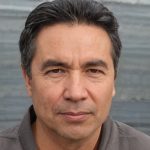 Go with this winch if you plan to use it for everyday tasks, but look for something else if you want a machine that will last for an extended period of time.
2. Warn 89120 ZEON 12 Winch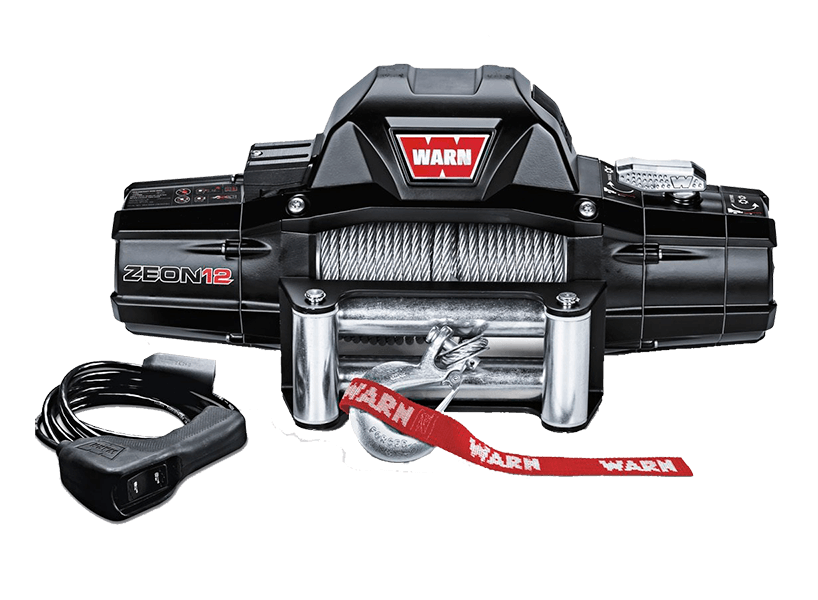 Let's kick this set of reviews off with a product from Warn, arguably the biggest name in the winch industry.
With products like these, it's often difficult to figure out if you're about to get a great return on your significant financial investment or if you're being asked to pay a high amount for name recognition alone. I'm here to make that call easier for you. In the case of Warn's ZEON 12, you're receiving a high-quality product.
Pros & Cons
Extremely powerful and durable winch
Reliable anti-corrosion coating
Extended steel cable lifetime
The price is a lot higher than the average
Complicated installation process
Durability is the strong suit of this winch. There's no reason whatsoever to be wary of using this winch in poor conditions. The satin black powder coating finish is not just for show. It's a feature of this winch that discourages corrosion. The stainless steel fasteners help with that too. Similarly helpful to the cause of increasing this product's durability level is the presence of the large aluminum winch drum. That part of the winch will work to effectively lengthen the life of the steel cable operating inside this item.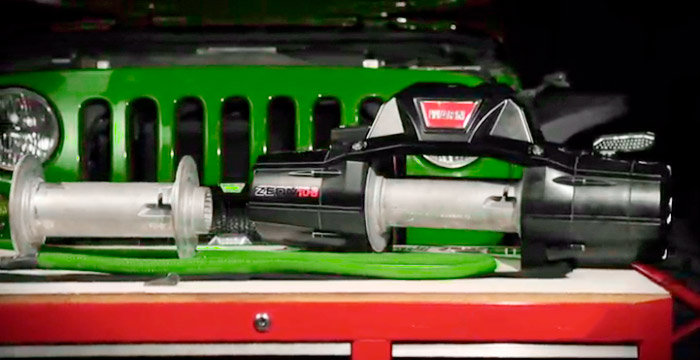 Notably, you can also choose to get the ZEON 12-S variant of this Warn offering. Instead of the steel cable, the ZEON 12-S makes use of a urethane-coated synthetic rope. From getting the chance to use both variants of the ZEON 12, I can say that the steel cable and synthetic rope were both able to maneuver heavy loads with ease, though I am personally lean towards the rope due to it being easier to repair and respool.
The performance level is where you expect it to be for a premium winch. Both the cable and rope are able to draw back into the winch drum with relative ease and without causing much of a ruckus.
The only difficulties I ran into while using the ZEON 12 emerged during the installation process. A lack of familiarity with Warn products will most certainly have an adverse impact on how quickly you can have this winch mounted on your Jeep or truck. Furthermore, you may need to make some adjustments that deviate from the included instructions to get it set up properly. The at times annoying installation process will be worth it once this winch is operational on the front of your vehicle through.
Key Features:
Satin black powder-coated finish, stainless steel fasteners, improved winch sealing, and larger winch drum elevate the item's durability
Cable and/or synthetic rope pull back into the drum quickly
Various mounting options available for you to use
Recommendations: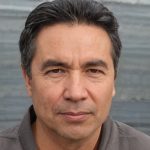 It will cost a pretty penny, but the price is worth paying, considering this winch's high-end durability and reliable performance.
3. Warn 96820 VR 12 Winch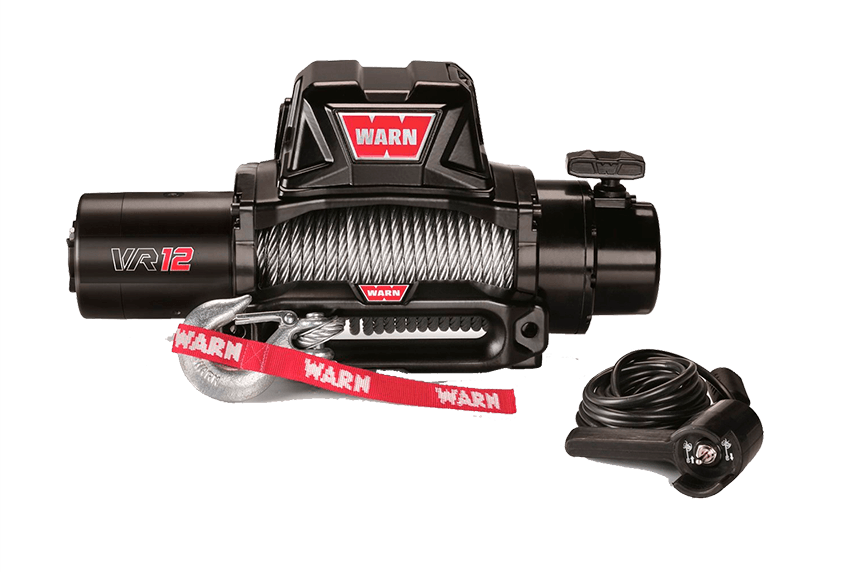 The worst thing you can call any winch is unreliable. These machines are often called upon to work during emergencies, and in situations wherein, no other item is capable of completing the job.
When you turn to your winch for assistance, you need to know that it will be able to work as expected. The internal components of the winch greatly impact how reliable it is. Fortunately for many consumers, reliability is the main selling point of Warn's VR 12 Winch.
Pros & Cons
Enhanced device control
Extremely durable construction
Supreme winching capacity and performance
Pricey option
Connector cable are difficult to hide away
Instead of relying on solenoids, the VR 12 makes use of an Albright contractor. The difference that design choice makes in terms of power regulation is noticeable.  It allows the user to be more precise with the movements of the winch while simultaneously serving as a more reliable internal component of the machine.
The typical issue with using a contractor instead of solenoids is that the former is prone to sustaining damage as a result of foreign elements getting through. The waterproof feature of the Albright contractor helps significantly minimize that threat.
The cast iron brace installed on this item is useful for strengthening the winch and providing users with improved control over the machine. The included clutch lever then works to make operating this winch an easier undertaking.
Similar to the ZEON 12, you can get the VR 12 that comes equipped with a steel cable or the Synthetic Rope. I still prefer the synthetic rope in this scenario, but the steel cable may prove to be a better option if you require something sturdier.
This winch's performance is more than acceptable. It can handle the 12000 pounds as advertised, and the rope and cable both retract into the drum with no problem.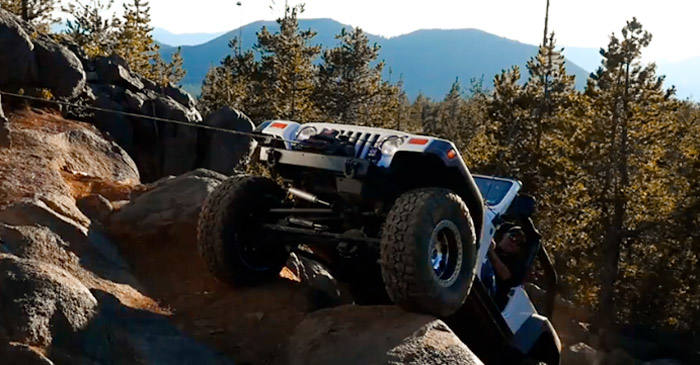 It's harder to blend this winch into the façade of your vehicle, however. The connector cables are impossible to hide, and they can turn into real eyesores.
The folks at Warn have delivered another quality product in the VR 12, but it's certainly a machine that can be improved upon.
Key Features:
Albright contractor is capable of working at all times and will not easily succumb to the elements
Strong motor installed allows for the quicker draw of the extended rope or cable
Tile plate choice provides this winch with additional strength needed for moving heavier loads
Recommendations: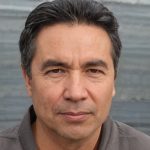 Warn's VR 12 will prove helpful to the nature lover who cannot be without a functioning winch.
4. BadLand ZXR Winch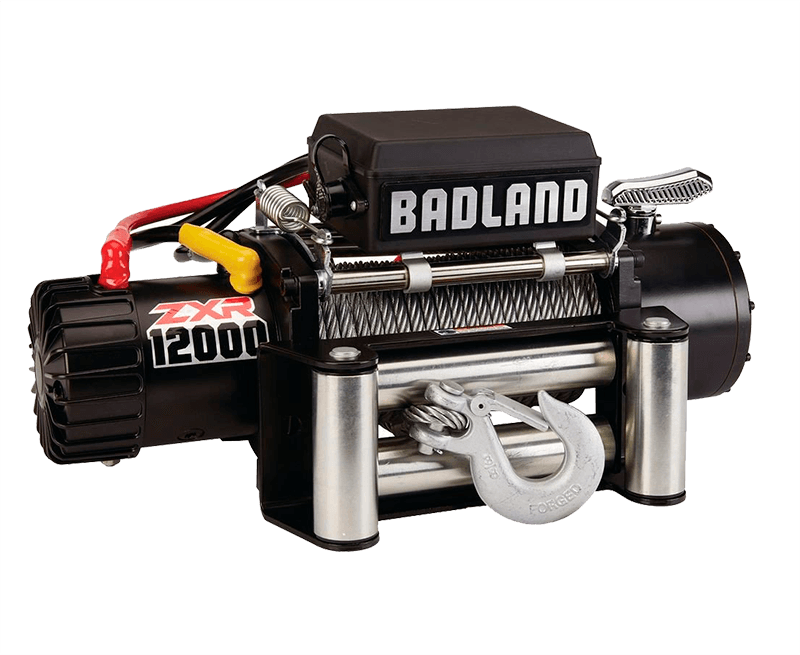 Getting great value out of a winch is a goal for many, and I'm guessing that holds for you as well. What constitutes a good value proposition when it comes to winches depends a lot on your preferences and spending capabilities.
A valuable winch could cost a lot of money but perform well enough and offer enough durability to make that elevated price tag worth it. If the price is an important consideration for you, then what you'll see as a good value proposition may depend on whether you prefer better performance or durability in a winch.
Pros & Cons
Improved frame durability
Great inner component protection
Excellent price for the great quality
Not the fastest winch there is
The cable is a little shorter when compared to other options
The BadLand ZXR Winch from Harbor Freight is not the fastest machine you'll see. The six horsepower motor imposes some noticeable limitations on the winch. The line retracts well enough, but it won't fly back into the drum. I wouldn't say that this winch performs poorly, but it's a notch or two below some of the high-end options on the market.
All that said, once you're able to mount this winch on your vehicle, you can expect it to stay there for a very long time. The frame of this winch is remarkably durable, and its internal components are adequately protected. Whether you decide to use it for off-roading or chores, it will hold up well.
The cable is a bit shorter than what you'll see on many winches, and that can be annoying. Thankfully, the hook is still suitably sized, and you won't have trouble grabbing on to your targets.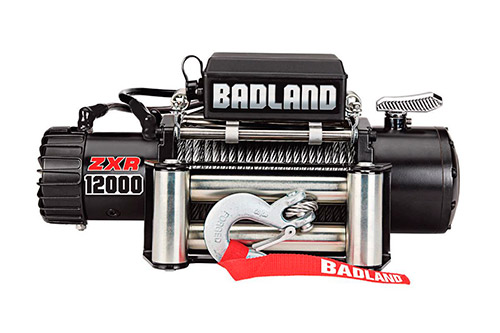 Don't expect a perfect item if you decide to purchase the ZXR Winch from Harbor Freight, but go ahead and count on it to remain useful well after the time you first bought it.
Key Features:
Decent power and speed for winch in the middle of the pack in terms of price
The hook is big enough to be used easily on many targets
It will not clutter up the front portion of your vehicle
Remote wireless control
Recommendations: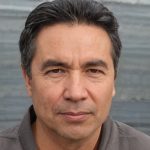 If you're willing to sacrifice premium performance for a more affordable price tag and exceptional durability, you'll be pleased with the BadLand ZXR Winch from Harbor Freight.
5. X-BULL Winch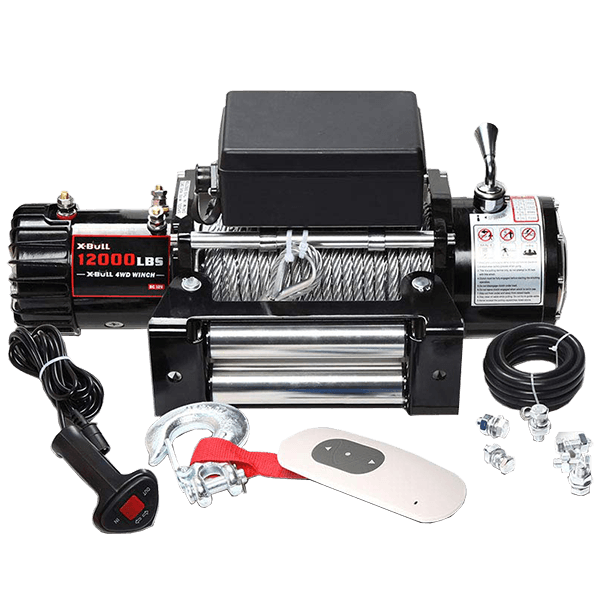 It takes a real professional to create something truly great, and the creators of X-BULL Steel Cable Winch succeed with the task. We do not know for sure, but we are allowed to assume that those who put so much thought into the winch creation should be off-road lovers themselves so that they know all the underwater stones and hidden catches a non-equipped vehicle can face when stuck.
To begin with, as you may have already guessed, it is a steel cable winch, which makes it quite practical and durable. We know that not all of you may be that fond of steel cable winches, so if you are interested in synthetic rope should check X-BULL 12V Synthetic Rope Electric Winch 13000 lb out. It is produced by the same manufacturer so that it is also good.
Getting back to our steel rope winch, we need to mention that it is as powerful as to pull 12000lbs out.
Pros & Cons
Highly practical and durable winch
Extremely lightweight winch
Two types of controls included
Affordable and reliable winch
What does that mean? It means that no matter where you are stuck or your friend in need – you can deal with the task easier if you have such a winch in your trunk. Besides, the winch itself weight as much as 83 pounds so that it will overburden neither you nor your vehicle.
You need to be aware of the fact that the winch is highly innovative since it comes packed with two controller types – manual and wireless. Despite the technological update, the manufacturer still prefers the classy durability and rust-resistance coming together with a winch. Another advantage of this particular winch is a 26-meter cable, which means that you do not need to come too close to the vehicle and end up stuck in the mud together.
Key Features:
Innovative wireless remote control
Powerful motor and high pulling load capacity
The sleek and modern design packed with timeless advantages such as anti-corrosion and water-resistance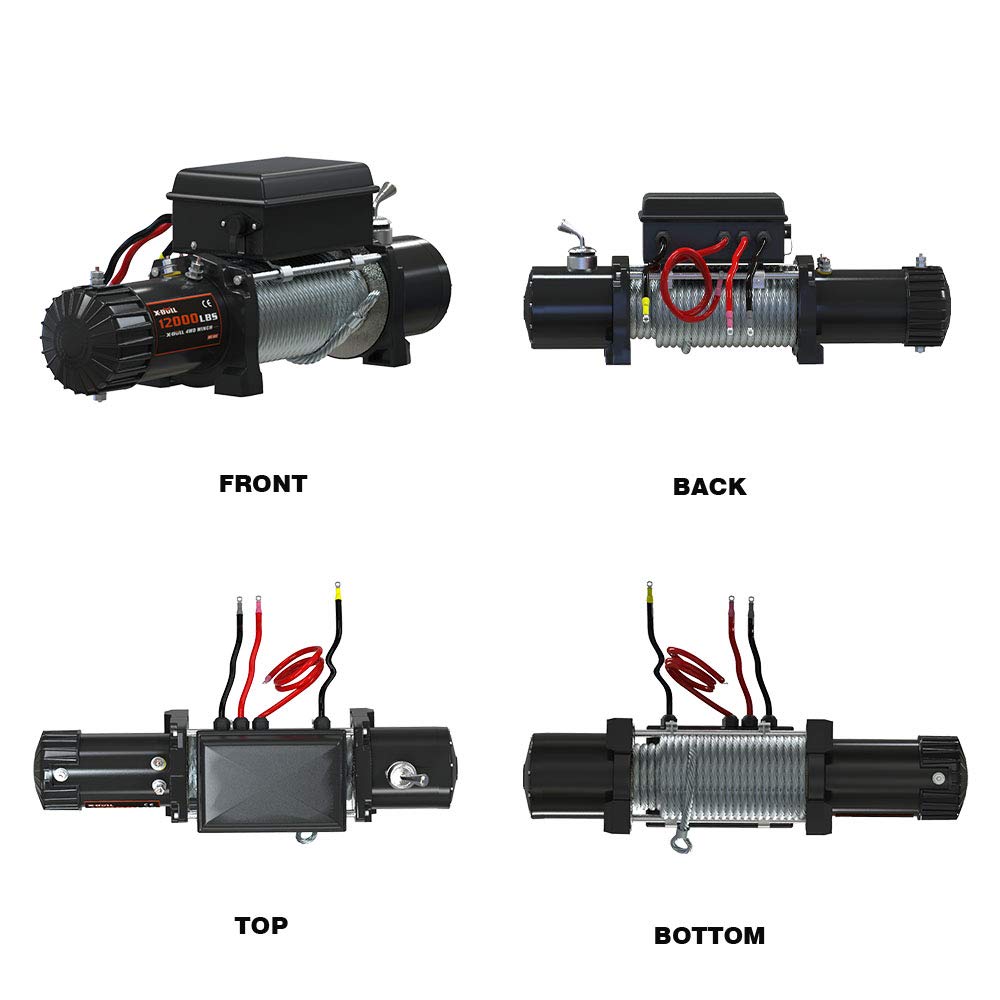 Recommendations: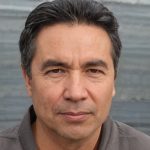 If you are trying to conquer fresh off-roads and there is always a chance of coming across a tricky swamp, X-bull steel winch will save you time and effort when it comes to getting out of there!
Buyer's Guide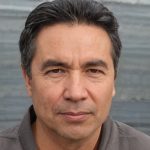 Buying a winch means taking into account factors such as capacity, the type of connector used, and the fit on your vehicle, among many other things. This buyer's guide will help shed some light on what winch you should look for based on your needs and preferences.
What Do I Need in Terms of Capacity?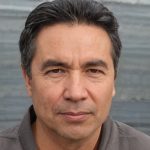 The winches we discussed above are ones designed to pull 12000 pounds of weight. In all likelihood, you will not be lugging around anything that weighs that much.
Even so, it is better to get a winch that is capable of pulling plenty of weight if you can. Remember that winches are also used for towing vehicles that have gotten stuck. That means the winch needs to be able to hold the weight of the vehicle as well as all the added force required to move it.
Try to look for a winch that features a carrying capacity that is around twice of your vehicle's weight. By doing that, you won't have to worry about getting stuck in the wilderness because your winch isn't strong enough.
Should I Go with the Synthetic Rope or the Steel Cable?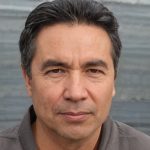 If you're just taking into consideration their performance, synthetic rope and steel cable are pretty close to one another. However, if you don't mind paying a bit extra, go ahead and get the synthetic rope.
The synthetic rope is simply easier to work with. Once you're done using the winch, it's easier to re-spool the rope compared to the cable. Plus, you can tie synthetic rope back together should it snap. The same cannot be said for steel cable.
Do I Need to Be Concerned about the Size of the Winch?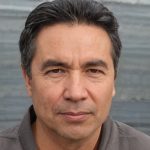 You certainly don't want your winch to stand out like a sore thumb on the front of your vehicle. Because of that, I tend to like the smaller winches more. They're easier to fit on most vehicles, and installing them is often a less troublesome endeavor as well.
What Protective Features Should I Look for?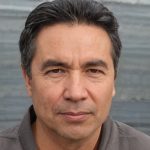 Make it a point to check if the winch you're eyeing is waterproof or, at the very least, water-resistant. I will also take a closer look at the housing of the winch to see if the motor is way too exposed.
Winches will have sometimes have to work in harsh conditions, and you don't want them to malfunction in those scenarios because they are not adequately prepared for the outdoors.
Best Winch for Jeep Wrangler (Updated December, 2023)
Product
Product Information
Check Price

Editor's Choice

Smittybilt X2O

Best Features:

IP68 Waterproof Rating
Automatic Out-Of-Drum Brake
5-Year Electrical Warranty

Type of Rope:Steel Cable, 0.375-inch diameter, 80 feet
Motor 6.6hp Series Wound
Geartrain: Three-stage planetary
Ratio: 265:1
Weight: 94 lbs
Available Options:

Smittybilt 97412 XRC

Best Features:

Equipped with a wireless remote
Waterproof design
Increased warranty

Type of Rope:Steel Cable, 0.375-inch diameter, 80 feet
Motor 6.6hp Series Wound
Geartrain: Three-stage planetary
Ratio: 193.2:1
Weight: 89 lbs
Available Options:

Warn 96820 VR 12

Best Features:

Enhanced reliability
Supreme power motor
Improved winch control

Type of Rope:Steel Cable, 0.375-inch diameter, 80 feet
Motor 5.5hp Series Wound
Geartrain: Three-stage planetary
Ratio: 216:1
Weight: 82 lbs
Available Options:

Warn 89120 ZEON 12

Best Features:

Well-balanced winch
Anti-corrosion coating
Lightweight winch drum

Type of Rope:Steel Cable, 0.375-inch diameter, 80 feet
Motor 6hp Series Wound
Geartrain: Three-stage Planetary
Ratio: 162:1
Weight: 98 lbs
Available Options:

X-BULL

Best Features:

Packed with a remote control
Faster rope payout
Positive load control

Type of Rope:Steel Cable, 0.375-inch diameter, 85 feet
Motor 6hp Series Wound
Geartrain: Three-stage planetary
Ratio: 265:1
Weight: 83.6 lbs
Available Options:

Badland ZXR

Best Features:

Motor remains cooler longer
Improved line speed
Increased winch safety

Type of Rope:Steel Cable, 0.375-inch diameter, 65 feet
Motor 6hp Series Wound
Geartrain: Three-stage planetary
Ratio: 265:1
Weight: 83 lbs
Conclusion
Winches can prove to be incredibly useful additions to your vehicle, but only if you take the time to search for one that is able to meet your needs and preferences. With the right type of winch mounted on your vehicle, traveling off the beaten path will be a much safer undertaking, and labor-intensive everyday tasks will also be easier to complete.