What are you gonna do when you find yourself stuck in mud, snow, or dirt? You might ask a fellow driver for help, of course. But what if there are no off-roaders around? Besides, even if there are, you'll still need equipment to pull the Jeep out. Now, there are quite a few options available on the market. You've got tow straps, recovery straps, and snatch traps.
And then there are kinetic ropes, mechanical ropes, and winches. So, how do you find the perfect fit for your vehicle? How do you know which gear to trust? Good news: you won't have to spend an eternity trying to find the right pick – I've already done it for you! Join me in this Kinetic Ropes vs. Recovery Straps comparison, and let's see what we're working with!
Different Names, Same Equipment
I bet the first question that comes to your mind is: are there really THAT many different types of gear that you can use for towing? Well, let's get to the bottom of this. The most important thing to remember is that there are only two options on the table – a rope, and a strap. There's also a wrench, but it doesn't fall into the same category (and it costs a lot more, by the way).
Depending on the brand, the ropes and straps can have very different names, but that doesn't mean they're any different. In the UK, they like the name tow straps, while in the US we're more used to snatches. The same is true for ropes. Keep this in mind when ordering towing gear (especially if you do it online) so that you don't get confused by all these terms.
Kinetic Rope: A Great Choice, or Not?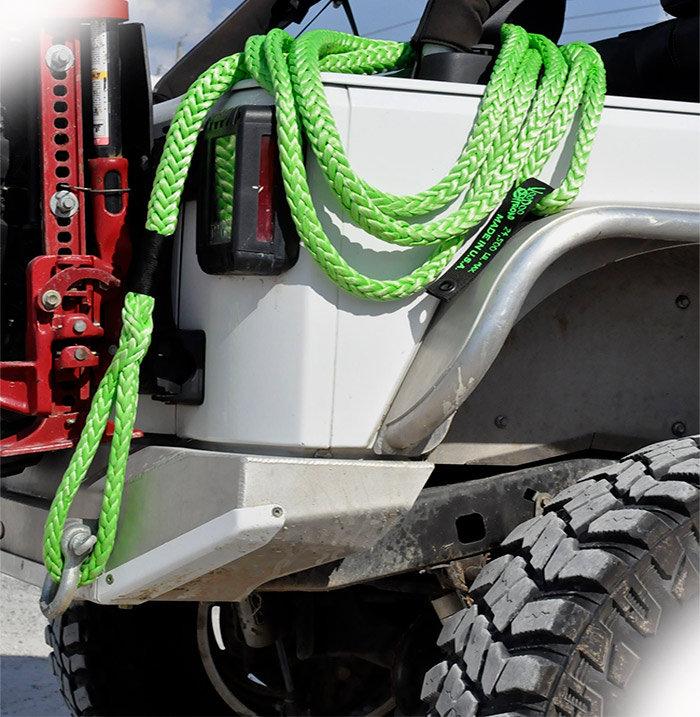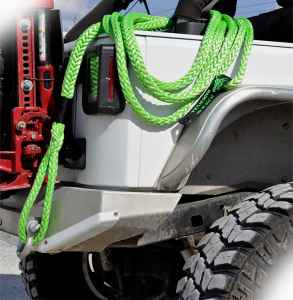 Ok, let's see what recovery ropes are all about. The best thing about rope – it takes very little effort in maintenance. And, it is very easy to store in the garage, pack in a bag, or carry with you. It's not particularly lightweight, but won't be very problematic to move around. Plus, kinetic rope is incredibly durable, long-lasting, and reliable. Tear/abrasion resistance is another big pro. Recovery ropes can easily withstand extreme pressure.
For extra strength and resistance, manufacturers add woven ends and an outer core. What is a kinetic rope made of, you might ask? Polyester and Nylon6 – this combination allows it to be extremely stretchable (up to 30%). Overall, a kinetic rope is excellent towing gear. If it's your first time using it, that might take some getting used to; but, it's nothing the average driver can't handle. The biggest downside is, of course, the slightly steep price.
The Pros
Impressive lifespan (when properly taken care of)
Woven ends for added strength and durability
Can be used multiple times in a row
Advanced abrasion resistance
Great stretching capabilities
Easy to pack/carry
The Cons
Expensive (but might be worth it)
Takes some sleight of hands to use
A bit on the heavy side (2/2.5 pounds heavier than straps)
Recovery Straps: A Worthy Alternative?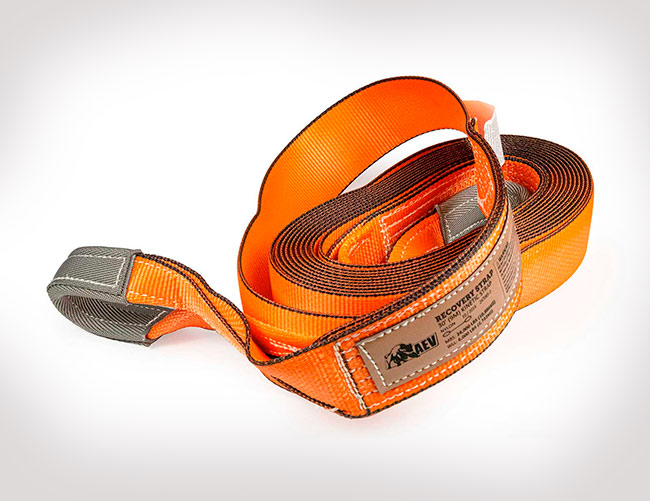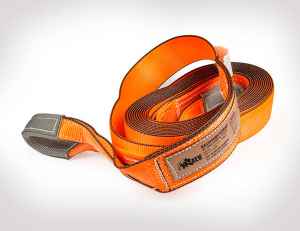 Did you know that straps have been around for a lot longer than kinetic ropes? That's right. On one hand, this means straps have proven their efficiency over time. On the other hand, recovery ropes were designed and developed with modern-day technology in mind. Snatch straps are almost always crafted from 100% nylon. As a result, they're not as stretchable as rope (20%).
The biggest advantage of straps over rope is the affordable price tag. You get a premium-quality strap for as low as 50 bucks. A reliable rope, in turn, will cost you $90-100, or even more. Straps are lightweight and easy to use. They don't require any practice. Plus, when properly rolled up, they are very compact. It'll take a while to wind a strap, however. Sadly, in contrast to kinetic rope, you won't find stitched ends here.
Furthermore, straps should NEVER be used to recover several vehicles in a row. If you do that, you'll probably end up ruining the gear. The thing is – it needs some time to, well, recover, go back to its original length. Only then can you safely use it again. Summing up, if you're in the market for a user-friendly, lightweight, and cheap option, a tow strap will be right up your alley. But, in all fairness, ropes are a better choice in almost every regard.
The Pros
Significantly cheaper than rope
Takes very little space once rolled up
Extremely lightweight
Very easy to use
The Cons
Stitched ends (don't last very long)
Not suitable for long-hour use
Takes some time to wind it up properly
Average stretching capabilities