Have you been noticing lately that the audio quality in your Jeep is not the same as before? Chances are, it's the soundbar acting up. Or, it could be that you've got a faulty tweeter that's causing the issue. So, maybe you should just replace that one speaker. But how do you find the right fit? What should you keep in mind while navigating through all the available options?
And what about the Jeep TJ sound bar speaker size? Is it different from that of the JK, JKU, and the rest of the Wrangler models? Are there any universally-compatible speakers? In this guide, you'll find the answers to all these questions and more. Compatibility, interchangeable parts, size, build quality, impedance – we'll cover it all!
Is Compatibility a Big Issue?
This is what they call a "grey area". Back in the day (in the late 90s/early 2000s), most Jeep models had pretty much the same dashboard, controls, and sound systems. Therefore, you could just grab a speaker from, say, a Wrangler JK and put it in a Cherokee, and vice versa. That's not always the case these days. So, be very careful when ordering sound equipment from places like eBay.
The seller might claim it will be a 100% fit, but in reality, it will be money flushed down the drain. My advice to you: first, figure out the exact name of your sound bar. Secondly, measure its size. Next, shop only from trusted online stores, preferably ones that cover their product(s) with a warranty deal. That way, you can get a refund in case something goes wrong.
So, what's the Right Size Then?
There are dozens of different audio systems and soundbars out there, and they all fit specific-sized speakers. That's just how it is. Say, the factory Jeep TJ sound bar comes with a set of 5.25" speakers. However, it will easily "accommodate" 6.5" speakers without any modifications or anything like that. Do keep in mind, though, that with the volume turned up, the plastic will resonate really bad.
But, it's nothing some basic insulation won't fix. A quick note: bigger tweeters don't automatically mean better sound quality. I would recommend going with 5.25" and buying a subwoofer to handle the bass. Wrangler JK, another legendary Jeep model, is also compatible with 6.5" speakers, by the way.
Replacing the Sound Bar vs. just the Tweeters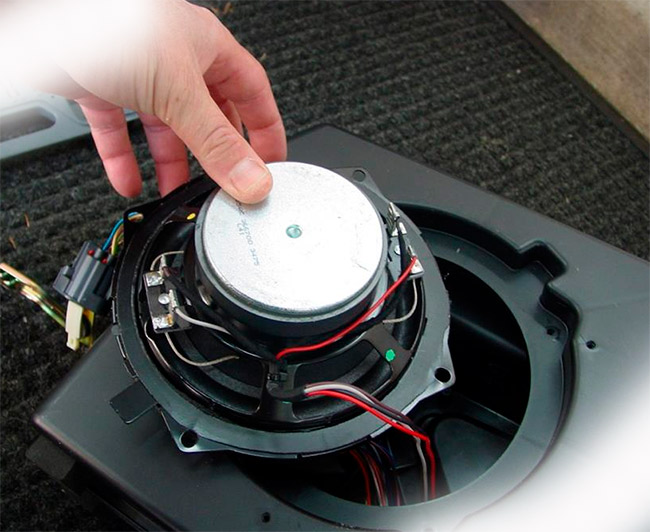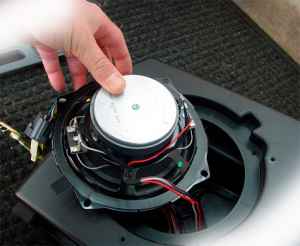 This is a dilemma that most audiophiles have to face at some point. So, here's the deal: if you only replace the tweeters (separate speakers built into the sound bar), that will cost you less. If you're on a tight budget but still want to improve the audio quality in your Jeep, this is the way to go. On the other hand, the installation process will take a while. Plus, you might not be able to handle it unless you're good around wires and stuff.
Again, you gotta be absolutely sure that these speakers will fit your factory soundbar. If it's a mismatch, you can try and drill new holes for the tweeters, solder heavy-gauge wires, but that requires pro-grade skills. Sound bars, in contrast, are very easy to install: you just remove the old one, mount the new unit, connect it to your TJ and that's it! That's gonna cost you more, though.
TJ Speaker Buyer's Guide
So, we just talked about compatibility and the challenge of finding the right fit for your TJ. We also considered the pros and cons of upgrading just the speakers/tweeters vs. replacing the whole thing. Now let's check out the most important factors for a set of Jeep speakers. What's the best material? Is impedance important? Does volume matter? Listen closely!
Build Quality/Durability
If you do a lot of off-roading or camping out in the wilderness, pay extra attention to the construction quality. For speakers, chrome is one of the best materials. It is strong against water, dust, dirt, and, of course, corrosion. As for the main body, I would recommend stainless steel or aluminum. The experts are calling rubber the most reliable surround material. Last, but not least, the finest cones are crafted from fiberglass, silk, or polypropylene.
What's the Deal with Impedance?
Nominal impedance is a term that many brands use to promote their audio equipment. Measured in ohms, it represents the impedance in an electrical circuit. Here's what you need to know: low-impedance speakers are generally a better pick, as they boast a high sound quality. However, they can also be pretty low in volume, which is something that you do NOT want in a Jeep sound bar. So, go with the golden middle – 4 to 8 ohms.
The Volume Wars
This one can be a bit confusing. There are two terms for describing the volume. We've got the peak power and the RMS. To appeal to a wide range of customers, manufacturers always put the peak power rating upfront. However, no set of speakers will last for long if you constantly blast them at maximum volume. That's why you should find the RMS rating in the specs, as it will be a more accurate representation of how loud those speakers can get.