Hi guys! I'm Andy and today I'm going to break down the differences between the different front bumper options for your Jeep Wrangler. When it comes to your Wrangler you definitely want to protect it and the  Front bumper for Jeep Wrangler is a really easy way to get extra protection for the front end while adding a certain level of functionality and style. It's easy to get lost with all of the different types of front bumpers. They come in a variety of styles and lengths, and they also have some very specific advantages. And today, I've picked four front bumper options that represent a particular style and tell you the differences in their coverage, benefits, and even how they can improve your performance, whether you're out on the trail or just keeping it facing the road. Alright, let's jump right in and see how to choose a front bumper for your Jeep Wrangler!
Today I'll look at the JL to show you the front bumpers, but all of these front bumpers in each of the different styles will be available for other gens as well, including the YJ, TJ, and JK which you can find on jeepequipment.com.
Well, the first bumper that I'm going to look at is for Jeep owners who are concerned about their off-road performance while also wanting a very aggressive look to make their Jeep stand out. Stubby front bumpers, and even this one in particular, are usually the width of the grille. So, this gives you that protection from minor frontal obstacles in your front grille area, especially with this stinger as other options that can cover some or all of the front tires. While it has its downsides in protecting the front tires and even the front of the fenders, this will maximize your performance on the trail. With all the open space on the side, nothing stands in the way of larger wheels and tires, especially off-road. Not to mention, your approach angles are also increased. And that's the angle you have when approaching a slope like a hill or an obstacle while on the go.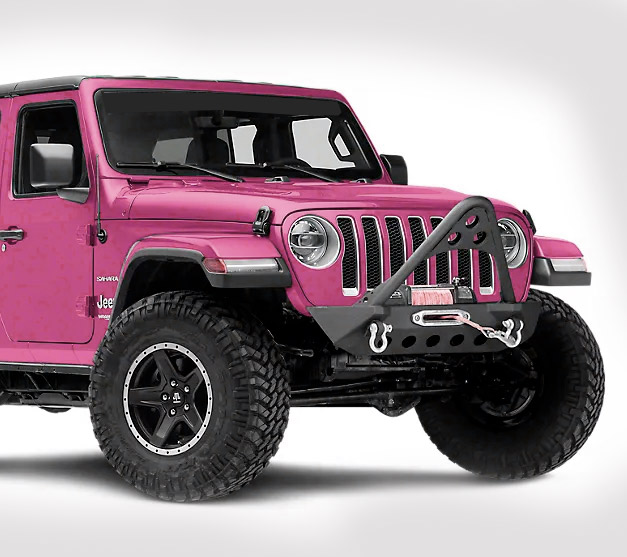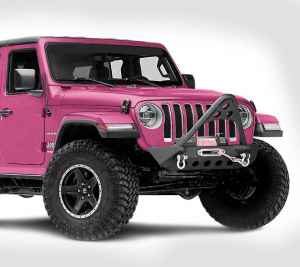 The particular  front bumper for Jeep Wrangler that I talk about is the Red Rock 4×4 Stubby Front Bumper with the stinger and winch mount, and on the performance theme, it will include features that will help you out on the trail and provide added value. That includes the winch mount, the D-rings, and even that big stinger on the front. What I particularly like about this option is the winch mount and the partially recessed one. And this is a feature that is different from different bumper styles but can be thought of as a sub-category within bumpers and their functions. This gives the winch some protection while also opening up some airflow to your grille compared to some of the other options that are mounted on top. It won't go entirely out of the way, but it will make a huge contribution to airflow while still being fairly accessible. The sting will also be more or less a sub-category in itself. This will be one of those mods that will love or hate it, but for those who love it, this will give your grille area a lot of protection from larger obstacles in front of your Wrangler.
Not to mention, the Stinger Bars are actually designed to prevent your Wrangler from tipping forward while descending obstacles. While it will give you a very aggressive look on the front of your Jeep, it won't just be there for the show. This next option is for the Wrangler owner who wants essentially the opposite of the last one. This is for someone who is looking for complete front-end protection and really doesn't worry about the extra trail performance with all that space on the side like the blunt front bumper. This style will be more or less factory length with a sturdy construction. So, this will be a full-width front bumper that provides all of the front-end protection, especially the front end of your tires and fenders, from any frontal impact, or even just branches or scrub while on the road.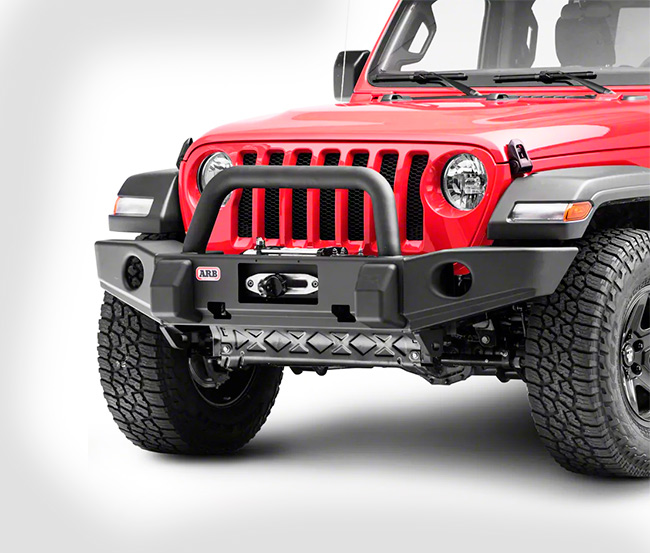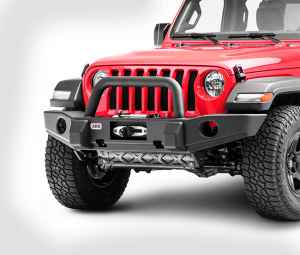 The bumper is the ARB Classic Deluxe Front Bumper. Again, with the bumper styles you usually get all of the standard features that come with an aftermarket or heavy-duty front bumper, but since these usually have a lot more space and space to work on the front of the bumper, you will get some extra features in comparison to see some of the other smaller options such as B. the blunt front bumper. Not to mention, because of these additional features, unlike some other bolt-on front bumpers, changes may be required, but that's not always the case. This front bumper, in particular, is a great example of this, considering that it features restore points, the ability to swap out your factory fog lights or even add an aftermarket fog light, plus multiple attachment points for accessories and / or auxiliary lights, and even jack up points.
As I mentioned earlier, these sub-categories also exist when it comes to various features like grille guards and winch plates. This front bumper in particular comes with a standard protective bar that protects the grille area very well, but isn't as aggressive as the sting we last saw. And it's much more commonly used for protection when it comes to protecting the grille. Not to mention, due to the rounded design, these usually have extra mounting tabs to add accessory lighting on top, which is the case with the ARB front bumper and it has a really good spot considering they are front and center. When looking at the winch plate, this is a completely recessed option that I personally like very much. Unlike the partially recessed option we noticed on the blunt front bumper, this gives us full wind protection as it doesn't protrude above the top of the bumper and allows full airflow to your AC condenser and radiator.
The two big things to keep in mind with a full-width front bumper are that you don't have that much room on the sides for extra power, which means your approach angles won't be as good when you're big. And bigger hoops don't have a lot of room for extra articulation and can limit your hoop size if you're looking for articulation. Also, because this is much larger, these are usually a bit heavier than some of the other smaller options that can add a little slack to the front end of your Wrangler, especially if you have a factory suspension system. Well, that depends on the front bumper design, but that's definitely something to keep an eye on.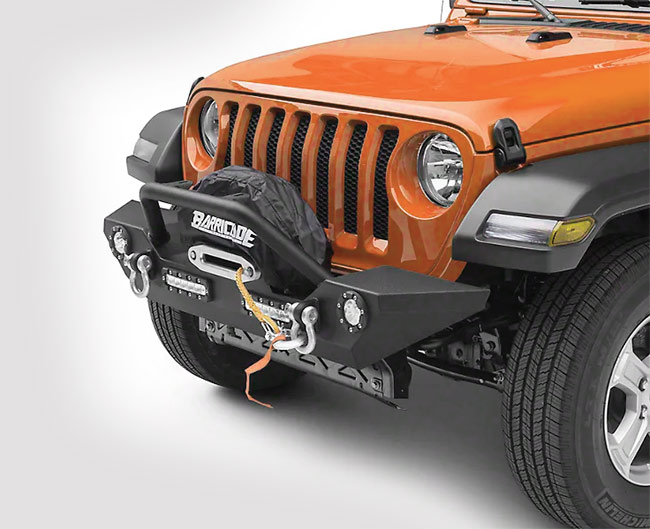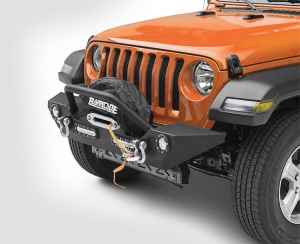 If you're a fan of some of the benefits of these two previous models then the mid-width front bumper is for you. This is perfect for someone who is looking for some decent front-end protection while also having some advantages of both a blunt front bumper and a full-width front bumper. This type of bumper usually covers the entire grille area and then some on the sides, which provides front protection for your tires and fenders. Typically, these bumpers have an upward-angled construction at the ends, which increases your approach angles and trail clearance, although they are slightly longer than a blunt front bumper. As an example of this style, there is a Barricade Trail Force HD Front Bumper with LED lighting on a Wrangler. So, on the sides, these will protrude a little further than the grille, but as you approach obstacles along the way, the ends will be angled so they don't get in the way. This particular bumper will be similar to the full-length option where there was more area and space on the front of the bumper for additional accessories including LED lights. These won't be attached to every medium-width front bumper, but because of the extra space they'll usually offer more options when it comes to accessory mounting, additional lighting, or even replacing the factory fog lights, as well as restore points.
This front bumper will also include a front bumper similar to the last one, but it won't fit into the grille as tightly as the ARB front bumper. It comes out a bit more like the angle of a spike and this will give you some outside protection as well as some aggressiveness on that spike, but it will give you a milder styling while doing a really good job of protecting that grilling area. When it comes to the winch on that particular bumper there is a top mount winch plate and many of these mid-width style options have the same thing. This makes it very easy to handle your winch and very easy to maintain as it is very easily accessible. However, this will block some of that grille area when it comes to airflow and it will be a little more exposed compared to the other options. However, there are medium front bumpers that have different winch plates, but the winch plate placement is something to consider when shopping for a front bumper.
Well, the last front bumper we'll look at is going to be a minor setback. This style is for someone who wants to add some retro styling to the front end of their Wrangler while incorporating some of the benefits we've discussed from this full-width design. This style will cover the front end of the Wrangler really well, just like the full width option, and the length will be roughly the same for really any tubular front bumper you come across. This style will do a good job of protecting the grille area as well as the front of the tires, but unlike our Full HD front bumper, this will be a lot easier.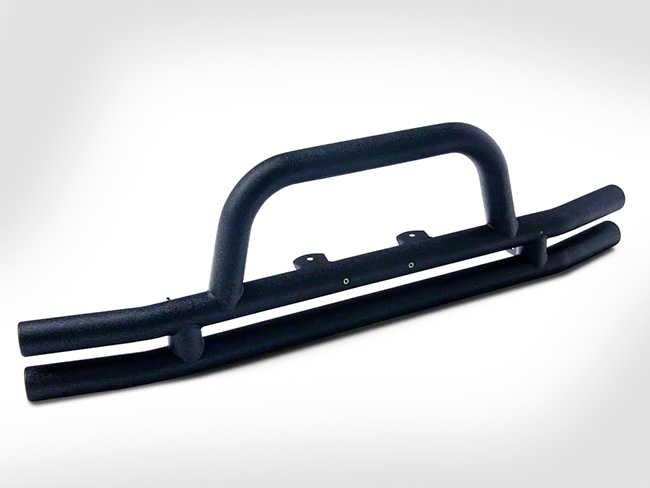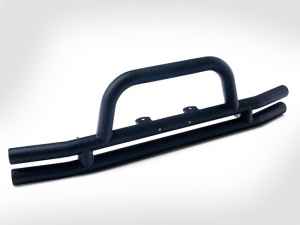 There is a RedRock 4×4 Tubular Front Bumper and this is made from a stainless steel material to ensure that the front end is not heavy or sagging. But on the contrary, it's not as durable as steel plate material, which provides some protection from bushes or minor obstacles while you're on the trail. Not to say that this doesn't protect your front fascia better than your stock front bumper in the event of a hit, but when hit harder the material is a little softer than steel and tends to bend a bit easier. Nevertheless, this offers really good coverage and grille protection. This RedRock front bumper will incorporate a full bar, just like the others we've discussed before, and most of the tubular front bumpers you'll come across. Well, when it comes to accessories and utility, here is the simplicity of a tubular front bumper. Some can vary when it comes to a cutout, but compared to most high-performance steel bumpers, these usually don't have restore points, additional lighting, or even the ability to swap out your factory fog lights.
This one in particular has accessory lighting mounting tabs in the center of the bumper to ensure you have this option for added visibility from the front of your Wrangler. What I like about this style, however, is the fact that it keeps it simple for someone who isn't really looking for a ton of utility out of the front of their Jeep but is looking for retro styling and more in their stock bumper. Not to mention that there are many solutions for adding accessories and lighting as tubular mounting brackets are very easy to access and very inexpensive, especially here on our website.
As I mentioned at the beginning of the article, choosing a front bumper can be a little confusing when it comes to all of the different styles and types that are out there. Hopefully this breakdown made it a little easier to narrow down the best one for you and your Wrangler. Make sure to comment below which front bumper you think is best and which front bumper you would add to your Wrangler and always keep them here at jeepequipment.com.