So, you want to remove your factory doors (maybe to install a set of tube doors) and need step-by-step instructions? You're in luck because today, I want to share a user-friendly guide that will help you get things done in no time. This isn't rocket science, and you'll be done in 2-3 minutes, depending on how good you are with basic garage tools.
Alright, let's get right to it and remove the doors, shall we?
Removing the Door
First things first, fold the mirror in (on the outside, of course, not the inside)
Can you see that black strap? It's there to keep the door in place and prevent it from "traveling" too far. Remove it next.
Once that's done, get to unscrewing. Each door has two bolts that do all the holding. Unscrew the nuts.
I recommend using a 13-mm socket. It'll be perfect for most Jeeps, both older and newer models.
A quick note: don't use all of your strength on the nuts: be gentle so that the paint does come off.
You're done? Great, that should loosen up the door. What you should do now is hold on to it really tightly and get to lifting.
Lift it straight up – don't go left or right. And, again, make sure you're holding it with both hands.
Wait, and what about the bolts – won't they be a problem?
Well, no, because they're not just "hanging out" there. Instead, the bolts are firmly attached to the hinge.
Repeat the same with the other door.
Taking Care of the Dome Lights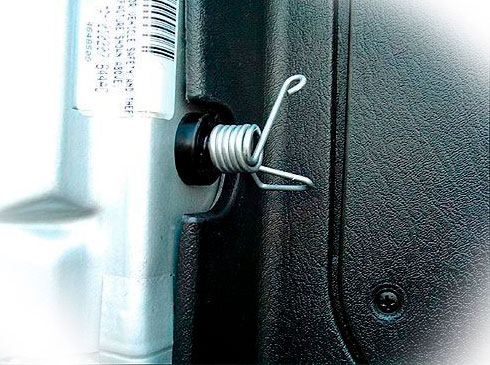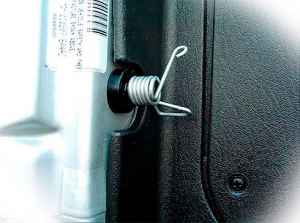 With the doors out of the way, you'll need to turn off the dome lights. If you skip this part, the lights will turn themselves on and stay on when the doors are removed, and you don't want that. The best way to do this is to get a door clip. These are available for cheap (10-15 US bucks) and do the trick. They usually come in a pair and are backed by a warranty. All you'll have to do is install the spring over the switch, and it will do the rest.
The whole thing takes less than a minute. And, again, since it's a pair, the dome lights on both doors will stop bothering you from now on. Alternatively, if you don't want any extra expenses, you can just "yank" the light bulb out and deal with this tiny problem that way. However, that might require some basic engineering skills.
Putting the Door(s) Back On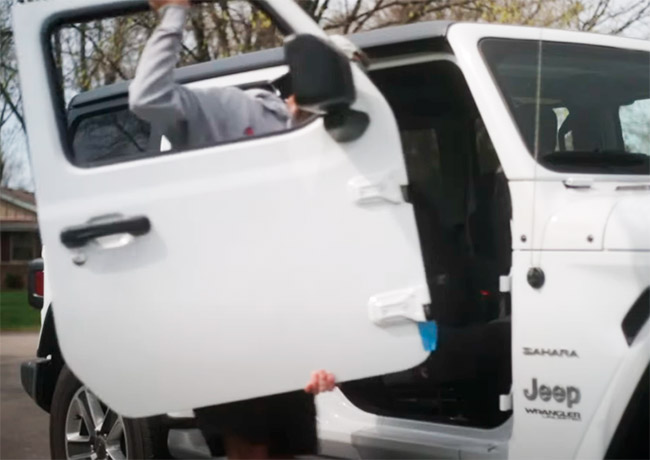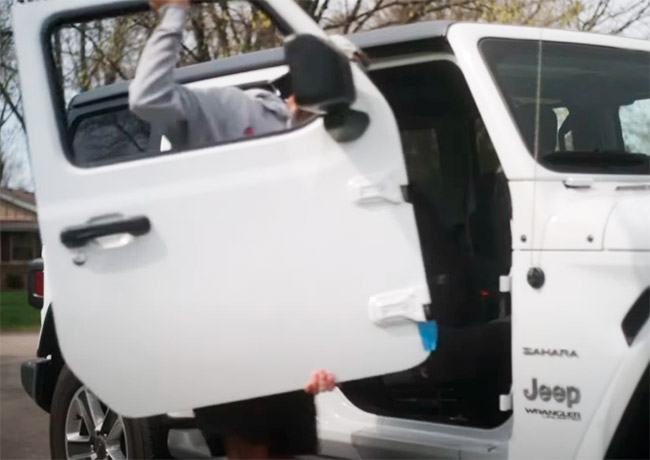 Last, but not least, let's talk about how to put the factory doors back on (say, when it is winter time and you need that extra protection). So, what's the biggest difference between removing and installing Jeep doors? Well, even if this is your first time doing it, removing the doors is a one-man job. Just follow my instructions, and you'll be golden.
In contrast, putting the doors back on can be a tedious task when you don't have a buddy to help you out. The reason: it will be pretty hard to align the bolts I mentioned earlier with the door hinges. Remember: there are two bolts, and two hinges, which means they all need to line up to each other perfectly. If you're a patient person, this is very much possible. But, it would be best to have an extra set of hands at your disposal.
Alright, that's pretty much it for today! Take care, and drive safely!