So, you've got a rusty bumper, grille, fender, or hardtop. How do you get rid of the corrosion before it takes over your four-wheeled friend? The market offers two different treatments. On one hand, we've got rust converters. And then there are the rust converters. The question is – which product will do a better job? Well, that's exactly why we gathered here today! While these formulas have the same goal – to treat rust – they're not the same thing.
In some situations, a converter will help you achieve excellent results. In other instances, a remover will do a far better job than a converter. Ideally, it would be best to keep both solutions in your garage just in case. Alright, with that out of the way, let's learn the difference between rust converter and rust remover.
Rust Remover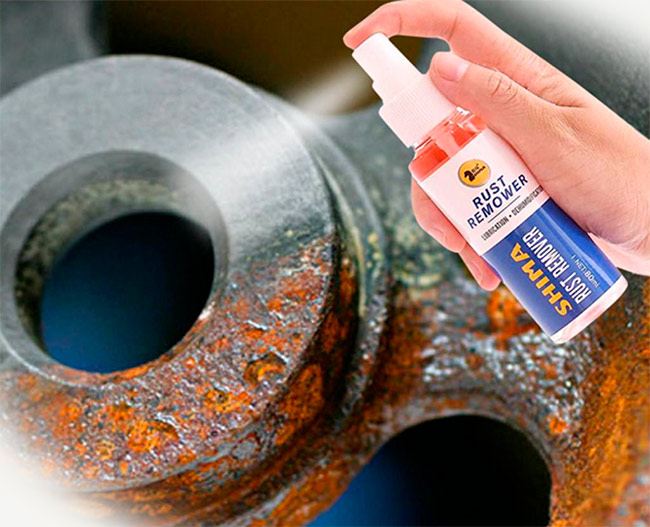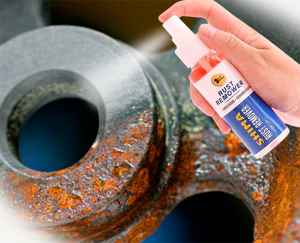 This solution has been around for much longer than the converter. People have been using rust removers for a couple of centuries now. Essentially, a rust remover is a concentrated acid that eats through rust. It's incredibly corrosive, by the way, which means you should be very careful not to spill it accidentally. Or, look for a non-toxic solution. Those can be pretty expensive, though; besides, there are no 100% harmless chemicals on the planet.
Now, while the acid is pretty strong, it does take quite some time to do its job. To speed up the process, soak whatever you need to be cleaned up into the solution. And if it's a larger object (like a bumper that's hard to fit into anything), just apply the remover onto its surface. Next, don't forget to cover the formula with some sort of plastic. Otherwise, it will vaporize before it can do any good.
In some really severe cases, multiple layers of rust might be required to treat the corrosion. At the same time, don't overdo it, because once the remover is done with the rust, it will start to harm the actual surface. Rinsing is highly recommended to avoid that. One more thing: look for a rust remover that prevents flash rusting. This can happen to exposed metals.
So, the best use for a rust remover will be metallic objects that you're not planning on painting/coating. With it, you can achieve pretty great results and bring the surface back to its original shine.
Rust Converter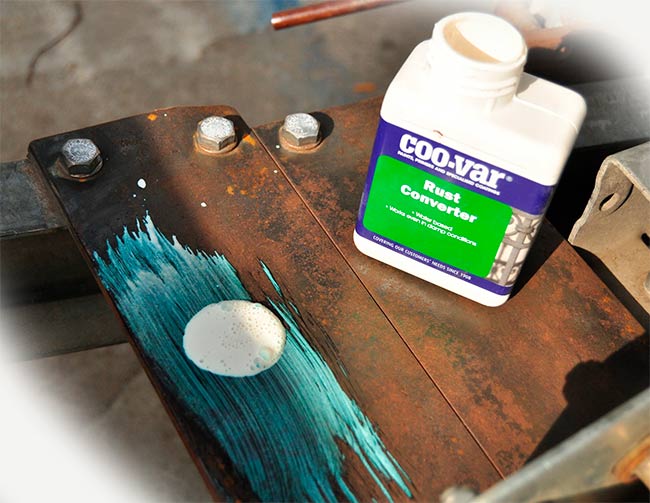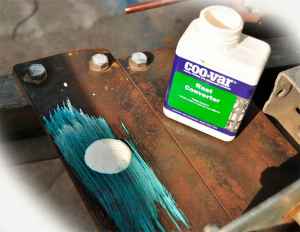 And what does a Rust Converter have to offer? The approach is completely different, that's for sure. While a remover aims at eliminating rust, a converter transforms it into something new. It uses plant-based acids for that. A converter starts a reaction and converts it into a black substance. The best thing about this new formula: you can paint over it. Acrylic-based paint, different types of coating – it all goes!
Another big pro: most converters are non-toxic and water-based (which can't be said about the removers). What you should do is simply apply it like you would with paint. A converter takes very little time to start a reaction and alter rust. The results are very long-lasting. Some advanced solutions can even protect the metallic surface from corrosion in the future.
Mostly, rust converters are used for restoration. The list includes construction, industrial applications, boats, planes, and, of course, vehicles. So, if you've got a fancy truck or SUV that needs some restoration, a rust converter will be the best choice for you. The reason – most gear, equipment, and accessories are painted. And, even if they have the best anti-rust protection, over time, corrosion will take over.
With the help of a converter, you'll be able to transform rust and add a layer of premium paint, making the vehicle look brand-new. Auto body parts greatly benefit from this procedure. It won't cost you a lot of money, either, which is why rust removers are becoming less popular among drivers, especially off-roaders.