Do I really need to invest in an aftermarket exhaust system? Or maybe I'll be better off upgrading the radiator and air filtration system? These are the most common questions amateur off-roaders ask. And here are the facts: when the factory exhaust gets clogged, the fumes put extra pressure on the engine. On a regular trip to the closest store with the family, that won't be a big problem. However, when pushed to the limit, the motor may overheat.
And trust me: you don't want to have that kind of a problem on your hands. First of all, the mechanics will charge you a lot for fixing that; secondly, they usually take a lot of time, and that can also cause an inconvenience. The cost of a premium-quality third-party exhaust system is a lot lower than that of a new engine, that's for sure! This is exactly why you shouldn't take a faulty exhaust lightly. Have it replaced as soon as possible.
But how do you know when it's time to say goodbye to the factory gear? And how do you choose the right replacement when there are literally hundreds of options available from different brands? Well, that's why you've got me! After two months of in-depth research and rigorous hands-on testing, I picked the following systems as my tops picks.
I've got the best exhausts for the Jeep Wrangler JK, TJ, and JL. To make navigation easier, I broke down the review into three different parts – one for each model. Once you're down with the reviews, you'll find a detailed Buyer's Guide and a FAQ section at the very bottom of this post. They'll help you answer the most important question – what is the best exhaust system for a Jeep Wrangler? Ready to find the answer? Let's get to it!
Best Exhaust for Jeep JK Review
1. MagnaFlow 15160 – Best Sounding Jeep Wrangler JK Exhaust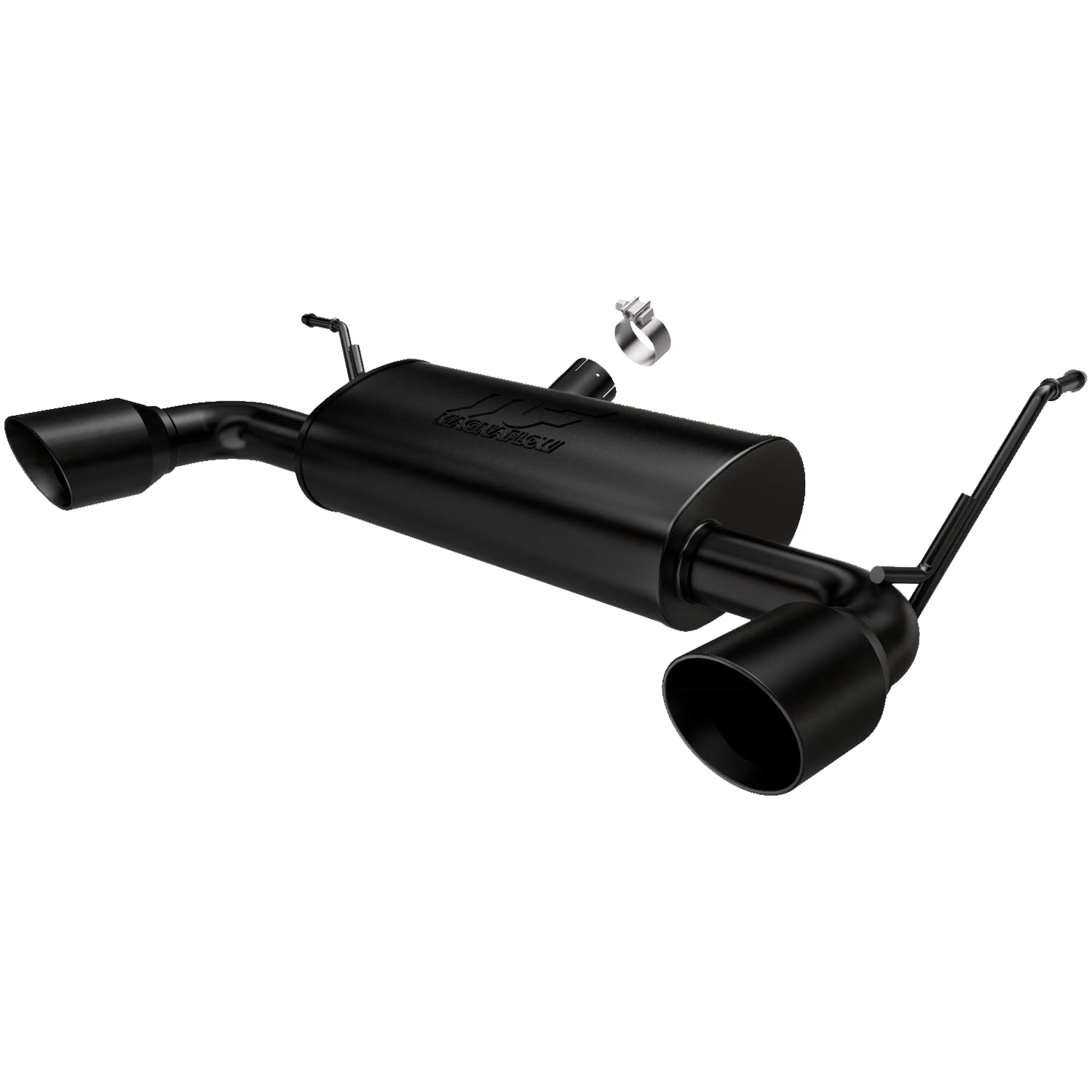 What's the #1 task of any aftermarket exhaust? To protect the engine from harmful fumes, of course, and MagnaFlow does an excellent job of safeguarding the motor. However, that's not even its biggest selling point. It caught my attention because of the beefed-up, roaring sound that it adds. You'll instantly understand what I'm talking about when you hit the gas pedal for the first time after the installation.
It does, indeed, sound like a million bucks, and when you reach higher RPMs, it gets even more aggressive. And the great thing about this: the exhaust system keeps the noise levels comfortable for the drivers and the passengers. More good news: The 15160 exhaust is street-legal in every single American state. That means you won't have to worry about any CARB laws on or off the road. Another big pro is the generous lifetime construction warranty.
With it, you'll also get a one-year warranty on the premium black coating. So, can we say that MagnaFlow's exhaust is flawless? It pretty much is, but you will have to pay a big buck for it, though. This gear isn't particularly cheap, yet well worth all the investments.
Pros & Cons
Makes the Jeep sound ten times better
Legally available in all 50 states
Included a lifetime construction warranty
Expensive, compared to the market average
Recommendations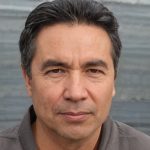 Despite the not-so-cheap price-tag, the MagnaFlow exhaust system is a bargain for the fans of top-quality aftermarket gear. It greatly improves the sound, doesn't have any CARB restrictions, and is backed by a lifetime guarantee.
2. aFe Power 49-48055 – Best High-Flow Exhaust System for Jeep Wrangler JK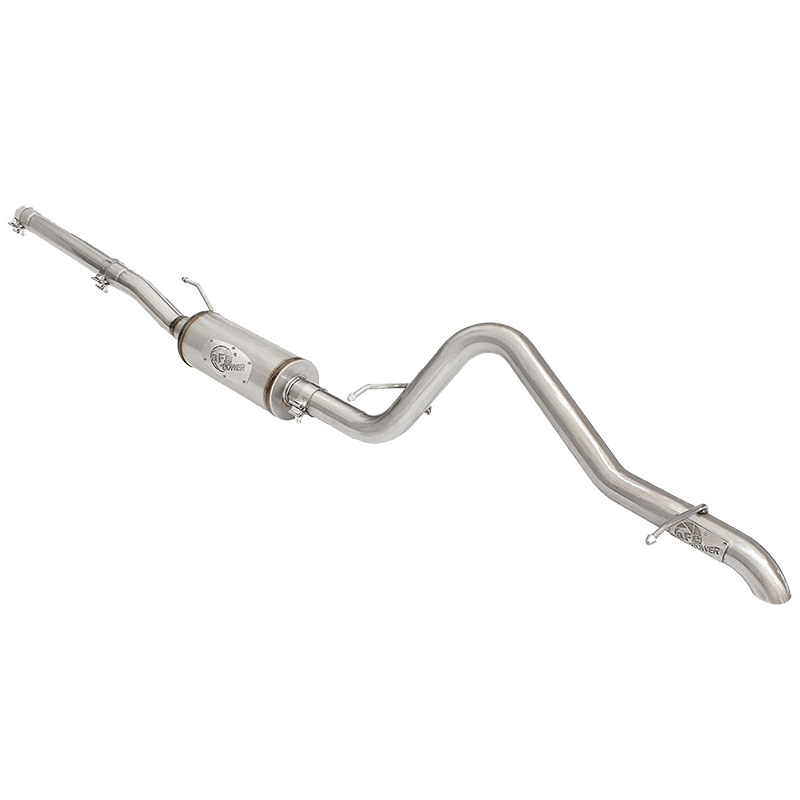 This next exhaust is available in both stainless steel and aluminized configurations. The latter is expensive but can last a little bit longer, even on the most demanding and challenging adventures. aFe is an obvious leader in the market of premium-quality gear, and it put this exhaust system through dozens of complex tests to prove it's dependable, durable, and efficient enough for the American roads.
Speaking of efficiency, the engineers implemented the company's patented Hi-Tuck design. It ensures maximum clearance, which is very important, especially if you do a lot of off-roading. And one more thing: if you're the proud owner of the Evap skid plates, you won't have to worry about compatibility, as the Mach Force-XP exhaust was designed and built with them in mind.
I have to also mention the one con that I came across during testing: on a muddy trail and the race track, this exhaust sounds just right. However, on a busy highway, it makes these disturbing drone sounds that can be heard even in the most noise-proved interior. But hey – if you're only planning to drive your JK off the road, this won't be a problem.
Pros & Cons
Proved its worth in dozens of tough tests
Advanced Hi-Tuck design for ultimate efficiency
Easily fits most Evap skid plates
Annoying drone sounds on highways
Recommendations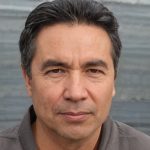 Reliable, long-lasting, and designed to be efficient, the aFe exhaust system deserves its spot on the list. It's skid-plate-friendly and implements the Hi-Tuck design for extra clearance. Too bad the gear gets annoyingly loud on highways.
3. Dynomax 39510 – Best Budget Exhaust System for Jeep Wrangler JK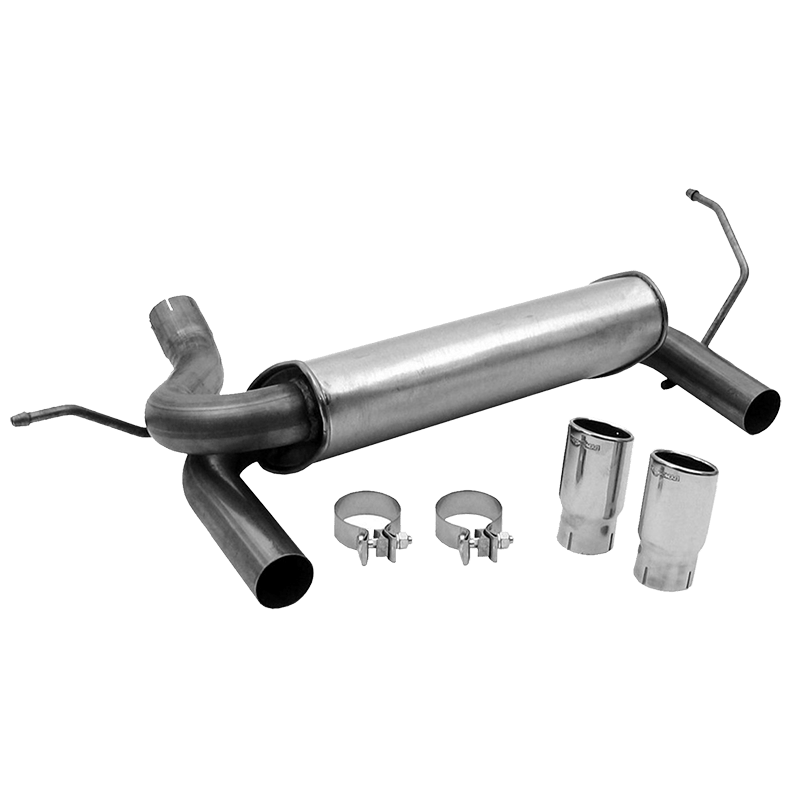 If the previous two offers seem a bit too fancy for your wallet, Dynomax might have a good deal for you. This is one of the least expensive aftermarket exhaust systems right now. But how does it hold up when compared to the rivals? That's the big question here. Well, it does have a series of pros. First of all, thanks to fiberglass matting, it eliminates resonance inside of the interior, ensuring a quiet, comfortable ride.
Secondly, the company backs it up with a limited lifetime warranty paired with a 90-day performance/sound guarantee. That will give drivers peace of mind, knowing they can reach out to the Dynomax customer support. Now, as for the biggest downside, this exhaust is not very dependable or long-lasting. Many JK owners report leaks, clogging, and rusting, among other serious issues.
So, don't hesitate to get in contact with company officials and request a replacement. As long as you're within that 90-day guarantee, this shouldn't be a problem.
Pros & Cons
Fiberglass matting eliminates unwanted resonance on the road
One of the most affordable options on the market
Covered by a limited lifetime/90-day performance guarantee
Recommendations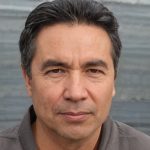 The Dynomax exhaust system is highly affordable, covered by two different warranties, and does an excellent job of keeping the interior nice and quiet. Unfortunately, it's got durability issues and may give up on you in the middle of the road and – potentially – cause the engine to overheat.
4. aFe Scorpion 49-08046 – Best Single Side Exhaust System for Extra Clearance
Here, we have another top-notch exhaust from aFe. If you're looking to get as much clearance as possible for your off-roading journey, this right here might be it for you. On top of that, the installation process is as simple and intuitive as it can be. With the proper tools and a little bit of luck, you'll be done in 2 to 3 hours. And that's great news, considering that some systems take up to ten hours to complete.
There won't be any issues with fitment, either. Regardless of your Jeep's configuration (a two-door or a four-door wheelbase), the installation will run smoothly. Another big standout point is the well-above-average material and construction quality. The Scorpion exhaust includes a 2.5-inch mandrel-bent steel tailpipe. The free-flowing muffler and the premium installation hardware (clamps, hangers, nuts, and bolts) are even more reasons to get it.
Unfortunately, the effect on mileage is very modest. Honestly, I didn't see any significant gains in fuel efficiency, despite the superb build quality. Other than that, aFe can be trusted with keeping your engine cool and increasing its lifespan. It won't let you down and will keep the fumes out of the way.
Pros & Cons
Takes very little time and effort to install
Fits 2- and 4-door Wrangler JKs
Impressive engineering and material quality
No noticeable gains in mileage
Recommendations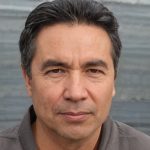 Wrangler drivers in the market for a user-friendly replacement exhaust system will find the Scorpion to be a safe bet. It fits most JK configurations, takes little time to install, and boasts premium engineering. Just don't expect any big gains in fuel efficiency – in that regard, this exhaust isn't at all impressive.
5. Banks Monster – Best Exhaust System for Jeep JK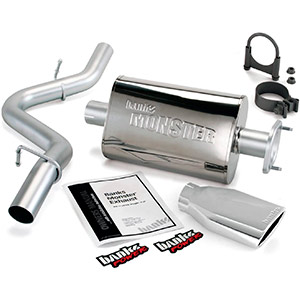 Model-specific aftermarket gear is almost always a worthy investment. Most importantly, that means it will be a direct, bolt-on fit, and you won't have to do any cutting, bending, or drilling new holes for the exhaust to fit. Secondly, since the Banks Monster was designed and manufactured with the JK in mind, you can expect decent gains in HP, torque, and mileage. It won't turn the Jeep into a Mustang on the race track, of course, but the boost will be noticeable.
The throttle response will be improved as well, making the vehicle start faster and with less effort. If you've ever been in a situation where you can't seem to go fast enough when stuck in the mud, these acceleration gains will be right up your alley. Unfortunately, this isn't a US-made product. To cut production expenses, Banks Monster manufactured this exhaust in China.
That doesn't mean the engineering quality is bad. Still, if you're a fan of American parts, this will be a (minor) con. On the bright side, delivery and shipment across the states take very little time – you won't have to wait for weeks for the package to arrive.
Pros & Cons
Crafted with the Jeep JK in mind
Gives acceleration a nice boost
Fast nationwide delivery-shipment
Recommendations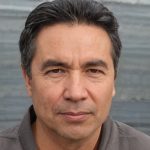 Fast shipment, a JK-friendly design, and strong gains in performance (especially acceleration) turn this exhaust system into a must-have. If you're not turned off by the fact that this is a China-made product, it will be an excellent deal.
6. Flowmaster 817674 – Best Cat-Back Exhaust for Jeep Wrangler JK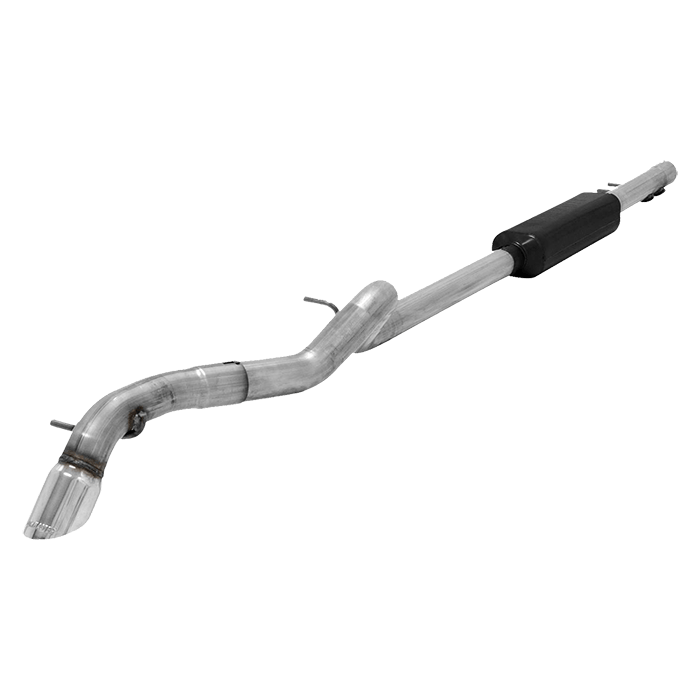 Just like the company's name suggests, this exhaust will master the flow, eliminating fumes at a rather impressive speed. As far as the finest cat-back exhausts for the JK go, this one's right there on top of the list. The high-performance mufflers, along with the mandrel-bent tailpipe and stainless steel tips make sure the engine is always operating at comfortable temperatures.
Plus, thanks to the clever design, the American Thunder exhaust is compatible with many trucks and SUVs, especially Jeeps. I'm talking about various engines, catalytic converters, two-door, four-door, and other setups. Oh, and by the way, this is a 100% US-made product. Flowmaster is based in the States and uses local materials to produce some of the most reliable exhaust systems on the market.
Now, I know I just mentioned that it fits a long list of different vehicles, and that is very true. However, a beginner might have a hard time with the installation. It takes quite a lot of time (up to six hours, or more). Plus, the included instructions are very vague. You will get all the necessary hardware and parts for installation, though.
Pros & Cons
Fits a long list of SUVs and trucks
Trademark high-performance mufflers
A US-made product
Can be a bit hard to install for a novice
Recommendations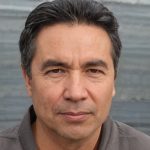 Despite the slightly misleading instructions and long installation, the Flowmaster exhaust is a crowd-pleaser. It's compatible with dozens of different vehicles, packs premium-quality parts/hardware, and is designed, tested, and manufactured in the United States.
Best Exhaust System for Jeep Wrangler TJ
According to official statistics, the TJ is the most popular Wrangler after the JK. It was first revealed in 1996 and hit the dealerships a year later. TJ had an incredibly successful presence on the market for over a decade, right until the JK was introduced. The fans of off-roading know very well that this is a highly reliable, safe, comfortable, and strong SUV, perfect for off-roading on the most demanding terrain.
It's got a mighty powertrain – that's not even up for a debate. However, all that off-roading can wear the stock exhaust system out and it won't be able to "beat" the fumes very effectively. If you're in a similar situation, the following aftermarket units will be worth every single penny.
1. aFe 49-46223 – Best Sounding Jeep TJ Exhaust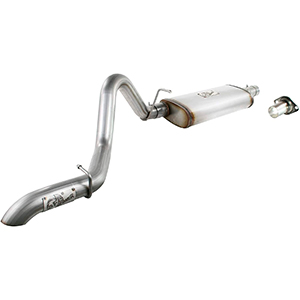 Do you know what kind of exhaust you want for your Wrangler TJ? Should it be loud, or maybe smooth? Are you going for a perfect fit or easy installation? When considering the best exhaust for Jeep Wrangler, the Mach Force series by aFe is among the top options on the market. One of its biggest selling points is the perfect balance between aggressive roars on the outside and mild tones on the inside.
Along with that, the high-quality clamps, couplers, and bayonet-style hangers make sure the installation process won't cause you any troubling challenges. That's not all: I also noticed a decent boost in the MPG (miles per gallon) ratio. That equals an improved mileage and more saved bucks in the long run. Unfortunately, the performance gains are pretty poor. I'm talking about the extra "horses" and torque.
So, it's up to you to decide whether you're happy with what aFe has to offer, or not. Drivers that put flexibility, no-hassle installation, and throaty engine sounds first won't be disappointed by this third-party exhaust system. If you feel the same way, give Mach Force the attention it deserves.
Pros & Cons
Bayonet-style hangers + clamps for easy installation
Aggressive on the road, mild in the interior
Improves the MPG ratio
Recommendations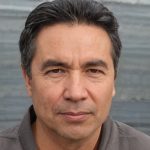 As long as you don't expect any mind-blowing improvements in terms of performance, you'll most likely be happy with this exhaust. It boosts fuel efficiency, makes satisfying roaring sounds, and is very easy to install.
2. Dynomax 19391 – Best Stock Replacement Exhaust for Jeep TJ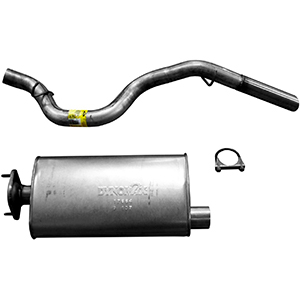 In contrast to the aFe exhaust, the one by Dynomax is all about improvements on the powertrain front. The gains are, indeed, noticeable: if you're tired of your Jeep slipping and stalling all the time on rocky climbs, this gear will fix that for you. Efficiency isn't its only pro, by the way. The 19391 exhaust implements the company's trademark flow-director design. It eliminates turbulence and handles the fumes like a champ.
The larger-than-average internal flow tubes, in turn, prevent backpressure and maximize the entire system's efficiency. The Dynomax exhaust was heavily tested and dyno-proven to flow up to 700 SCRM – that's a pretty impressive result. Not everything about this product is great, though, and it comes with some disappointing quality control issues.
Some packages lack the necessary nuts for connecting to the catalytic converter. Plus, if you have skid plates, a rear bumper, or a trailer hitch, you'll have to do some DIY stuff to make it all work. The provided installation instructions are pretty detailed and helpful, but they still don't compensate for this.
Pros & Cons
Flow-director design equals no turbulence
Large internal flow tubes eliminate backpressure
Provides a noticeable gain in horsepower and torque
Minor quality control issues
Recommendations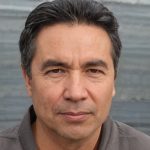 The HP/torque gains, unique design, and large internal flow tubes make this replacement exhaust worth your while. But, the installation won't be a walk in the park, especially if you've got aftermarket bumpers, skids, and hitches.
3. Exhaust System for Jeep TJ by Mac Store – Best Budget Option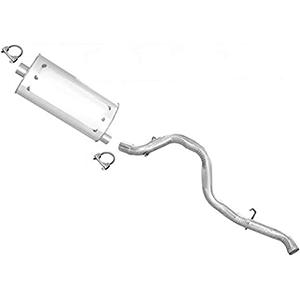 There's nothing out of the order with this exhaust. In fact, it's even a bit behind the competition in terms of efficiency, the powertrain, and the design. Furthermore, while the material quality is more than decent, the engineering leaves a lot to be desired. You'll get aluminized steel with this gear, which is good news; but, again, the overall construction isn't on par with the rivals.
As for the pros, the package includes all the necessary hardware for installation. You won't have to spend extra bucks on getting the right stuff. Speaking of the package, Mac Auto Parts backs its product with a five-year warranty. It's a pretty great deal, considering the affordable price. That's right: this exhaust system is available at a very reasonable cost and carries an excellent value.
So, if your TJ's stock gear is acting up, and you need a replacement ASAP, Mac Store might be the right pick for you. As long as you're ready to compromise a bit on the overall build quality, this will be one of the most beneficial investments for you as a Jeep driver.
Pros & Cons
Comes packed with decent-quality installation hardware
Can be yours for a very attractive price
Includes the Mac Auto five-year warranty
Build quality is average at best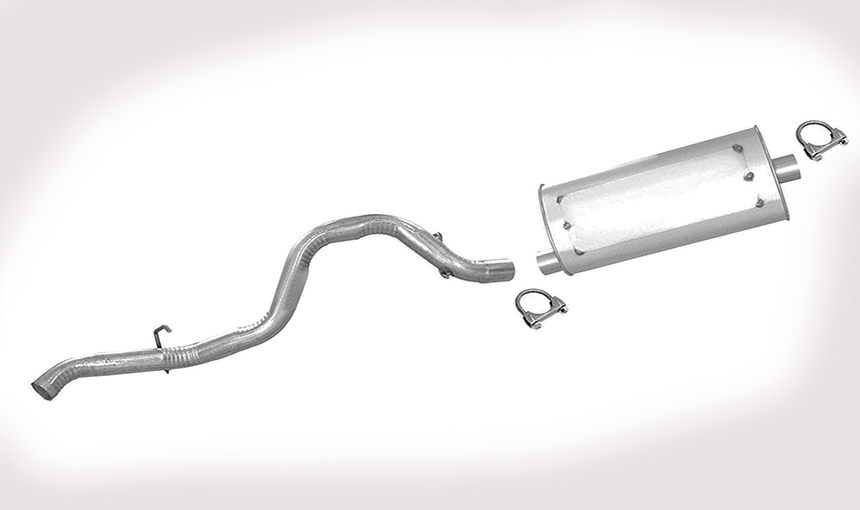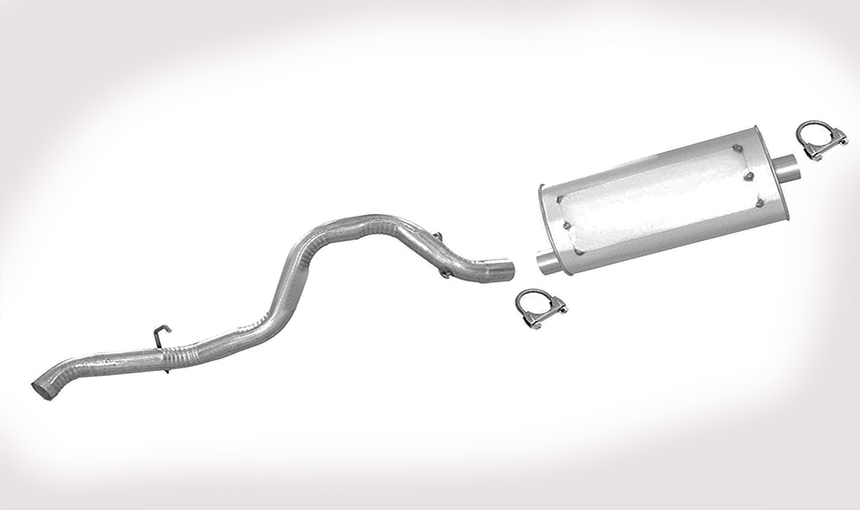 Recommendations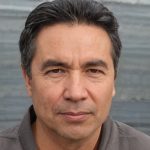 Low-priced, protected by a decent warranty deal, and packed with all the necessary hardware for installation, the Mac Auto Parts is nothing short of a bargain. While the construction quality isn't premium-level, this purchase will still be worth every single penny you pay for it.
Best Exhaust System for Jeep Wrangler JL Review
This is the fourth generation of the Wrangler, which means it's stronger than both the JK and the TJ. Available in two- and four-door configurations, it's pretty much a perfect choice for off-roading. You can use it for driving around in cities as well, of course. With three different engines to choose from, a long list of advanced techy and safety features, and outstanding performance on uncharted lands, the JL is truly the king among all Jeeps.
And if you buy one of my top-3 replacement exhausts, you'll enjoy a beefed-up sound, a boost in performance, and peace of mind, knowing the engine won't get overwhelmed by the harmful fumes. Go ahead and take a look!
1. Borla Axle-Back Exhaust for Jeep Wrangler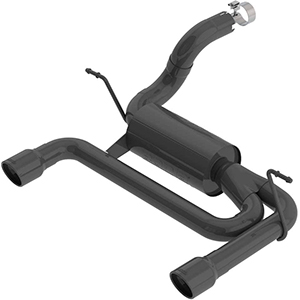 If you're a fan of axle-back exhausts and are looking for a replacement for your factory system, Borla could very well be your best bet for the JL. It boasts excellent engineering slash craftsmanship and will serve for a very long time. Longevity and dependability are one of the most important qualities in any Jeep gear, including exhausts. The superb black powder coating that keeps rust and corrosion at bay adds to that as well, of course.
The packaging also deserves your attention. Borla packs everything in a protective box that prevents any dents during rough shipment. And what about the cons, you might ask? Get yourself ready for a less-than-ideal installation. That's right: TJ drivers looking for that bolt-on, OE type of installation won't like the challenges that they'll encounter with the ATAK exhaust system.
You may have to use some tools like a pipe expander to make everything fit properly with your Jeep. The tips don't always align properly either, by the way, which creates more problems. To be fair, folks that have experience with aftermarket gear and DIY will make it all work without breaking a sweat.
Pros & Cons
Outstanding engineering ensures longevity
Black powder coating protects against rust
Comes packed in a highly protective box
Not exactly bolt-on installation
Recommendations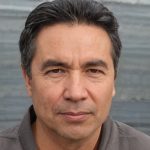 Top-notch engineering, high-quality powder coating, and protective packaging are this exhaust's biggest selling points. However, it won't be very easy to install for a person that has never dealt with aftermarket gear.
2. aFe POWER's MACH Force-Xp Hi-Tuck axle-back exhaust system Jeep JL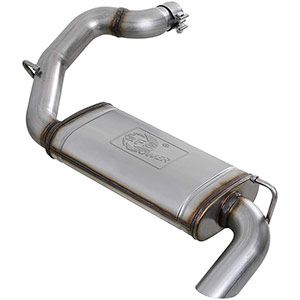 Moving on with our list of the finest third-party exhausts for the JL, we've got a mighty unit by aFe. We've already reviewed other exhausts by this company that were designed for the JK and the TJ. Well, now let's check out what they've got for the fourth generation of the Wrangler. Mainly, it will be a perfect fit for the JL, as this is a model-specific unit. Next, the engineers added a free-flowing muffler, which helps to keep the noise on a comfortable level.
It's loud enough to feel the "oomph" and aggressiveness of the exhaust, though. And some people won't like it, because, for them, this new sound will be overly loud and frustrating. Ultimately, it depends on what you're into. Racers and off-roaders want the tone to be as in-your-face as possible, while regular drivers are distracted by the over-the-top tone.
Back to the good news: Mach is street-legal across America. So, you won't have to worry about policemen writing you tickets no matter whether you are (including California with its strict CARB laws and regulations).
Pros & Cons
The free-flowing muffler dulls most noises
A perfect fit for the Jeep Wrangler JL
Street-legal in all states, including California
Might be a bit too loud for some drivers
Recommendations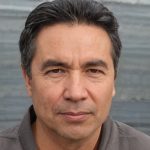 Are you disturbed by louder-than-average exhaust systems? If so, aFe won't be the right fit for your JL. On the other side, the fans of aggressive tones and simple, bolt-on installation will find it to be a no-brainer.
3. Flowmaster's Outlaw Cat-back exhaust system for Jeep Wrangler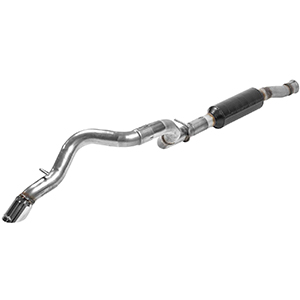 Last, but not least, we have a Flowmaster exhaust for the JL. It comes with a high-clearance design for off-roading, screams at the top of its lungs on high RPMs, and won't cost you a pretty buck. That's pretty much all you need to know about it. The high-clearance construction is perfect for driving on rocky, muddy, and snowy trails that regular exhausts might get damaged on.
As for the changes in sound, they're pretty evident, but the ride will still be comfortable if you drive around with family members. And yes, Flowmaster did an excellent job of keeping the price below the market average while still delivering a decent product. If you're the proud owner of a JL and need an inexpensive replacement for your old and rusty exhaust system, the Outlaw won't disappoint you.
But, as in the case with some other third-party exhausts, the installation can prove to be difficult. You'll need to have some basic mechanical skills to make the two pipes line up to each other.
Pros & Cons
High-clearance design – just right for muddy trails
Sounds like an off-roading beast at high RPMs
Available at a very attractive price
Can be a challenge to install
Recommendations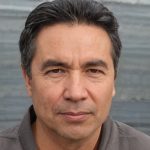 Improves the sound, boasts a high-clearance design, and comes at an attractive price – that's the Flowmaster Outlaw in a nutshell for you. Unfortunately, while it was manufactured for the JL, some cutting and bending will be involved.
Buyer's Guide
Finding the right aftermarket Jeep Wrangler exhaust system can prove to be a challenge for an amateur off-roader. While the market is mostly dominated by reliable and trustworthy companies that strive at creating the best experience for the drivers, you still gotta do some digging. The material quality and efficiency are just some of the things that need to be checked before paying hard cash for any exhaust.
Different Exhaust Types
Did you know that there are three exhaust types? That's right, and they all have their pros and cons. Let's take a quick look at each to figure out their worth:
Cat-back. These are the most popular exhaust systems on the market right now. With a cat-back, you'll get a brand-new tailpipe and a muffler – the heart and soul of any exhaust. Sometimes, a mid-pipe could also be included. If you're new to aftermarket upgrades and want to start with a new exhaust, I recommend going with this type. The reason: it's relatively easy to install without getting your hands dirty.

With it, Wrangler owners can improve the exhaust fume flow and free up the engine. They'll also see an improvement in HP and torque, but it's gonna be a modest one. Since a cat-back exhaust doesn't change all the components, a lot will depend on the factory setup. On the bright side, cat-backs generate a much more aggressive sound than the factory system, and most off-roaders tend to like that.


Axle-back. Compared to cat-back exhausts, axle-backs provide an even smaller gain in performance. But, they're easier to install on your own and come at a very reasonable price. Of all the three types of exhausts, the axle-back system is the most affordable one. On top of that, with it, you'll get a more satisfying sound, one that's equally beefed up and soothing, not very roar-like.

Header-back. Last, but not least, we've got the header-back. It is the most expensive option on the market, mainly because you'll get a lot more components than with the other two types. And that includes everything from the tailpipes to the header collector. This brings a lot of versatility and flexibility, allowing the driver to go for a larger diameter of the entire system compared to the stock gear.
So, yes, the new exhaust will be able to handle a greater exhaust gas volume and keep the engine nice and cool. As for the downsides, header-backs are considerably more expensive. The installation process will turn out to be a challenge as well. This is why I highly recommend hiring a pro to take care of that unless you're a gifted mechanic yourself.
Single versus Dual Exhausts
That's right: after picking the exhaust type, you'll need to consider the configuration. Now, as you might've already guessed, single exhaust systems are the most common ones. They are cheap, easy to install and fit a wide range of vehicles (Jeeps, for example). Usually, they include a decent-quality muffler with a tip that exists right behind the car's axle – you won't miss it. When compared to factory systems, replacement single exhausts are quite good.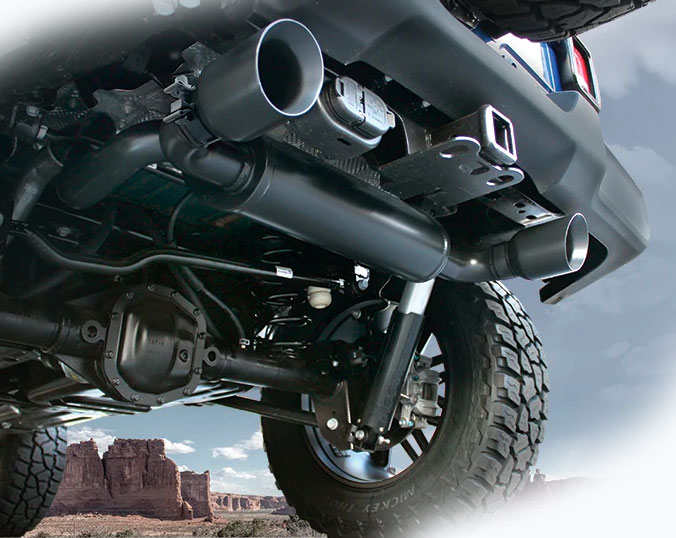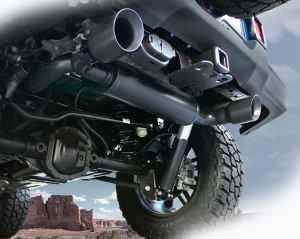 They provide an instant increase in performance, mainly thanks to the wider pipes and high-quality mandrel bends. And if you've been driving with the same exhaust for years and it got clogged, the difference will be even greater. As for dual exit exhausts, they're much heavier than their single counterparts. However, these two configurations are basically the same. With a dual exit unit, you'll only get one muffler, converter, and pipe, not a pair.
The setup will include two exhaust tips, though. Honestly, this design isn't in any way superior to the much simpler and cheaper single-exhaust construction. But, it does look cool, which is why many off-roading fans prefer it over the less eye-grabbing alternative. Now, a true dual exhaust system is an entirely different story. Highly popular among hot rodders, it consists of two converters, mufflers, and exhaust tips.
This double-sided design ensures high-flow capabilities and eliminates harmful fumes twice as efficiently. The sound tone changes as well, turning into a growl that can be heard from miles away. A quick note: dual-exhaust systems have one flaw: pressure imbalance between the two sides. This can be fixed if you invest in a crossover system; yet, that will cost you more. For most drivers, even a single-exhaust setup will be enough.
Material and Build Quality
The #1 enemy of any aftermarket gear is rust slash corrosion. This is especially true for stuff that's located underneath the Jeep, like an exhaust system. So, you should be extra careful and make sure you don't go with a low-quality material that'll ruin the whole thing in a month or two. Some brands produce cheap exhausts made of mild steel, but I strongly recommend against that. Instead, choose an exhaust that was crafted from stainless steel.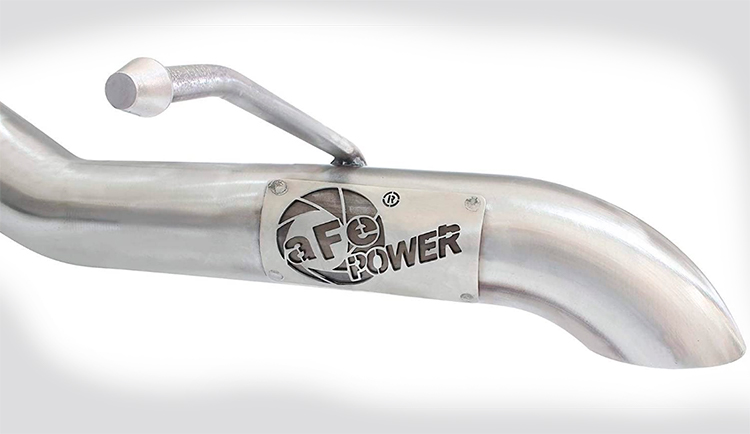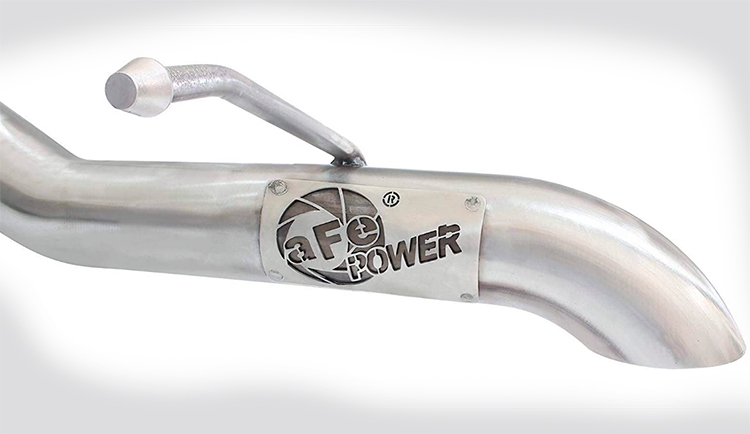 It has a natural resistance to many natural hazards, including, of course, rust. There are two types of steel when it comes to aftermarket gear. First, there's the 409 steel. It's much better than the mild steel, but not resistant enough. In contrast, 304 steel has a high percentage of nickel and chromium, which makes it almost 100% immune to corrosion.
And if you've got some bucks to spare, you might want to go with aluminized steel. Arguably, it's the most reliable, flexible, and long-lasting material out there.
FAQ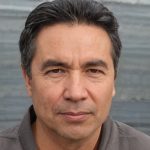 Now that we know the ins and outs of exhaust systems and what to look for, I want you to check out the FAQ section. It will help to learn even more about this gear and maybe even find answers to some of your own questions.
How long do Exhaust Systems Last?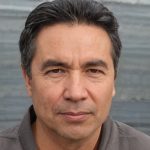 This isn't an exact science, of course, and a lot depends on the area that you live in, the roads that you drive on, the engine, and how well you take care of the Jeep. Here are the average numbers: a properly maintained exhaust should last you for good two or three years, even if it's constantly got its hands full (meaning you're always pushing the entire powertrain to its limit).
That doesn't sound like a lot, I know, but, it is what it is. For this exact reason, I'm against investing big bucks into aftermarket gear. Of course, you shouldn't go for the cheapest options, but I still don't see a big enough reason to pay for an exhaust that's priced well above the market average.
How do I know it's Time for an Exhaust Replacement?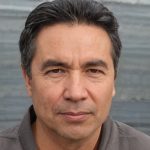 The best thing you can do is watch out for signs. The most obvious ones are sounds. First of all, keep your ears peeled for roaring sounds. If you're hearing an unusually loud roaring coming from the back of the exhaust, I bet it's the silencer acting up. A hissing sound, in turn, indicates that there's a crack somewhere along the way. Mostly, it's the manifold or the actual exhaust pipe. In some cases, it can be the gaskets leaking.
Puffing sounds are another clear sign. Only this time around, they signal that the exhaust is clogged and the gases are having trouble traveling through it. Now, rattling sounds coming from under the Jeep can mean a lot of things, not only a damaged exhaust. Still, I encourage you to check it out. If it is actually the exhaust system, then it's probably not secured properly, and that's what's causing the sound.
Last, but not least, if you see any rust on the exhaust, that also hints that a replacement is in order.
My Jeep is suffering from a Reduced MPG ratio. Could it be the Exhaust?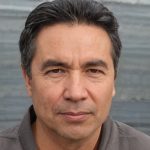 We just talked about different sounds and rust as the main signs of a bad exhaust; reduced fuel efficiency is another symptom. Most drivers don't know about this, but a faulty exhaust can, indeed, worsen the MPG ratio of your vehicle. This might be because of the catalytic converter, the muffler, or the pipe(s). My money is on a leak – that's the most common cause of reduced mileage.
When there's a leak, the exhaust fails at eliminating all the fumes, and that makes the engine work harder (or, rather, at higher temps). As a result, it burns more fuel, dropping the fuel efficiency. Regular maintenance checks are the best way to battle this. Or, if you've got the skills, make sure you run a full inspection of your Wrangler regularly.
What will happen if I drive with a Faulty Exhaust System?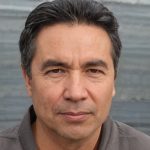 The short answer – nothing good. At first, the only real downside will be a reduced efficiency. The vehicle will take longer to accelerate, struggle with overcoming steep climbs, and, generally, be less powerful. To add to that, the MPG ratio will also drop. However, if you let this go on unattended, or if there's a serious leak/crack, that can lead to really bad consequences for the engine.
No matter how strong it might be, with the fumes piling up, it will overheat before long and, potentially, break down. One more thing: most fumes don't have a color or a smell, and it's not rare for these harmful exhausts to leak into the cabin, which can be pretty dangerous.
Can I replace the stock Exhaust on my own?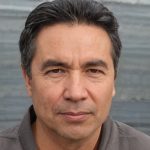 Yes, you can, but only if you've got an aftermarket exhaust system that fits your Jeep like a glove. It's actually very important to make sure any piece of gear is compatible before buying it. So, if the pipes, the converter, and all the other parts were specifically designed with your exact Wrangler model and configuration in mind, it will all come down to following the instructions.
The whole thing will take less than 30 minutes if you're only replacing one part, like a muffler. A complete replacement, in turn, can keep you busy for 3 to 4 hours, or even more. As I mentioned in the Buyer's Guide, the axle-back exhausts are the most user-friendly and easy-to-install ones.
What Benefits does a new Exhaust System have?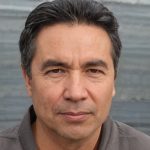 Apart from the obvious one – a more efficient fumes disposal – a proper exhaust can introduce a lot of positive changes. First of all, it will make the engine sound like it's twice as strong. Secondly, you'll get extra HP, torque, and even improve fuel efficiency. Don't expect an average 4-cylinder engine to turn into a V8, of course, but the performance boost will be noticeable, especially on muddy trails.
Does a new Exhaust void the Wrangler's Warranty?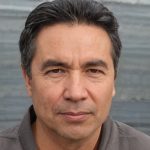 If you're careful and don't damage any other parts of the vehicle when replacing the stock exhaust, you won't even have to worry about that. This is equally true for cat-back, axle-back, header-back, single-, and double-exhaust systems, by the way. Speaking of guarantees, before committing to any options, make sure you'll be protected by a generous warranty deal. A one-year replacement guarantee would be great, along with a 30-day refund.
Are there any Special Maintenance Requirements?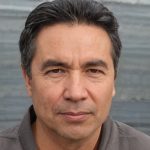 Not really – all you need to do is keep an eye on the system and make sure that it's secured properly. Every now and then, you can spray it with a lubricant or a specialized rust-protection product. Also, if you're driving on off-roads or muddy trails frequently, I recommend getting mudflaps. They will protect the exhaust from rocks and debris flying around during the ride.
What are the Best Brands?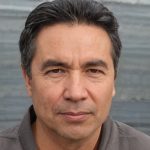 The market is full of good brands, but I'd go with Magnaflow. They offer some of the best exhaust systems out there – from axle-back to header-back. Plus, the company provides generous warranties and has a wide selection of products for all Wrangler configurations. In addition, Flowmaster and Borla are worth considering too. They have some really nice exhausts on offer, so make sure you check them out as well.
Conclusion
The most important thing to know about exhaust systems is that they go bad over time. A clogged and worn-out exhaust can be very dangerous for the engine, especially if you're constantly pushing it to achieve more HP, torque, accelerate faster, and haul heavier stuff. Don't expect a new exhaust to turn your old Jeep into a space shuttle. It will, however, ensure a long and prosperous life for the powertrain, which is very important.
Today, we checked out twelve worthy units for three generations of the iconic Jeep Wrangler. The JK, the TJ, and the JL are all outstanding off-roading beasts, but without a proper system to get rid of the fumes, you won't be able to enjoy the road to the fullest. And while each generation might have its preferences, finding the best exhaust for Jeep Wrangler across these models is essential for peak performance. To help you learn more about how this gear works and what the most important aspects are, I added a detailed Buyer's Guide – make sure to take a quick look to see what it's all about.
The FAQ, in turn, includes answers to the most popular questions that people ask about exhaust systems online. Still not sure which one to pick? Got some unanswered questions? Don't hesitate to ask away in the comments! I'll make sure to get back to you with some helpful tips and tricks as soon as possible! Keep your foot on the gas pedal, take proper care of your Wrangler, and happy off-roading