Although coil springs are pretty tiny and don't look important, they play a key role in smoothing out the bumps on the road. When driving on rough, uneven terrain, even the most capable vehicles tend to jump up and down, and all that bouncing can be quite frustrating. The greatest thing about coil springs – they're pretty cheap (compared to, say, a brand-new suspension system).
For this post, I made two lists, with the Best Coil Springs for Jeep TJ and JK. That's right: you can't just go ahead and blindly pick a set that you like: they need to be compatible with your ride. Make sure you go over the comparison tables and my pros/cons before committing to any of these. Plus, check out the FAQ to find answers to the most popular questions.
Choose Your Option!
Today, we'll help you pick the best coil springs for Jeep TJ. This is one of the most popular off-road beasts and will benefit greatly from a fresh set of springs. Our list includes world-famous brands like Rubicon Express, MOOG, and Southwest Speed. These companies are veterans on the market of third-party gear and know exactly how to appeal to modern-day drivers. And, their springs deserve your attention.
Best Coil Springs for Jeep TJ Review
1. Rubicon Express Coil Spring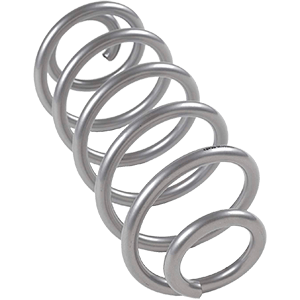 With this coil spring, Rubicon Express took a straightforward approach. It is relatively affordable, made of durable materials, and can handle off-roading easily. It doesn't require any maintenance and will fit Jeep TJ perfectly. Another interesting fact: the company made several versions of the same coil spring with different lift heights. That allows you to pick the one that suits your Jeep best.
With the Rubicon coil springs, there's no need to worry about the vehicle's durability or load capacity. They were made in the States by American engineers and have successfully passed several tough tests. These are rear springs and are capable of improving performance both on and off the road. No more "squishing" in the suspension or bump steer. Quality control can be an issue, though, and you may end up with front coils instead of rear ones.
Product Rating
Quality of Material
4.8/ 5
Pros & Cons
Doesn't affect load capacity and durability
Made in the USA; evaluated by several third-party testers
Available in different configurations (lift heights)
Recommendations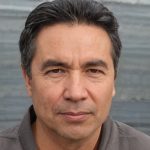 Has the ride quality of your vehicle worsened recently? Do you feel that the rear axle is "sagging" and that you're losing control over the Jeep? If the answer is yes, the Rubicon Express coil spring may be the solution to this problem. Buy a set of two, give the suspension a nice lift, and enjoy increased performance and handling. Sadly, the company messes things up sometimes and sends out the wrong set of springs.
2. Rough Country Lifted Springs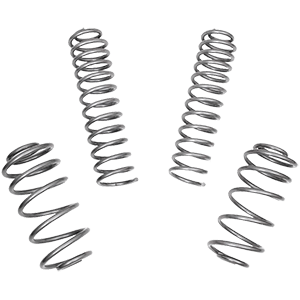 The third option is from Southwest Speed, and it's a full set. That's right: with New Currie, you'll get four coil springs – two for the rear, and two for the front. They come with powder-coated finish and greatly enhance the ride quality. The price is kinda high, though, and it might not be a good purchase for people on a budget. For that, refer to the MOOG set. On the bright side, Southwest justifies the expensive price-tag by high-quality materials.
These heavy-duty springs never rust or corrode. With a standard lift of four inches, your Jeep TJ will be more enjoyable to drive when you go into the closest forest or desert. Performance on the rocks is also quite impressive, thanks to the improved suspension and increased stability.
Product Rating
Quality of Material
4.8/ 5
Pros & Cons
Powder-coated finish for improved durability
Heavy-duty springs; impressive performance
Set of four (rear and front springs)
Recommendations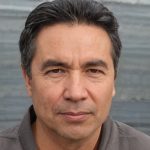 The steep price-tag is the only downside of this otherwise excellent set of coil springs. With it, you'll be able to fully replace the stock springs and make the Jeep feel like a brand-new Jeep. Powder-coated, these springs are protected against rust, corrosion, and aren't afraid of the harshest weather conditions.
3. MOOG Chassis Products FEP3229 Dorman 14505 Coil Spring Set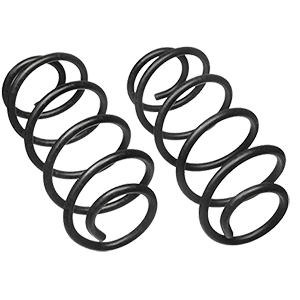 This is one of those can't-go-wrong-with purchases for fans of off-roading. Most importantly, it's cheaper than the other two sets on our list. On top of that, it greatly improves steering and makes the Jeep feel brand-new. That's especially true if you've been driving around with old, worn-out factory springs. MOOG claims even a beginner will be able to install these coil springs. Our experts confirm: it won't take much expertise to handle the installation.
The set is 100% load tested and specifically designed to lower stresses. That ensures more durability and stability for the entire vehicle, not just the suspension. Much like Rubicon, MOOG's set is a good pick for getting rid of spring sag and going back to factory handling and ride quality. The springs fit easily in the rear and immediately improve how TJ performs on the road. They aren't as stiff as the factory ones, though, but for off-roading, that's not an issue.
Product Rating
Quality of Material
4.8/ 5
Pros & Cons
Greatly improves steering on and off the road
100% load tested; easy to install for a novice
An affordable purchase
Softer than the factory TJ springs
Recommendations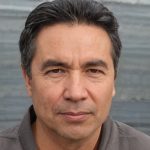 Looking for a low-budget set of rear coil springs for your Jeep TJ? MOOG might have exactly what you need with the 3226 set. It is very easy to install, fits TJ perfectly (1997-2006 models), and offers great value.
Conclusion
Well, that's about it for our list of the best coil springs for your trusty Jeep TJ. The suspension system can greatly benefit from a high-quality set of springs. They don't require any maintenance, but when a coil spring breaks, you gotta change it ASAP. The reason – it might damage a tire and put you at risk. The best thing about third-party coil springs: they last for a very long time and noticeably improve ride quality.
If you're not sure which set will be the best bang for your buck, check out our top picks once again. MOOG has the most affordable springs, and they improve steering both on and off the road. Rubicon Express offers different lift options to choose from. As for Southwest Speed's heavy-duty springs, they are like the golden middle between the two, and they come in a full set. Don't rush your decision and only purchase third-party gear when you're absolutely happy with it!
Best Coil Springs for Jeep JK Review
1. Rubicon Express Coil Springs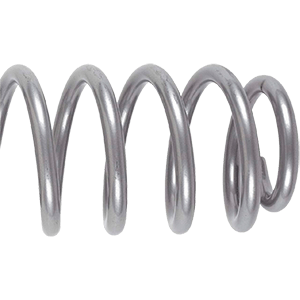 Some brands made it their life goal to provide the best Jeep accessories, no matter the complexity or function the part plays in the mechanism. I must say that Rubicon Express is precisely one of such brands. As you may already know, coil springs are designed to absorb that unnecessary shock that may bother you while on the off-road. However, Rubicon Express has gone further in its search for perfection. Apart from carrying out their primary function, these coils are also silver-coated so that there is not a chance of corrosion on the horizon. Such an approach improves the longevity of the item, and that is a worthy benefit.
It needs to be added that the coils are not only made of durable and reliable material. They are also well-tested to meet all the industry standards so that you know what you are investing into. The minor disadvantage may lie in the fact that you need to purchase the parts separately when it comes to the front and rear coil springs, but that can be quickly dealt with.
Product Rating
Quality of Material
4.8/ 5
Pros & Cons
Improved ride quality
Made according to the modern requirement
Each coil is tested to meet the known standards
Front and rear coils are sold separately
Recommendations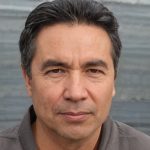 Those of you who are looking for reliable coils from a trusted brand should pay special attention to the Rubicon Express. The price and quality will pleasantly surprise you.
2. Teraflex 1351502 Lift Kit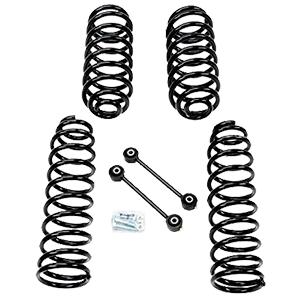 Some users compare Teraflex coil springs to those of Rubicon Express simply because both brands offer a wide variety of options to choose from. However, when it comes to Teraflex, it is safe to say that the coils are designed to eliminate any sign of disrupted balance between the front and rear load. It needs to be added, that while the coils are created to assist the driver on the off-road, there is not a chance that on-road travel will unpleasantly stand out, quite on the contrary. Apart from that, these coils are well-tested for rate tuning as well as load-bearing capacity.
Unlike other coils, coil springs from Teraflex are made to deal with both spring sag and fatigue effectively. Such an approach ensures that the item is going to serve you longer than other similar parts available on the market.
Lastly, when combined with quality Shock Absorbers, these coils will add to the Jeep's stability as well as compression.
Product Rating
Quality of Material
4.9/ 5
Pros & Cons
Supreme quality material
Superior item protection
Improved vehicle stability
Spring sag and fatigue decreased
The price is higher than the average
Recommendations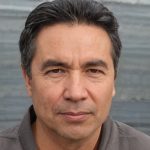 It is undoubtedly the most expensive pair on the list. However, the quality it provides is worth the investment.
3. Rock Krawler Suspension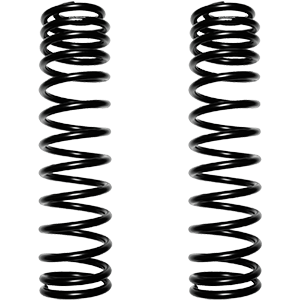 Some brands accent the fact that both front and rear coils are designed to carry out particular functions, and Rock Krawler is not an exception. The truth is that both coils spring sets are aimed at minimization of settling so that any ride is nothing but pure off-roading pleasure. However, when it comes to the front springs, they are designed in such a way that they combine three rates that bring the performance to perfection. They are dead, ride, and firm zone. Each zone is responsible for a particular task. The dead zone ensures that the specific free length of the coil is achieved, while the road zone provides ideal performance under regular driving conditions, and lastly, the firm zone is designed to provide additional stability when necessary.
The rear coil springs are as good as front ones. They are responsible for the stress relief along with the settling minimization. Both coils are powder-coated so that the durability of the finish is ensured, not to mention the fact that they are made of highly durable material.
Pros & Cons
The durable and stylish finish
Affordable price
Improved road quality
Increased lift height to suit personal driver's preferences and needs
Recommendations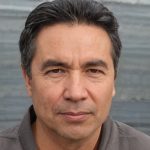 If you are looking for a coil spring set that is adaptable to your vehicle's needs and your personal intentions and driving style, then Rock Krawler is there for you.
FAQ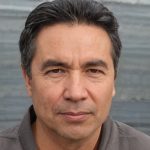 What are the Most Common Causes of Spring Failure?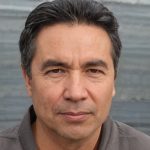 Coil springs are one of the sturdiest and most dependable vehicle parts. However, they're not invincible, and if you drive into a gigantic pothole that will probably break the coils. Here's how it works: if the suspension system fails at handling the impact, the coils will take the hit. Rust/corrosion is another common cause of spring failure. So, only buy a set that comes with premium-quality powder coating.
Extreme temperatures (when it's too hot or too cold outside) can also lead to breakage/permanent damage. But, again, springs are quite reliable and long-lasting.

How do I know that my Coil Springs are Broken?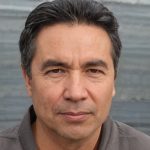 The most obvious thing to do would be to take a close look at each spring. That can be a bit problematic, though, depending on what kind of a vehicle you're driving. My advice: try to listen to the sounds the car makes. Can you hear squeaking, rattling sounds when turning left or right? That might be a clear sign that your coil springs are broken, and the suspension angles are wrong.
What's the Average Weight Capacity?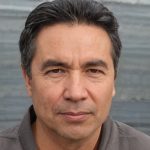 If it's a variable coil spring - the standard type - it will be able to handle up to 50K pounds. A constant spring, in turn, is almost twice as strong and can hold up to 90K pounds, give or take. Even 50K pounds will be more than enough for a Jeep Wrangler, so, you shouldn't even worry about this part.
One of my Springs is damaged. Should I replace it?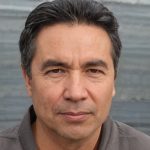 Some experts claim that you can (and should) only replace the spring that is broken. However, I strongly believe that all the springs need to be replaced at once, even if some (or most) of them are still intact. Springs lose their effectiveness over time – it's inevitable. Now, for the vehicle to feel smooth on the road, all the springs need to have the same level of resistance. Otherwise, the ride quality will be rather poor.
Conclusion
I know how easy it is to underestimate the importance of a quality coil spring. However, if you no longer wish to deal with all that unpleasantness that comes along with a bumpy off-road, it is high time you consider coils replacement. There are many worthy and trusted options on the market, and you can pick the option that fits your needs and budget. Also, it is not mandatory to get a full pack of front and rear coils, these days, you can purchase some of them separately, and that is advantageous too.