While some vehicles are designed only for flawless on-road performance, others are entirely devoted to the off-roads. However, at times there is a need for something in-between, and that is when a Jeep Grand Cherokee steps in.
One of the main parts of the Jeep that interact with the terrain is the tires. Yes, I am stating the obvious, but is essential, especially when you are looking for the Best All Terrain Tires for Jeep Grand Cherokee. The number of options available on the market is considerable, but not all of them come packed with the same required quality.
When you are about to pick the best tired for your Jeep, there is a lot to consider, and it makes it twice as hard to choose correctly. If you do not want to deal with all the fuss concerning the on- and off-road tires, then you need all-terrain ones, and I will help you pick the best for your vehicle.
Best All Terrain Tires for Jeep Grand Cherokee Review
1. Hankook Dynapro AT2 RF11 All Terrain Radial Tire 245/65R17 111T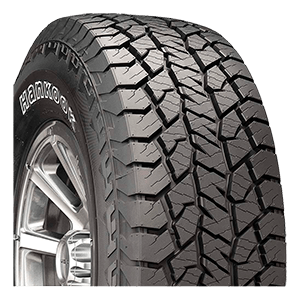 This is the freshest Hankook all-terrain tire that is claimed to be a lot better than all the predecessors. There is a list of things I find quite advantageous about these tires so that I enlist them first. To start with, it should be mentioned that the tires come with a larger footprint. In case you do not know what that means, I will explain. The more evenly the pressure on the tires is dispersed, the longer they will serve you. Taking into consideration a fair price that the tires are offered at, that is a benefit not to be dismissed.
Since these are all-terrain tires that we are discussing today, it is fair to mention that Hankook tires can deal well with the highway as well as with a muddy road or icy trail. Besides, due to the particular tread design, these tires are almost noiseless even when on the highway.
Apart from all the mentioned above, the tread compound adds up to the fuel mileage. What is more, the same compound makes the tires quite resistant to cutting or chipping.
Pros & Cons
Bigger footprint
Improved grip no matter the terrain conditions
Reduced noisiness when on the highway
Reinforced tires not susceptible to cuts or punctures
Are not designed to deal with harsh winter conditions
Recommendations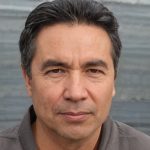 If you are looking for the tires to take you basically anywhere with no reduction of the ride quality, then I would totally suggest you consider Hankook Dynapro freshest update. The quality is worth the money, that is for sure.
2. Yokohama GEOLANDAR AT G015 All Terrain Radial Tire P245/65R17 105T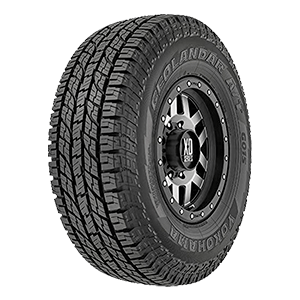 One of the most vital things that you need to remember when it comes to the all-terrain tires is the fact that they do not fit all sorts of off-roads equally. What I have in mind is that some all-terrain tires are great for rocks and mud, while others are supreme when it comes to the deepest snow. Yokohama tires belong to the latter category.
Of course, I do not want to say that Yokohama tires won't deal with mild to average mud, they will, besides, the tire tread void is larger so that all the dirt, mud, or sand does not pile up in the tire. Apart from that, the tires are made with the help of high-tech polymers, which ensure better traction no matter the track you are driving through.
As to the highway, the tires fit on-roads perfectly too. The chances are that you are going to be highly pleased with the tire performance and ride quality while either on- or off-road. It needs to be added that the unique design of the Yokohama tires makes the sipes change when the tires start to wear down.
Pros & Cons
Increased tread life
Designed to operate in snow
Well-behaved on the highway
Not well-fit for hard-core muds
Recommendations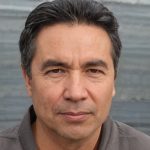 Those of you who live somewhere closer to the mountains or you just like wintery off-roads above all, but in the meantime, you drive on the highways a lot, then Yokohama tires are worthy of your attention that is for sure.
3. Firestone Destination A/T All Terrain Tire P245/65R17 105 T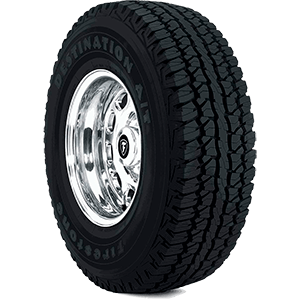 At times, you may be in search of budget tires, and there is nothing wrong with it as long as the tire can compete with its pricier equivalents. It happens so that Firestone Destination tires are no worse than Yokohama or Hankook, but the price they come at is slightly reduced. Those in search of a budget option will certainly appreciate that.
As to the quality, Firestone tires are designed to deal equally well with all sorts of terrains, no matter whether these are wet or icy off-roads or speedy highways. The traction of the tires is great, so is the tread life. Besides, the tires are extremely quiet when it comes to the highway.
The only downside noticed by some customers is the fact that the tires may be struggling when you are driving through deeper snow. Other than that, there is nothing off about these tires.
Pros & Cons
Affordability does not affect the quality
Improved all-terrain traction
Reduced highway noisiness
Outstanding handling as well as overall performance
Tread life could be improved
Recommendations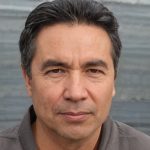 Sometimes lower price does not mean worse quality. There are some drawbacks about the Firestone tires. However, if you are not going to drive through the deepest snow all the time, this is a great quality budget option.
Best All Terrain Tires for Jeep Grand Cherokee (Updated September, 2023)
Product
Product Information
View on Amazon

Editor's Choice

1) Hankook Dynapro AT2

Best Features:
– Larger Footprint
– Improved durability
– Reduced noisiness
Size: P245/65R17
Treadwear Warranty: 60,000 miles
Available Options:
– P235/65R17
– P245/70R17

2) Yokohama GEOLANDAR AT

Best Features:
– Supreme on-snow performance
– Increased longevity
– Excellent on-road performance
Size: P245/65R17
Treadwear Warranty: 60,000 miles
Available Options:
– P235/65R17
– P245/70R17

3) Firestone Destination A/T

Best Features:
– Designed to take you anywhere
– Fair price for great quality
– Rugged and tough outlook
Size: P245/65R17
Treadwear Warranty: 50,000 miles
Available Options:
– P235/65R17
– P245/70R17
Conclusion
To sum all up, it is safe to say that choosing all-terrain tires for a Jeep Cherokee is not an easy task. There is a list of things to keep in mind since the engine performance, the weight, and the load of the vehicle is crucial, and not all the tires are designed to withstand it. However, the market is full of great all-terrain tires that are certainly worth the attention. Today, I have brought to your attention the options that I personally have given a try to, and all of them passed the test. The prices vary, but the functions mostly coincide so that it is going to be a lot easier for you to make a fitting decision.