What is a Bolt Pattern?
A bolt or a lug pattern is an imaginary circle, one that was created by the centers of the wheel lugs/bolt holes. In other words, if you imagine a ring that goes through the bolt holes on the wheel, that's going to be the bolt pattern. Bolt patterns on modern-day vehicles (sedans, SUVs, crossovers, or trucks) vary from 4 to 8 studs. For example, the JK Jeep wheel bolt pattern is 5 X 5, which means there are 5 lugs with 5-inch spacing.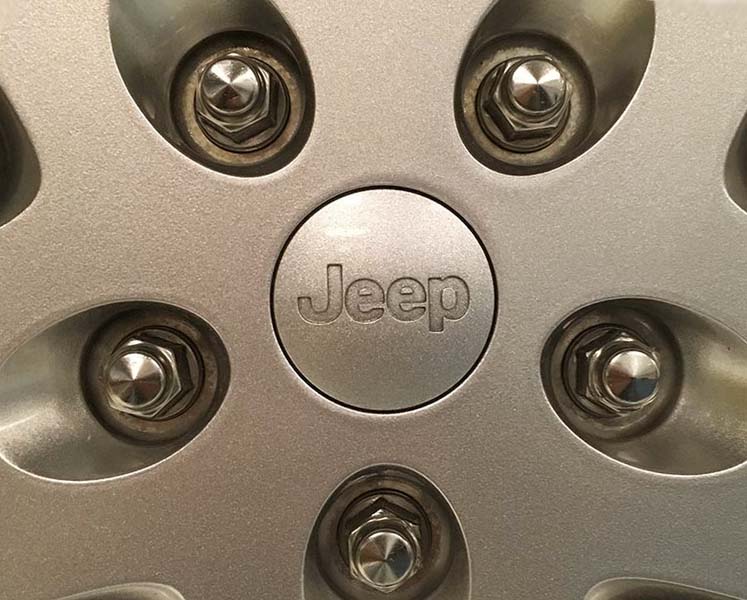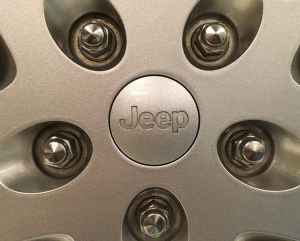 You may have also seen numbers like 5 X 114.3mm (5 by 114.3). But what do these numbers mean, what do they stand for? How do you decipher any of that? Well, it's rather simple, actually. Bolt patterns are made of two numbers. The first number indicates the number of studs or bolt holes; the second number stands for the distance between the studs.
This distance is measured either in inches or in millimeters. Thus, 5 X 114.3 mm is the same as 5 X 4.5 inches, as there are 25.4 millimeters per inch. The same goes for the 5 X 5 bolt pattern of the legendary JK. If we multiply 5 by 25.4 we'll get a 5 X 127 mm bolt pattern. Thus, the 5 X 5 bolt pattern and the 5 X 127 mm bolt pattern refer to the same size/pattern. It all comes down to different countries and their units of length.
How to Measure Your Bolt Pattern
So, with that out of the way, we still need to figure out how to measure specific Jeep Wrangler bolt patterns, like the one on your vehicle. What can you do to measure the Jeep Wrangler bolt pattern properly? First, count the number of lugs. Most likely, with your Jeep, you'll have an odd number. This makes things a bit difficult to measure accurately, but not impossible.
All you need to do is measure the distance from the center of one lug to the outer edge of another lug that's located diagonally across from it. With even numbers, measure the distance between the centers of two lugs, directly across from each other. Yes, that's pretty much all there is to it, and this can be done with a simple measuring tape or a ruler.
Jeep Wrangler Bolt Pattern Chart
As if presenting bolt patterns in millimeters and inches was not confusing enough, different Jeep Wrangler models come with different bolt patterns as well. That's right: when it comes to the bolt pattern Jeep TJ may not have the same pattern as the Jeep Wrangler JK. So, to make life easier for you, we made a bolt pattern chart for the most popular Wranglers out there. Take a closer look to know what you're dealing with:
| | | | |
| --- | --- | --- | --- |
| Jeep Model | Bolt Pattern | Stock Wheel Size | Torque Sequence |
| 1986 – 1995 Jeep Wrangler YJ | 5 X 114.3 mm or 5 X 45 inches | 15 – 16 inches | 1, 3, 5, 4, 2, 8 turns minimum |
| 1997 – 2006 Jeep Wrangler TJ | 5 X 114.3 mm or 5 X 45 inches | 16 – 17 inches | 1, 3, 5, 4, 2, 8 turns minimum |
| 2007 – 2009 Jeep Wrangler JK (Rubicon) | 5 X 114.3 mm or 5 X 45 inches | 16 – 17 inches | 1, 3, 5, 4, 2, 8 turns minimum |
| 2007 – UP Jeep Wrangler JK | 5 X 127 mm or 5 X 5 inches | 16 – 17 inches | 1, 3, 5, 4, 2, 8 turns minimum |
How to Torque Lug Nuts Properly
First things first, put your hands on a strong, reliable wrench – it's going to be your main tool. Next, move counter-clockwise and numerate the lugs like this: 1, 3, 5, 2, and 4. That's your sequence right there. Start with lug number 1 and move across the wheel and do lug number 2. After that, handle number 3 across from number 2 and then you'll just have number 4 across from number 3 and number 5 across from number 4.
The idea here is to move crosswise. When you're finished with the lugs, drive your car for 20-30 miles and check the torque. Do a recheck after you drive the Jeep for another 100 miles to make sure everything's working properly and you didn't miss anything. Read here how to choose Best Jeep Lug Nuts.
Bottom Line
As you can see, despite a few confusing elements regarding Jeep Wrangler bolt patterns, it's not that hard to understand all this stuff. Yes, it will take some time and effort, but you'll get there eventually. Use this post as a guide next time you have to figure out the bolt pattern on your Jeep and how to torque the lugs.