Every Jeep SUV/truck driver knows that previous cargo needs to be covered. Without proper protection, it will fall victim to rain, snow, dirt, debris, UV rays (the sun), and everything else in between. While metal, plastic, or other sturdy materials aren't that fragile and vulnerable, they still need to be safeguarded. The good news is – the best cargo covers for Jeep are reasonably priced and will serve you for a lifetime.
On the downside, there are so many available options on the market that it can be quite hard to make the right pick. That's why I made this list: to help you with the purchase. I've selected four leading Covers from known and respected brands that deserve your attention. Plus, I've also included two bonus products that you might need. And don't forget to check out the Buyer's Guide!
Buyer's Guide
What should you pay attention to first when shopping for a cargo cover? Is it the size, the straps, or maybe something else? In this Buyer's Guide, I'll tell you everything there is to know about the key factors that you'll need to consider. It can be quite frustrating to buy something (or order online) only to figure out that it doesn't fit or doesn't have the necessary features. So, let's dig in!
Ease of Installation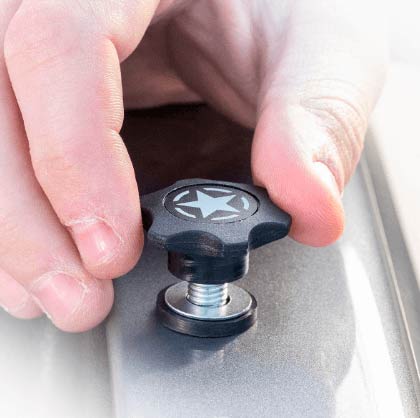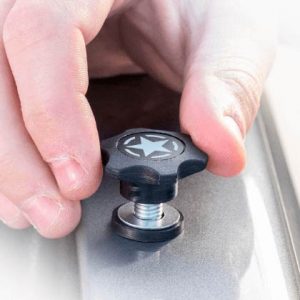 Even if you're an experienced mechanic, ease of use is always a major concern. So, before purchasing a сargo сover, you seem to like, always check its user-friendliness. If you choose one from my list, you won't need any help from your buddies or a pro to lend a hand. Everything is straightforward and intuitive. On average, installation takes up to five minutes. This is achieved thanks to the clever strap system.
Forget about drilling new holes to match your Jeep's cargo area and tedious alignment. Some best-selling covers need a tailgate bar for installation. But I recommend avoiding those and going with the more advanced, easy-to-install alternatives. Again, the four cargo covers you see in the comparison table are all tailgate-free.
Versatility and Flexibility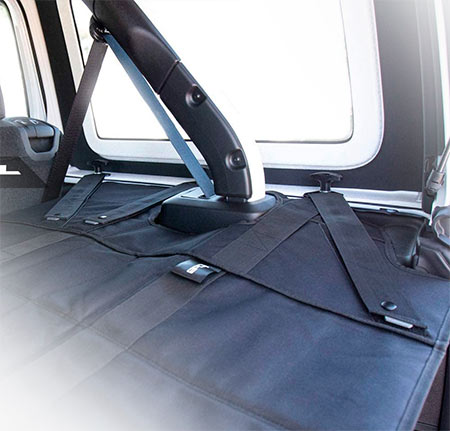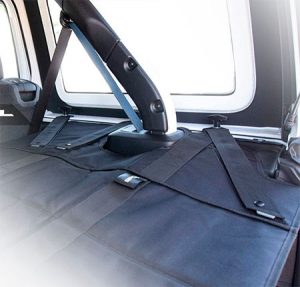 Sometimes, you need full coverage; other times, half coverage is more appropriate. And then there are times when you want to roll the cover to the side to make room for something bigger to fit in the cargo area. That's what I call versatility. There are also reversible covers that can be installed two-ways. That means you'll have a different design/style on each side and will be able to flip the cover whenever you want.
Water and Tear Resistance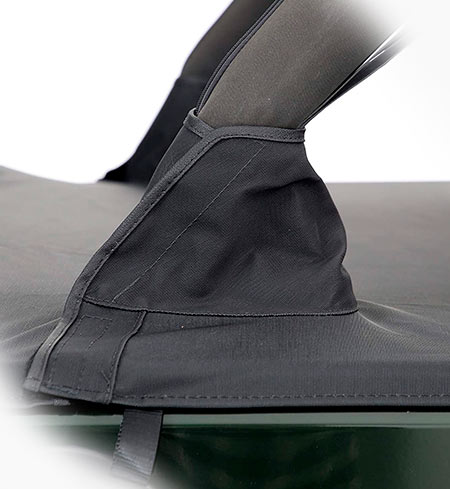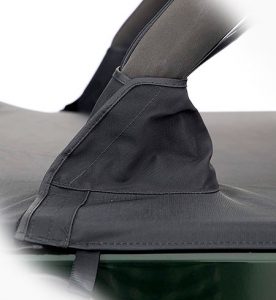 You don't want a cargo cover that lets water in or is easy to tear. Pro-grade nylon is the most advanced water-resistant material, and most covers include a double layer to ensure your cargo is 100% protected against rain, snow, and moisture in general. Tear-resistance is very important as well, especially if you're transporting cargo regularly and may accidentally scratch the cover.
Extra Attachment Points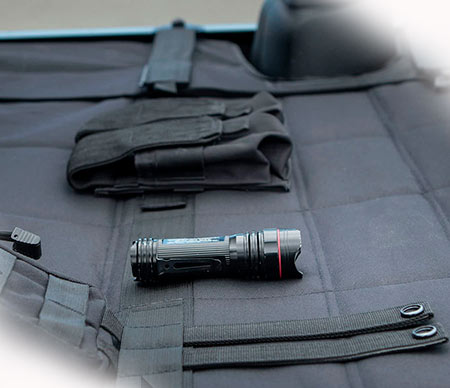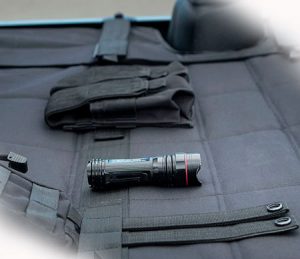 This is more of a bonus than a necessary feature, but most top-notch covers include attachment points. They can hold wires, bags, belts, and your favorite tools. Thanks to tie-down D-rings, it's very easy to attach whatever you need for the road and be on your way.
Best Cargo Covers for Jeep (Updated September, 2023)
Product
Product Information
View on Amazon

Editor's Choice

1) GPCA Cargo Cover LITE Plus for Jeep Wrangler JK 4DR

Best Features:
– Designed and made in the US
– An affordable purchase with great value
– User-friendly strap system: no mounting or drilling required
Fits Models: Jeep Wrangler JKU 4DR (2007-2018)
Models: 4-door
Material: Water-repellent Polyester
Installation Time: 5 minutes
Color: Black
Available Options:
– Jeep Wrangler JK 2DR

2) GPCA Jeep Wrangler JK Cargo Cover PRO

Best Features:
– Easy to install, easy to tuck away
– No need for a tailgate bar; no drilling is required
– Fully reversible for topless
Fits Models: Jeep Wrangler JKU 4DR (2007-2018)
Material: Water-repellent DURABLE pro-grade Polyester
Models: 4-door
Installation Time: 5 minutes
Color: Black

3) Smittybilt 761335

Best Features:
– Top-quality fabric; excellent stitching
– Super-tight fit: no flapping in the wind
– Hard to reach in (and steal your stuff)
Fits Models: Jeep Wrangler JKU 4DR (2007-2015)
Material: Water-repellent Polyester
Installation Time: 5 minutes
Color: Black Diamond
Other purchase options:
– View on 4WP
– View on Walmart

4) GPCA Wrangler JL Unlimited Cargo Cover PRO

Best Features:
– Keeps the cargo away from prying eyes
– Very easy to align the cover with the loop-and-hook straps
– Lightweight and tear-resistant
Fits Models: Jeep Wrangler JLU 4DR (2018-2020)
Material: Water-repellent Polyester
Installation Time: 5 minutes
Color: Black Diamond
Other purchase options:
– View on GPCA

Bonus

5) GP-Star Quick Release Thumbscrew Set (6-Pack)

Best Features:
– Thumbscrew set – no need for extra tools
– Generous package: includes washers, nuts, and badges
– Easy to mount/dismount
Fits Models:
– Jeep Wrangler JK, JL (2007-2020)

Bonus

6) GPCA Tie-Down D-Rings for Jeep Wrangler (6-Pack)

Best Features:
– Easily foldable when not in use
– Includes anti-rust protection
– A low-budget option
Fits Models:
– Jeep Wrangler JK, JL (2007-2020)
Conclusion
If you're used to carrying stuff in the cargo area regularly, a cover is a must. Even if your daily commutes don't take long, harsh weather conditions can inflict a lot of damage while you're driving around unprotected. As I mentioned in the intro, a good-quality cover won't cost you much, and installation will take less than five minutes. We reviewed four covers from GPCA and Smittybilt, along with two sets of accessories.
Read Also: Best Tonneau Cover for Jeep Gladiator Review
Jeep owners on a budget should pay extra attention to LITE Plus: it doesn't cost much and holds excellent value. The other three covers are more expensive, but each has its own pros, along with a minor con. Go over the comparison table again if you're not sure which one to pick. The Buyer's Guide, in turn, will help you make an educated choice instead of relying on my top picks. Got some questions you wanna ask? Fire away in the comments!