There is rarely a better feeling than getting a new Jeep Gladiator and knowing that it is 100% reliable and worthy of the investment. However, you need to realize one simple fact that you may purchase a Jeep that only 95% ready for the adventure to happen. What do I mean by that? Think about your open-to-all Jeep bed. Would you like anyone to have access to your cargo or a sudden storm wets all of your belongings transported in the bed? Well, certainly not. That is when a tonneau cover comes in.
Surely, a well-chosen tonneau can solve all the mentioned about problems and even some not mentioned ones. However, the question is – how do you pick the Best Tonneau Cover for Jeep Gladiator? That is what I hope to help you with today in this tonneau for Jeep Gladiator review.
Best Tonneau Cover for Jeep Gladiator Review
1. Tyger Auto T3 Soft Tri-Fold Bed Tonneau Cover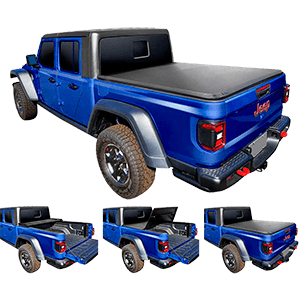 When you are choosing a soft cover for your Gladiator, you still want it to be quite durable and resistant. That is precisely what Tyger Auto offers. The cover is made from marine-grade vinyl, which is dual-coated. Apart from that, the construction includes an aluminum frame and stainless-steel clamps. If you combine all the components, the item you get seems to be tough enough to consider.
It is true that tonneau Covers are rarely cheap. However, a Tri-Fold from Tyger Auto is more than affordable, considering the great quality it comes packed with. It is called a tri-fold simply because you can leave your Jeep bed open partially without the need to take the cover off and with required access to the bed at the same time.
Pros & Cons
Improved durability for a fair price
Easy and user-oriented installation
Great-quality material item
Recommendations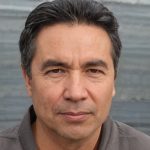 Tyger Auto tri-fold tonneau has gained its reputation among the Amazon customer base so that it is safe to say it is a worthy option to invest. As for me, I say that quality for the price is excellent and the cover serves its purpose no worse than any more expensive model available.
2. Rugged Ridge 13550.21 Armis Soft Folding Bed Cover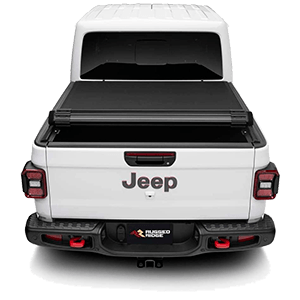 For some drivers, it is essential that the hard cover does not look too rigid and does not feel that way also. That is why Rugged Ridge chose to come up with a perfect compromise. The fact is that their Armis Soft Folding bed cover is made of interlocking aluminum parts while coated with woven material of high quality.
Some may say that fabric covers are easy to stain, but that is also not the case since the woven material the cover is made of stain-resistant, and that is a massive advantage if you are off-roading through the muds often. Apart from that, the fabric is very durable and cannot be punctured easily.
As to the opening mechanism, when compared to others, this one rolls open, and that is a plus at times when you need to take the cover off in no time. It should be pointed out separately that the bed cover comes with a five-year warranty, and that means that the manufacturer is completely sure of the cover's durability and quality.
Pros & Cons
Improved security due to the latches in the center and the rear
Supreme-quality of cover components
The pack comes with a 5-year warranty
Simple and user-friendly installation
The price is certainly higher than the average
Recommendations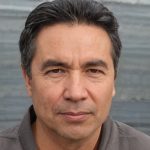 Truth be told, Rugged Ridge cover is not one of the most affordable on the market, but in the long run, such an investment will pay off. If you are looking for an extremely durable cover that is sleek-looking at the same time, then this is the option to consider.
3. Undercover Ultra Flex Hard Folding Bed Tonneau Cover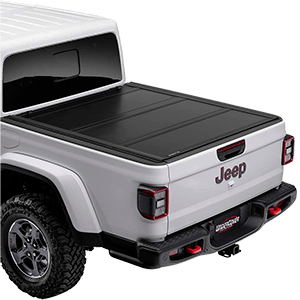 If there is a tonneau cover provider that chooses to take all the customers' wishes and ideas into consideration, that would be Undercover. The truth is that the bed cover from the manufacturer is merely amazing. Aside from the fact that the tonneau is extremely durable, it is also very comfortable in use and convenient.
To begin with, there are three positions that the cover can be used in: fully closed, fully open, and partially closed. An interesting peculiarity about the fully open position is that the cover folds upright and is supported by dual prop rods so that it does not touch the cab in any way, and that is surely a benefit for those who are super cautious about the scratches on the cab.
Unlike many other tonneau covers, Ultra-Flex comes with carpet lining so that there is not a chance that your sensitive cargo can be damaged while the transportation. Besides, there is also an integrated LED bar to provide enough light when necessary.
If that wasn't enough, the cover is so tough that it can withstand up to 400lbs load. So, if you reside where it may snow heavily, you should rest assured that no amount of snow will damage the cover.
Pros & Cons
Extremely durable cover
User-friendly installation and use
Incorporated LED bar
Carpet lining for ease of transportation of fragile cargo
Recommendations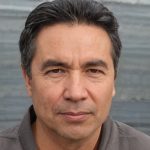 If you are ready to purchase a tonneau cover that is a little more expensive than the rest, then it is best to choose the one that offers the most for the price. I think that Ultra Flex from Undercover fits the description seamlessly.
Buyer's Guide
Very often, when it comes to the tonneau Jeep drivers mistakenly consider that the only purpose the one carries out is the cargo protection. The truth is far from that. Well-chosen tonneau for the vehicle can also add up to the fuel economy as well as it certainly adds up to the Jeep's looks. Just as complex, the advantages are, so it is to choose the right tonneau for your vehicle. Today we are going to shed some light on the features that are usually left out.
1. What Size Tonneau Cover Do I Need?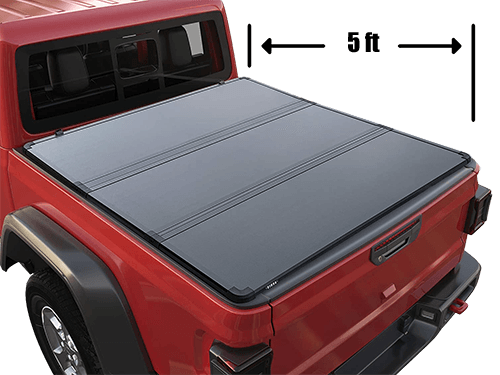 It goes without saying that there are multiple tonneau types on the market. However, those that suit your Jeep bed are 5'-sized. Some tonneaus go only with the bed without bed rails, extenders, or utility track systems. If you have any of the accessories installed, it is vital to check if the chosen tonneau model will fit on.
2. Type
Just as there is no one-for-all tonneau size, so there is one universal type. There are two main types of tonneaus to consider. They are hard and soft-top covers.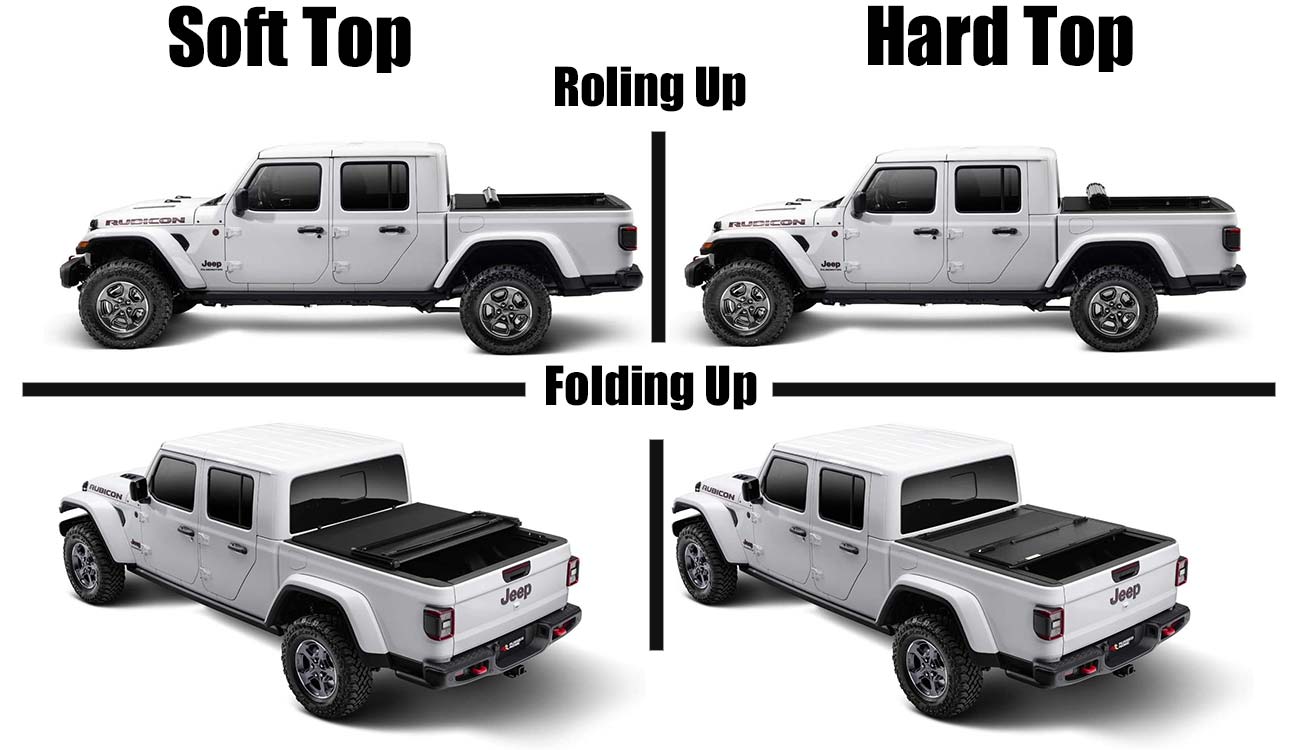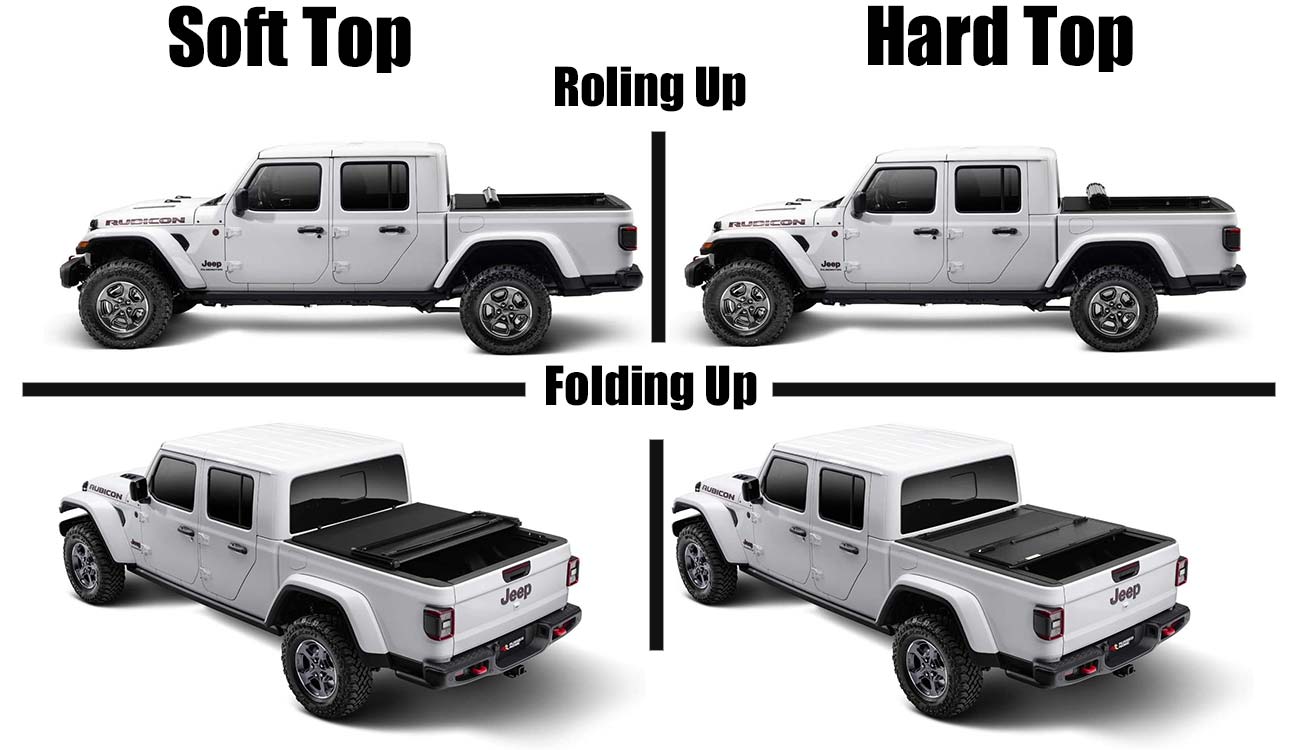 Softop tonneau-cover – these covers are usually made of lighter and softer material that is still pretty durable and offers enough protection for any cargo being transported safely.
Hardtop tonneau-cover – these covers are more durable and usually made of heavy-duty plastic or related material. They can be locked when needed and can withstand the harshest weather and road conditions keeping your cargo safe and secure.
3. Hardtop Cover vs. Softtop Tonneau Cover
It is quite challenging to draw a line when it comes to choosing between either soft or hardtop tonneaus. The fact is that both carry out the same functions but cost differently. If you are looking for the best security and protection, let alone fuel efficiency, the hardtop tonneau is to be recommended. It is going to serve you a lifetime but may cost you a pretty penny, which will pay off in the long run.
4. Rolling vs. Folding Bed Cover
Both soft and hardtop tonneaus come as rolling and folding options. In general, they carry out the same functions while looking a bit different. Besides, the price range would not differ much.
A folding cover gives you complete, half-open, and closed modes to experiment with. A rolling cover can usually be either opened or closed. However, no matter the type, both give you almost instant access to the Jeep bed and can be installed within minutes. Depending upon your peculiar preferences and the price you are counting on, you can choose either option.
5. Price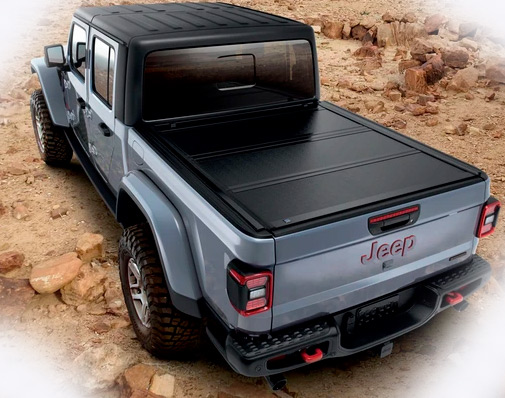 The modern market of Jeep accessories is filled with multiple tonneau models. While some of them are cheaper, the others are more expensive, and the cost is dictated with the number of features each provides.
Softtop covers are very light, easy to afford as well as to use, they are quite durable and offer medium protection. At the same time, hardtops are quite expensive, insanely durable, secure, and super slick.
No matter the description, you should always consider the most affordable option so that you enjoy the purchase rather than regret the spent money.
FAQ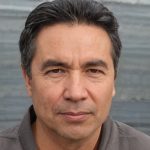 Can I go through a carwash with a tonneau cover?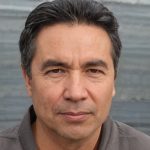 If there is no damage inflicted on the cover and it is properly secured to the Jeep bed, you certainly can take it through the carwash. Both soft and hardtops can be taken to the carwash. However, you can as easily wash the cover with mildly soapy water and a firm sponge.
Can tonneau covers improve the gas mileage of my Jeep Gladiator?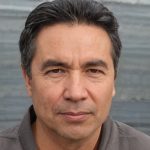 Some quality hardtop covers can affect the fuel economy positively. However, there is no information as to a tonneau improving the gas mileage.
What tonneau cover is best for my Jeep Gladiator JT?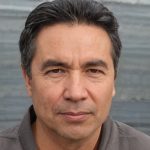 There are multiple tonneau covers available for the JT at the moment. It all depends upon your personal needs and preferences s well as the budget. No matter where you are standing at the moment, the chances are that you are going to find the best suitable tonneau in a matter of minutes.
Can Tonneau Covers Be Locked?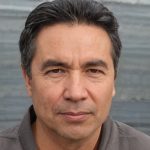 A if the tailgate is properly closed as well as the tonneau cover, then there is nothing to worry about.
Comparison Table – Best Tonneau Cover for Jeep Gladiator (Updated December, 2023)
Product
Product Information
View on Amazon

Editor's Choice

1) Tyger Auto T3 Soft Tri-Fold Bed Tonneau Cover

Best Features:
– Made from marine-grade materials
– Secure aluminum frame
– Simplified installation
Type: Soft Folding Bed Cover
Fits Models: Jeep Gladiator JT 2020
Available Options:
– Hard Folding Bed Cover

2) Rugged Ridge 13550.21 Armis Soft Folding Bed Cover

3) Undercover Ultra Flex Hard Folding Bed Tonneau Cover

Best Features:
– Three-position cover mode
– Carpet lining
– Increased load capability
Type: Hard Folding Bed Cover (Matte Finish)
Fits Models: Jeep Gladiator JT 2020
Available Options:
– Gloss Finish
Conclusion
To sum all up, it is safe to say that some drivers view a tonneau cover as a waste of time and means, I think differently that is why I have compiled this set of options I personally consider worthy of investment.
Read Also: Best Cargo Covers for Jeep Review
You can choose the option that fits you most depending upon your needs and preferences, not to mention the budget. No matter the choice you make, you will be satisfied with the end result, that is for sure!