Got a die-hard Wrangler and a mountain bike all ready for your next off-road trip? But how are you going to carry that bike around? It most likely won't fit in the trunk; yes, you could mount it on the top (the roof), but that's not an ideal solution. Instead, you can let us help you pick the best bike rack for Jeep Wrangler and ride out with style. I picked three leading Racks with many pros and only minor cons.
So, if you're planning on camping with your family or exploring the woods and want your bike(s) with you, I recommend checking the following carriers. They are relatively cheap, made of high-quality materials, and come from respected brands. But which one will be the best choice for you and your current situation? Read on, and you'll most definitely find out!
Best Bike Rack for Jeep Wrangler and Grand Cherokee Review
1. Allen Sports – Best Hitch Bike Rack for Jeep Wrangler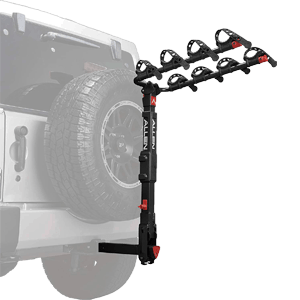 The biggest selling point of this Rack is its capacity. Instead of the standard two bikes, it can hold all four. However, this comes with a catch: while it can, indeed, carry four bikes, some of them will have to be kids' bicycles. Otherwise, you won't be able to avoid rubbing. The good news is – installation is pretty straightforward, and the quick-secure straps have a very strong grip. The (dual-compound) cradles, in turn, protect the bikes.
Plus, the Rack fits a very wide range of frame styles, meaning you won't have to worry about any compatibility issues. The overall load capacity is 140 pounds, which is rather impressive. Add a padded spine shield for extra protection, two keys in the package, and snapping arms, and you'll get yourself a bargain. Just make sure you don't get your hopes up on how many bikes this carrier can hold.
Pros & Cons
Generous capacity (up to four bikes)
Effortless installation; quick-secure straps
Fits a wide range of frames
Might not hold four grown-up bikes
Recommendations: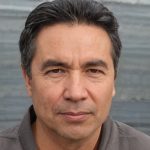 Easy installation, lots of security features, and impressive capacity – that's the Allen Sports 4-bike rack for you in a nutshell. It "works" with most frame styles, and comes with quick-secure straps. On top of that, this bike carrier is available in different configurations (we reviewed the most expensive and advanced one). And, it can carry up to four bikes, but some of them might have to be kids' bikes.
2. Allen Sports Deluxe – Best Spare Tire Bike Rack for Jeep Wrangler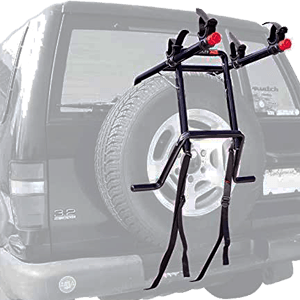 This next rack is also made by Allen Sports, but this time around, it's only suited for two bikes. The goal with this rack was to make it as affordable as possible. Now, while it is, indeed, a low-budget pick, I can't, in any way, say that it lags behind the competitions. First of all, the carrier fits almost every single spare tire out there. Secondly, it's extremely lightweight.
There is a minor con, though: with the rack installed, you won't be able to open the trunk. Yes, this can be quite frustrating, as you'll have to remove it to get to the trunk. But, other than that, this Allen Sports rack is a safe bet. It keeps the bikes up high, away from dirt, and the cradles hold everything tightly. Another pro: the rack doesn't put any pressure on the rim – it "sticks" to the tire and the tire alone.
Pros & Cons
A budget-friendly rack
Fits most (externally mounted) spare tires
Lightweight; easy to carry around
You can't open the trunk with the rack installed
Recommendations: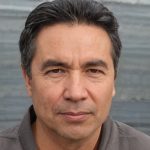 If you're on a budget and can't be spending too much on a bike rack, the Allen Sports 2-bike carrier will be right up your alley. It is lightweight, sturdy, fits most external tires, and is very easy to carry and install. It will, however, block the trunk, but that's a small price to pay for all the pros I just mentioned.
3. Thule Pro 963PRO Spare Tire Bike Rack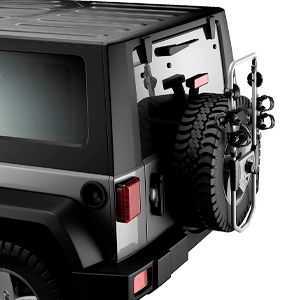 Thule is another big player in this field, and the 963PRO rack has everything it takes to compete with the best of the best. It comes with foldable arms, which means the trunk will always be accessible, even with the rack mounted to the spare wheel. Secondly, the engineers did a wonderful job of making this a secure, durable, reliable bike carrier.
The package includes a locking knob and a locking cable: they ensure a tight fixation to the tire. Unique anti-sway cages protect the frame and keep your bike(s) even when driving through rough terrain. Our biggest complaint is the price-tag: this is quite an expensive bike rack, and compared to similar gear, it doesn't have any standout features to justify the steep price.
Other than that, Thule's offer is quite good and you won't have any trouble on the road while driving with the bikes attached to the back of your Jeep Wrangler.
Pros & Cons
Locking cable and knob included
Easily foldable arms
Secure, durable construction
Rather expensive for a two-bike carrier
Recommendations: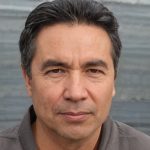 This is an expensive rack and won't be a good pick for folks on a tight budget. But, if the extra dollars are not a problem for you, Thule's rack might be the best pick. It doesn't have any obvious cons and comes with a big list of pros. The durable construction, secure locking cable/knob, and foldable arms are enough reasons to invest in this rack. If not, well, you can also pick one of the two Allen Sports options from today's list.
4. Hollywood Racks – Best Bolt-On Spare Tire Rack for Any Jeep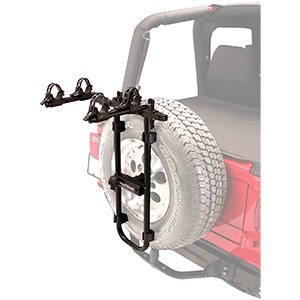 At times the best 4 bike rack for jeep wrangler is not what you are interested in. if a 20bike option suits you well and you are looking for something budget-friendly and reliable at the same time, then Hollywood racks are what you should consider. The rack is to be mounted on the spare tire directly. Such a mounting type allows it to carry your bikes around and have direct access to the trunk at the same time.
On the slightly less bright side, such a mounting type means that to mount the rack on and dismount, it will require some time spent and tools applied in the process. However, unless you require the spare time, the chances are that you are not going to need to take the rack off.
It should be mentioned that the rack is absolutely space-saving since you can fold the top tubes down whenever not in use. The rack's cradle is super-reliable and stable. Nevertheless, you may add one more strap to keep the wheels from spinning.
Lastly, it would help if you kept in mind the fact that there is no vibration dampening mechanism that the rack is equipped with. So, if your bikes are very fragile, it wouldn't be the best option to consider since it may cause more damage than use while on the road, especially off-road.
Pros & Cons
No worse in quality than brand racks
Does not interfere with trunk functionality
Space-saving foldable arms
Available lock for secure bike transportation
No vibration dampening mechanism provided
Bike tightening may be required
Recommendations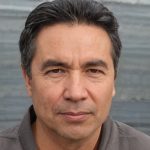 The rack is well-designed and does not differ much from that of Yakima, but a lot cheaper than the branded one.
Buyer's Guide
As you may have already noticed, the variety of bike racks available at the moment is quite impressive. That is why you should be aware of all the details to pay particular attention to before making a purchase.
Types
First of all, you should distinguish between two bike rack types:
Spare tire mounted
Hitch mount racks
Spare tire racks
Just as the name suggests it such a rack is mounted at the back of the spare tire. There are various attachment options too. There are racks that are strapped to the tire. There are also those that are bolted on, while there are some that are the combo of those mentioned earlier. While the rack is mounted on the spare, you will have direct access to the trunk any time you need it. It takes a certain installation process to deal with, but in the majority of cases, it is fast and effortless. What is more, such racks are usually the most affordable and budget-friendly ones. One of the main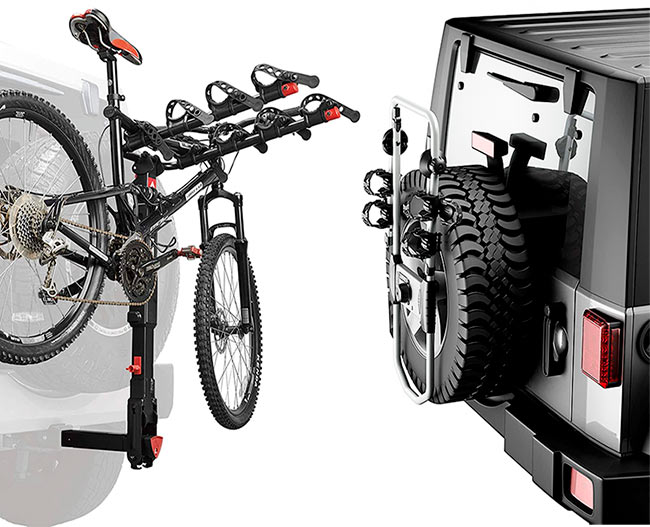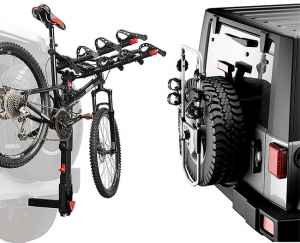 disadvantages of such racks lies in the fact that they can't carry more than two bikes. Another downside is the fact that the bikes remain hanging all the time, and that may end up in unintentional damage in some cases. If you have different bikes you ride, a spare-mounted rack may not be the best bet.
Hitch Mount Racks
Those of you who have a family equally amused by riding bikes, then a hitch mount bike rack is the one you need. Racks like that are designed to carry up to four bikes. Apart from that, hitch racks are simple to install, and they are a lot more durable. On the other hand, such racks are always pricier when compared to spare time racks. It needs to be stated that such racks are quite heavy, and that may be a downside when you are limited in the load you can additionally introduce.
Load Capacity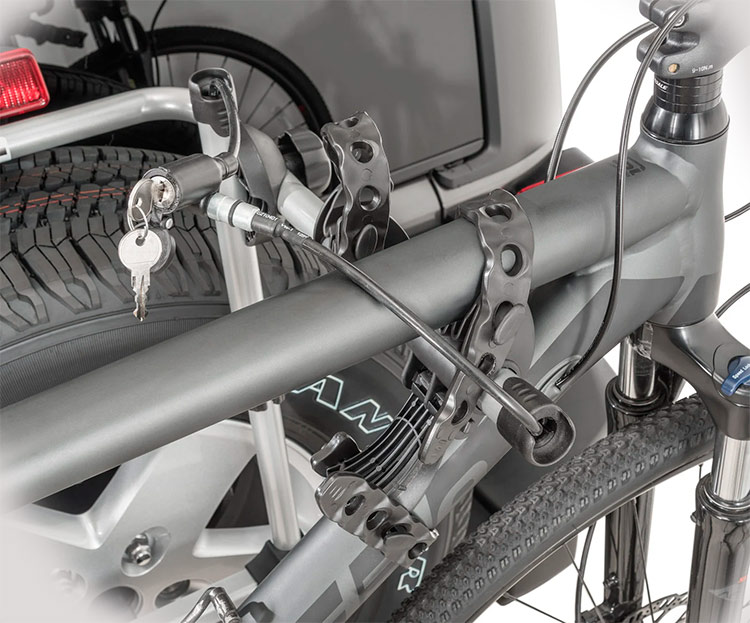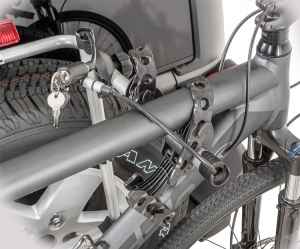 Another factor to think about when bike rack shopping is how much it can carry and how much it weighs. Hitch racks are always heavier than spare tire ones, but at the same time, they can withstand up to a 150-pound load, while the spare tire racks range within 75 pounds.
Security
In case you do not want to worry about the safety of your rack when away, you need to consider the one with a lock in the first place. While most racks come with a bike lock, some of them are missing a rack lock, and that is a vital fact to evaluate.
Build
Some racks' installation process may be too complicated to carry out without prior experience. The very same comes to the ease of use of the accessory. In case you do not want to spend time and effort on either, it is advised to pay attention to the installation process before committing to purchase.
Compatibility
It is not enough to find the best quality bike rack and pay a fair price for it. The rack should fit your bikes perfectly too. It is true that some racks are not compatible with certain bike build, and investing in one may be a total waste of time and means.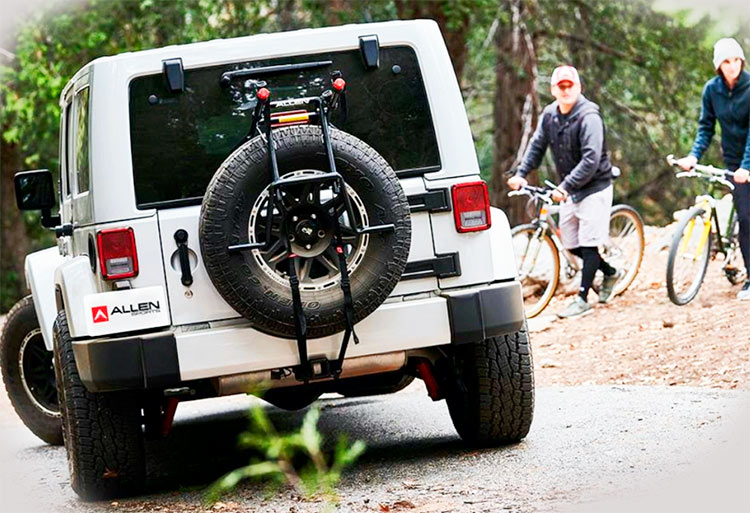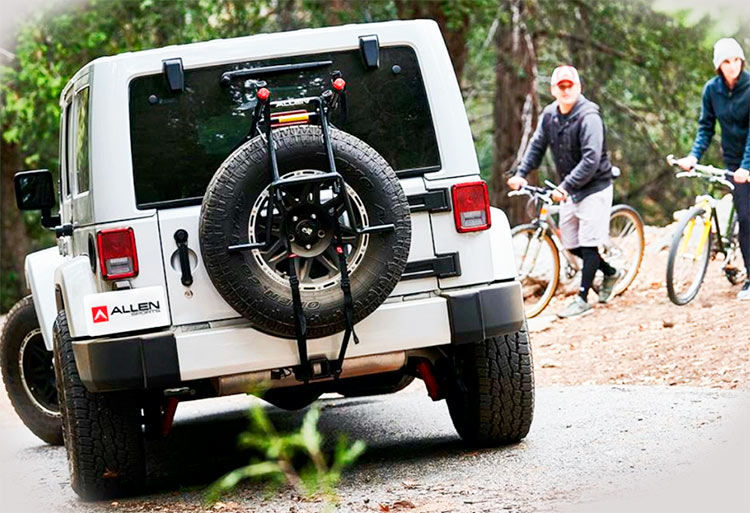 Stability
Some bikes do cost a pretty penny, and there is rarely a chance you would be happy to find that your bike was damaged after the transportation. That is why ensuring the stability that the rack offers is crucial. The fact is that some budget racks do not provide enough vibration dampening, which affects bikes not in the best way ever.
Best Bike Rack for Jeep Wrangler and Grand Cherokee (Updated September, 2023)
Product
Product Information
View on Amazon

Editor's Choice

1) Allen Sports Hitch Bike Rack for Jeep

Best Features:
– Holds up to four bikes
– Easy installation thanks to quick-secure straps
– Fits a wide range of frame styles
Type: Hitch Rack
Max Number of Bikes: 4
Load Capacity: 140 LB
Weight: 29.30 lb.
Available Options:
2 Bike Rack
3 Bike Rack
5 Bike Rack

2) Allen Sports Jeep Spare Tire Bike Rack

Best Features:
– Highly affordable
– Fits most spare tires
– Incredibly lightweight
Type: Spare Tire Rack
Max Number of Bikes: 2
Load Capacity: up to 70 lb.
Weight: 9.35 lb.
Fits Models:
1997-2006 Jeep Wrangler TJ
2007-2018 Jeep Wrangler JK
Available Options:
3 Bike Rack
2 Bike Rack for Jeep Wrangler JL

3) Thule 963Pro Spare Tire Bike Rack for Jeep

Best Features:
– Includes a locking cable and a knob for a strong grip
– Foldable arms (the rack doesn't block the trunk)
– Secure and highly durable
Type: Spare Tire Rack
Max Number of Bikes: 2
Load Capacity: 75 lb.
Weight: 15.6 lb.

4) Hollywood Racks Bolt-On Spare Tire Rack

Best Features:
– Quality budget rack option
– Seamless rack mounting
– Elegant and innovative design
Type: Bolt-on Spare Tire Rack
Max Number of Bikes: 2
Load Capacity: 70 lb.
Fit Models: Universal
Conclusion
Investing in a high-quality bike rack is the most convenient and secure way to transport your cherished bicycles, particularly when embarking on long-distance journeys. Allen and Thule are renowned for manufacturing some of the sturdiest, most dependable, and aesthetically pleasing bike carriers available. If you're an off-roading aficionado who can't imagine leaving your beloved two-wheeler behind on your Jeep Wrangler adventures, the racks we've reviewed today should definitely pique your interest.
Weigh your options, give one a try, and don't hesitate to share your experiences and feedback with us in the comments section. If you're finding it challenging to narrow down your selection to just one perfect piece of equipment, comparing the pros and cons side by side might provide you with the clarity you need. Remember that the ideal bike rack for your Jeep Wrangler should not only meet your practical requirements but also align with your personal preferences and lifestyle. So take your time, consider all aspects, and make an informed choice that will enhance your biking and off-roading experiences for years to come.