There is no secret that many Jeep owners are reluctant to use them for their intended purpose – to conquer the real impassability and become a champion of off-road routes. Someone keeps one's "iron horse" to sell it more expensive in the future, while someone still has to pay a loan for many years, and afraid of spoiling the Jeep so soon either. However, if you are a real off-road enthusiast, you need to protect your Jeep from unforeseen situations and enjoy the power of the Jeep to the fullest.
Be sure that strong armor is the best protection for your Jeep, as well as this protection, will allow you to conquer rocky routes and keep the Jeep safe and beautiful.
Why Do You Need to Use Jeep Armor for the Off-Road Task?
Jeep armor is the best way to protect your Jeep from large and small damages, such as chips, paint scratches, blows of branches and stones, etc.

Protecting the Jeep's underbody, you protect the fuel tank and drivetrain components, making your trip easy and safe.

Cosmetic damage is also an unpleasant thing because the presence of defects on the Jeep spoils its appearance and indicates that the driver is rather careless.
The Main Advantages of the Use of Jeep Armor:
prevents long and costly repair (or change) of some important Jeep's parts.
gives extra protection to the exterior body and underbody.
makes the style of your Jeep fresh and unique.
adds some extra weight to your Jeep, while this option can also lead to positive effects.
Armor Materials
There exist different types of Wrangler armor materials, and among the most popular materials, we can see steel, aluminum, and plastic. Naturally, each armor material has its specific characteristics and utilitarian value. For instance, underbody protection is often carried out by aluminum and steel details, while body protection can be carried out by plastic accessories.
In a case of serious off-road routes, when your task is to go through rocks, it is better to use steel armor because this material is more resistant to hard damage. The main disadvantage of steel armor is its big weight, which affects the Jeep's fuel economy and handling.
In the case of choosing water or mudding routes, the best option is aluminum armor because it can withstand moderate damage.
Plastic armor is often used for cosmetic protection against paint scratches, and other easy damages. This material is inexpensive and allows Jeep lovers to keep their vehicles in an ideal state during non-extreme use.
Jeep Bumpers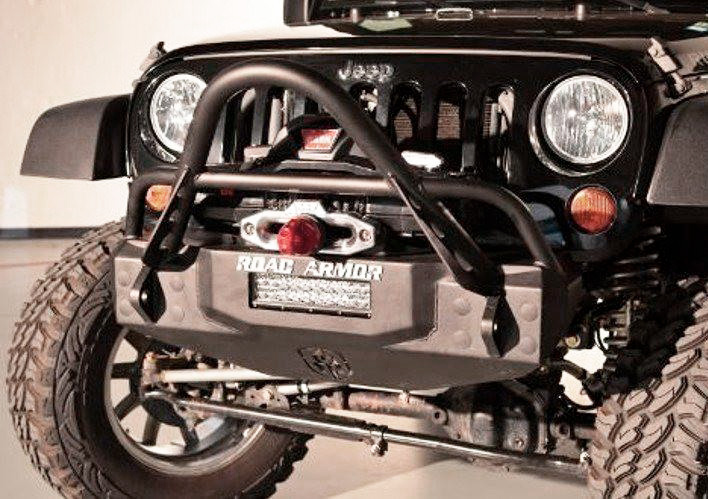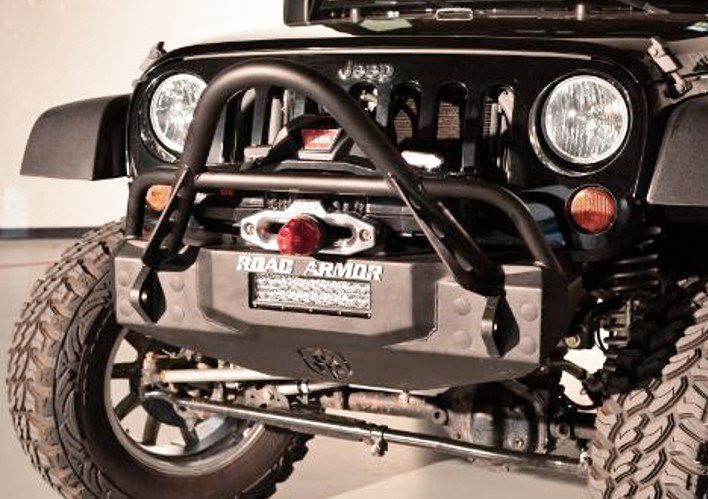 In most cases, jeep bumpers present a metal construction to protect the Jeep body from damage. The main function of the Jeep bumper is to protect the Jeep body from deformation in a collision with an obstacle. Also, many off-road accessories are installed on reinforced structures: winch platforms, communication antennas, spotlights, etc. It is also useful in the event of an accident – the power bumper will take a hit on itself and will protect the driver and passengers from possible injuries.
Thus, the massive design of the Best Jeep Bumpers acts as a kind of shield in a collision with various kinds of obstacles. This is important in off-road conditions. Owing to the bumper device, you can easily attach additional accessories and ensure maximum safety.
Inner Fenders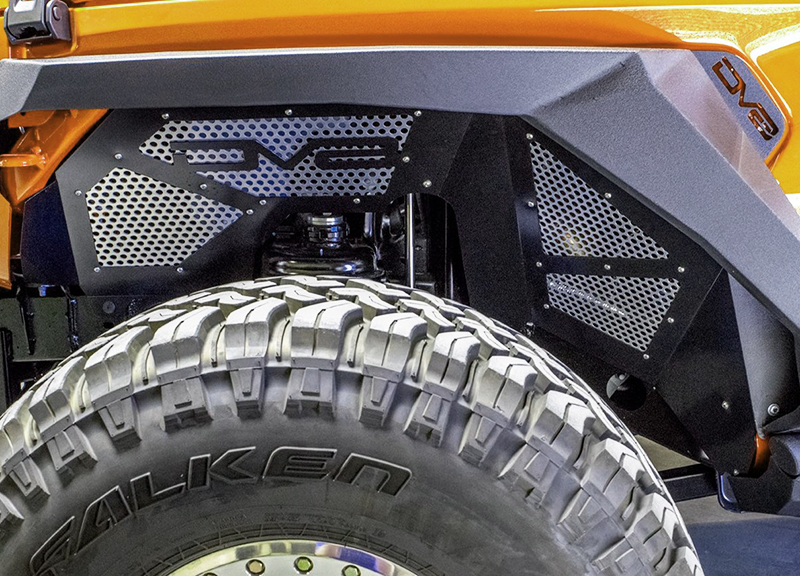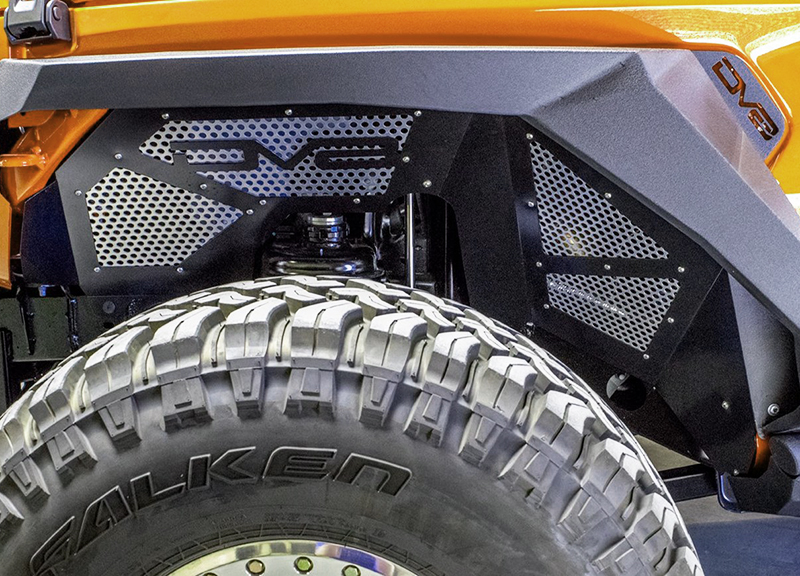 Inner fenders are needed to protect the wheel arches of the Jeep from the aggressive effects of salt reagents, abrasive sandblasting effect, stones, and gravel flying from the roadway.
Another protective function of the Best JK Inner Fenders is that a correctly installed fender liner in its front part captures the flow of incoming air and, passing between the arch and the fender liner, constantly ventilates this space.
Rock Sliders
It is true that a Jeep is a very tough and powerful vehicle. However, some areas are still less protected than others. What I have in mind is where the body is attached to the frame. The bottom part of the vehicle is highly susceptible to the damage that comes when you are conquering some unknown and rocky terrains. While some models come equipped with side steps made of plastic, the others are completely unprotected. That is when the Best Jeep Rock Sliders come in. They are mostly designed in such a way that all the obstacles are either deflected or merely slide off. It should be added that most rock sliders are made of extremely durable steel so that you can step on them without the slightest fear of breaking them. Besides, the installation is quite basic and does not require any vehicle modifications.
Armor Fenders
The Best Armor Fenders for Jeep are designed to protect the fenders any debris that may come your way when you are off-roading. However, very often, drivers leave the primary function of the accessory out since the look those fenders can grant is breath-taking. If you are searching for the most aggressive vibe to add to your vehicle's appearance while also add up to its safety and protection, then armor fenders should be on your to-purchase list.
Fender Flares
When it comes to the Best Fender Flares for Jeep Wrangler, it is safe to say that they are optional since there are factory flares provided. However, if you are planning on switching from the regular tires to larger ones to go off-roading, then fender flares become a necessity. Apart from the protective feature that the item is designed to carry out, it adds up to the aesthetics of your vehicle greatly too. No matter the fanciness of the part, in the majority of cases, fender flares are more than easy to install. However, you need to make sure that you choose the option that is created to suit your Jeep model in particular.
Tube Doors
When the summer heat starts, and there is a soft top at your disposal, it is only natural to rush and swap the hard top for a soft one. However, no matter how practical and useful the soft top is, it does not extend to the doors. So, you are left with two choices – leave it be or look for the half doors. In case, you decide to stick with the latter option, it is essential that you realize – the rougher are the off-roads you are about to take, the stronger should be the half doors. That is when Jeep Tube Doors come in more than handy. The primary purpose of those doors is to ensure your safety, improve the road sight as well as to enhance your rugged Jeep look. While carrying that many functions, the doors are quite basic in their core so that you are not going to spend a lot of time installing and uninstalling them, and that is crucial.
Bull Bars
Bull Bar for Jeep is usually considered to be nothing more than the grill protector. While the assumption is true, there is a list of other functions that the accessory can do. To start with – it enhances the general look of the vehicle. If the aggressive exterior is something you are aiming at, then a bull bar is an item to be added to the bumper.
Apart from that, a quality Jeep Bull Bar will not interfere with the visibility but may improve it since it provides a lot of room for additional lighting mounting. Whether decorative or protective features you are after, a bull bar is an upgrade to brood upon.
Conclusion
Fishing, hunting, tourism, extreme travel, off-road festivals, etc. – there are many ways to destroy the varnish on your Jeep, providing the body with corrosion and rust, and violating the integrity of the body of your Jeep. The elixir of immortality does not exist, but there is body armor in the form of the above-mentioned methods to protect your Jeep and become a happy extreme tourist.