Driving through mud, snow, and dirt, and water can be a lot of fun. However, for your Jeep, it might be the most stressful "joy ride", as the debris/contamination is the engine's #1 enemy. The good news is – you can always rely on off-road fender liners to protect all the necessary and vulnerable components from whatever the road has in stores for you. But there are numerous offers from leading brands online – how do you know which ones deserve your attention?
Don't even worry about that: I have exactly what you need. In this post, I'll help you pick the best JK inner fenders that will serve as a brick wall against outside threats. After spending weeks testing dozens of fender liners in real-world situations, I picked three worthy sets that are equally durable, easy to install, and look cool. Let's take a look!
Best JK Inner Fenders Review
1. Smittybilt 76984 XRC Fender Liners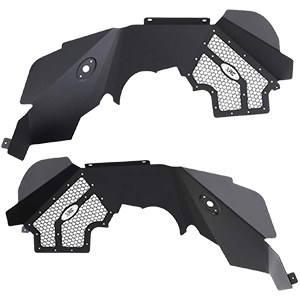 These liners will make sure to keep mud/sand/other destructive stuff out of places it shouldn't be (the engine bay). Even if don't off-road every single week, the Smittybilt fenders will still be a good purchase, as on-road driving can also benefit from cooling and protection. Thanks to the clever design, the Smittybilt liners easily fit both stock shocks and coil-over systems.
The anti-rattle design does a good job of dampening the engine's noise. The hexagonal vents, in turn, reduce the temperature in the engine bay and look pretty cool, especially from afar. Like the Rough Country set, this one is also well-protected against corrosion (powder-coated black mesh) and won't go bad over time. Sadly, the package doesn't include any bolts, meaning JK owners will have to use third-party hardware for installation.
Pros & Cons
Anti-rattle design (works as a sound dampener)
Hexagonal vents reduce the engine temperature
Fits stock shocks and coil-over systems
Doesn't include installation hardware
Recommendations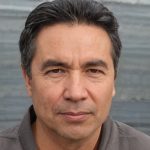 Heat-treated and corrosion-resistant, these inner fender liners are well worth their price. Thanks to the anti-rattle design, hexagonal vents, and ease of installation, they are one of the most popular picks in the US. Smittybilt specifically trimmed the liners to make them fit most coil-over systems. Just remember: the package lacks bolts, thus forcing you to buy/use OEM ones. That's a minor inconvenience for a pro, but could be a deal-breaker for a novice.
2. Rough Country Front Inner Fenders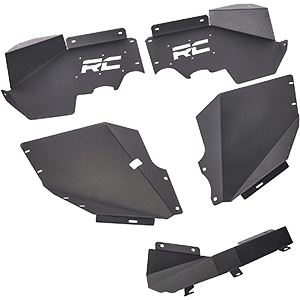 Looking for reliable fenders to protect your engine from the road? Take a closer look at the Rough Country liners: they are affordable, incredibly durable, and won't take long to install. They'll also help keep the engine nice and cool. That is achieved through blocking the air that finds its way into the wheel wells from getting into the engine bay. The Radiator fins, in turn, will get more air and work more effectively.
These fenders are highly successful against mud, water, dirt, snow, and debris. So, that makes them invaluable for off-roading. The only situation when inner fenders will be of no use is a road filled with rocks. With this set, you'll get Rough Country's lifetime warranty deal, which is more reason to consider it over the other two sets on our list. The only downside: the package doesn't include any instructions – you'll have to make sense of it all on your own.
Pros & Cons
Highly durable; brick-strong construction
Relatively affordable (compared to rivals)
Lifetime warranty from Rough Country
No installation instructions
Recommendations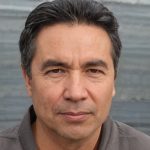 Inner fenders liners need to be strong, protect the engine, and increase the airflow to improve cooling. This Rough Country set does all of that and comes at a reasonable price-tag. Plus, the black powder coating is 100% corrosion-free. Add a lifetime warranty and beefy looks, and you'll get yourself a bargain. Too bad the manufacturer didn't think to include instructions with the set.
3. EAG Inner Fender Liner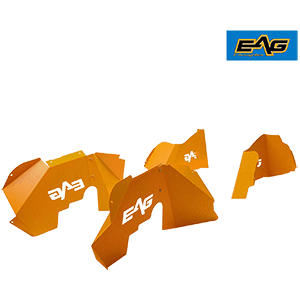 Like the other two sets on today's list, these EAG liners protect against contamination and do that with style. Made of high-quality aluminum, they improve the airflow and keep the engine from overheating. Durable, long-lasting, and rust-free, they can be a good purchase if you're a big fan of off-roading. The package includes installation instructions and all the necessary hardware (which can't be said about most similar sets).
The one-piece, no-assembly design makes it easier to install the fender liners on your own, without any help. Speaking of the design, the engineers took a "futuristic" approach with it to satisfy the fans. The aluminum, by the way, is lightweight, and won't put extra pressure on the Jeep JK. Now, while they take quality control seriously at EAG, in some packages, the holes aren't lined up correctly.
You can also look at the analogue of Front Inner Fender Liners from Hooke Road:
View on desertcart.us
Pros & Cons
Sleek, trendy design; durable construction
Full coverage for total protection
Installation instructions and hardware included
The holes might not line up correctly
Recommendations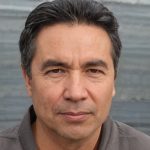 If it's time for you to replace the stock plastic liners, you might want to give this EAG set a chance. It provides full coverage, comes with a dope design, and incredibly high build quality. The package includes all the necessary hardware for installation, along with detailed instructions. It will take you a couple of hours to install these fender liners, but once they're in place, it will be pretty hard to shake them.
Best JK Inner Fenders (Updated December, 2023)
Product
Product Information
View on Amazon

Editor's Choice

1) Smittybilt 76984 XRC Fender Liners

Best Features:
– Advanced anti-rattle design
– Hexagonal vents for better engine cooling
– Fits stock shocks and coil-over systems
Type: Front or Rear Inner Fenders
Fits Models: 2007-2018 Jeep Wrangler JK

2) Rough Country Front Inner Fenders

Best Features:
– Highly durable
– Relatively affordable
– Lifetime warranty
Type: Front Inner Fenders
Fits Models: Jeep Wrangler JK (2007-2018)

3) EAG Inner Fender Liner

Best Features:
– Sleek, trendy design
– Full coverage
– Includes installation instructions and hardware
Type: Front and Rear Inner Fenders
Fits Models:Jeep Wrangler JK (2007-2018)
Conclusion
Without proper inner fenders liners, you won't be able to protect your engine bay. Over time, it will get overwhelmed by mud, dirt, water, debris, and everything else in between. That's exactly why it's so important to go for third-party fenders as soon as possible, especially if you love to off-road. The stuff that comes with the factory Jeep JK simply won't cut it: the engine compartment will keep getting contaminated.
The installation process is usually very straightforward and easy – you'll be able to handle it on your own. If you need an affordable, durable, and overly reliable set, go with Rough Country. Drivers looking for something more exotic might find Smittybilt's offer to be more attractive. Finally, EAG provides a perfect balance of price, quality, durability, and ease of use.