Hi guys! Today we're taking on the Jeep Sidesteps category. I'm going to break down all of the different designs and styles out there to help you who might be doing a little shopping make the right decision. The variations of Jeep XJ Rock Sliders include the length and width of the tread, texture for traction, materials used, finish, price and some will be a bit better than others in terms of ground clearance, which is always a big problem. I'll show you that in each category with our trusty four-door JL, but you could find these types of steps for each generation of Wranglers on my blog.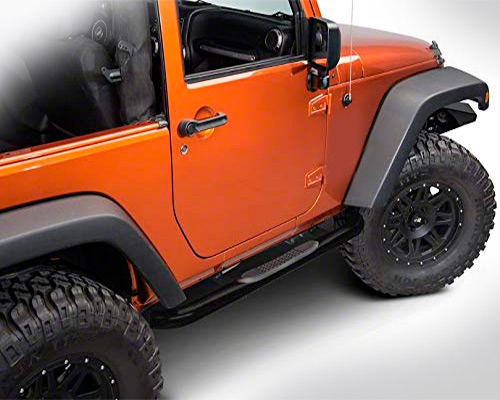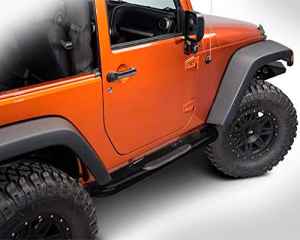 Without further ado, let's start with one of the most classic options. First on the list, I have one of our most popular options on the site, a side step bar, also known as a nerf bar, demonstrated by the RedRock 4×4 3-Inch Round Curved Side Step Bar. A Nerf bar will consist of a bar, but there are many different ways how to armor your Jeep that allow Jeep owners to get exactly what they want. The width of a Nerf bar usually ranges from 3 to 6 inches, in simple terms that changes how much space you actually have to place your foot. The bar itself can be oval for a flatter look, or circular if you really like that classic side step bar style. Third, we have curved or straight ends, this will be a purely stylistic choice.
Curved ends to tidy up the look a little when twisting under the Jeep and straight ends for a slightly more aggressive style. The surfaces usually come with either a black powder coating or a polished stainless-steel finish for the chrome fan. Many powder coatings are tough, but under certain circumstances, especially off-road, powder coatings can crack or flake off. This allows salt access to the underlying material that is likely to oxidize. Obviously, stainless steel resists this, and stainless steel is usually somewhat more durable than aluminum alloys, but has a higher cost. That doesn't mean you have to opt for a black powder coating or polished stainless steel, sometimes you will even see a powder coating over stainless steel and that will really give you the best of both worlds.
One thing I want to mention is nerf bars that come in a sort of drop-down hoop step with age. Options like these will make it easier to get in and out of your Jeep, but they come at the expense of a break angle. If you are just a daily driver they will be fine. However, this clearance is valuable for someone who is out on the trails at the weekend. You should keep this in mind when shopping. Regardless, the nerf or side-step bar is budget-friendly and easy to install. It's easy to see why they're one of our most popular options. Less is more here if you're looking for something that can do the frills and get the job done. This is a style that you might be interested in.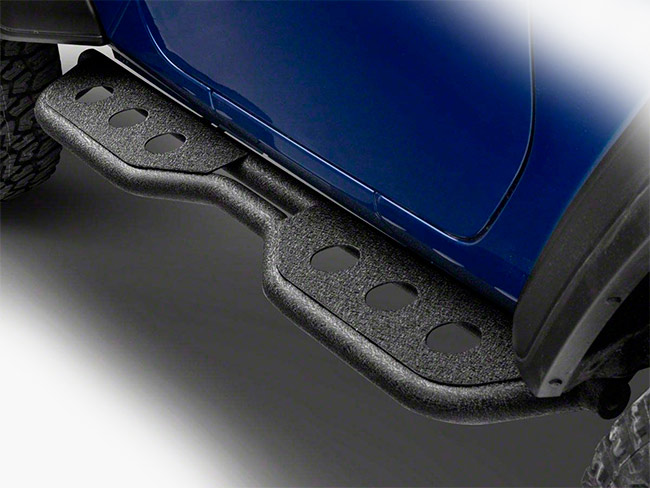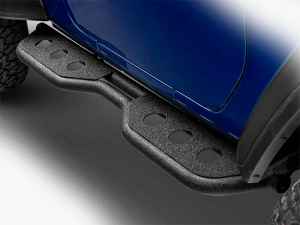 Well, next I have another popular style and that will be the running board. The option right next to me is the Barricade Extreme Heavy Duty Rocker Step. Usefulness and ease of use are the main reasons you would want such an option. Unlike a nerf bar, you have a ton of space to pretty much place your foot up and down the board. Wherever you need to step, this will be able to take a seat. Running boards also ensure a clean look, which is why more and more manufacturers are offering these as a factory option. Usually running boards are all steel, they give you a lot of depth in the step area, which is nearly six inches long. Just like nerf bars, these are budget-friendly and easy to install. Also, running boards tend to sit a little closer to the body of the jeep and tidy up the look by covering up that pinch weld. This will do a good job of maintaining some of that tilt angle, but the step area tends to be a bit higher than other options. This high tread problem can be resolved with the next category, the drop step.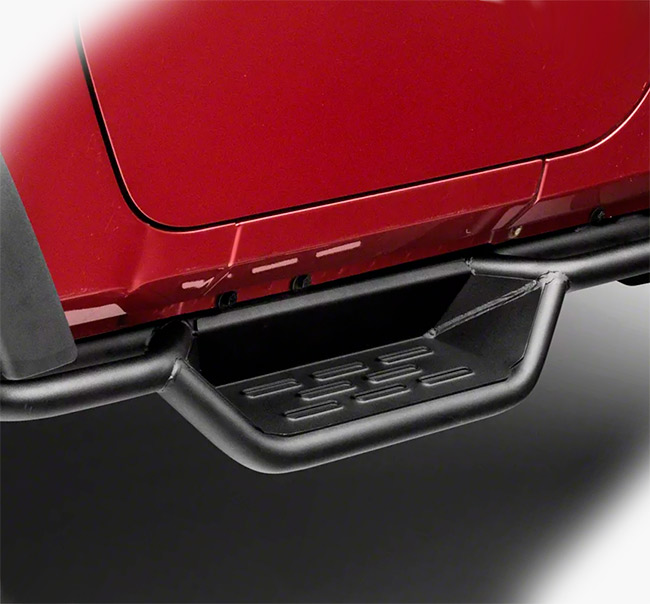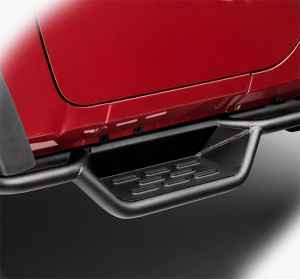 As you can probably tell by the name, these will feature a drop-step design that makes getting in and out of your Jeep even easier as this step area is a little closer to the ground. Typically, these will have a textured step area that goes anywhere from 3 to 6 inches deep. This is the RedRock 4×4 HD Drop Side Step Bar and they are perfect for a drop step. They also have a relatively average area of 4 and a half inches flat fill area.
Obviously, this design comes with the compromise of the tilt angle. Again, if you are the daily driver, not that big of a deal. However, if you are the off-roader type, this is something to consider. If you've got a big boost and want to trade some of that release for an easy step, these are going to be great. Well, while the side steps have an aggressive look, these aren't designed for off-road impacts, just something to keep in mind. But if you want easy entry and exit over the ultimate in all terrain, then the drop step is a great choice.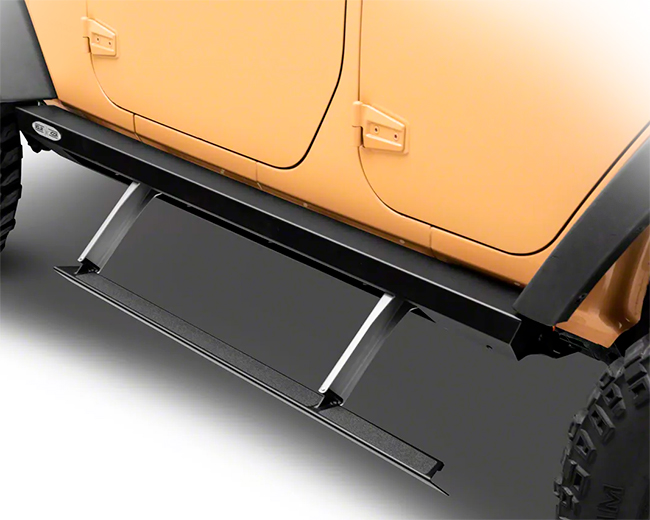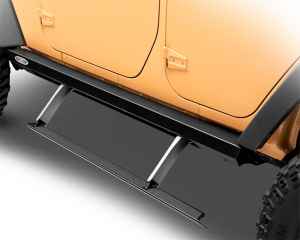 Well, last but not least, I have the Power Step and this will be the Rock-Slide Engineering Gen II Step Slider. An option like this can combine many of the benefits of some of the previous options I talked about. So, you go upstairs, pull the door handle and these will use an electric motor to extend the steps into a nice low position so that you can climb in. After you've closed the door and a little time has passed, these will be attracted to the body of the jeep nicely and neatly. Now the big advantage of a design like this is that these will fall into a position that is lower than that which is safe for driving around. This means that you have a big step if necessary, and as you drive these are retracted to give you the greatest possible clearance.
Now when we talk about clearance, we're talking about toughness and off-roading. Just because these are electronic doesn't mean they aren't hard. Each of these can carry around 650 pounds and have a bit more functionality than your typical power step as these also double as rock sliders. But there will be other options that only work for stepping purposes when you don't need the extra protection, just looking for functionality. Power steps have a few drawbacks. A big problem will be complexity and that will result in a more difficult installation that usually requires some cabling. At the very least, you'll need to bring some extra tools to hook these up to your Jeep.
The biggest disadvantage with power levels, however, will be the price. These are the highest in the category, expect to pay at least a thousand dollars for a range of performance levels, and these RSE Gen IIs will cost around $ 1,800. It's definitely a lot of money, but if you don't mind either of these two cons, these are great choices and again they will combine many of the positives of some of these other options. Well folks it will.
If you want to learn a little more, I have detailed breakdown articles for all of the products and a ton of new articles for some side steps you didn't read about today.