The so-called Citizens band radio is good for two things: getting in contact with your buds and calling for help. When you're off-roading with friends, you always want to stay in contact. Having a direct line of communication with emergency services is even more important. You never know where the wilderness will take you on your next adventure. And there's nothing worse than being stranded in the middle of nowhere with no help.
In this post, I'll help you pick the best CB radio for Jeep Wrangler. I selected three radios that will be a perfect fit for this legendary SUV. They are easy to operate, easy to mount and come with a long list of extra features. The frequency ranges are different, though, as are the pros and the cons. So, join us, and let's see which device has what it take to grab your attention.
Buyer's Guide
Before you pay hard-earned dollars to buy a CB radio, it's important to know in advance what you're looking for. Sadly, most off-road drivers don't have even the slightest idea about these devices and can't differentiate an average radio from the best pick(s). So, let's go ahead and take a look at the key factors that need to be considered when out shopping. I'll try to keep it as simple and don't-to-Earth as possible, without any "geek talk".
The Size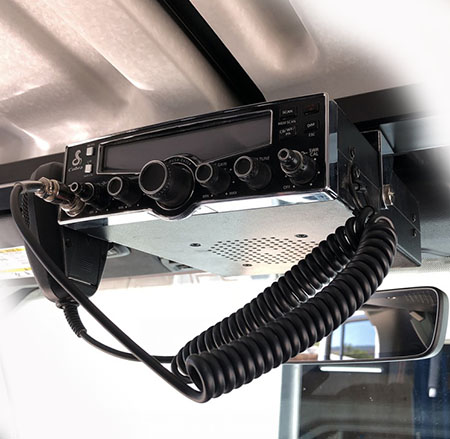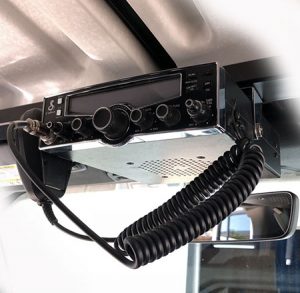 Yes, size does really matter, but not in the way you might think. The thing is – there isn't much space in a Jeep's interior, and the smaller the radio, the better. Ease of installation is one of the first things you gotta check before even considering a CB radio. Plus, keep your eyes on the package. It should come with all the necessary hardware, including bolts, nuts, and a mounting bracket. A mic holder and a detailed guide/manual would also be quite useful.
The Display, Meters, and Indicators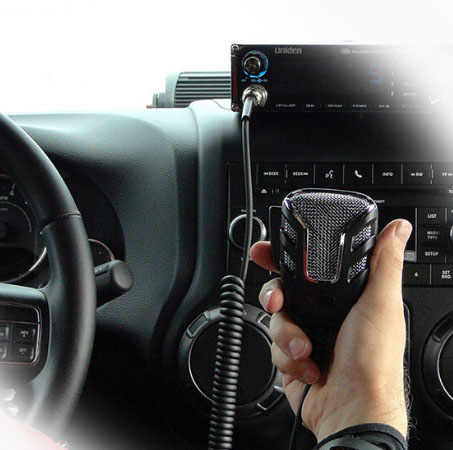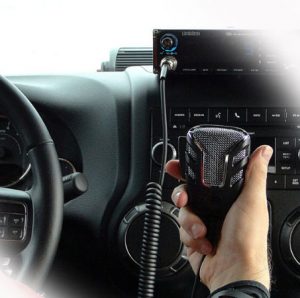 The user interface, or the display, can also make it or break it for a CB radio. You want a device with clear, bright controls on the LCD. That's especially true for fans of driving during the night or early in the morning. You don't want to be leaning towards the radio to make sense of the buttons and text/data instead of keeping your eye on the road. If you choose one of the three radios we discussed today, you'll get high-quality backlit displays.
As for the meters and indicators, the more, the merrier. The most important ones are the transmission and the signal strength meters. Then I've got the SWR (Standing Wave Ratio) meter: it keeps tabs on the Antenna and helps you make the right adjustments to improve performance. Some advanced CB radios feature dozens of indicators, but for a regular driver, they're not even necessary.
The Emergency Channel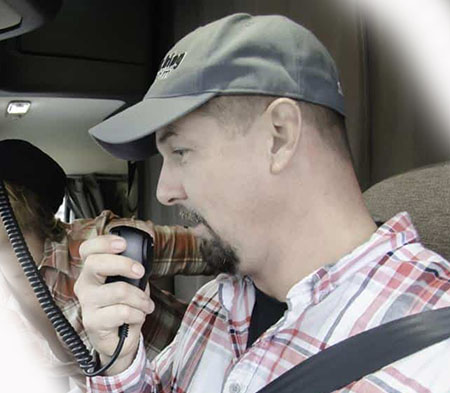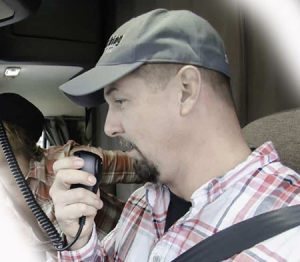 Also known as channel 9, it was specifically designed for emergency use. You won't have to fine-tune the radio before you get to the right channel: just switch to channel #9, and that's it. Most radios can be switched between channels 9 and 19 with the push of one button/knob. Channel 19 is mostly used to report something on the road (like bad conditions). Therefore, don't forget to switch back to it to get all the latest insights from fellow drivers.
Weather-related Alerts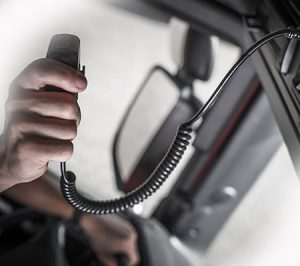 To get important reports about the weather, the radio will need to have access to the NOAA channels. They are constantly updated (in real-time) and can, potentially, save a life by warning of an upcoming storm or other harsh conditions. Sadly, not all CB radios have this feature.
Best CB Radio for Jeep Wrangler (Updated September, 2023)
Product
Product Information
View on Amazon

Editor's Choice

1) Uniden PRO505XL

Best Features:
– Compact size: the radio will fit in the tightest spots
– Comes with a large LCD and user-friendly interface
– Available in different styles and configurations
CB Channels: 40
Display: LCD
Power Output: 3W
Frequency Range:
200 to 3000 Hz

2) Uniden BEARCAT 980

Best Features:
– Highly customizable
– Includes a noise filter, mic Gain Control, NOAA alerts
– Easy to install in any Jeep vehicle
CB Channels: 40
Display: LCD
Power Output: 4W
Frequency Range:
– 162.4 – 162.55 MHz
– 26.965 – 27.405 MHz

3) Cobra 29LTD Professional

Best Features:
– Easy and fast navigation
– SWR calibrator; antenna warning indicator
– Includes a 9-foot microphone cord
CB Channels: 40
Display: LCD
Power Output: 4W
Frequency Range:
300 to 3000 Hz
Other purchase options:
– View on Cobra
Analogue: 75-822 Portable/Mobile CB Radio from Midland – View on Midland