Do you need a new portable or on-board air compressor for your Jeep? You're in luck. I've put together a review of the top four portable air compressors that are available this year. These air compressors can make off-road driving easier when you need to adjust your tires or air springs for different types of terrain. I've also researched the features and specs that are important when shopping for portable air compressors, so you can make an informed choice.
Choose Your Option!
Smittybilt 2781 – Best Multipurpose Air Compressor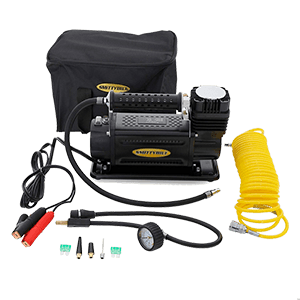 Smittybilt's 2781 universal air compressor was another option I thought worked great as a portable air supply out on the road, especially if you need it to run for more than a few minutes before it needs to recharge its storage tank. It comes with vehicle battery cables, a 24-foot coiled air line, a tire inflation kit, and a storage bag to keep it out of the elements when not in use.
The 2781 performs similar to many other portable compressors at 150 PSI and about 5.65 CFM of air flow. Where it shines is its duty cycle. That gives it the ability to handle tasks like inflating tires on multiple vehicles, adjusting air springs, or even running low-power pneumatic tools for a short time.
Pros & Cons
Long duty cycle for longer jobs
Long air hose for getting to multiple vehicles
A little on the hefty side at over 20 pounds
Recommendations: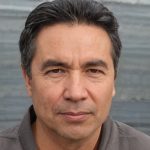 I'd recommend this air compressor for more demanding situations than other compressors with shorter duty cycles. I liked Smittybilt's price for this product, too. 
VIAIR 400P Portable Compressor – A Good Tire Pressure Pump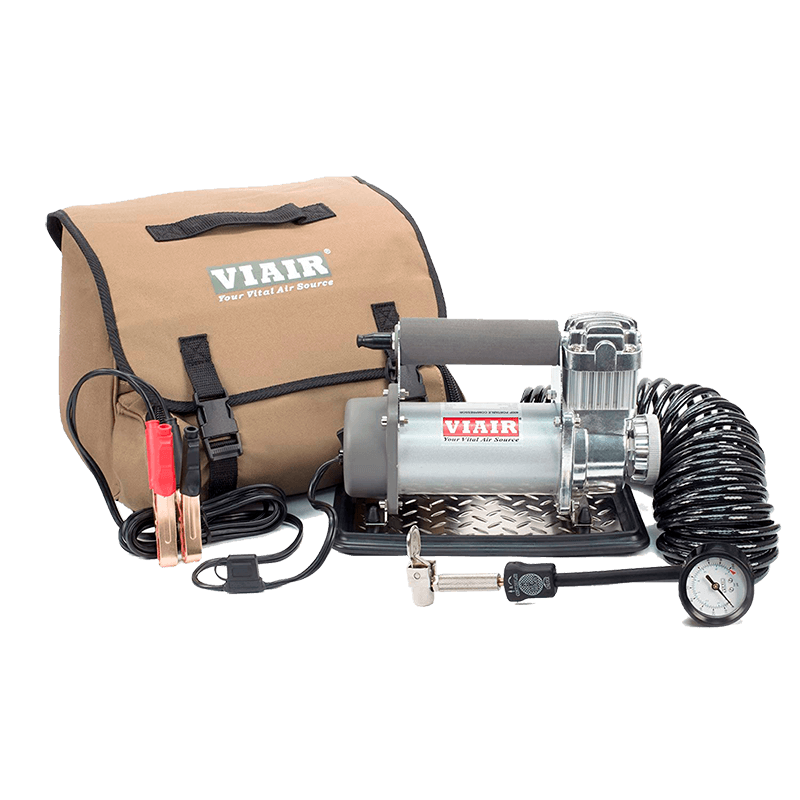 VIAIR's 400P portable air compressor is a product designed specifically for off-road tire pressure adjustments. It's a lightweight, no-frills compressor that can be hooked up to a vehicle's battery temporarily during pit stops. It comes with battery cables, an inline tire pressure gauge, and a tire inflation kit. You also get a durable canvas carrying case to store it when not in use.
The 400P can deliver up to 150 PSI and 2.3 CFM at a 33% duty cycle, so it's best used for tire adjustments that can be done in less than 15 minutes. Otherwise, you'll be waiting for a half-hour for the storage tank to recharge. The air hose it comes with is 25 feet long, which should be more than enough to get to the furthest tire on large trucks. This compressor is designed to be powered through a vehicle's battery, and VIAIR designed it with a 40-amp inline fuse to ensure than it's safe.
Pros & Cons
Can provide high PSI levels
Comes with clamps for attaching to a vehicle battery
Weighs only 8.5 pounds
Designed to run for short tasks only
Recommendations: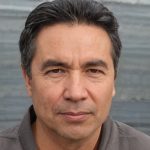 The 400P impressed us as a utility compressor that we could stow away in our vehicle and pull out for a fast tire pressure adjustment. That's its intended purpose, and it does it well. I'd recommend it for off-road drivers who frequently drive over difficult terrain like sand and mud. 
ARB CKMP12 – Highest Quality Portable Air Compressor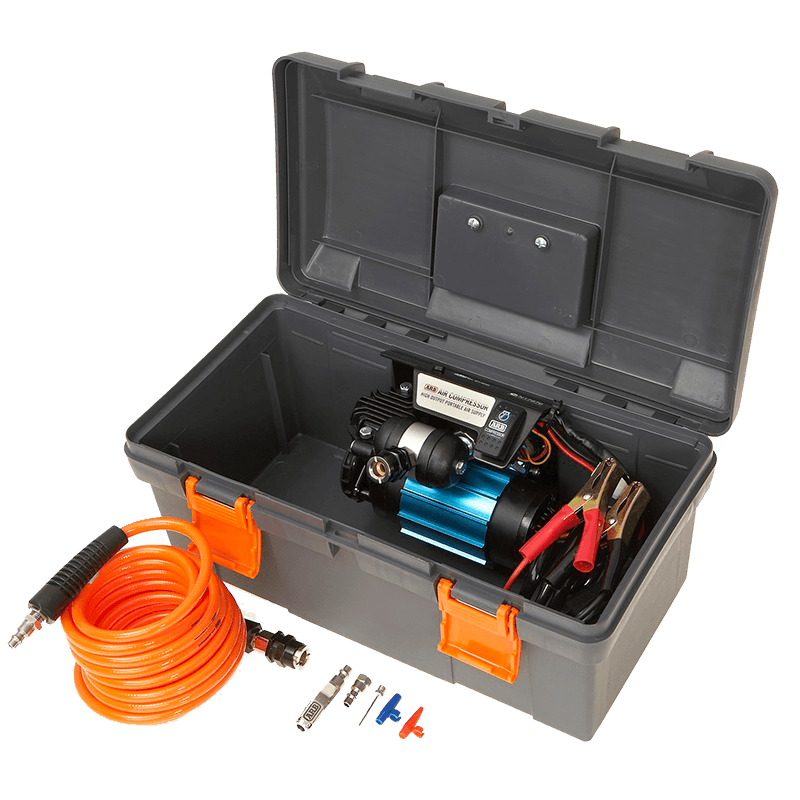 ARB's CKMP12 is billed as a high-performance portable air compressor made for off-road driving situations like adjusting tire pressures or powering air tools. The air compressor is quite light so that you can manually move it around your vehicle, at the same time mounting it to a flatbed and cabin floor is allowed. The CKMP12 is packed with installation kits for both options.
The price of this model is higher than the others I've reviewed for this guide, but there's a number of features that make it a good value. It comes in both 12V and 24V configurations depending on the amount of power you need, and the duty cycle on this compressor is 100%, which means you'll be able to run it continuously once its storage tank is fully charged. That power doesn't translate into noise, though, and this turned out to be one of the quieter models I tested.
Pros & Cons
Quiet compressor motor design
Plenty of power for most applications
Comes in both portable and onboard versions
This is a pricey compressor
Recommendations: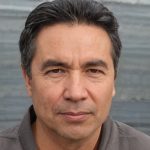 The CKMP12 delivers 2.18 CFM of airflow at 29 PSI, making it an efficient tire pump. It's designed for outdoor environments with both water and dust resistant seals that ensure that it's long-lasting, and its Teflon piston design also means the likelihood of motor failure is low. It comes with a 19-foot air hose so you can reach all four tires on large trucks. 
ALL-TOP – Best Portable Air Compressor for Truck Tires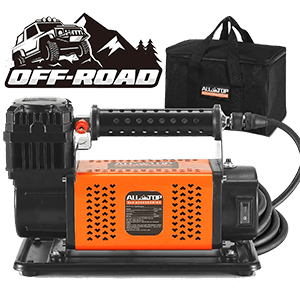 It would not be a secret if I told you that pressure in the tires is vital. However, when most of you may think that inflation is of key importance here, I will contradict and say that at times deflation is of greater value. The thing is that while off-roading you wish the best traction between the surface and the ground, that is why letting some pressure out is the best way to achieve that. Without a reliable compressor for large tires at hand, it is more than difficult to succeed with the goal. At the same time, after you switch to normal tires you may not wish to invest into two separate compressors.
That is when All-Top comes in. the fact is that the compressor is designed to suit a variety of tires, thus a variety of vehicles. However, the type of vehicle or the size of the tire does not affect its function. The compressor has proved to be faster than some as well as more durable, especially when under off-roading conditions. Unlike many available aftermarket compressors, the All-Top one is equipped with aluminum alloy cylinder block which enhances and extends the device's lifetime. Apart from that, the compressor is designed to work under the harshest weather conditions with no effect on the performance.
Pros & Cons
Sturdy and durable build
Simple and straightforward to use
Affordable price for excellent quality
Suits a variety of vehicles and other inflatable items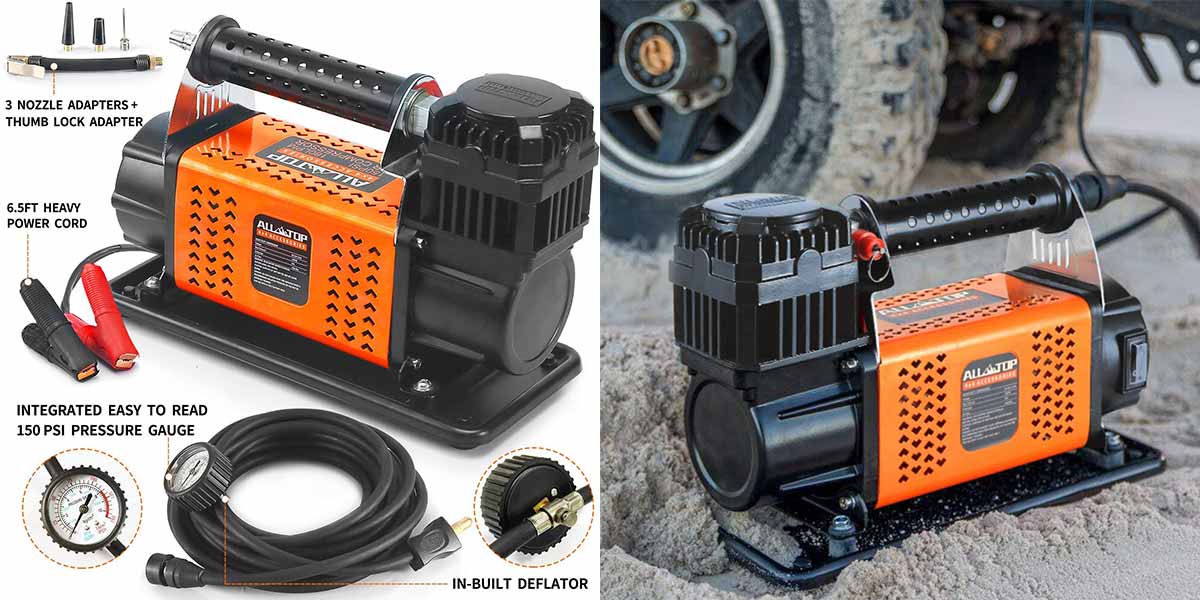 Recommendations: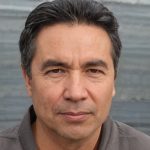 If you are interested in a tough off-roading compressor than can fit your Jeep tires as well as the rest of the vehicles you own – All-Top is the option worth consideration. 
SuperFlow MV-90 – Most Affordable 12V Off-Road Tire Pump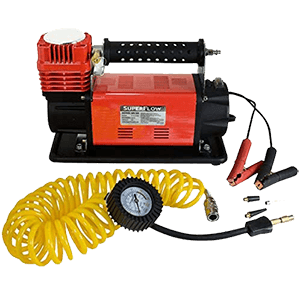 The SuperFlow MV-9012 is Q Industries' entry into the off-road portable tire pump market. In terms of both size and operating time, it falls in the middle of the range of portable air compressors on the market today. It weighs in at a little more than 10 pounds and can run for 20 minutes before it needs to recharge for 20 minutes. This makes it a good choice for adjusting tire pressure for a single off-road vehicle when going off the paved track or getting back on it.
The SuperFlow MV-50 is a 45-amp compressor that comes with battery hook-up cables and inflates up to 33-inch truck tires to pressures between 25 and 35 in a couple of minutes. The battery cables are 10 feet long, and the airline is 16 feet long. It comes with a carrying bag and three different air nozzle sizes.
Pros & Cons
Affordable price for the performance
Lightweight compressor
Only intended for inflating tires
Recommendations: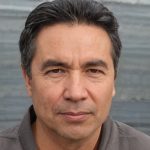 I liked the MV90 as a portable compressor for adjusting tire pressures while off-roading. It doesn't have the staying power to do more demanding tasks, but the price tag is right if you just want to enjoy driving over slippery terrain and get back on the road quickly when you're done. 
Best Portable Air Compressors for Jeep (Updated September, 2023)
Product
Product Information
View on Amazon

Editor's Choice

Smittybilt 2781 5.65 CFM

Best Features:

Supreme motor protection
Extended duty cycle
Storage bag provided

CFM: 5.65
Duty Cycle 60%
Pressure Max: 150PSI

VIAIR 400P Portable Compressor

Best Features:

Fits off-road conditions perfectly
Decreased item weight
Decreased tire-adjustment time

CFM: 2.3
Duty Cycle 33%
Peak Pressure: 150PSI

ARB 12V High Performance Portable Air Compressor

Best Features:

Complete set for the fair price
Increased compressor potency
Come in two variations

CFM: 2.65
Duty Cycle 100%
Peak Pressure: 180PSI

ALL-TOP Heavy Duty Portable 12V Air Compressor

Best Features:

Improved heat dissipation
Quick inflation
Heavy-duty design

CFM: 6.4
Duty Cycle 60%
Peak Pressure: 150PSI

SuperFlow MV-90 Portable Heavy Duty Air Pump

Best Features:

Equipped with three different nozzles
Very lightweight and quiet
Budget compressor option

CFM: 6.4
Duty Cycle 60%
Peak Pressure: 150PSI
Buyer's Guide
Air compressors are a handy utility to have for an off-road vehicle like many of Jeep's models, but they are used for a number of different tasks. Some Jeep owners are avid off-road hobbyists who want to maximize their tire and suspension systems for the various types of terrain they encounter. When they hit a stretch of sand, they know that fully inflated tires will struggle to maintain traction. Other Jeep owners need an on-board air compressor to run power air tools for remote job sites or recharge air spring kits. As a result, the right air compressor for you will depend on your personal needs.
There are several features common to most portable air compressors you'll want to keep in mind when you compare products. Depending on what you need an air compressor to do, some features will be more important than others.
Performance 
Air compressor performance can be compared in several different ways, and you'll see specs on manufacturer descriptions like 150 PSI and 2.5 CFM. Below, I break down what these technical specs actually mean to you.
Air Pressure 
The maximum air pressure that an air compressor can deliver is typically measured in pounds per square inch (PSI). PSI is important if you need to run power tools like impact wrenches that require a certain amount of pressure to work at their full potential. It's also important for inflating tires because the PSI needs to overcome the PSI in the tires to add more air, but this is usually not difficult for most air compressors.
Airflow 
The amount of air that a compressor can move is another way to measure its performance. This is usually measured in cubic feet per minute (CFM). CFM is different than PSI and can be important when powering pneumatic tools. If you need to inflate tires or suspension systems, it's less of an issue. A higher CFM compressor will inflate tires faster than a lower one because the compressor can move more air into the tire in the same amount of time.
Power Use 
Air compressors require an electric power supply. For off-road compressors, this is usually supplied by a running engine through the vehicle's battery. You'll want to ensure that your Jeep can supply the voltage that a portable air compressor requires before making a purchase. The amperage listed for a compressor indicates how powerful its motor is. Compressors with higher amperage ratings will recharge faster and be able to move more air at higher pressures.
Duty Cycle 
This is another performance measurement that can be important if you need an air compressor to run for extended periods of time. It refers to the amount of time the air compressor can run before it needs to stop, either to avoid overheating or to recharge its storage tank. Duty cycles are sometimes measured as a ratio of run time versus time spent recharging or cooling. A 33% duty cycle, for example, might mean the compressor can run for 15 minutes before needing to stop running for 30 minutes. If you need a compressor to run for extended lengths of time, you'll want to find the highest duty cycle available within your budget.
Price Range 
The cost of a portable air compressor is another factor to consider. Depending on your budget and your needs, you may want to choose a low-end compressor. If you just need a tire pump while you're away from civilization, you won't need a high-performance compressor. On the other hand, if you need to run air tools with a compressor, you may need to spend the extra money on a more powerful compressor. Another issue to consider is the warranty that comes with a compressor. Paying a bit more for one with an extending warranty can save you money if it breaks down.
Intended Uses 
The most common use for off-road vehicle air compressors is to adjust its tire pressure. For this use, you'll want to make sure a compressor has the PSI and CFM ratings needed for the size tires you will be inflating. Duty cycles will be less important unless you'll be inflating more than one set of tires at a time. Less common uses for on-board air compressors are to power air springs and pneumatic power tools. These are more demanding applications for portable air compressors, so you'll want to carefully research the performance required for these applications.
FAQ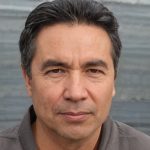 How long can a portable air compressor for tires run?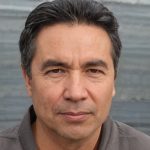 It does not matter whether it is a portable 12 volt air compressor or any other portable one that you are using, it is essential that you pay attention to its duty cycle. The fact is that a duty cycle points out the period of time that the compressor can run without rest and the time it needs to rest before being used again. Usually, the cycle is viewed as one hour. So, if your compressor is said to have a 25-minute duty cycle, that means it can run for 25 minutes and needs to rest for the remaining 35. Sometimes, the duty cycle is stated in the present. If it is stated that the duty cycle is 33%, then it is 1/3 of an hour, approximately for 20 minutes, the compressor is designed to run, and then it needs to rest for the remaining 40.

What is a 100% duty cycle?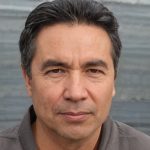 It may seem that 100% duty cycles indicate that the compressor can run without stops. However, that is a misleading assumption. Such an indication means that a piston of a 12v portable air compressor can provide air at a certain pressure and flow 100 % of the time with the help of a storage tank.
Is higher CFM better for offroad air compressors?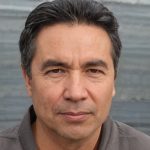 The fact is that when you lower the PSI output, this will result in a CFM increase. When you have a compressor with a higher CFM at hand, it means that it can deliver more air. Thus, larger tires, let's say those of off-road trucks, get filled faster.

Best Onboard Air Compressors (Updated September, 2023)
Product
Product Information
View on Amazon

Editor's Choice

VIAIR Constant Duty Onboard Air System

Best Features:

Increased uninterrupted use time
Designed to be mounted onto the vehicle
Equipped with a pressure switch

CFM: 2.6
Duty Cycle 100%
Peak Pressure: 150PSI

ARB-CKMTA12 On Board Twin High Performance

Best Features:

Significantly increased item longevity
Highest flowing compressor in the class
Simple and straightforward installation

CFM: 6.14
Duty Cycle 100%
Peak Pressure: 150PSI

ARB CKMA12 High Output On-Board 12V Air Compressor

Best Features:

Lightweight but durable compressor build
Enhanced moisture and dust resistance
Motor protection against heat damage

CFM: 3.08
Duty Cycle 50%
Peak Pressure: 100PSI
Conclusion
The selection of portable air compressors that work well with Jeeps continues to grow as more manufacturers introduce their own options for off-road vehicle owners. We've narrowed that selection down to four outstanding products that are suitable for the most common situations you might encounter. Whether you're looking for a dependable tire pump that gets the most value for your dollar or a compressor with the power to handle an air spring mod kit, we've got an option here that will work. I especially liked the Smittybilt's 2781 model during my off-road air compressor testing. It made changing tire pressures for on-road and off-road driving a breeze.