When the summer hits, you need to think about adjusting your vehicle to the sunny weather just as you adjust your wardrobe. There is nothing wrong with the way your TJ looks or performs. It is just that with all the modern innovative accessories, you can make it even better. Such an approach proves to be extremely practical when you decide to dedicate the summer to rest and life on the road, whether it is off-road or on-road – the choice is yours. There is a number of affordable upgrades that will improve your vacation experience tremendously, and they are what I am going to talk about with you today!
Roll Cage for Improved Protection
It goes without saying that TJ is a potent vehicle. However, we should be honest here – it hasn't been created to deal well with rugged and extreme off-road. Over the years on the market, the Jeep has been improved and adjusted, but there are some weak points to be aware of. What I am talking about is the chance of flipping the Jeep over when riding through the dunes or climbing up some rocky paths. While there is not much you can do about that possibility, you can ensure that no one gets injured should the inevitable happen. What I have in mind is the roll cage. There are many options on the market these days and the Best Jeep TJ Roll Cage Kit is designed in such a way that no matter the conditions, hard or soft top on – the driver and the passengers are protected. That is why this is probably the costliest upgrade that I am going to offer you, but it is going to prove handy in the long run.
Tube Doors – Enhanced Look and More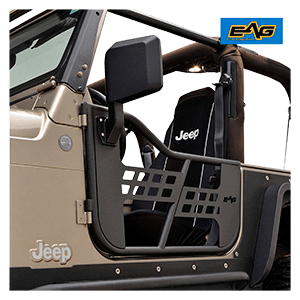 When you take the hardtop off in favor of the bikini top, you will be able to enjoy all the perks and advantages of open space when driving. However, on the other hand, some disadvantages may be lurking along the way too. That is why there is such a practical invention on offer these days as tube doors. The primary purpose of the Best Jeep TJ Tube Doors is to protect those inside. However, additionally, you will be given the possibility to widen your visibility range so that no obstacle goes unnoticed. Besides, in their majority, tube doors designed for Jeeps are destined to add up to the aggressiveness of the vehicle's look, and that is a benefit praised by many.
Seat Covers – Excellent Seat Protection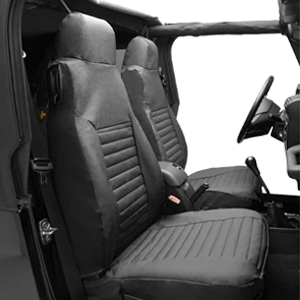 No matter how much you love and enjoy your factory seat covers, you need to realize that should you take the hardtop off and take your vehicle cruising in the summer with a bunch of friends and family inside – they will definitely get damaged. The truth is that not all the factory seats are made of UV-protected material. What is more, they are prone to staining and not that easy to clean. So, many wise drivers look for the Best Jeep TJ Seat Covers before they plan the vacation and the trail. I will tell you this much – the market is filled with all sorts of seat covers so that you can ensure that not only your seats are well-protected but also that your interior is well-enhanced. Thus, while investing into a quality set of seat covers, you will kill two birds with one stone, and that is certainly a huge plus.
Cab cover – Useful Raincoat for the Vehicle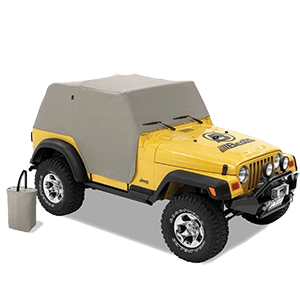 If it is a hardtop that you are driving with all the time, then the chances that you need a cab cover are minimal. However, when you tend to switch between the soft top and hard one when the summer hits, then a cab cover is something to add to your to-consider list. Let me explain why. The thing is that no matter the high quality of the soft top on, it is still not a 100% protective against severe weather conditions. That is why if you are willing to save your vehicle during the pouring rain, the Best TJ Cab Cover that Holds Water is a must. I should add that such a cab cover that is both sun- and water-resistant is quite budget-friendly and may cost you even less than a hundred US dollars, but it is going to serve for years. So, I say that it is both affordable and useful upgrade to brood upon if you are about to head out conquering unknown terrains.
Bikini top – Forget the Summer Heat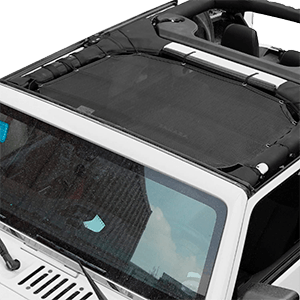 There is probably nothing worse than going on an adventure with a loved one who can't stop complaining about the heat and the sun while on the road. However, since it is a Jeep TJ that we are talking about – there is an excellent solution to almost any issue. Thus, a quality bikini top for the vehicle will eliminate even a chance of such complaints so that the trip will be as pleasant as it can possibly be. All you need to do is to browse through the list of bikini tops on offer and choose the Best Jeep TJ Bikini Top that suits your needs. The variety of options is great, so that you should not worry about not finding the item to fit your budget and meet your primary needs.
Conclusion
To sum all up, it is safe to say that every season can become an unforgettable one if you know how to spend it, where and with whom. However, you should not forget that the safety of your vehicle and its comfort is directly linked with your comfort and safety too. Fitting your Jeep TJ to a summer season can be a lot simpler than you imagine. All you need is a list of useful accessories to consider investing into. I have shared with you a list that I personally have stuck to, and I haven't regretted it once!