Hey guys! Today we're going to be installing a set of alpine SPV-65-JLT two-way six-and-a-half-inch component speaker upgrades for the 2018 and newer Jeep Wrangler Jail and 20 newer Jeep Gladiator JT. Alright, let's start!
Alpine is raising the bar intended for both the Wrangler and the Gladiator with this 6-inch weatherproof 2-way component speaker set. They are specially designed and tuned for the found soundbar in your Jeep to deliver a louder and more powerful output, so you can enjoy your music no matter how you want to drive your Jeep. Then your music doesn't get lost in the wind noise when you drive around with your canopy and doors are removed.
All You Need to Do
Now the components come with everything, you need to bolt them into your Wrangler with a simple plug-and-play installation, with a factory plug that plugs directly into your soundbar's factory wiring becomes. Not only does it contain two of the component sets, along with new hardware, you also get two polyfill sheets to help you fill in and give you a nice deep, rich sound from your soundbar. You also get a cutting template that takes the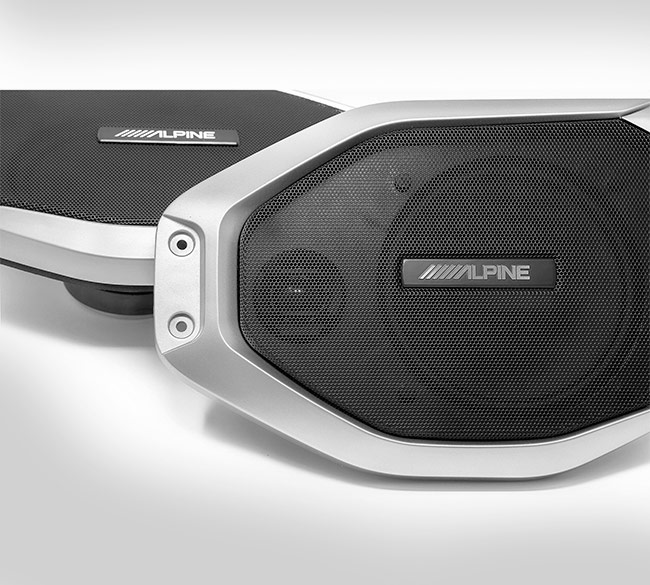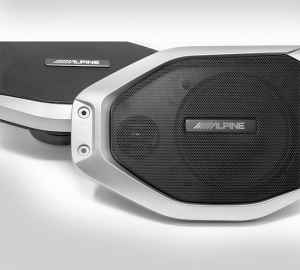 guesswork out of trimming to make room for the larger 6-1 / 2-inch speakers. Now it's worth noting that the spv 65 jlt components are designed for the wrangler and gladiator base audio system. And they will not be compatible if you already have the premium alpine amplified factory audio system in your Jeep.
If you take a closer look at one of the component speaker sets, you can see that you are getting a great looking, sturdy speaker grille. Alpine has adopted some design cues from their x409 9-inch in-dash restyle system. If you already have this installed in your Jeep, these will complement it and look great. It's worth noting, however, that you don't need this x409 installed in your Wrangler or Gladiator, they are designed to be compatible with all radios including the factory bass radios, but they will sound a little better if you have an aftermarket radio that can give them a little more power x409 and if you add the Alpine PSs-23wra active subwoofer kit, they will sound even better.
More Upgrades
If you flip one of the component speakers there, you can see what you get in each of the speakers. Firstly, you need to remove the factory speakers from the passenger side in a Gladiator, use a 3-inch paper tweeter and a 4-inch paper midrange speaker. The Alpine spv 65 jlt jumps to a 1 -Inch tether on a dome-style tweeter that provides crisper, cleaner high-frequency outputs, and then you're off a 4-inch center Woofer Upgrading to a Larger 6-1 / 2 " Speaker.
If you flip the factory speaker, you can see the incredible size difference between the magnet on the back of the factory speaker and the six-and-a-half-inch component speaker that has more power and output than this factory 4 -Inch speaker, click here for more information. You would also have this factory-style connector on the back, which is plugged directly into the factory wiring of your soundbar; the SPV 65 JLT components are designed for 90 watts rms power with a peak power of 270 watts, a pretty straightforward process now.
Soundbar Speaker Upgrade
The first step you need to do is remove the four five-millimeter Allen screws that hold the factory speaker grille. Next, you can remove the five T20 Torx screws, two hold the factory tweeter and three hold the factory midrange.

Once you've removed these, you can disconnect the speakers and set them aside. Next, you can remove the four T30 Torx screws from the connector and move. Also remove these from the soundbar using the included template. You can install them using four of the factory screws that held the factory speaker grille in place and you can use it as a guide to complete the trimming required, or you can just use one.

Take markers and mark the area that needs to be cut away, then remove the stencil and complete the cut using either a floating aerosol or your favorite cutting tool. Just be careful not to cut too deep as some areas of the soundbar are pretty shallow and you don't want to cut through the back when all of the trimming is done. You can grab one of the filler sheets and pull it apart to take in some of the negative airspace in the soundbar, and finally you can grab one of the alpine 6½-inch components that connects the wiring to the factory wiring in the soundbar and then installs it with four of the new screws that came with the speakers after you screwed the driver side down.

All you have to do is repeat the same steps on the passenger side and that will do the installation of your brand-new Alpine SPV 65 JLT two way components – Replacement speakers for 2018 and newer Jeep Wrangler Jail and 20 newer Jeep Gladiator JT Soundbar.
That's It!
If you want more information or reviews for your Jeep, you can find it on this website! Leave your feedback in the comments section below and have a good trip!