Do you know what the best thing about all the Jeep vehicles is? If you think that I am going to mention the power and rough looks of it – you are mistaken. These are the features that definitely matter and draw more and more attention from the driver community throughout the world. However, what I have in mind is the vast field of improvements. There are so many mods available for Jeep these days that it is hard to list them all.
If you are thinking about some useful improvements of the vehicle performance, then a reliable Programmer is something to pay attention too. Nevertheless, just as useful some programmers are, so useless they may turn out to be if you pick the one that does not fit your vehicle model. So, today I am going to review the Best Tuners and Programmers for Jeep Grand Cherokee, join me in this journey!
Best Tuners and Programmers for Jeep Grand Cherokee Review
1. Superchips 3874 Flashpaq F5 Programmer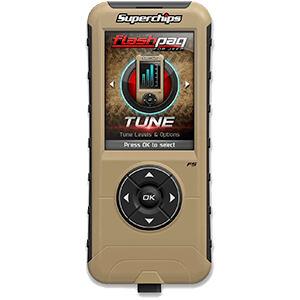 There is always a reason why some Jeep accessory providers are more requested than the others. In the case with the Superchips, it is safe to say that they take into account every tiny detail that can affect the popularity of their programmer and improve their products continuously.
You may already know that one of the primary functions of a programmer is to recalibrate the speedometer when you change the tires. However, the more packed the tool is, the better. That is why Superchips added such functions to their device as manual parameter adjustment, clearing diagnostic codes, performance adjustment when crawling, highway towing, or somewhere in-between.
It should be added that the memory of the device has been improved so that it is a lot faster to update as well as tune the vehicle. The general design of the device is simple but sleek, plus the tool is quite compact that it can easily fit in your hand. Superchips Flashpaq allows you to redesign Jeep's graphic interface too, so it is safe to say that it is perfectly customizable.
Lastly, it needs to be added that the device is not complex when it comes to the installation so that anyone can succeed with the process.
Pros & Cons
Improved memory
Elegant and simple design
User-oriented installation
Aimed at improving Jeep performance
Fair price for an excellent quality
The device does not monitor the parameters
Recommendations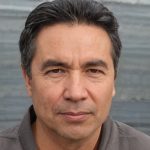 It is never a waste to invest in your vehicle's performance, and Superchips Flashpaq is a programmer that can help you achieve the set goals for a fair price.
2. Superchips 42050 TrailDash 2 Programmer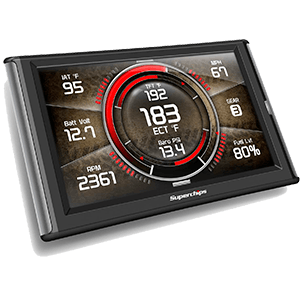 Even though it is still the same Superchips we are talking about, the TrailDash 2 programmer differs from Flashpaq tremendously but only in a good way, apart from the price which may appear overly increased. This particular programmer is designed to not only tune the parameters but also to monitor them in real-time. Besides, the tool can upload firmware for various apps. Some users name the device an ultimate command center.
It needs to stated that the device is upgraded with an EAS, which enables you to connect different accessories to it. It takes as much as just a touch to engage those connected accessories. Some users are in complete awe from the fact that almost all the interface options are highly customizable, and the screen is modern, thus swipable. The monitor is designed to display all the actions performed, updates, battery life, transmission temperature, and many more.
The programmer is packed with different power levels so that you can fit your vehicle to any driving scenario. Besides, you are allowed to adjust rev and speed limiters, fan settings, and pedal response to the power level that you have chosen.
To put it simply, if you need a programmer that will grant you access to anything that your vehicle computer monitors, then Superchips TrailDash 2 is the one.
Pros & Cons
Exclusive and practical design
Customizable layout
Increased control over vehicle power levels
Upgraded with an EAS screen
The cost is higher than the average
Recommendations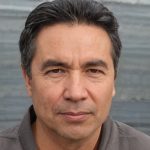 In case you are looking for a programmer that is more than average, and you wish to track all the changes that happen to your vehicle, then TrailDash 2 is the device worth investing into.
3. Hypertech 2000 Max Energy 2.0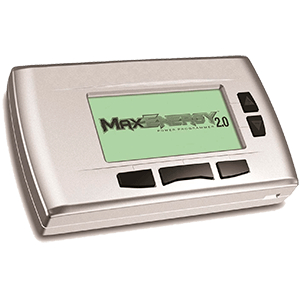 Superchips is not the only provider that offers quality programmers for fair prices. There is another option that I would like to draw your attention to – Hypertech Max Energy. It is the device designed to help you modify the engine as well as to monitor its vitals. More importantly, it is allowed in all the states, and there is a limited number of programmers that can boast that off.
Apart from that, the giver programmer is created to work together with cold air intake so that it makes the most of your ride. Along with the larger tires recalibration, the programmer allows you to adjust the shifting firmness as well as a top speed limiter.
Lastly, the device is super easy to install since it will take you as many as 15 minutes to deal with it. As to the updates, the tool uploads the updates the minute connected to the Internet.
Pros & Cons
Simple to install and to navigate
Monitors the engine vitals
Durable and comes with a lifetime warranty
Recommendations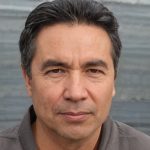 This is that perfect case when the provider has centered the attention on the functions of the device rather than its modern outlook. If you are fine with a black and white screen, then there is no reason why you should not get this programmer.
Best Tuners and Programmers for Jeep Grand Cherokee (Updated October, 2023)
Product
Product Information
View on Amazon

Editor's Choice

1) Superchips 3874 Flashpaq F5 Programmer

Best Features:
– The price and the quality are great
– The general design is sleek and elegant
– All the primary functions are supported well
Fits Models: Jeep Grand Cherokee (1998-2010)
Engine Type:
– L6 (4L / 242)
– V8 (4.7L / 287)
– V8 (5.2L / 318)
– V8 (5.7L / 345)
– V8 (5.9L / 360)

2) Superchips 42050 TrailDash 2 Programmer

Best Features:
– Useful command center from the brand
– Performance adjustment and monitoring
– Easy and effortless installation
Fits Models: Jeep Grand Cherokee (2003-2010)
Engine Type:
– L6 (4L / 242)
– V8 (4.7L / 287)
– V8 (5.7L / 345)

3) Hypertech 2000 Max Energy 2.0

Best Features:
– Optimizes engine performance
– Allowed in all 50 states
– Easy to install and to update
Fits Models: Jeep Grand Cherokee (2007-2010)
Engine Type:
– V6 (3.7L / 226)
– V8 (4.7L / 287)
– V8 (5.7L / 345)
– V8 (6.1L / 370)
Conclusion
Jeep Grand Cherokee is a great vehicle, and there is no use denying it. However, when you load it up with the large tires, you may need something to help you attune and improve the performance. That is precisely when reliable programmers come in more than helpful. So, I chose to share with you the list of my absolute favs in the field. Take a pick, and you will not regret it!