Hi guys! I'm Andy and today I'm going to break down the differences between the different Front and Rear Jeep Bumpers for your Jeep Wrangler. When it comes to your Wrangler you definitely want to protect it, and bumpers are a really easy way to get extra front and rear protection while adding some usefulness and extra style at the same time. The front and rear bumpers go hand in hand and the other usually comes from one. It's very easy to get lost with all of the different types of front bumpers and rear bumpers that are out there. They come in different styles, lengths, and they also have some very specific advantages. Here I've picked four front bumper options and five rear bumper options that represent a particular style and show you the differences in coverage, utility, and even how they can improve your performance whether you're on the trail or just keep on the street. We will take as the example the JL to discuss the bumpers I picked. But all of these bumpers in each of these different styles will be available for other gens as well, including YJ, TJ, and even JK. Since the front bumpers are usually the first choice between the two, I'll cover these up first and then hop into the rear bumpers shortly. So, let's jump into the topic.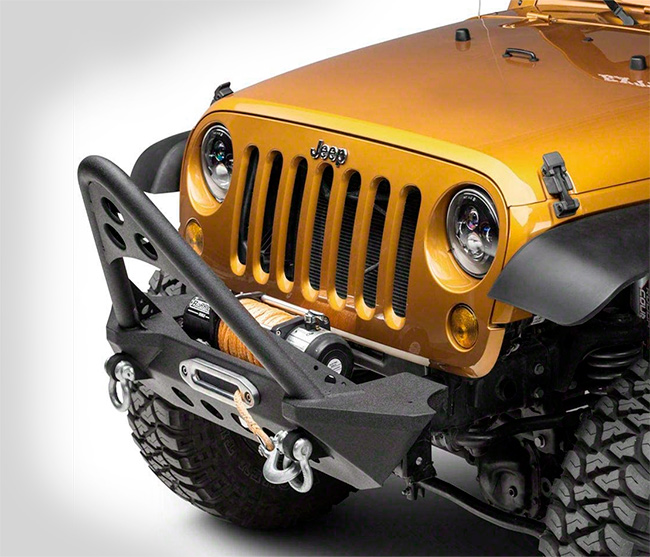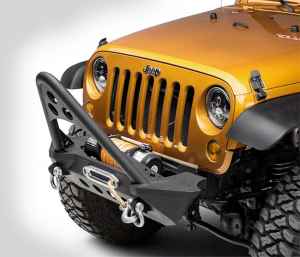 Our first bumper that we're going to look at is for Jeep owners who are concerned about their off-road performance while also wanting a very aggressive look to make their Jeep stand out. Stubby front bumpers, and even this one in particular, are usually the width of the grille. This gives you that protection from smaller obstacles in your front grille area, especially on this Stinger than other options that cover some or all of the front tires. While it has its downsides in protecting the front tires and even the front of the fenders, this will maximize your performance on the trail. With all the open space to the side, nothing stands in the way of larger wheels and tires, especially when you're steering off-road, not to mention increasing your approach angles as well. And that's the angle you have when approaching an incline like a hill or an obstacle while traveling.
That particular bumper is the RedRock 4×4 Stubby front bumper with the stinger and winch mount, and on the performance issue, it will include features that will help you out on the trail and provide additional benefits. That includes the winch mount, the D-rings and even that big stinger on the front. What I particularly like about this option is the winch mount and its partially recessed function. This is a feature that is different from different bumper styles but can be thought of as a sub-category within bumpers and their functions. This provides some protection for the winch while also opening up some airflow to your grille compared to some of the other options mounted on top. It won't go entirely out of the way, but it will make a huge contribution to airflow while still being fairly accessible. The sting will also be more or less a sub-category in itself. This will be one of those mods that will love or hate it, but for those who love it, this will give your grille area a lot of protection from larger obstacles in front of your Wrangler. Not to mention, stinger bars are actually designed to prevent your Wrangler from tipping forward as you descend obstacles. While it will give you a very aggressive look on the front of your Jeep, it won't just be there for the show.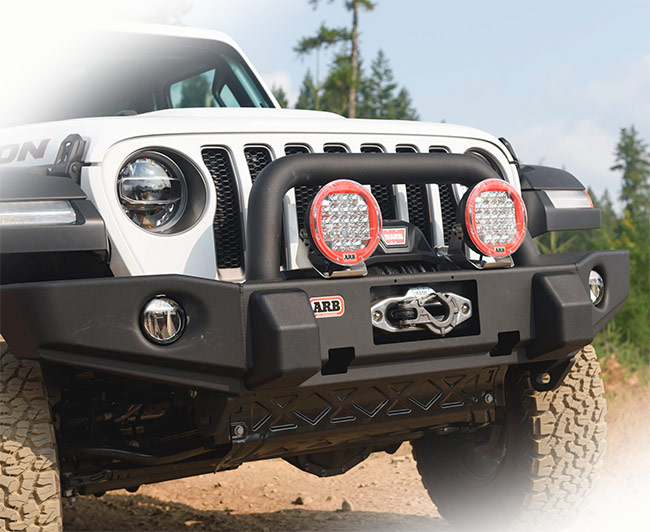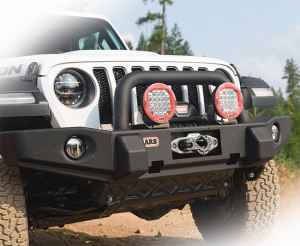 This next option is for the Wrangler owner who wants essentially the opposite of the last one we discussed. This is for someone looking for complete front-end protection and really not worrying about the extra trail performance with all that side space like the blunt front bumper. This style will be more or less factory length with a sturdy construction. So, this will be a full-width front bumper mainly protecting the front section of your tires and fenders from any head-on collision or even just branches or scrub while you're out on the trail.
The bumper that I want to discuss is the ARB Classic Deluxe front bumper. Again, with these bumpers, you usually get all of the standard features that come with an aftermarket or heavy front bumper, but since these usually have a lot more room and space to work on the front bumper you will see some extra features compared to some of the others smaller options like the blunt front bumper we just discussed. Not to mention, because of these additional features, unlike some other bolt-on front bumpers, changes may be required, but they are not always the case. This front bumper, in particular, is a good example of this, considering that it features restore points, the ability to swap out your factory fog lights or even add an aftermarket fog light, plus multiple attachment points for accessories and / or auxiliary lights, and even jack up points.
As I mentioned earlier, there are also these sub-categories when it comes to various features like real protective and winch plates. This front bumper in particular comes with a standard protective bar that protects the grille area very well, but isn't as aggressive as the sting we discussed last, and it's much more commonly used for protection when it comes to protecting the grille. Not to mention, due to the rounded design, these usually have extra mounting tabs to add accessory lighting on top, which our ARB front bumper does, and it will make a really good spot considering they are in the front and in the Middle are. When looking at the winch plate, this is a completely recessed option that I personally like very much. Unlike the partially recessed option on the blunt front bumper, this gives us complete protection for the winch as it doesn't protrude above the top of the bumper and allows full airflow to your AC condenser as well as your radiator. The two big things to keep in mind with a full-width front bumper are that you don't have that much room on the sides for extra power, which means your approach angles won't be as good if you have large ends on both sides – and bigger hoops don't have a lot of room for extra articulation and it can limit your hoop size if you're looking for articulation. Since this is much larger, these are usually a little heavier than some of the other smaller options that can add a little slack to the front end of your Wrangler, especially if you have a factory suspension. Now, it comes down to the design of the front bumper, but this is definitely something you want to keep an eye on.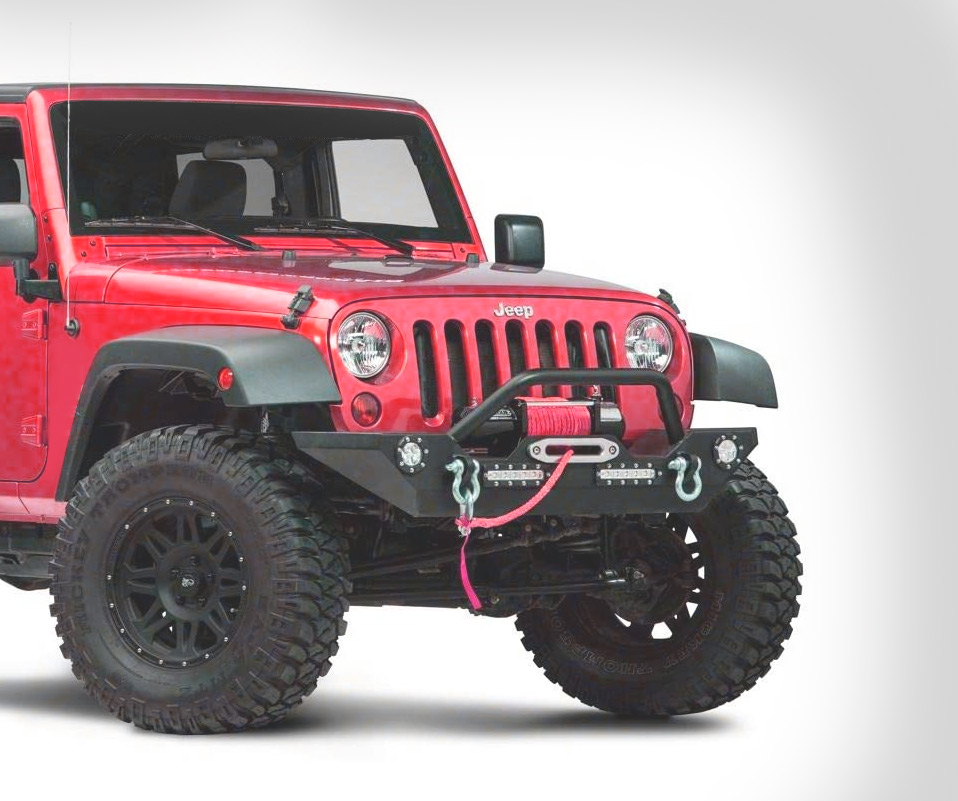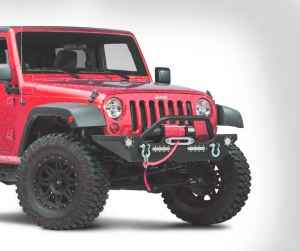 If you're a fan of some of the benefits of these two previous models then the center front bumper is for you. This is perfect for someone who is looking for decent front-end protection while also having some advantages of both a blunt front bumper and a full-width front bumper. This type of bumper usually covers the entire grille area and then some on the sides to give some protection to your tires and fenders. Typically, these bumpers have an upward-angled construction at the ends, which increases your approach angles and trail clearance, although they are slightly longer than a blunt front bumper. As an example of this style, there is a Barricade Trail Force HD front bumper with LED lighting on a Wrangler. So, on the sides these will protrude a little further than the grille, but as you approach obstacles on the trail the ends will be angled so they don't get in the way.
This particular bumper will be similar to the full-length option where we had more area and space on the front of the bumper for additional accessories including LED lights. These won't be on every medium-width front bumper, but because of the extra space, they'll usually be more options when it comes to accessory mounting, additional lighting, or even replacing the factory lights as well as restore points. This front bumper will also include a bullbar similar to the last one. However, it is not tucked into the grille as tightly as the ARB front bumper bar. It comes out a bit more like the angle of a spike and this will give you some outside protection as well as some aggressiveness on that spike, but it will give you milder styling while still doing a really good job of protecting that mesh area. When it comes to the winch on that particular bumper there is a top mount winch plate and many of these mid-width style options have the same thing. This makes your winch very easy to use and very easy to maintain as it is very easily accessible.
However, this will block some of that grille area when it comes to airflow, and it will be a little more exposed compared to other options. However, there are mid-width front bumpers that have different winch plates, but the winch plate placement is something to consider when shopping for a front bumper.
The last front bumper we'll look at is going to be a minor setback. This style is for someone who wants to add some retro styling to the front end of their Wrangler while also incorporating some of the benefits we've learned from this full-width design. This style will do a really good job of covering the front end of the Wrangler, just like the full width option, and the length will be about the same for any two wheeled front bumpers you come across. This style will do a good job of protecting the front grille area as well as the front of the tires. But unlike the full-width HD front bumper, this will be a lot easier.
The one in particular is the RedRock 4×4 tubular front bumper. This one is specifically made from a stainless-steel material to ensure the front end isn't heavy or sagging, but on the contrary, it's not as tough as sheet steel, making it easier to protect against bushes or minor obstacles while you're out and about. Not to say that this doesn't protect your front end better than your stock front bumper in the event of a hit, but if that's hit harder the material is a little softer than steel planes and tends to bend a bit easier. Nevertheless, this offers really good coverage and grille protection. This RedRock front bumper will incorporate a front protection bar, just like the others we've discussed before, and most of the tubular front bumpers you will find.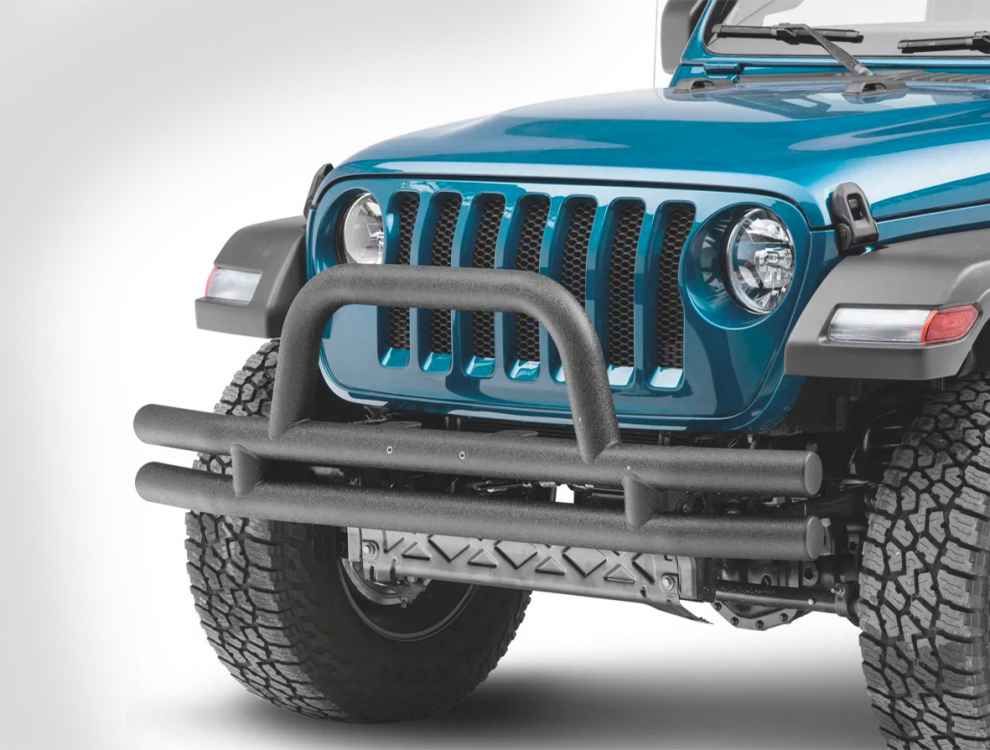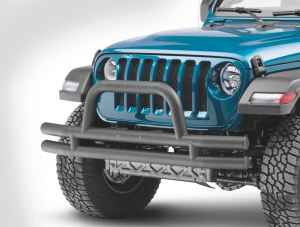 Well, when it comes to accessories and utility, what you really see here is the simplicity of a two wheeled front bumper. Some may or may not vary when it comes to a cutout for a winch plate, but compared to most heavy-duty steel bumpers, these don't usually come with restore points, extra lighting, or even the option to swap out your factory fog lights. This one in particular has accessory lighting mounting tabs in the center of the bumper to ensure you have that option for added visibility from the front of your Wrangler. What I like about this style, however, is the fact that it keeps it simple for someone who isn't really looking for a ton of utility out of the front of their Jeep, but for that retro styling and slightly heavier staple materials in their stock bumper. Not to mention that there are many solutions for adding accessories and lighting as tube mounts are very easily accessible and very inexpensive.
Now that we've looked at the main front bumper styles, we can go back and check out these main rear bumper styles. The first style we'll look at is a perfect representation of a high-performance aftermarket rear bumper designed for use and protection. This style is usually boxier and taller than some other models, making it the perfect candidate.
These bumpers usually also offer the standard perks when it comes to utility, such as restore points as well as a hitch or even just a recess for one, perfect for the Jeep owner looking for functionality. Not to mention that the bumper has a lot of off-road styling due to the large HD steel design and goes very well with other HD accessories.
The one I want to discuss is the Barricade Extreme HD rear bumper. This particular bumper fits into this style with a large and boxy design that offers plenty of coverage at the back end as well as the sides. The Barricade bumper will also highlight the standard features with the two welded D-ring brackets on the back, a two-inch tow bar receptacle, and a cutout for a larger wheel and tire. This cutout for the larger wheel and the larger tire on the back is very common on this type of bumper, which adds to its usefulness. In addition, this special bumper offers the option of fitting a spare tire carrier for heavier wheels and tires. Under the back wall on either side are assembly areas that are perfect for Jeep owners who want to build their own rear bumper. Many rear bumpers in this style have this option so I would keep that in mind when shopping.
Again, this style will focus on that rugged protection and practicality. However, I want to mention that this is a larger design than other styles. This won't be your friendliest rear bumper when it comes to increasing your Wrangler's take-off angles.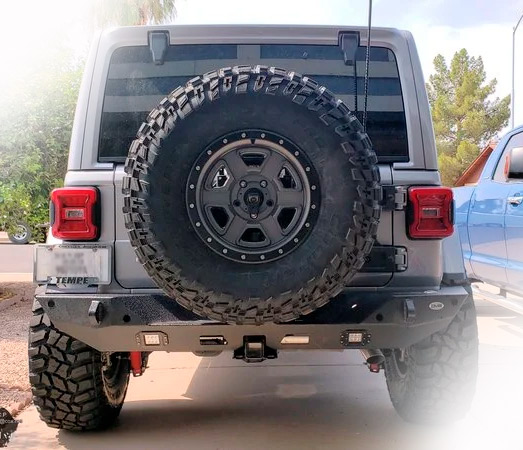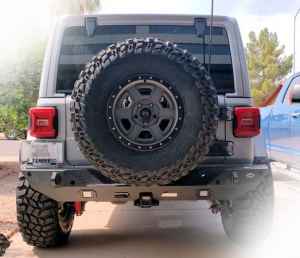 This next style of bumper will give you a head start on the last when it comes to take-off angles and better performance. Just like the last one, this offers complete all-round coverage. However, this style will usually be a bit more compact and even sloped up on the sides to avoid obstacles on the trail. Other similar features are the steel-coated construction for robust protection of the stern as well as additional useful functions. However, this is more for the Jeep owner who is looking for plenty of space in the rear for the trail. Departure angles are very important when it comes to terrain and it is the angle or space you have when descending an obstacle. That particular option is the full length DV8 Offroad rear bumper with LED lighting. It will support that thick steel plate construction, but as I said, this will be very compact and have high angled ends on either side to accommodate that extra clearance. It has welded D-ring mounts for recovery and even a cutout for the factory trailer hitch.
This special bumper not only offers the usual benefits that you would want from a rear bumper, but also has additional accessories that make it even more functional. Functionality varies from bumper to bumper, but many rear bumpers designed for higher trail performance have additional add-ons such as the LED lighting built into the rear for added visibility. These can be used as reversing lights or just as work lights. Not to mention the jacking points on the bottom of the bumper add extra functionality if you get into an awkward spot on the trail. As I mentioned earlier, these features aren't built into every high clearance rear bumper, but they are features that you should definitely consider when shopping. Again, the big story of this rear bumper is that it improves ground clearance and helps you with your off-road performance.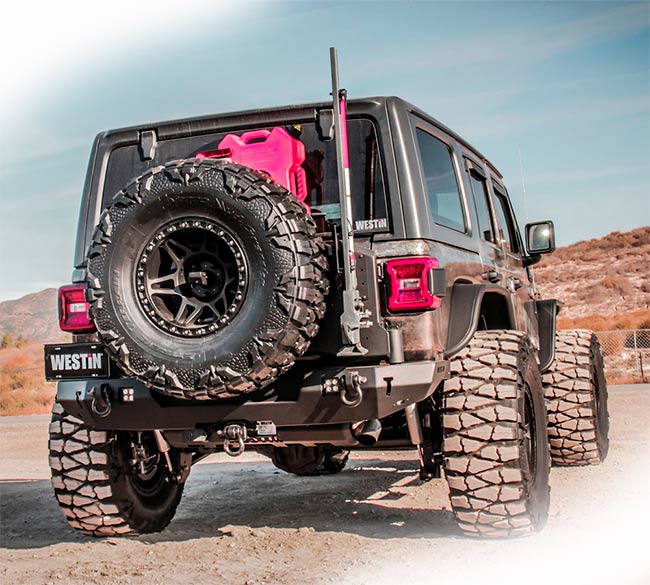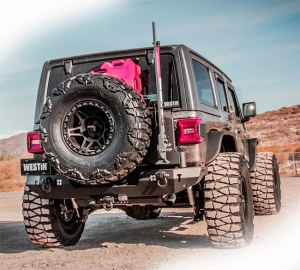 The next type of style involves a heavy-duty spare tire carrier. This type of setup is perfect for the Wrangler owner who wants to get everything out of the way when it comes to functionality on the back of their Jeep. This offers many of the same benefits as the first two options, but has the benefit of this spare wheel carrier. The bumper is a very solid mounting point considering it mounts all the way to the frame, which makes it the perfect place to carry all of the extra weight of an oversized tire. When upgrading your tires and the size of your Wrangler, you should keep an eye on reserve storage. The factory rack can only hold so much weight before the rack and tailgate wear out from that extra load, especially when you're bouncing around on the trail. A setup like this is a two-in-one solution for the rear bumper and the support of an oversized tire.
This is made from a steel plate material that supports the tire carrier but also covers and protects the rear of your Wrangler well. This will carry over to most bumpers of this style. This style usually includes some extra features as well, just like the other options we've discussed. This one has specially designed D-ring mounts, jack points and a coupling cutout, but with this tire carrier there are additional attachment points for additional accessories, given the extra space. This is not always the case with rear bumpers with tire supports, but it is very common due to the larger steel construction.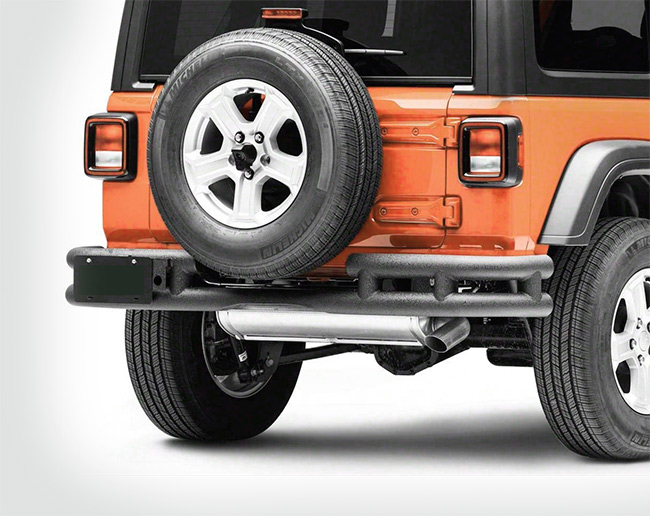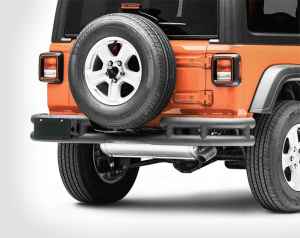 The next style we're going to look at is for Wrangler owners looking for a little setback. This tubular styling gives your Wrangler a classic look while also being quite affordable due to its simplicity. This style usually provides adequate coverage around the back and sides, which protects the rear of the Wrangler well. The particular bumper is the RedRock 4×4 Tubular Rear Bumper with wraparound ends and it will do just that by providing plenty of good coverage and pretty complete styling too. The tubular bumpers will be a bit lighter given the lack of heavy-duty steel plate material, saving you some weight at the rear. This particular option is made from 3-inch steel tubing, which is very common on tubular bumpers. Since it is made of lighter steel, it serves more as a light protection against lighter obstacles and scrub on the trail than against hard hits. Well, not to say this won't save the rear of the Jeep, but this is being designed for more lighter protection. Well, when it comes to accessories and utilities, here is the simplicity of a tubular bumper design. Compared to most heavy-duty steel bumpers, these usually have no recovery points, additional lighting or the option of adding a spare wheel carrier.
However, there are very simple solutions to all of these disadvantages. For example, this particular option is suitable for a factory or even an aftermarket tow bar that serves as a recovery point. There are plenty of solutions for adding accessories and lighting too, as tubular mounting brackets are very easily available, and they are usually pretty cheap. Not to mention, there are other replacement tire solutions that just stick to the tailgate instead of integrating into the rear bumper design. As I said before, the big focus here is on the simplicity and the classic look with the added protection and at the same time relatively cheap.
Our next style will stick with this tube design, but will also incorporate some power into the mix. Instead of the classic straight wraparound option, this style incorporates some high angles and focuses more on clearance. The first bumper focused more on protection while the second focused on distance and the same goes for the two tubular bumpers. This will still do a good job of adding plenty of coverage to the rear end while incorporating a lighter design with the tubular construction. The difference, however, lies in the angles of the bumper and the margin this will allow. The special bumper is the RedRock 4×4 Rock Crawler rear bumper. Well, around each corner it has a harsh upward angle and the bottom two are angled. This design increases your take-off angles while on the trail while giving you the protection you need if you end up scratching off an obstacle. Not to mention, instead of the retro and more classic styling, you get a ready-to-use design that adds some off-road aggressiveness and style to the rear of your Wrangler. This particular bumper has a very similar construction to the last one. However, it will be a bit smaller at around two inches. This results in a lighter bumper and minimizes the sag at the rear. As for the accessories, this is going to be pretty bare in terms of utility. Unlike the classic tubular rear bumper, however, this bumper will have a standard 2-inch rear tow bar that can be used as a recovery point.
While this doesn't apply to every performance-oriented tubular rear bumper, considering it's an advancement from the classic tubular style, it's definitely a bonus. When it comes to lighting or accessories, it will be pretty similar. The solutions are almost endless with universal brackets. However, due to the simplicity of design, attachment points are usually not provided as standard. As I mentioned at the beginning of this article, choosing front or rear bumpers can be a little confusing when it comes to all of the different styles and types that are out there. Hopefully this breakdown made it a little easier to narrow down which bumpers would be best for you and your Wrangler.