Hi guys. As we all know, Jeeps are unique for many reasons, including the doors being a common modification to our favorite off-road vehicle. Whether you want the doors with a little bit more material, or need the least amount of that between you and the trails, then there is an option that will suit your off-roading needs. That's why today we'll talk about Jeep Tube Doors.
In this article, I wrote down four of the most common door options for your Wrangler and their features to help you choose the right tube door for your Jeep. By the way, I particularly use JK to demonstrate each door style, but all of the door options in each of these styles are available for other gens including YJ, TJ, and JL which you can easily find right here on mine blog. Plus, most of these options sell the front and back doors separately, so you can only buy the front doors with the two-door Wranglers. Alright, let's jump right in and look at some benefits of Jeep Tube Doors.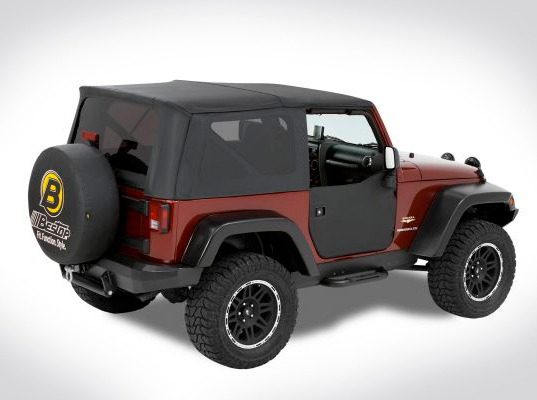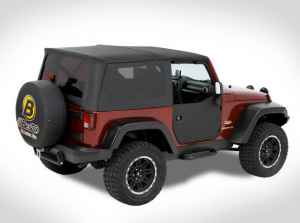 The first category of doors that we will look at are the popular half-doors. They were even shipped from the factory on previous generation Wranglers and are available on special order on newer generations. It's highly likely that your Jeep comes with the standard doors, but if you want to switch to something more classic, be sure that the half-doors will give you that look. Half-doors are exactly what their name suggests and only resemble the bottom half of a door. These are usually solidly built and leave the window area of ​​your door open. There is a lot less material for a half door than just pulling down the windows on your factory door, for example, and they give your Jeep a different look and feel when you're out on the trails. The Bestop front and rear doors with a lower core in black are a bit different than the traditional half-doors. The centers can be removed if desired, which offers some versatility and customization options. Moreover, they have a lock as well as a door handle, while some other options don't.
Well, I know that a lock on such an open door doesn't seem essential, but it's more about protecting the door itself from theft than stealing anything in the vehicle. This is especially important when the doors are so easily removable. If they are bolted and locked on the jeep, no one can walk away with your doors.
Also, they include tether straps, door handles and release straps, and mounting points to hold your factory mirrors with a mounting kit. Additionally, the top section is available separately if you want a little more than the half door and if you want a more traditional flat half-door where the core is not removable, these options are also available. But I think this option from Bestop has a little something extra that helps your Jeep stand out.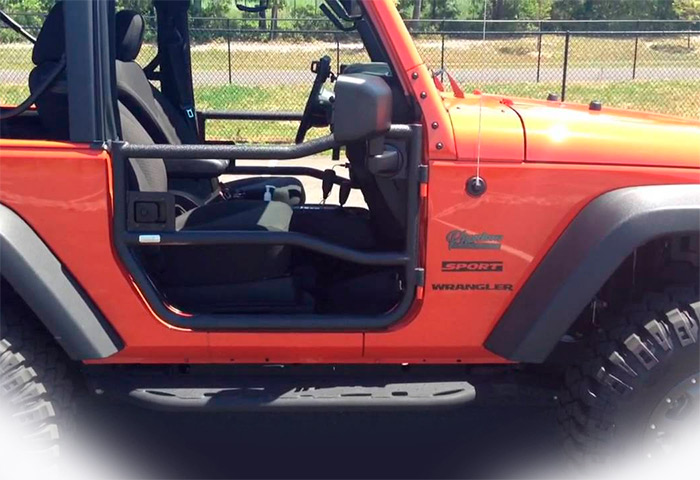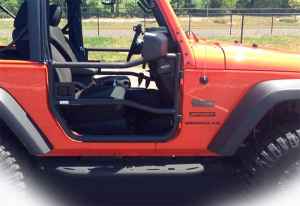 Alright, next up is the tubular door category. These are for Jeep owners who like to drive without a door but want a little more protection between them and the trail. Tube doors are exactly what they sound like, too. They are tubular and look similar to door bars in a roll cage. They're one of the lowest profile options on the market and allow you to feel at one with a trail. Unsurprisingly, they still offer more security than if you were without a door, while the feeling of nothing remains between you and the trail. These Rugged Ridge black textured tubular front and rear doors are a popular choice as they match the traditional tubular door part with a few added features. They have latches similar to the half-doors and they prevent your doors from being stolen in the same way. This is especially helpful because the tube door option is so lightweight.
Plus, you can keep your factory manual mirrors where other options force you to mount on the A-pillar. They even include the mounting hardware where some other options sell it separately.
Remember, if you have electric mirrors, additional modifications will need to be made to accommodate the wiring harness. But if you have manual mirrors, they bolt directly to the included hardware.
Jeep Tube Doors are by far the most popular type of replacement door for Wranglers, and while this one has some bells and whistles, there are simpler options for those who don't want all the flare. Whatever your preference, the tubular door is an excellent choice for your Jeep.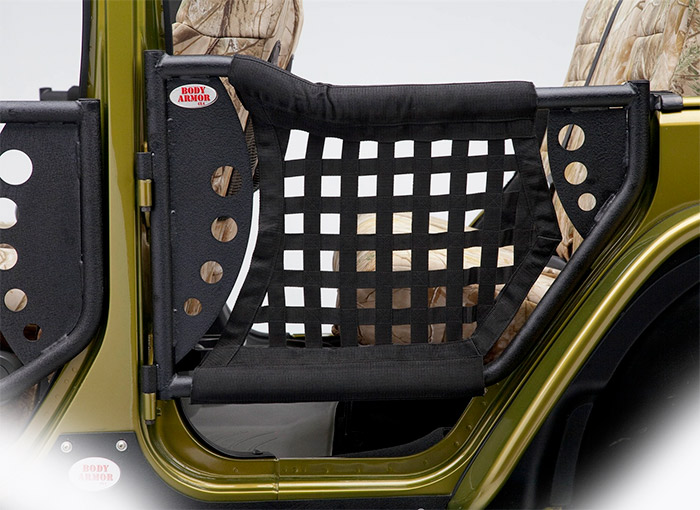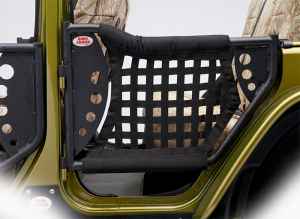 So, now go to trail doors or adventure doors. Actually, both types are very similar to each other and to the tubular door category just discussed. In fact, the skeleton of a trail door is usually a tubular door, but with some added protection to keep the trail off of your Jeep. These include gussets, metal plates, or netting, and you can see, for example, many of these features in the Body Armor 4×4 Gen-3 front and rear doors. They're basically a step up the tube doors with added protection for those of you who want to stand a little more between them and the trail. Additionally, these doors have mounting points for aftermarket mirrors, but the hardware and mirrors are not available in this kit and will not work with your factory mirrors without modification. So, if you like the doorless feel but want something massive to protect against branches or other obstacles, a trail door is a great option.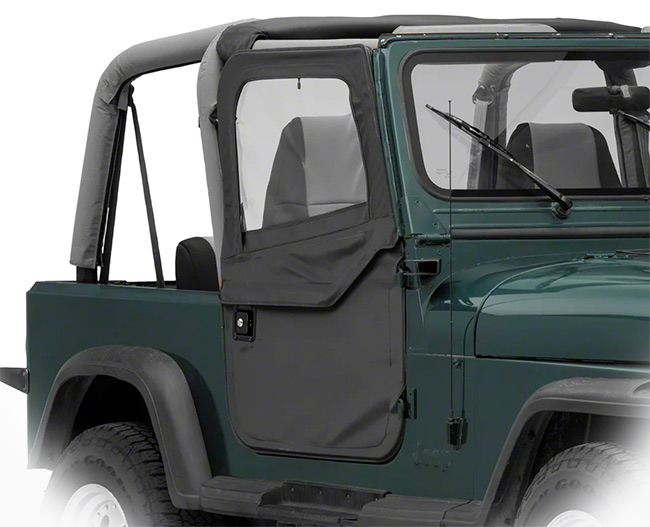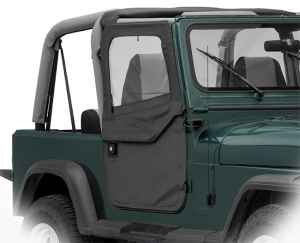 Finally, let's have a look at the full fabric doors. These special doors are the two-part Bestop solid material doors in a black diamond. They are very different from the previous doors we just discussed. It is a two-part full door, i.e., you can use this with only the half-door or add the window section if you wish. Like the tubular door option, they come with locking latches so you are protected from thieves who walk away with your door. They are made of fabric with metal supports behind the fabric, similar to the construction of a soft top. They are light and easy to install and dismantle. But unlike other door options, they have a small footprint for storage in your Jeep. If you're without a door and a storm is brewing or the temperature or weather changes, these can be stowed in your Jeep so you can pull them out in a pinch for extra protection from the elements.
If you've got them installed and want to pull them off in the middle of the trail, they're small enough to slide right into the rear of your Jeep while the rest of these options aren't. That brings us to the other difference, they don't offer as much protection from trail hazards as the beefier doors we just looked at. So, keep that in mind when deciding what will work best for you. However, these are unbeatable in terms of versatility and ease of use.
Again, the range of parts to choose from for your Wrangler can be overwhelming. Hopefully this breakdown has made it easier for you to narrow down your list and pick the doors that are perfect for you and your Jeep. Well, we went over Jeep Tube Doors, full fabric doors, and even trail doors. Take care, and drive safely!