The radiator is one of the most "boring" parts of the engine's cooling system. It doesn't look fancy or make any cool sounds. However, without a radiator, your motor will constantly work at critical temperatures, and that always leads to a breakdown. Here's how it works: the radiator is rich in antifreeze, and the second the engine gets dangerously hot, the radiator releases the coolant to prevent overheating.
Next, the liquid flows back into the radiator, and the process starts all over again. So, what does the Best Radiator for Jeep look like? I've got the answer right here! Join me, and let's check out the worthiest picks for Jeep JK/TJ/XJ/YJ. And if you want to learn more about what sets a good radiator apart from a bad one, check out my Buyer's Guide and FAQ!
Choose Your Option!
As it's "oozing" through, it absorbs the heat generated by the engine. Then, the liquid (now heated), gets back into the radiator. The air that's flowing through the radiator cools the liquid down: the process is then repeated. The best radiator for Jeep will keep the engine from overheating even in the hottest summer. In this post, we'll take a look at the finest options for Jeep XJ, JK, TJ, and YJ.
Best Radiator for Jeep XJ (Updated October, 2023)
Product
Product Information
View on Amazon

Editor's Choice

Best Features:
– Made of high-quality aluminum
– Effective (and fast) heat dissipation
– Protected against metallic debris
Fits Models:
– Jeep Cherokee XJ (1989-2001)

Best Features:
– A highly affordable purchase
– Easy to install: no modifications or DIY needed
– Comes with a perfect fit guarantee
Fits Models:
– Jeep Cherokee XJ (1991-2001)
– Jeep Grand Cherokee/Grand Wagoneer (ZJ) (1993-1998)

Best Features:
– Three-row radiator; incredible cooling capacity
– Offers great value
– Bolt-on installation; slim design (easy to reach the engine bay)
Fits Models:
– Jeep Cherokee XJ (1984-2001)
Best Radiator for Jeep XJ (Updated October, 2023)
1. Mishimoto MMRAD-XJ-89 Performance Aluminum Radiator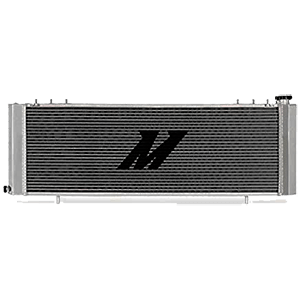 This company has been on the market for many years and mostly produces premium-level equipment and gear. The XJ-89 radiator is an excellent example of that. While the price-tag isn't very affordable, it is fair, especially in the long run. With the Mishimoto radiator, you'll get industry-leading cooling efficiency and incredible durability.
Made of high-quality aluminum, it easily handles the most "stressful" situations and keeps the engine cool. I want to also mention the magnetic drain plug that absorbs all the metallic debris from the cooling system. Last, but not least, Mishimoto backs the radiator with a lifetime warranty, and, in contrast to Spectra, this company's customer support is fast, helpful, and effective.
Pros & Cons
Impressive cooling (heat dissipation) efficiency
Made of high-quality materials
Protected against rust, corrosion, and debris
A bit on the expensive side
Recommendations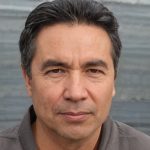 If you're a big fan of off-roading and tend to push the engine to the limit, you might want to go with the XJ-89 radiator. Yes, it is expensive, and you'll have to do some saving, but it will be money well spent. There's nothing worse than ending up with an overheated engine in the middle of nowhere. With this radiator, that won't be a problem, and it will serve you for decades.
2. Spectra Premium CU1193 Complete Radiator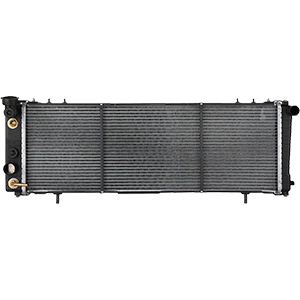 Engineered to last – that's what the Spectra team is saying about this radiator. It is, indeed, robust and durable and won't break down in the middle of the road. The cooling efficiency is decent as well and will make sure to keep the engine and the transmission nice and "chilly". I was also pleased by how easy it was to install CU1193: no extra tools were required. I didn't even have to modify the radiator or the engine compartment in any way.
Now, the company backs it up with a perfect-fit guarantee. In theory, that means you can ship it back and they'll send you a replacement. However, I was greatly disappointed by how Spectra handle things. I didn't find a hotline or a real number to call on the official website. And when I did get in contact, the support agents asked me to send photos that prove the problem is on their side. Initially, I did get a new radiator, but the hassle was a bit too much.
Pros & Cons
A good pick if you're on a tight budget
User-friendly, straightforward installation
Backed by a (perfect fit) guarantee
Recommendations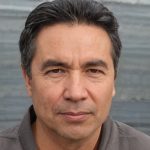 As a low-budget aftermarket radiator, CU1193 may be a decent pick. It's not the most efficient or reliable radiator on the market, but it will be a good replacement for the stock gear. Too bad customer support isn't at all user-oriented and you'll have to spend a lot of time (and nerves) to get help. Other than that, Spectra did a good job.
3. DNA Motoring Aluminum Racing Radiator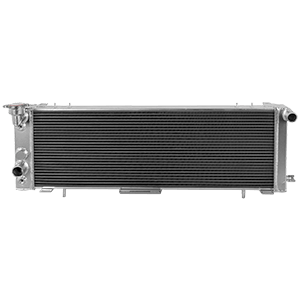 This biggest selling point of this product is the three-row radiator. Made of sturdy aluminum, it is easy to install and to replace (in case it doesn't fit/stops working). Now, while the three-row system is, indeed, quite effective, don't expect it to be on par with the more expensive one-row radiators. For some "regular driving", 84-01 will be efficient and reliable. But, for off-roading under a burning sun, this cooling system might not be enough.
Pros & Cons
Decent value for the price
Easy to install thanks to the clever design
Three rows instead of one
Recommendations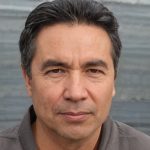 Looking for a reasonably-priced three-row radiator? DNA might have a good offer for you. Efficiency, reliability, and ease of installation are well above average. However, you'll have to invest in an electric harness for the fans to work. Overall, it's a safe bet, but only if you're not planning on doing any extreme driving.
In many ways, this is the most important factor when shopping for a third-party radiator. That's because the more effective it is at cooling the engine compartment, the longer it (the engine) will serve you. As mentioned, there are some three-radiator options on the market. Other brands achieve efficiency via a larger surface area. Coolant capacity also plays a key role in heat dissipation.
Best Replacement Radiator for Jeep JK (Updated October, 2023)
The following list includes three top-notch radiators from OSC, AUTOSAVER88, and Mishimoto. They'll make sure to keep the engine cool and ready-steady at a reasonable price.
Product
Product Information
View on Amazon

Editor's Choice

Best Features:
– Premium-quality (100% brazed) aluminum core
– Impressive pressure tolerance (thanks to extruded tubes)
– Above-average coolant capacity
Fits Models:
– Jeep Wrangler JK (2007-2017)

Best Features:
– Low-budget, yet effective
– Includes installation hardware
– Alcoa-aluminum body; cadmium-plated tubes
Fits Models:
– Jeep Wrangler JK (2007-2018)

Best Features:
– Corrosion- and leak-free
– The package includes a detailed user manual
– 12-months/12K-miles warranty
Fits Models:
– Jeep Wrangler JK (2007-2017)
Best Replacement Radiator for Jeep JK Reviews
1. Mishimoto MMRAD-WRA-07V2 Aluminum Radiator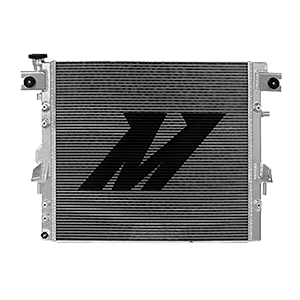 Jeep JK is quite a powerful and capable off-roading champ, but it won't go far with the stock radiator. To stop worrying about overheating the engine and start enjoying the off-road, you'll need a premium-quality aftermarket radiator. And Mishimoto has just the right offer. If you're in the market for well-above-average coolant capacity, pressure tolerance, and material quality, you might find this WRA radiator to be worthy of your attention.
It went through numerous tests and was praised by the most prestigious evaluators. They praise the 13% boost in coolant capacity and 18% increase in core volume. The 100%-brazed aluminum core is even more reason to consider it. And the lifetime warranty will always have your back and you'll be able to get a refund.
Pros & Cons
Premium-level aluminum core, 100% brazed
Superb strength/pressure tolerance (extruded tubes)
Excellent coolant capacity
Not very cheap (but well worth the price)
Recommendations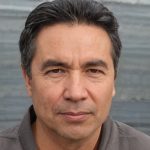 It's simple, really: with this radiator, you get what you pay for. Despite the somewhat "heavy" price, this is still a bargain, thanks to the superb material quality, durability, and effectiveness. Jeep drivers that put quality over everything else will probably like what this company has to offer.
2. OSC Cooling Products 2957 New Radiator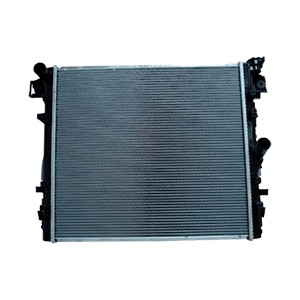 This is one of those "cheap and cheerful" products that can serve as an excellent replacement for stock gear. The 2957 radiator isn't very expensive but is made of high-quality materials (Alcoa aluminum). Another standout "feature" is the cadmium-plated tubes. Premature failure is a very common flaw among radiators, but these tubes will make sure that doesn't happen.
The package, in turn, includes all the necessary fittings and hardware for installation. The entire process won't take more than 15 minutes even if you don't have any experience with installing aftermarket parts. There's a big issue, though, and it has to do with durability. Many owners complain that this radiator starts to leak after a year of service.
Pros & Cons
Made of premium-level Alcoa aluminum
Cadmium-plated tubes prevent premature failure
Includes hardware/fittings for installation
Durability issues: tends to leak after 1/1.5 years
Recommendations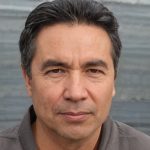 If not for the disappointing durability issues, this radiator could've been a safe bet for all the regular US drivers. It's made of premium-quality Aluminum and is well-protected against premature failure. So, will the OSC Cooling Products radiator be a good purchase or not? It depends: if you put reliability and longevity first, then you should look elsewhere. But, as a cheap replacement, it could be a wise choice.
3. Radiator for Wrangler JK by AUTOSAVER88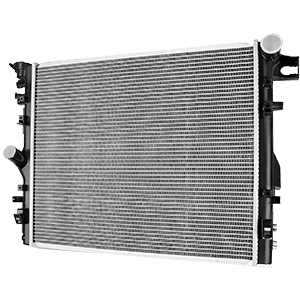 What does this company have to offer to grab your attention? Well, first of all, it backs all of its products with a 12K-miles or 12-months warranty. Secondly, with this radiator, you'll get a user-friendly installation manual – it's quite detailed and helpful. The bad news is – even with this guide, it might be hard to install the radiator on your own. That's especially true for Jeep owners that usually let the mechanics handle everything.
On the other hand, if this isn't your first aftermarket gear, you'll do just fine. The radiator is protected against corrosion and doesn't leak. Plus, it features multi-louvered fins that ensure decent cooling efficiency during the summer and durability during harsh winters. The AUTOSAVER engineers used a combination of aluminum and plastic to ensure reliability. The material quality is OK – nothing more, nothing less.
Pros & Cons
Well-protected against corrosion; doesn't leak
Comes packed with a helpful installation guide
Backed by a one-year/12K-miles manufacturer's warranty
Might be a bit tricky to install
Recommendations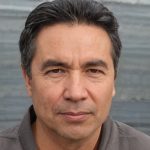 A decent pick – that's the best way to describe this radiator. It offers a good balance of price and quality and is backed by a generous manufacturer's warranty. The package includes installation hardware and a detailed guide that you'll probably use a lot. Installation isn't very straightforward, and that's the biggest con.
Best Radiator for Jeep Wrangler TJ and YJ (Updated October, 2023)
TJ is the 2nd-gen Wrangler, and it's been around since 1997. Off-road fans like it for the strong performance, reliable, durable construction, and masculine looks. But, just like all the other Jeep models, it doesn't have the most sophisticated/advanced engine compartment. For example, without a top-quality radiator, it will overheat even faster than the JK.
That's why I scrolled through dozens of third-party radiators: to pick the ones that are capable of effectively cooling the engine. Take a close look at each one and make your pick!
Product
Product Information
View on Amazon

Editor's Choice

Best Features:
– Above-average cooling efficiency
– Thermal-shocked gasket (withstands harsh winters)
– 100% leak-free
Core Type: 1 Row
Fits Models:
– Jeep Wrangler TJ (1997-2006)

Best Features:
– Brick-strong construction
– Easy fit: no need for a mechanic
– Lightweight, capacious core
Core Type: 3 Row
Fits Models:
– Jeep Wrangler TJ (1997-2006)
– Jeep Wrangler YJ (1987-1995)

Best Features:
– Very easy to install
– Efficient heat dissipation thanks to a large surface area
– Durable, sturdy construction
Core Type: 2 Row
Fits Models:
– Jeep Wrangler TJ (1997-2006)
– Jeep Wrangler YJ (1987-1995)
Best Radiator for Jeep Wrangler TJ and YJ Reviews
1. CU2101 Radiator Replacement for Jeep Wrangler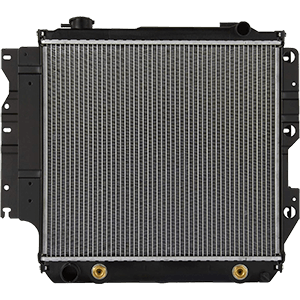 Jeep owners are mostly big fans of off-roading. And, as I already said, without proper heat dissipation, your engine might give up on you. This is equally true for the TJ and the YJ models. So, if you want to keep your steel horse from overheating, this radiator might be a good place to start. It is very well-equipped to handle hot summers and harsh winters. That's achieved thanks to the thermal-shocked gasket.
On top of that, CU2101 is 100% leak-free, which is always a big pro. The bad news is – the package doesn't include any installation hardware. That means you'll have to buy a set of nuts and bolts at the local store. Furthermore, while the installation is straightforward, it might be a bit of a challenge for inexperienced folks. STAYCO officially recommends letting a professional handle everything.
Pros & Cons
Well-suited for driving in extreme weather conditions
Solid cooling efficiency for the price
Protected against leaks
Doesn't include installation hardware; might be hard to install
Recommendations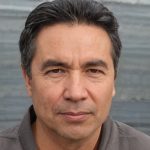 Ready to pay a mechanic to install this radiator for you? If the answer is yes, then you might find it to be a good investment. It's well-suited for extreme weather conditions and is pretty good at cooling even the hottest engine. Protection against leaks is even more reason to put it on your list of must-haves.
2. Aluminum Radiator by Tiziri for Jeep TJ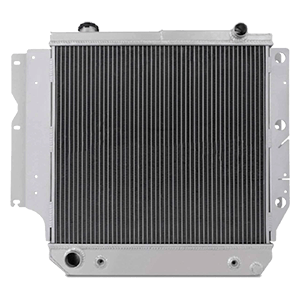 Some radiators tend to shake and wiggle whenever you drive through bumps and climb up a hill. That's not the case with this radiator. It boasts an all-aluminum design and has proven to be durable and effective both on and off the road. The core, in turn, is very lightweight but capacious at the same time. Last, but not least, shipping within the US is very fast (six days tops; usually, takes less than three).
As for the installation process, it's not very complicated. Yet, the fan shroud holes aren't an exact match (at least, they weren't in my case). Therefore, you might have to do some drilling and cutting. If not for this little inconvenience, the Tiziri radiator would've been a top pick for me.
Pros & Cons
Sturdy, won't start "jiggling" when driving through rough terrain
Comes with a lightweight, yet capacious core
Fast shipping in the United States
The fan shroud holes don't always fit
Recommendations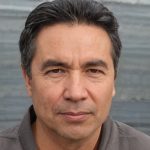 Sturdy, capacious, and lightweight – that's this radiator in a nutshell for you. It was built to take a beating and features an all-aluminum design. Shipment in the US is fast, too. The sad part is – the fan shroud holes don't match the TJ or YJ perfectly, which can be a problem for regular drivers trying to install the radiator on their own.
3. Aluminum Racing Radiator Replacement by Generic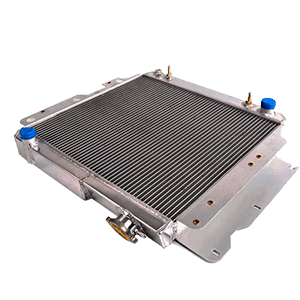 This two-row radiator is durable, reliable, and easy to install. Made of high-quality aluminum, it improves cooling by 35-45% temperature. This above-average heat dissipation efficiency is achieved through a larger-than-usual surface area. Generic designed, manufactured and tested this radiator in the United States.
The company also backed it with a 12-months warranty. But, it's not all good news: some owners claim that the radiator starts to leak after a month or two. Mostly, it works flawlessly, but, quality control can still be an issue. If that happens to you, don't hesitate to contact support and request a replacement.
Pros & Cons
Durable construction, efficient heat dissipation
Designed, made, and tested in the US
Backed by a one-year warranty
Tends to leak (even after a couple of months)
Recommendations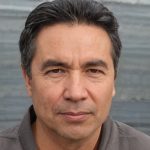 The leakage problems are the only significant con. They were reported only by 5% of the drivers that bought and installed this radiator. So, you most likely won't get a bad one. Still, keep this in mind. Other than that, Generic's engineers made a sturdy, efficient, and high-capacity radiator.
Best Radiators for Jeep CJ7, CJ6 and CJ5 (Updated October, 2023)
Product
Product Information
View on Amazon

Editor's Choice

Best Features:
– Simplified and lightweight build
– Pleasant price for the quality
– Reliable and withstanding design
Core Type: 3 Row
Fits Models:
72-83 Jeep CJ5 3.8L / 4.2L / 5.0L
73-75 Jeep CJ6 All Models
76-86 Jeep CJ7 3.8L / 4.2L / 5.0L

Best Features:
– Seamless vehicle fitting
– Created to last
– Enhanced item strength
Core Type: 4 Row
Fits Models:
72-83 Jeep CJ5 3.8L / 4.2L / 5.0L
73-75 Jeep CJ6 All Models
76-86 Jeep CJ7 3.8L / 4.2L / 5.0L
Best Radiators for Jeep CJ7, CJ6, and CJ5 Review
1. Replacement for Jeep CJ by Auto Dynasty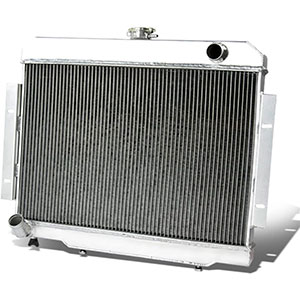 As long as you tend to your engine, your vehicle will take you anywhere. However, very often, we forget that the engine needs to breathe too, and the less cool air gets in, the fact it wears out. That is why quality and a reliable radiator is such a good investment.
While the aftermarket is full of all sorts of radiators, not all of them are of the same quality and correspondingly – budget. If you can't invest a lot into the purchase, but you are looking for a reliable stock radiator substitution, Auto Dynasty may become a worthy option to think about.
First things first, the radiator is made of high-quality aluminum, and that means that it is not only durable but also lightweight. At times the load capacity of the vehicle is pushed to the limit, and the lighter the radiator is – the better. Apart from that, the accessory has been built to offer greater coolant capacity, and that means that it can spike the engine cooling capacity up to 45%. Lastly, the simple radiator design is centered on heat dissipation, which is a significant advantage to add to the list.
Pros & Cons
Extraordinarily light and withstanding design
User-oriented and moderately easy installation
Twice as improved cooling capacity
Some drilling and mounting customization may be required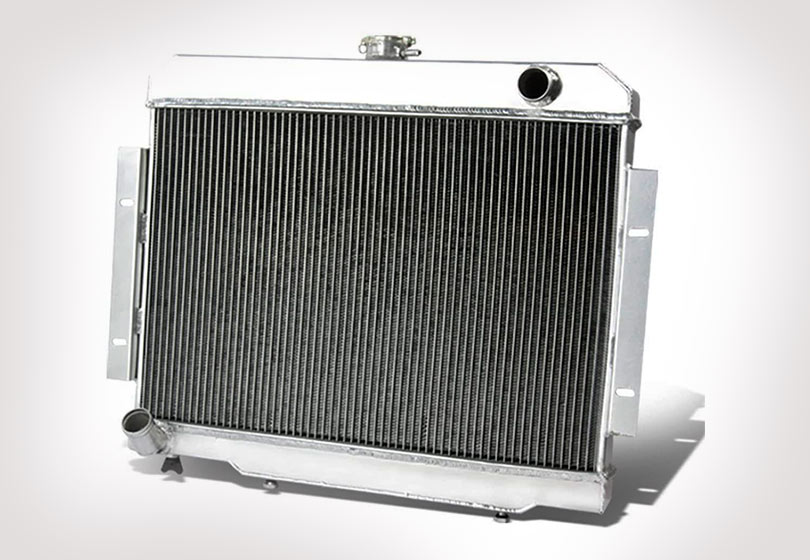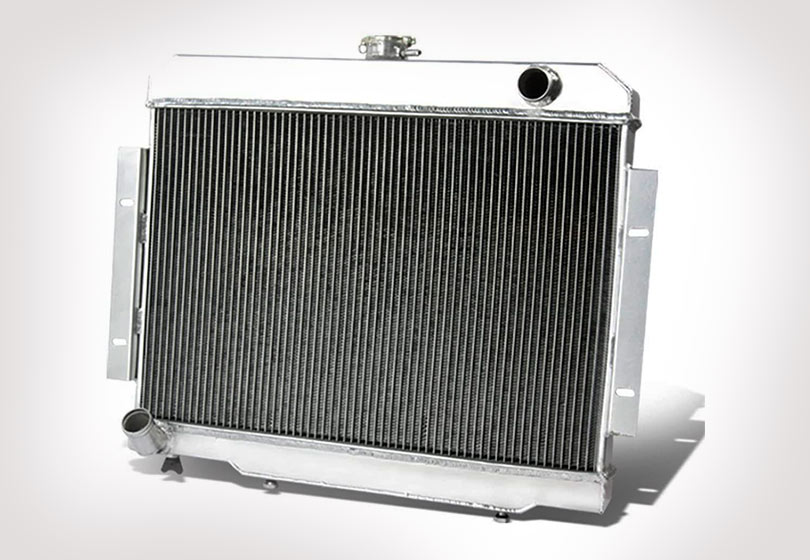 Recommendations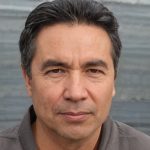 Looking for a budget radiator is nothing to be ashamed of, especially if there is such a great quality stock item substitution as the one that the Auto Dynasty provides.
2. Primecooling Aluminum Radiator for Jeep CJ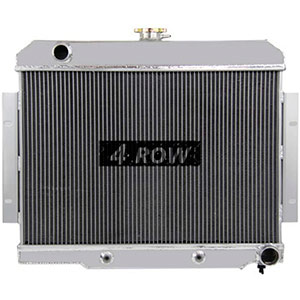 While some Jeep aftermarket brands produce a variety of different-purpose accessories, some limit their production to one category. It does not take a genius to figure that Prime Cooling here is oriented on radiator production. It is hard to tell which type of vendors is better. What I can clearly state is the fact that PC radiators are designed to deal with their functions twice as good as stock radiators.
To start with, the radiator from the brand is made of aluminum, which makes it lighter than some other radiators found on the market these days. Aside from that, it is precisely-design so that it can replace the original radiator without any mods necessary. Due to a 4-core build, such radiators can deal with extreme driving conditions while protecting the engine from unwanted damage and premature wear.
Lastly, I would like to mention that before the radiators have seen the market, they have been heavily tested to ensure there is not a chance of failure. It is hard to say that the option is the pricier on the list, it belongs to averagely-priced radiators, but the quality exceeds all expectations, that is for sure.
Pros & Cons
Seamless stock location fitment
Quality aluminum for a sturdy build
Up to 40% cooling capacity increase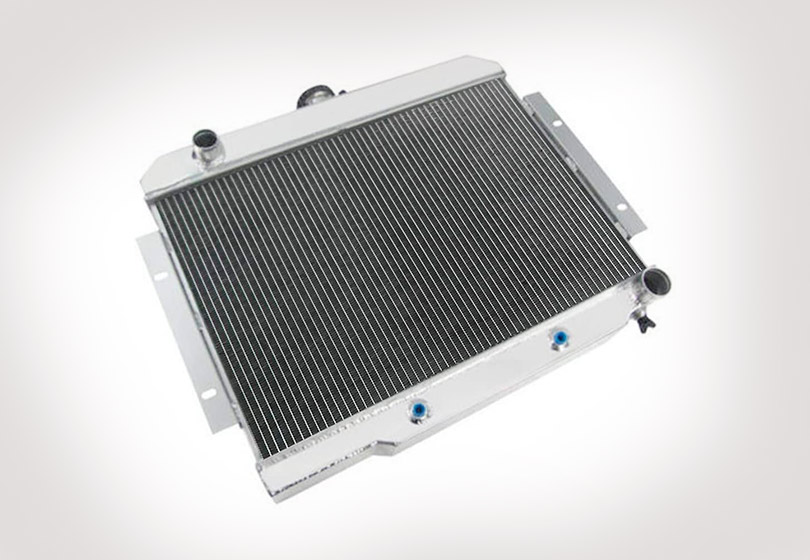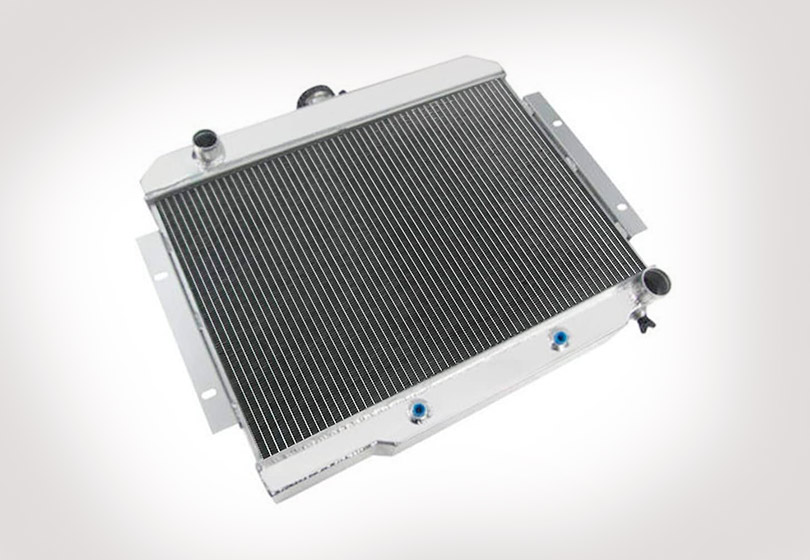 Recommendations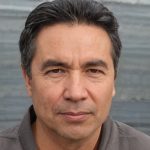 Enhancing your vehicle's cooling capacity is the safest way to ensure that your engine serves better, longer. Prime Cooling radiators are designed with the sole intention to carry out their functions well, but the list of additional benefits can't but draw drivers' attention.
Buyer's Guide
Now that we've discussed nine top-quality radiators for Jeep's leading brands/models, let's check my Buyer's Guide. I made a list of the key aspects of a good radiator. As always, the price, ease of installation, and compatibility are very important. But, we'll also talk about the material quality and efficiency.
The Price-Tag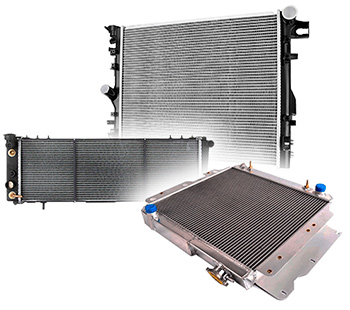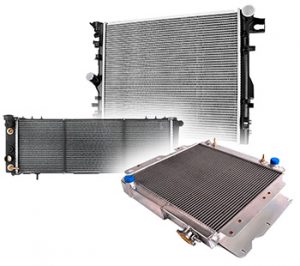 When it comes to the price, it's always a thin balance. Do you pay more for a high-quality product, or save some bucks on a low-budget alternative? In the case of engine radiators, the high price is usually dictated by the build quality and extra features. Drain plugs, TIG-wielded end tanks, and radiator caps all add to the price-tag. The number of radiators also plays a key role, of course.
So, what should a regular driver choose? I recommend checking the pros and cons of any accessory first before committing to it. There's always a chance of a cheap radiator being more effective than the pricy one, but usually, you get what you pay for. According to experts, above-average products are always a safe bet.
Compatibility/Ease of Installation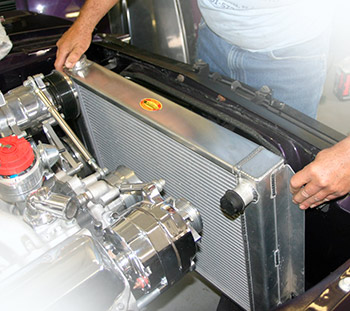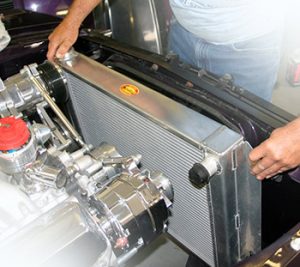 Modern-day manufacturers strive to make installation as easy as possible. That means you won't have to be a mechanic to replace the radiator in your Jeep. Make sure to always ask whether the package includes a user's manual, as it will help you through every single step. Also, check for mounting hardware: for a regular driver, buying third-party bolts and nuts can be a drag.
On average, it takes 1.5-2 hours to install a radiator and to get it running. Sadly, in some cases, you'll need to drill extra holes for the separate components in the engine compartment to line everything up. There may also be some bending and tweaking involved. If that's the case, it would be better to let a professional handle it.
Material Quality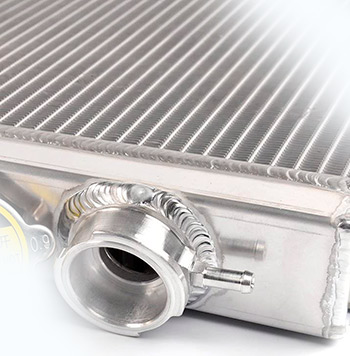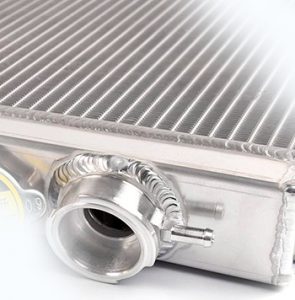 Most modern-day radiators are made of aluminum – it's a highly effective material for this task. Brazed aluminum, for example, ensures minimal distortion and keeps all the joins nice and clean. The stock Jeep radiators are made of plastic, by the way. The tank can still be plastic, but the core should be aluminum.
Heat Dissipation Efficiency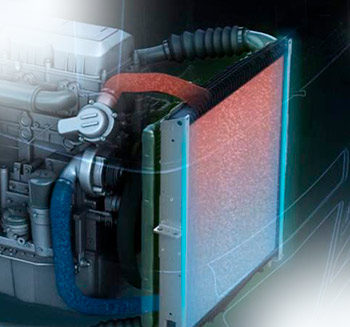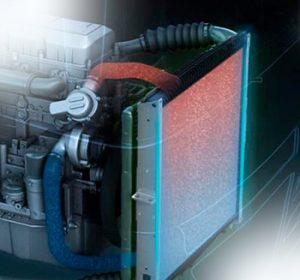 In many ways, this is the most important factor when shopping for a third-party radiator. That's because the more effective it is at cooling the engine compartment, the longer it (the engine) will serve you. As mentioned, there are some three-radiator options on the market. Other brands achieve efficiency via a larger surface area. Coolant capacity also plays a key role in heat dissipation.
FAQ
How long do Radiators Last?
If you take proper care of it and mostly drive on highways, an aftermarket radiator will last up to a decade, or even more. At the same time, if you do a lot of race-track driving or off-roading, and the radiator is constantly working at its limit, it'll probably start giving up on you after 3-5 years. Thankfully, a brand-new one won't cost you much: a decent radiator can be bought for 100 US dollars, or even less.
A more expensive unit will be available for 200-300 dollars. For that kind of money, you'll get premium material quality, a larger surface area (For extra efficiency), and thermal-shocked gaskets (resistance to weather extremes).
How do I know it's Time to Change the Radiator?
First, check the temperature gauge. Usually, it's "hanging around" in the middle. But if the needle is always on the far right side, that could be a clear sign. Next, if you see steam coming out from under the hood, that means there are problems with the cooling system as well (this one's pretty obvious). Also, see if there are any coolant leaks. Make a habit of checking the coolant level. Is it running really low? Chances are you've got a faulty radiator.
Can I Put Water in my Radiator?
Of course, you can! Water is actually quite good at cooling the engine and preventing overheating. You've probably seen folks in movies do that to their cars when driving in a hot area. However, water can only be a temporary solution, because it's not nearly as efficient as antifreeze. Oh, and one more thing: before your pour water into the radiator, wait for the engine to cool down to remove the cap. Otherwise, you might get burned!
Can I Run my Jeep without a Radiator?
The answer is yes – it's possible to start pretty much any vehicle without a radiator installed. But that's very dangerous, and, as I already mentioned throughout this review, engine overload/overheating is one of the most expensive things to fix. So, unless you're ready to spend big bucks on bringing your expensive motor back to life, don't EVER drive without a proper radiator cooling the engine.
Conclusion
That's it for our review of the best radiators for the legendary Jeeps. As we learned today, you can't just blindly go ahead and purchase a radiator that says "Jeep compatible" – it has to fit your exact model. Overall, I checked out nine radiators, and they are worth your attention (and your hard-earned dollars). Of course, they all have their minor cons along with major pros, and you should check them again to make an educated decision.
Read Also: Best Coolant for Jeep Wrangler Review
The Buyer's Guide, in turn, will tell you all there is to know about the key factors of any top-quality radiator. You don't want to be stranded in the middle of a muddy road with an overheated engine because of a low-quality radiator. First of all, it will be a pain to get back home. Secondly, the repairs might cost you a lot! The good news is – with the radiators from today's list, you'll be in good hands!