Are you looking for the best grease for ball joints and U joints but can't seem to find the right one? Do you feel lost when circling through all the available options at your local store or online? Well, don't you worry, because I've got you covered with this post! Today, I'll share a list of leading grease products for 2022, with the perfect price-quality ratios. They are high-quality, easy to use, and long-lasting.
Without proper grease, your ball bearings will wear down, and, eventually, you'll have to replace them. They can be quite expensive (up to 500 bucks), which is why it's so important to use the right kind of grease and do that regularly. In this post, we'll take a look at four options from leading companies with perfect reputations.
As a bonus, I'll also check out a heavy-duty, professional-level grease gun that will be a good pair to either one of these grease products. So, unless you want to do some tedious picking and go through hundreds of tubes by yourself, let's get right to my list and see which one will be the ultimate choice
Best Grease for Ball Joints and U Joints Review
1. Lucas Oil – Best Grease for Ball Joints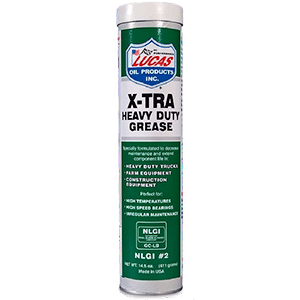 According to Lucas Oil, its product lasts four times longer than the average grease. And while that's pretty hard to confirm or deny, I can definitely say that it's equally suited for hot and cold temperatures. Yes, this grease isn't "afraid" of a harsh Canadian winter or a hot Brazilian summer, which is a big pro. That means there will be no hardening or bleeding (that does sometimes happen with lower-quality grease).
Plus, this is a moderately waterproof product, and you won't have to worry about water getting in there and ruining your bearings. The Lucas Oil lube was specifically made for high-speed bearings and perfectly fits industrial, heavy-duty, and, of course, automotive applications. Furthermore, 10301 doesn't dry immediately (say, if you leave your SUV in the garage for a week or two), forcing you to apply more of it to get the desired effect.
Pros & Cons
Almost 100% waterproof
Works equally well in hot and cold temperatures
Specifically designed for high-speed bearings
Sometimes, the tube comes dented
Recommendations: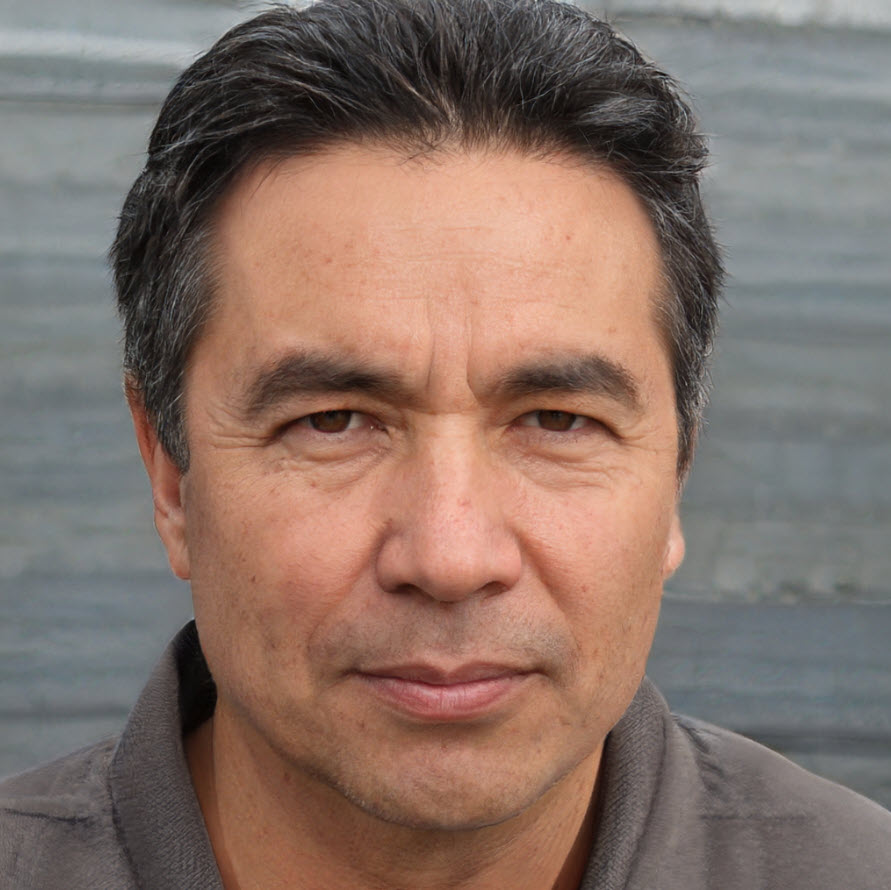 I named Lucas Oil 10301 the best grease for ball joins because it easily handles a hot day in Arizona (where the temperature can go over 115 degrees Fahrenheit). It doesn't leak and make a mess of your Jeep. So, if you're looking for high-quality lubrication for your vehicle, this product might be right up your alley. The only downside: sometimes, the tubes are dented upon arrival (nothing too serious, of course).
2. Valvoline – Best Grease for u-Joints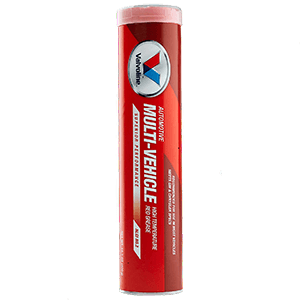 This multi-vehicle red grease is very well capable of resisting heavy loads, thanks to moly fortification. That makes it a good pick for many types of joins, but the so-called "U joints" are its specialty. Valvoline's synthetic grease easily handles trailers, trucks, and everything else in between. Add water and temperature resistance, and you'll get yourself a bargain.
More importantly, this lube has protection against corrosion and rust and won't become useless over time. The tube is long and thin and will fit most grease guns out there. According to the manufacturer, the Valvoline red grease has a working temperature range of -60 to +425 Fahrenheit. With this product, you can forget about dripping and drying. The price-tag is a bit too high, though.
Pros & Cons
Impressive pressure resistance
Water and high-temperature resistance
Rust- and corrosion-free
The price-tag could've been lower
Recommendations: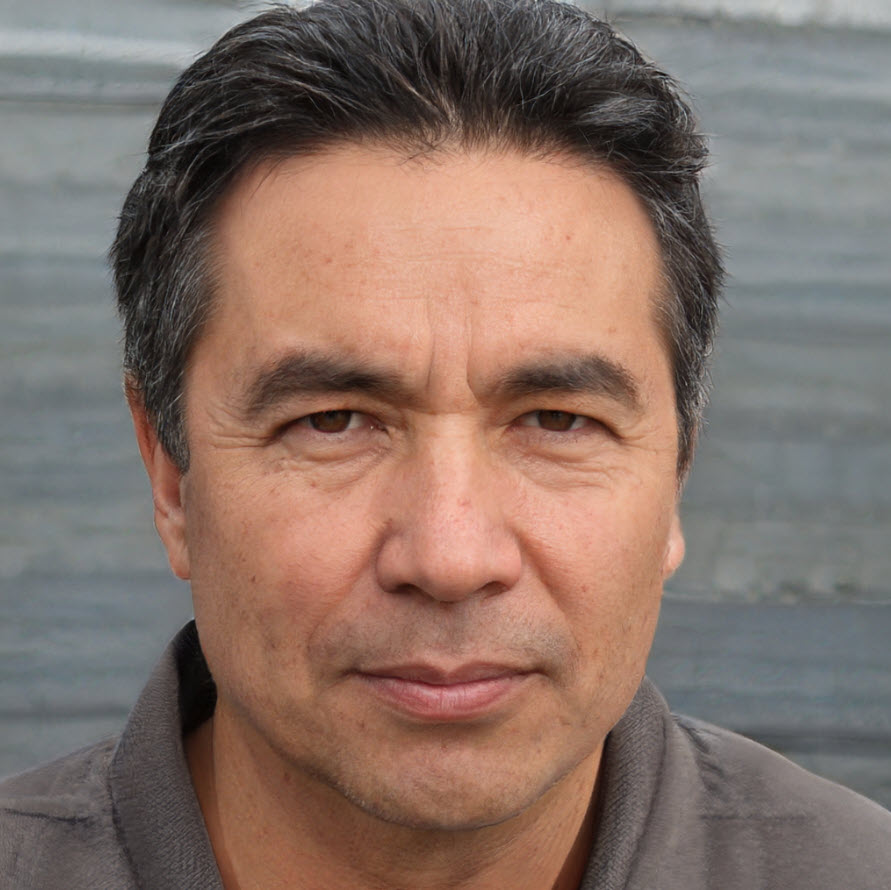 Valvoline's grease is versatile, flexible, and easy to use. It can handle the extreme pressure and will be a good fit for any heavy-duty hardware/vehicle you've got in your garage. Add water, temperature, rust, and corrosion resistance, and you'll see why I decided to put it on today's list of the best grease products. If only the price was a bit lower…
3. Royal Purple – Best Grease for Moog Ball Joints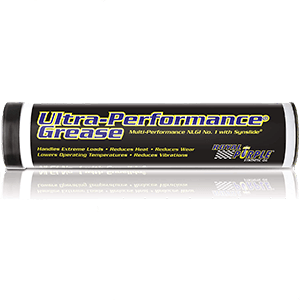 Got some Moog ball joins that you need to lubricate? Then I recommend taking a closer look at the Royal Purple grease. It is very smooth, lasts for a long time, and it won't take you much effort to apply it. Corrosion, rust, and extreme pressure aren't a problem for this product. With it, your bearings will stop vibrating, which will extend their expected life spans.
I'm not very happy with the shelf life of this Royal Purple grease, however. One year is a short time for these kinds of products, and mostly, they can "stick around" for longer. Still, this multi-purpose synthetic grease is one of the obvious leaders, especially if you're dealing with Moog ball joints.
Pros & Cons
Smooth, long-lasting, easy to apply
Greatly reduces vibration in bearings
Protected against corrosion and rust, withstands extreme pressure
Short shelf life (only up to one year)
Recommendations: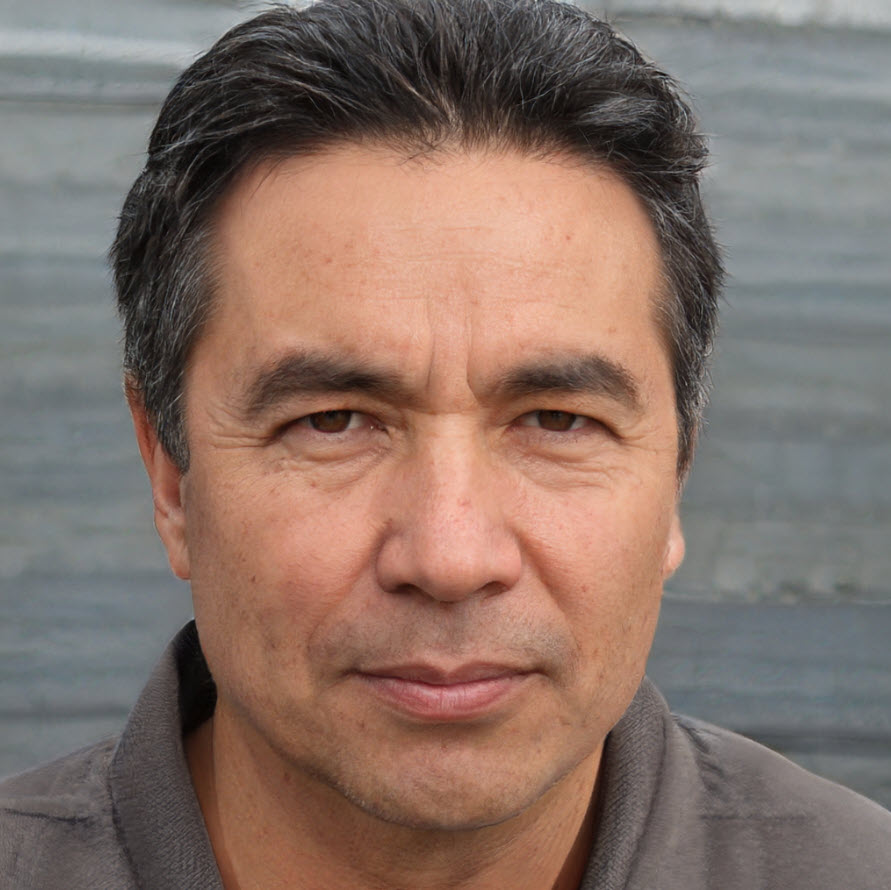 The Royal Purple grease can withstand pressures up to 6K psi and is protected against corrosion, oxidation, and water. As a multi-purpose product, it can be a good choice for owners of several vehicles and some hardware that needs to be lubricated. Strangely enough, this lube's shelf life (when you put it away and stop using it) is only a year. Furthermore, the color sometimes drips out of the gun and creates a mess of things.
4. Red Line – Best Grease for CV Joints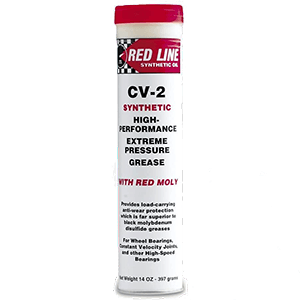 Constant-velocity (CV) joints, AKA homokinetic joints, require high-quality grease to properly operate. And for that task, Red Line's lube will be a good pick. It includes oxidation, corrosion, and water resistance, as well as anti-wear protection and a red moly compound. The pros also include performance in high temperatures, pressure protection, and longevity.
Red Line Synthetic CV-2 withstands -100 degrees Fahrenheit. The upper limit is 500 degrees F – no other grease on my list can match that kind of temperature stability. Low oil separation and evaporation are also a part of the deal. This product will be a good fit not only for your monster truck or SUV, but also for sports vehicles, motorcycles, and snowmobiles.
Pros & Cons
Corrosion and oxidation resistance
High-performance grease
Anti-wear protection
Not 100% compatible with other grease products
Recommendations: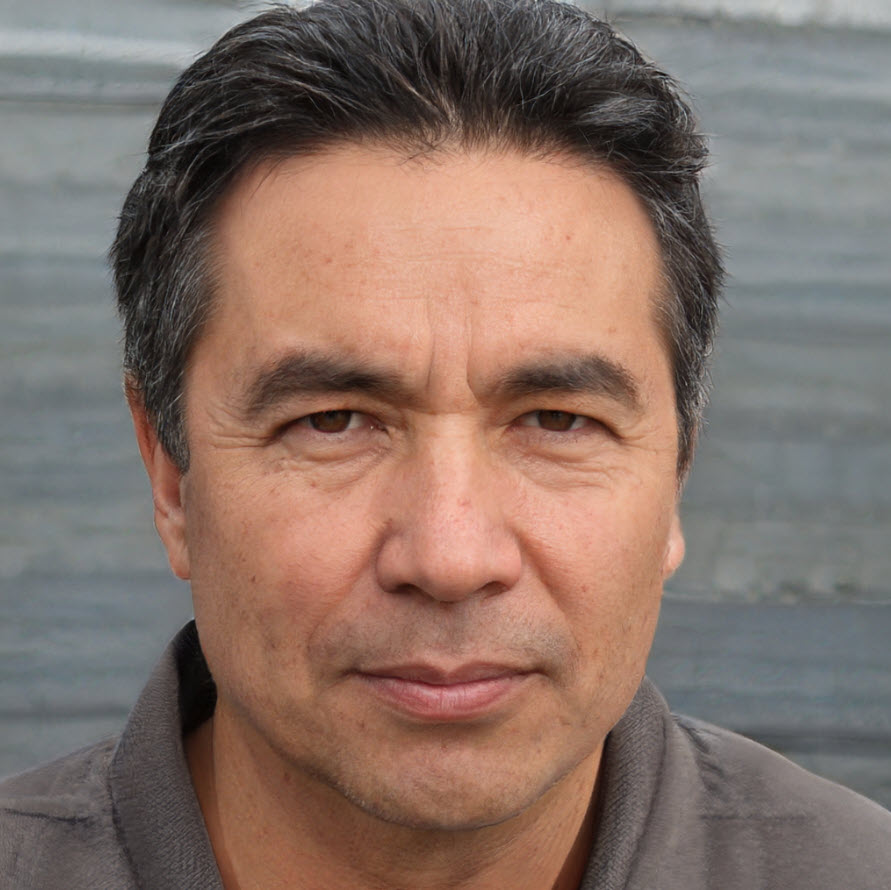 Summing up, Red Line's CV-2 grease is, indeed, a good choice for CV joints. It easily handles extremes temperatures and is well-protected against wear. On top of that, this is a reasonably-priced product. However, it might not necessarily be compatible with other greases you own (especially non-synthetic types).
Best Grease for Ball Joints (Updated August, 2022)
Product
Product Information
View on Amazon

Editor's Choice

1) Lucas Oil

Best Features:
– Waterproof substance
– Perfectly fit for high-speed bearings
– Stable in hot and cold temperatures
Net Weight: 14.5 oz.

2) Valvoline

Best Features:
– Pressure-resistant
– Water and high-temperature resistance
– Rust- and corrosion-free
Net Weight: 14.1 oz.

3) Royal Purple

Best Features:
– Smooth, long-lasting
– Withstands pressure, corrosion, and rust
– Greatly reduces vibration
Net Weight: 14.1 oz.

4) Red Line

Best Features:
– Corrosion and oxidation resistance
– High-performance grease
– Anti-wear protection
Net Weight: 14 oz.

5) STEINBRÜCKE Bravex

Best Features:
– Leak-proof design
– Durable construction; high-precision body
– Smooth grease delivery
Fits Cartridge: 14 oz. and 14.5 Oz
Pressure: 6000 PSI
Conclusion
There you have it – four outstanding grease products for your steel horse. As we learned today, all these lubes have their pros and cons. And, I encourage you to go over the list once again and pay extra attention to my recommendations. These tips will help you to make the right choice and spend your hard-earned cash on something that's worth the price.
If you've got CV joints that need taking care of, go with Red Line. If it's Moog Ball joins that you're dealing with, Royal Purple might be a better pick. For U joints, Valvoline is money well-spent. Finally, Ball Joints would be best to treat with the Lucas Oil grease. Got some knowledge/thoughts to share? Don't hesitate to speak up in the comments! I'll make sure to get back at you and answer whatever questions you might have.