Hi, guys! As many of you know, the 2018 Jl came with two engine options. Today I'm going to go through a full review so you can find the right one and decide which engine is best for you. I'm going to discuss some on-road off-road testing, fuel economy tests and many other tests to give you all the information you need to make the right choice. Alright, let's come to the first truck!
3.6-liter V6 Engine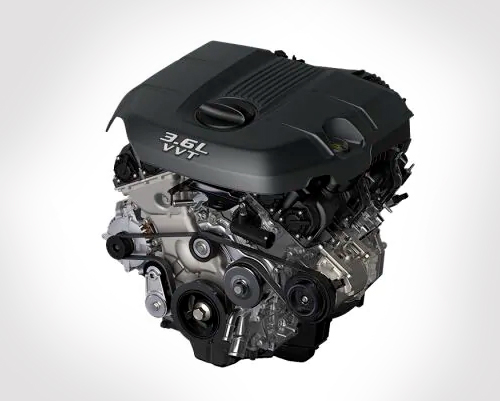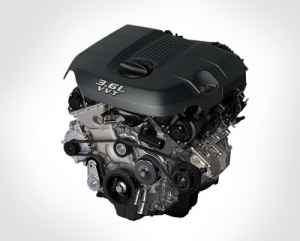 The first engine I want to pass over is going to be the 3.6-liter V6, now that engine has been around for six years and seven years in Jeep Wranglers and it's an attempt to make sure the engine stays that way over the years of proven reliability and performance, it will produce 285 horsepower at 6,400 rpm while producing 260 foot-pounds of torque at 5800 rpm. This is a 220 cubic inch aluminum block engine that is very reliable in the front end of your Jeep. All the brand new 2018 GL Wranglers are there with the electronic Stop Start feat. This Jeep now also gets its 6600 rpm with the 3.6-liter engine, which makes it a pretty powerful engine to get you going pretty high up on the top and get a little more power out of the performance changes on this engine as it has been on the market for a little under a year.
There are already a lot of modifications you can make, there are recordings of superchip tuners and lots of other parts to get the horsepower out of this engine, now I think the 4 cylinder gives it a little more time and there will be more parts for it, but since it has only been open to the public for about four months Engineers from many companies are still doing research and development.
Four Cylinder Turbo Engine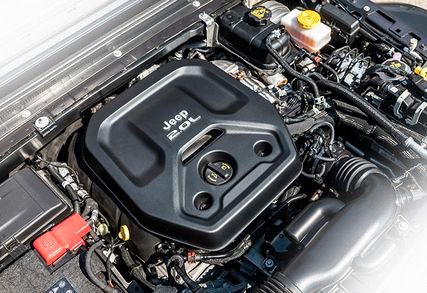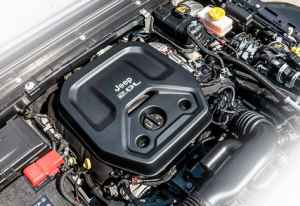 Next step to the four cylinder turbo engine with its smaller stature and impressive horsepower and torque figures this engine is definitely a great competitor to the 3.6 liter V6, as for the specs for this inline four you will get 270hp at 5250 RPM and a whopping 290 foot-pounds of torque at just 3,000 RPM, when the four-cylinder is compared to the v6 you'll be producing about 15 horsepower less, but in terms of torque you'll get 35 more feet at 3000 RPM, which means your 1800 RPM is lower, and there you really want to see the power at the lower end of your torque peak to the engine Jeep is also this four cylinder turbo with a mild hybrid system called a belt-start generator, equipped and it also includes a 48 volt electrical system that goes under the Jeep to power this engine when the turbo lag. This is a completely new system, so it's pretty interesting and I'll get into a little more detail later, now that you've heard the specs of these engines on the road, so folks, the first Jeep is the 3.6- Liter V6 has an AFV exhaust and an engine intake. I want to do a 0 to 60 first just to show you guys what this thing can do goes from 0 to 60.
3.6- Liter Jeep Wrangler JL
All right, those 60 were nice and simple, things have lots of power. I have to be honest, it feels really very firm. I was only in third gear to get to 60, so pretty nice and I decided against the v6. Well, I was in the four-cylinder turbo, first things first, zero to 60. And let's get started!
That's 60! To be honest I have to say the v6 was a bit faster to go back and see that you know when I do it exactly will do, but it felt like the V6 had a little more power, that supposedly makes more torque at 3000 rpm. I would like to say that it doesn't feel like it has this power right away, probably because it's a turbo, so it has a little turbo lag, so the next test what I want to do is to go 40 mph and I want to get up to 60 mph to show you how much power you have while you're at it. So, when I'm at 40 I need to slow down, then let's find out how fast I can get to 60. Well, a pretty fast 8 speed shifter made it to that gearbox and engine, it just puts in gear and puts you right in that power band, that's pretty cool. When I slow it down and do the same test, I do 40 to 60.
The Next Test
Well, I'm at 40 and I just went down 40. When I bring it to 60, let's see how long it takes to hit the ground. I have to say one felt pretty close. I felt like they were pretty even with each other, that forty to sixty was pretty much alike. I have also tires on this Jeep, I also have a two inch Mopar lift so it's a bit in the air but honestly that's how most Jeep owners will drive their vehicle it won't get stuck it will be lifted a little heavier modified, so I have aftermarket bumpers, some extra lights. Things like that driving all over the freeway, this vehicle is very comfortable! So, I go at 65 mph at about 1,400 rpm. The help with that is the 8 speed – Transmission. The two vehicles I'm comparing today have the 8-speed automatic which really keeps you in that power range early on, but then when you're on the freeway your revs drop so you're just cruising overall. I have a lot of power! Driving on the freeway at 65-70 mph, keeping up with the traffic is a big deal for me because you're on your way to the off-road trail, the off-road park you have to drive on the freeway, so you want to you make sure your Jeep can handle it and I still have factory gearboxes.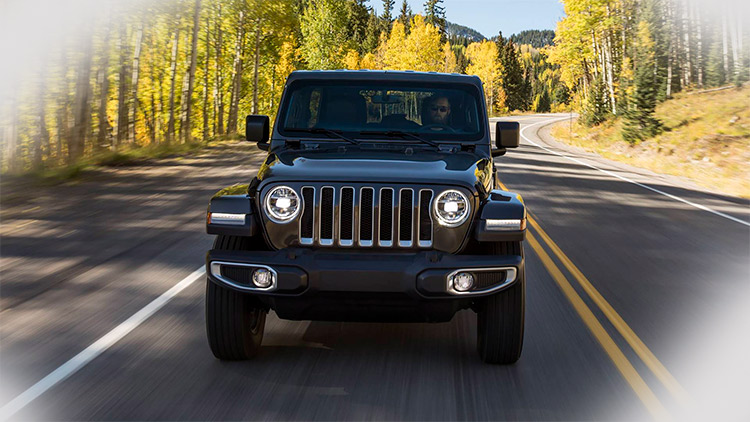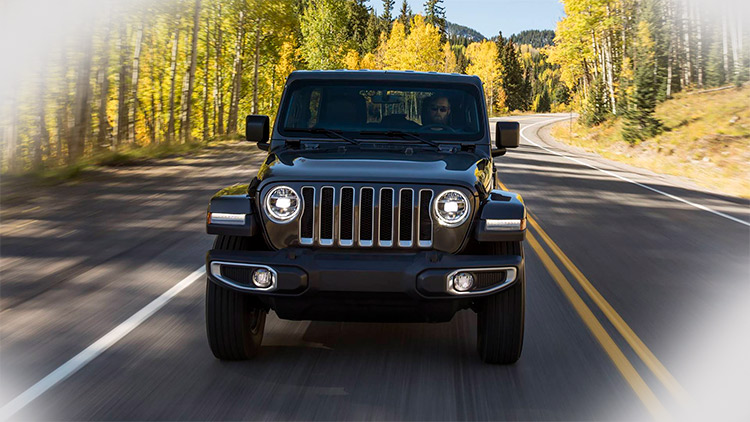 Well, I was going with a gear ratio of 3:45 and it's perfectly fine for those 35s. The engine produces enough power in the right places to keep me nice and comfortable on the freeway. Then, just like I did with the v6, I want to take the freeway, you know it can reach up to 70-75 miles and then hour on this merge ramp see how it behaves. The 4 cylinder really has a lot of power between that 3040 500 RPM range, but the V6 felt like extra power probably because it's naturally aspirated, but once you get into that Jeep's power band come on it feels pretty good but if it falls out and stays in the lower gears to save some fuel.
Comparison of two trucks
I would say it doesn't feel like the v6. Then this has no inlet or outlet so if I had an inlet and an exhaust, it might release some of that horsepower. So, once those come out they'll be dropped off, but I was driving the freeway at around 70 mph. Honestly, it feels like a little less PS. But how fast I can go through the wall, how fast I can push it? I'm testing the torque! Moreover, I've successfully installed a GoPro outside and in a small supermarket parking lot. I'll let you guys know, I was doing pretty decent strength I mean, it feels really good. If you have enough power it will downshift it for you and then you're good to go, so I'm really pleased with the way this works, some off the exhaust first and just one inlet. I'd say probably about twenty percent drive up that hill, which is pretty good and the speed limit is 50. Moreover, I have no problem sticking to 50-55 and I could go faster but I wanted all the traffic laws, so I didn't drive fast.
When I'm in the 4- Cylinder-jo, I want to make a few comparisons as I go up the exact same hill. I remember one baseline from the V6, that this is a two door so it's a bit lighter in theory or in theory you might think it would be a bit faster. It's pretty steep. But I will tell you that much when you get into the power band of this prison, where the turbo starts to kick and you have a lot of power, there it's almost the same as the v6 in my opinion, but the problem is there isn't that much power before, it's not enough to hit instant power. When I'm on the hill, there is some power they have comparable to the JL of the v6. I think the v6 had more mph when it went up that hill in terms of horsepower, that's just because the Jo has more horsepower.
The Horsepower and Torque
So, the v6 makes more horsepower right, but the Four-cylinder makes more torque. The climb was tight but I would give it over the center front for the v6, so not much of a difference, but you could tell it was a little less driving it. Well, a little less when I hit the pedal, when I'm driving the same speeds, it comes to this speed which I think is a little bit different, a little bit slower.
Your Choice!
Well, actually the performance of these engines was on pen and paper and I hope my review will really help you. In my opinion, if you run Jeeps on some back roads and on the freeway, now everything is fine and great. But in the next articles we can find out what they're putting down and see where that torque spike is and how well you can really use it. Stay tuned and keep in mind to check new articles on this blog. Drive safely!