f you feel like your stock battery isn't cutting it anymore, you might want to start thinking about a dual-battery system. This is especially true for drivers that have big, powerful sound systems, air Compressors, Smartphones that need charging, etc. Sounds familiar? Then join me in my search for the best dual battery kit for Jeep! With it, you won't have to keep the engine working 24/7 for it all to work or worry about running out of power.
After days of meticulous research, I found only one truly "dual" system. But, the other two products on the list also deserve your attention. We've got an isolator with all the necessary wires and a brick-strong tray that can easily hold two batteries. So, without further ado, let's see what the market has in stores for us and pick the one that suits us best!
Buyer's Guide
Now that we've familiarized ourselves with what the market has to offer, it's time to check out this short, yet informative Buyer's Guide. Unless you're a mechanic/engineer or someone with experience, a dual-battery system can be somewhat puzzling. How do you know what to look for? What are the most important factors of a dual-battery kit? Join me, and we will talk about the batteries, isolators, wiring, and the trays.
The Batteries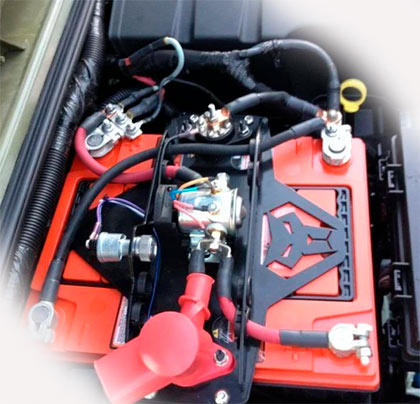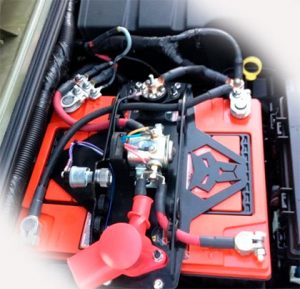 For standard redundancy, I recommend buying two matching regular batteries at your local store. These usually don't cost much and will get the job done. Make sure they are labeled "Group 34" – that means medium-sized but still rather powerful. For more complicated tasks (winches, fridges, and air compressors) get a set of deep-cycle batteries. Compared to the standard ones, these have more "kick" and can be discharged and charged back again multiple times.
In contrast, a set of regular Jeep batteries can never be fully discharged. DC batteries should also be the same model by the same brand. Again, go for Group 34, as they'll easily fit the majority of off-roading vehicles out there, including your favorite Jeep. For most people, a standard factory battery usually gets the job done. For something like camping out in the wilderness, a set will do. So, only go for a pair of DC batteries if you really do need all the extra "oomph".
The Isolator/ Wiring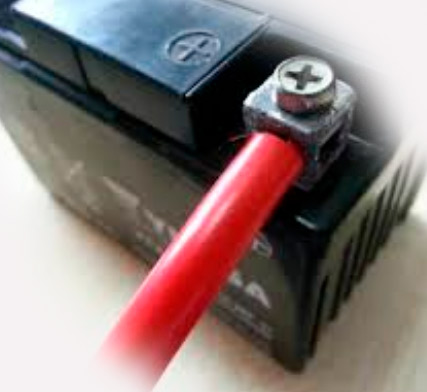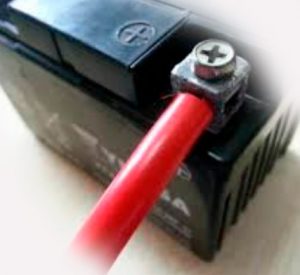 If you're not afraid to get your hands dirty and take care of the wiring, you'll get to save a lot of hard-earned bucks. For that, an isolator is a must: it takes care of the charging and always keeps just enough capacity to start the vehicle. The second the main battery reaches (or, rather, drops to) a certain voltage, the isolator disconnects it from the circle.
Again: the isolator controls the charging process and makes sure the primary (starting) battery has enough charge to start. Look for a charger-isolator that's as small as possible so that it will fit under the Jeep's hood. Last, but not least, I highly recommend choosing an isolator that's well-protected against the weather. I'm talking about rain, dust, mud, and other off-roading "treats". You can never be too careful when dealing with these kinds of things.
If you're still having problems with the wiring, you can rely on battery wiring diagrams to lend a hand. These are very easy to find on the Internet. Or, better yet, check out YouTube videos. Just make sure you get everything right (write it down, if necessary), and don't mess up the setup!
The Tray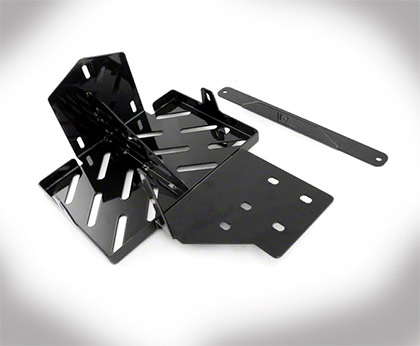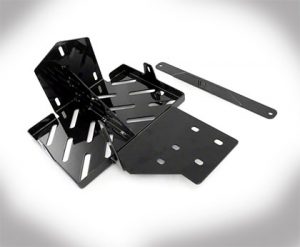 Nothing fancy here: you'll need a tray to hold the batteries firmly. It should be powder-coated (protection against rust and corrosion) and have a strong grip. You don't want the batteries to be vibrating and jumping up and down on every bump when off-roading. Most trays easily fit two Group 34 batteries (both standard and DC) and don't take much space in the Jeep.
Ease of installation should always be the #1 concern for you. Even if the manufacturer includes a user's guide, it can be quite difficult to make sense of it all. Ideally, the tray should hold the batteries front-to-back, not left-to-right. That way, you'll be able to use the factory cables instead of buying new ones.
And don't forget to check the warranty as well: does the company offer a finish guarantee? Will it replace a damaged product? For example, the Rugged Ridge tray comes with a five-year warranty, but it's quite limited.
Best Jeep Dual Battery System (Updated December, 2023)
Product
Product Information
View on Amazon

Editor's Choice

1) Rugged Ridge Dual Battery Tray Kit

Best Features:
– An all-in-one dual-battery system
– Comes pre-wired; includes necessary installation hardware
– Boost button: jump-starts the Jeep from the accessory battery
Fits Models: Jeep Wrangler JK (2012-2018)
Weight: 22 lbs.
Available Options:
– Jeep Wrangler JL (2018-2020) & Gladiator

2) Dual Battery Isolator by KeyLine Chargers

Best Features:
– Water-and dust-resistant; protected against vibrations
– Compact size: easily fits in any Jeep vehicle
– Easy and straightforward installation
Package Includes:
– 140 Amp Voltage Sensitive Relay;
– 20 ft. red battery cable – 1 pcs;
– 2ft black ground battery cable – 1 pcs;
– positive brass marine type battery terminals – 2 pcs;
– negative brass marine type battery terminal – 1 pcs;
– tinned copper lugs & heat shrink;
– cable ties;
– instructions
Dimensions: 2.6″ x 2.6″ x 2″

3) Rugged Ridge 11214.53 Dual Battery Tray

Best Features:
– Powder-coated; protected against contamination
– Includes a wiring diagram; fits both lead-acid and gel cell batteries
– Backed by a limited five-year warranty
Fits Models: Jeep Wrangler JK (2007-2011)
Weight: 13 lbs.
Conclusion
That's it for my review of the best dual-battery setup, dear friends! As we learned today, there are no universal systems that you can just buy, put in the Jeep, and enjoy. It takes a little bit of wiring, installing, and doing some DIY stuff. But, it will be well worth it, as the winch, the fog lights, and gadgets won't power themselves. If you've got all the necessary equipment and only need a tray to hold it all together, Rugged Ridge might have exactly what you need.
KeyLine Chargers, in turn, specialize in isolators and offer one of the most affordable and capable dual-battery isolator kits. Made in the US, it is very easy to install and fits the tightest spots. Finally, Genesis Offroad provides the most comprehensive setup, but it's also quite expensive. And if you're on a budget and not looking for anything fancy, check out my best battery for Jeep Wrangler list. There, I've collected all the market offers worth your attention.