Hi guys! Today we talk about the advantages and disadvantages of different sizes of tires for Jeep. Finally, I'm on my way to really illustrate the differences. Alright, let's jump right in and see how to choose tires for your Jeep Wrangler, here you may also be helped by this Tire Size Calculator!
To show the three different sizes of tires we're talking about, I have three different Jeeps. Firstly, let's discuss a four-door Sahara with a 2.5-inch TeraFlex lift kit with shock absorbers. It runs on a 17×9 inch mammoth black type 88 rim with a 33-inch Nitto Terra Grappler tire. Also, there is a Dune, four-door JK with a 3.5-inch Rock Krawler XFactor lift kit that runs on black Mammoth Boulder Beadlock Style wheels in 17×9 format and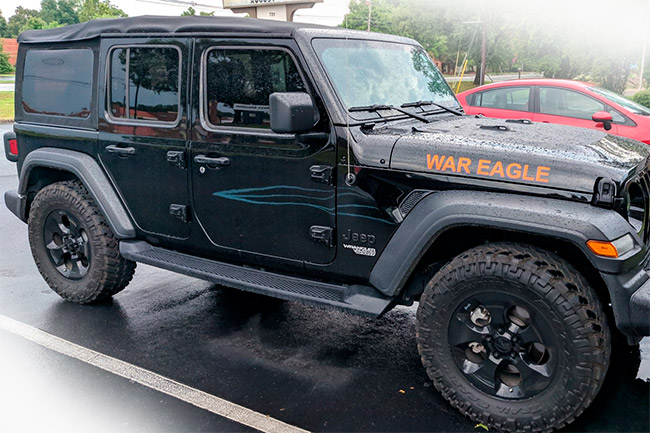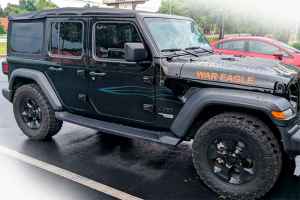 wrapped in a Mickey Thompson Baja MTZ 35×1250. Finally, I have a black four-door Rubicon, which also has the same 3.5-inch XFactor Rock Krawler lift kit, but also has an inch and a quarter Rough Country bodylift, which is why it is a bit higher, just like the flat one looks like fenders. This Jeep drives the Mammoth DWindow Black Steel Wheels in a 17×9, and these are wrapped with a Nitto Trail Grappler, a 37×1250 inch tire.
There are several reasons for adding a larger tire to your Jeep. One is for the optics, the other for the fact that you can roll over obstacles a little easier in the field and that you have a larger contact area in the field so that you have more traction. But when you switch to a bigger tire there are certainly pros and cons, and that's what I'm going to talk about today, besides there are a few key factors that will affect your tires' lifespan
The first tire is a stock 31-inch tire from a JK. This is a Bridgestone Dual AT, and this is a 255/7018. Actually, tire sizes are given in both metric and standard sizes, but I will discuss standard inch sizes. So, this is roughly the same as a 31.32-inch tire that's about 10.10.5 "wide on an 18-inch wheel. Well this is a factory bike so it has a bit more backspace than these aftermarket wheels. If you drive with a wider tire, you need a little less distance to the clearing because you have this wider tire. But with a narrow 10.5-inch tire like this one, you can get away with a little more backspace and put the wheel a little closer into the Jeep. As the name suggests, this is an all-terrain tire.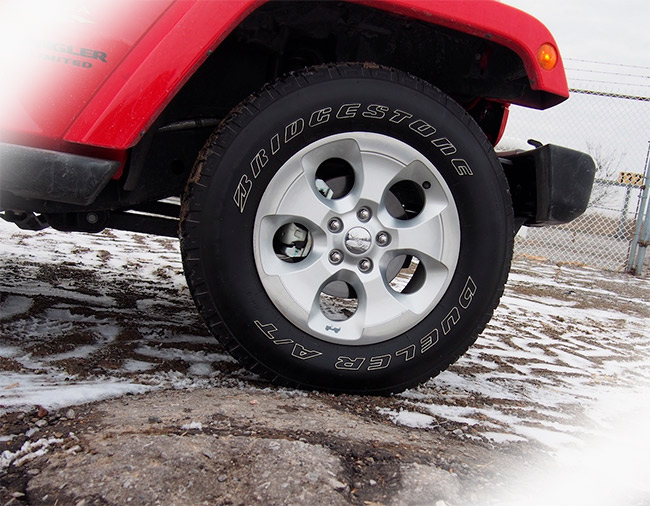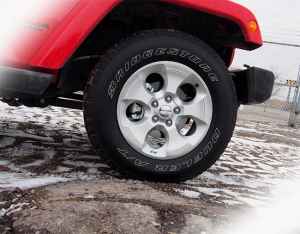 So, you will get very little tire noise as you drive down the street. You will get really good tire wear too. With a large gnarled mud off-road tire on the road, you're going to wear those tires out a little faster than an all-terrain tire like this. This will also have a smaller sidewall as it is a smaller tire and you are riding an 18-inch wheel. There are fewer sidewalls so you have a little better handling, a little less of the squishy feel you can get when you have a bigger sidewall.
The next tire we talk about is a 33-inch Nitto Terra Grappler, which is still an all-terrain tire and will be a bit more aggressive than the Bridgestone Dualer we just talked about. Again, this is roughly the same as a 33 "tire that is 12.5" wide, and this will be on a 17 "wheel. Since this is going to be a bigger tire and a slightly smaller wheel, you will have a little more sidewall. So, if you turn at high speed, you may have a slightly squishier feel than not being as firm. Let's face it, Jeeps are not racing cars. You don't drive a jeep because of its cornering. What you get from a tire and wheel combo like this one because you have a wider 12.5 "tire on a 9" wheel is a little more sidewall pressure and the ability to deflate the tire a little more off-road, without the risk of losing this bead. When you put on a nice wide tire like this, you get an ever-larger footprint that gives you even more traction to overcome obstacles. The 35 "tire we're talking about today is a 35 x 1250" Nitto Trail Grappler MT, a mud touring tire. So, this will have the big, gnarled treads that don't wear out quite as well on the road and give you a bit more road noise, but the upside is that this will give you really good traction on the road.
Now, when you step onto a 35-inch tire, you have a few things that speak against you. One is just the height of the tire and the other is the weight. Switching to a bigger tire like this will change your final drive gear ratio, which can make your Jeep feel sluggish if you don't upgrade, and it's expensive to upgrade.
So, if you want to save parts and keep your build a little on the lower end of the budget, I'd recommend sticking with a 33-inch tire. However, you will definitely notice a difference. The other thing that goes against such a large tire is the added weight. That extra weight, no matter how you shift gears, will make the Jeep a little sluggish. The advantage of a bigger tire like this is that you can roll over obstacles a little easier off-road, and when you let it down, you have an even bigger footprint than the 33.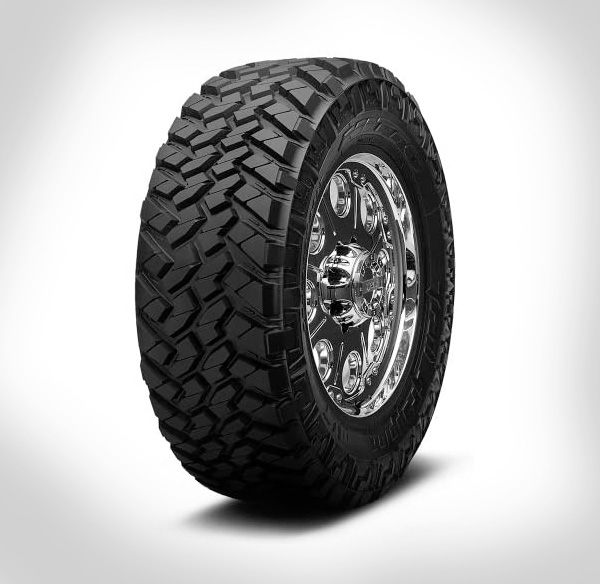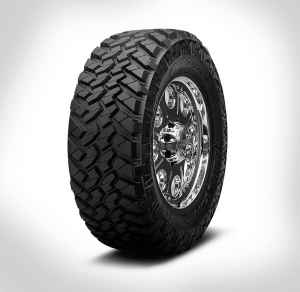 Finally, let's look at the 37-inch 1250 Nitto Trail Grappler MT which is the same tire as the 35 but a few inches bigger of course. A 37 is pretty much the largest tire you'll use on your JK without getting into the area where you'll have to cut the body to remove those larger tires. A 37 may look mean, but you'll have a lot less drag when rolling over large obstacles off-road, and you can get a huge footprint as you wear this tire. You end up facing even more problems if you don't upgrade your Jeep. This is going to be a really great tire combo with heavy wheels so you will definitely get a sluggish feeling as you roll on the road, so rebuilding is a must on a large tire like this.
Now that I've introduced the four different tires, let's imagine them on the road and then on the trail discussing the pros and cons. Well, it's time to actually take to the streets and really compare and contrast and talk about the pros and cons of each one. In general, I think anyone can agree that they want a bigger tire. Bigger is always better, especially when it comes to tires.
However, there are some disadvantages to having a large tire here too. The Jeep has a set of 33×1250 all-terrain tires. And since I had a smaller tire, I could get away with a few things. This Jeep will still have a good dose of oomph and pickup as I have a smaller 33-inch tire on it without having to reposition yourself. Anytime you put a bigger tire on your Jeep it's always a good idea to use a recalibrator, especially if you have an automatic transmission. This lets the computer in the Jeep know you have a bigger tire and can adjust to the shift points, but you still won't get the full peppy feel you would have with a factory tire on the Jeep.
So again, a 33-inch tire gives you something bigger. It will give you a little more of that off-road look. It will also give you a little more off-road performance by giving you the ability to roll over obstacles a little easier and also giving you a larger footprint. But you don't have the huge disadvantage of a 35-inch tire or a 37-inch tire that you have to reposition yourself to get that peppy feeling back. And these are all things that you need to be aware of. If your Jeep only drives off-road, then 37 is the better tire for your off-road situation, which gives you more ground clearance and gives you the opportunity to roll over obstacles more easily. And you don't have to worry about the cons of driving a 37 on the road. However, if you have a mixed-purpose rig or are building a tire built specifically for the road, a 33-inch tire is likely a better choice for you. When looking for a larger tire for off-road capabilities, it is important to keep in mind that a larger tire will give you more clearance at the bottom of your axle. However, a lift gives you more clearance to the floor of your Jeep, the belly pan and the frame. And these two releases are very different. Let's illustrate that, as well as the difference between rolling over an obstacle with a 37 "tire and a 33" tire.
When I was on the trail, I was still in the Jeep with the 33-inch tires, but I also had a Jeep with 37-inch tires right behind me. So, I could really show you the difference between how these tires work off-road when you hit an obstacle. The first thing I was going to do is find an obstacle that I could easily get over with the 37s and really show you where you'd gain ground clearance with these tires compared to the 33s. Let's find out how easily a 37-inch tire rolls over an obstacle compared to a 33-inch tire.
So, you can really have an idea of where the advantages of a larger tire are off-road. With this obstacle I found on the trail, I'm going to really illustrate the difference between the ground clearance you get with a bigger tire and the ground clearance you get with a bigger stroke. The larger tire gives you more clearance between the ground and the axle, while the larger lift gives you more clearance from your skid plates and frame. So, I rolled over this obstacle with the Jeep with 33s and then 37s to really show you the difference. Here came the Sahara with the 33s. So, with the 33-inch tires, I hit the bull's eye with the pumpkin. This is just a protocol, it did not do much damage and it would get out of the way. But if I was on a rocky path, or if that was a tree stump and I hit it at speed, I may have peeled off the differential cover. I could have done damage. Or, at best, I just hung up and I should have resorted to trying another path.
Then let's see the 37s overcome the obstacle to really illustrate why bigger tires are an advantage off-road. So, there is a lot of clearance between the bottom of the pumpkin and the obstacle, even with this larger and different Rubicon than the Sahara. And all thanks to the 37-inch tires compared to the 33er. So, the clearance to the bottom of the axle is one thing, but you can also roll over obstacles more easily if you have a bigger tire, so let's find a few other obstacles and check that out. Another advantage of having a large tire off-road is that it will roll over obstacles much easier than a smaller one. The Rubicon on the 37 will have much fewer problems getting over this protocol than the Sahara on the 33. And while this is just a log in the middle of a fairly open trail, it means that in terrain with lots of obstacles, stumps, or even stones on the axle, you'll be grinding obstacles all day, or cruising to the next trail.
So, today we looked at the pros and cons of riding a 33-, 35-, and 37-inch tire on both the road and the trail. Go over the article once again, think about how to choose tires for your Jeep Wrangler, and only then commit with your hard-earned dollars. Take care, and drive safely!