When it comes to some internal parts of your Jeep, it is easy to overlook them since you are merely unaware of them and their use in general. You are not a mechanist, are you? However, you can't simply let the tires of your vehicle go unnoticed. The Tires are the essentials without which your Jeep won't drive an inch.
Nevertheless, it is not enough to get just any tires for your vehicle that are claimed to fit the model range that your truck belongs to. There are many nuances to consider before you go out there and get yourself a new tire set. Taking all that into consideration, I figured that sharing the list of the Best Tires for Jeep Wrangler Unlimited Sahara is more than a good idea. I must say, my list is not as extensive as it could be, but only the best options are included.
Best Tires for Jeep Wrangler Unlimited Sahara Review
1. Bridgestone Dueler All-Season Radial Tire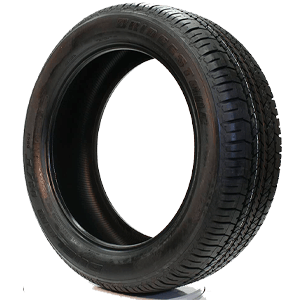 If you are a beginning driver, you may not know it that it is highly essential to choose the tires that are perfectly fit for the driving conditions you are going to exploit your truck under. Various tire types correspond well with either muddy, snowy or sandy roads. However, there are also universal all-season tires on the market, too, so that it makes your choice a little easier.
I would like to start my review with one of such all-season tires that deserve your attention. One of the standard features of Bridgestone Dueler tires is that they are designed to run well on any surface, and they remain quite no matter what. However, as a driver that has used the tires on my Sahara, I can tell you that the tires are more than great for snowy roads and wintertime in general.
The tire pattern is intended to provide you with great off-road traction as well as to result in excellent on-road handling as well. The dual tread layer deserves special attention since it points out when the outer rubber starts to wear, and that is a useful addition.
Pros & Cons
Supreme traction under any conditions
Improved operation during wintertime
Increased quietness
Tread life should be improved
Recommendations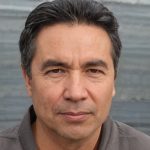 If you are looking for an affordable set of tires that will help you get through any conditions and terrains, then Bridgestone Dueler is something to consider. The tires are of good quality and provide reliable performance while the price is average.
2. Goodyear Wrangler DuraTrac Radial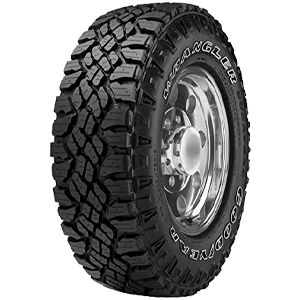 Sometimes the name of the item speaks for itself. The fact is that Goodyear tires are actually good no matter the time of the year or the surface that you are driving over. That is why if you are a regular citizen that loves to get somewhere far away from time to time, these tires will serve your needs perfectly.
It does not matter the mud or the snow that you are driving through. These tires will ensure supreme comfort and stability, not to mention peace. I say peace because the tires are designed to be extremely quiet, and that is a huge plus. Besides, due to the particular technology that the tires are made according to, the tire adhesion is twice as advanced.
Apart from all the mentioned above, I would like to add that those shoulder-blocks that are designed to self-clean themselves are very practical when you are driving through the muds since the tread is all clean of all possible debris with the list of efforts involved. In case you are driving through the tough off-roads with lots of sharp rocks underneath, the rim protector ensures that nothing pierces the tire in the meantime.
Pros & Cons
Increased durability
Great tread pattern
Designed to withstand heavy loads
The item is pricier than average
Recommendations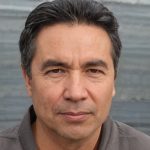 Goodyear has proved to be a great tire provider, and there is a list of reasons for that. DuraTrac is great tires for both off-road and city rides. However, if you are a devoted on-roader, I would suggest you choose something simpler.
3. Falken Wildpeak AT3W all_ Season Radial Tire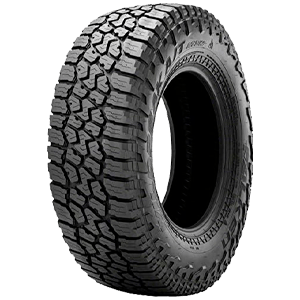 If you are a serious off-roader, the tires on your vehicle should correspond to both the purpose as well as the conditions. Giving a try to many tire manufacturers, I can honestly say that Falken Wildpeak is the best in the category in case you are planning to cruise somewhere in the wilderness for a while.
The truth is that there are no conditions that the tires wouldn't be able to withstand. Besides, the particular tread pattern that the tires are equipped with is designed to work best on wet and snowy surfaces. It needs to be added that the tread on Falken tires is the deepest, and that ensures that no gravel gets stuck in them, and the chances of piercing are the lowest.
If you are going to spend some time on-roading, there is nothing to worry about since the tires are well-fitted to regular conditions too. Besides, with the tires like that, your vehicle will be twice as stable and easy to operate, no matter the weather outside. Lastly, the price for such a great off-roading tire is more than pleasant.
You can also look at the analogue of Michelin LTX M/S2 All Season Radial Car Tire from Michelin:
View on Walmart
Pros & Cons
The deepest tread in the industry
Extremely durable, quality-material tires
Improved stability no matter the speed
May get a little too noisy when on highway test
Recommendations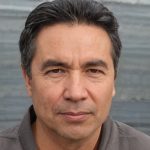 All in all, Falken Wildpeak tires will satisfy those of you who are in love with the thrill of the adventure that only off-roads can grant you. The price is excellent for such supreme quality and durability of the presented above tires.
Best Tires for Jeep Wrangler Unlimited Sahara (Updated October, 2023)
Product
Product Information
View on Amazon

Editor's Choice

1) Bridgestone Dueler All-Season Radial Tire

Best Features:
– Great quality for a fair price
– Improved driving comfort
– Fit for any weather and surface conditions
Size: 255/70R18 112T

2) Goodyear Wrangler DuraTrac Radial

Best Features:
– Great durability from a trusted brand
– Peculiar tread pattern
– Well-designed shoulder-blocks
Size: 255/75R17 115S

3) Falken Wildpeak AT3W all_ Season Radial Tire

Best Features:
– Flawless off-road performance
– Great price matching the quality
– Gorgeous design mixed with increased stability
Size: 255/70R18 113T
Conclusion
To sum all up, I wouldn't be a genius to tell you that there is rarely a good vehicle without tires. These can be good or bad tires, but they are still a necessity. However, since it is a Sahara that we are talking about, it is obvious that most of you need tires that would fir both on- and off-road use. My list may seem a little limited, but I know for sure that it is useful and worth the attention. Each mentioned above tire type deserves every penny, and every minute spent on it due to its quality and reputation. All you need to do is to choose the one that appeals to you most!