Are you a fan of big, strong, and capable Jeeps? Maybe you own one, and can't imagine life without off-roading, climbing mountains, and camping out in the wilderness? And what about aftermarket parts – are you a fan of that too? If the answer is yes to all those questions, then I've got just the right cool Jeep stuff for you to check out.
Join me, and let's take a good look at what the market has to offer. We'll go over grills, door hangers, floor mats, headlights, and so much more!
Install New Grills for a Badass Look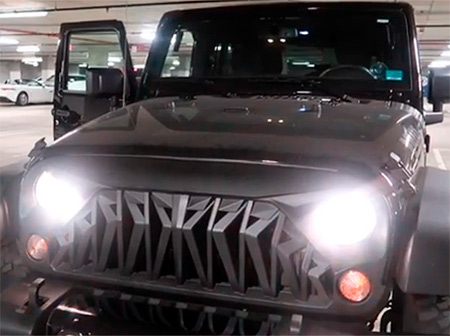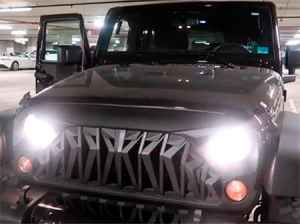 Aftermarket grills have only two purposes: they protect your Jeep from frontal collisions, and they make it look dope. As a bonus, a premium-quality grill can greatly improve the airflow in the engine compartment. That's achieved through blocking debris/rain/mud from getting in. But, of course, the first thing that pops in our heads when asked about the Best Jeep Wrangler Grills is the badass attitude.
So, the style/design is what's gonna be the biggest selling point. Some Jeep drivers like the so-called "diamond-cut" design or even something more aggressive. Others prefer the old-school styles. Now, before making a purchase, check the specs. Make sure they include anti-rust/corrosion protection and a rubber strip (keeps water at bay). Wear-resistance and sturdiness (the ability to withstand tough impacts) are also very important.
Last, but not least, I always look for ease of installation. Even if you have years of mechanical experience behind your back, you'll appreciate grills that take little time and effort to install.
Bull Bars for Protection and a Masculine Touch
Why would you even consider paying your hard-earned bucks for a Bull Bar for Jeep? For protection, of course! Compared to grilles, bull bars are much sturdier, more durable, and can take a beating. Plus, they're "in your face", which gives the Jeep an aggressive look that most of us tend to like. Also known as the "push bumpers", they'll be a reasonable investment if you do a lot of off-roading.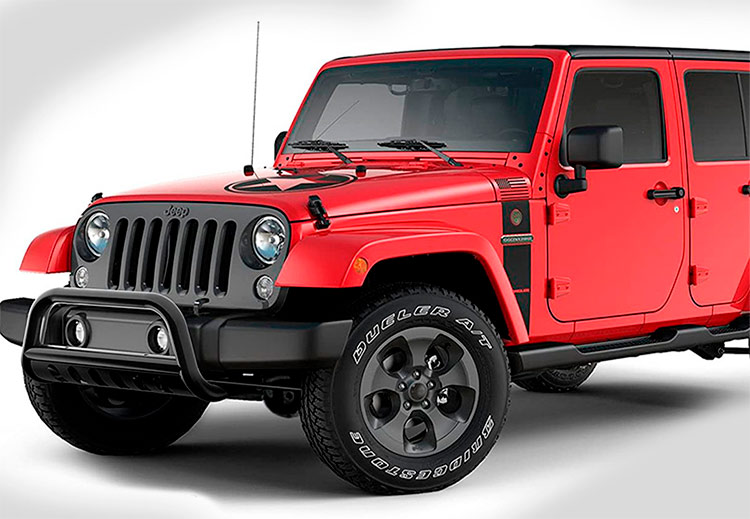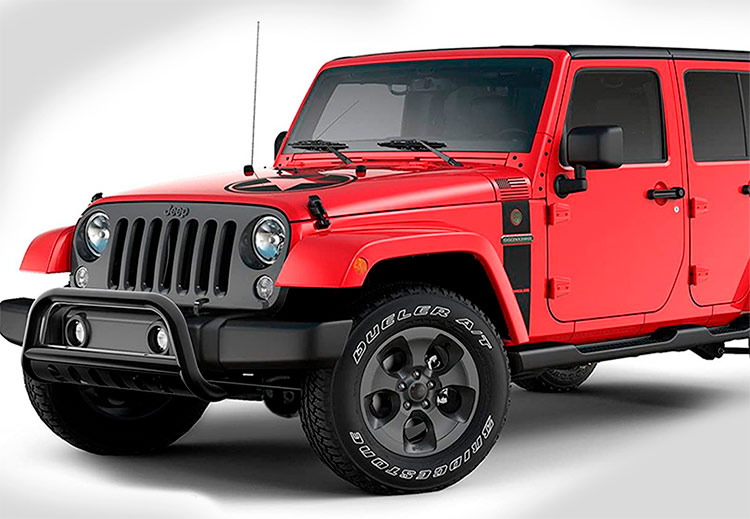 Rocky terrain, bushes, and tree branches can leave scratches on your Jeep or even damage it. With a bull bar, the front will be well-protected against these kinds of unforeseen situations. If you're looking for durability and longevity, go for seamless welding. That automatically means longevity and safety. And, just like with any other aftermarket part, make sure the bull bar has high-quality powder coating (against rust).
Extra protection for the fenders and the headlights would be nice, too. As for the design, it's mostly the same: push bumpers aren't nearly as diverse in terms of style as grills.
Grab an Extra Gas Can for Long Off-Road Journeys
Have you ever run out of gas in the wilderness, just when things started to get interesting? Been there, done that, and the best way to avoid that is to get an additional Off-Road Gas Can. No matter how full your tank is, best believe it's gonna get empty sooner or later. So, don't expect there to be a gas station in the middle of the woods and only rely on your own stuff.

A good gas canister should be lightweight, easy to carry around, feature a leak-free design, and never crack even when you drop it. The best ones are also pressure-tested and crafted from heavy-duty materials; plus, they include a spill-proof spout. And don't forget to purchase a proper Jeep Gas Can Holder for your new adventures. Just like the name suggests, can holders are specifically designed and crafted to carry gas containers in the back of your Jeep.
They won't cost you a pretty penny but will, most definitely, make it easier to transport extra gallons of gas.
Use Door Hangers when you switch to Tube Doors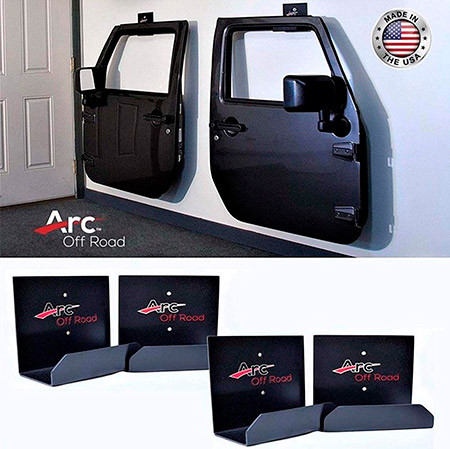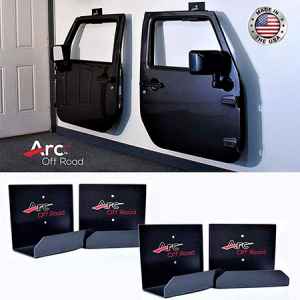 Don't you love the wind blowing in your face when driving into the sunset with a set of tube doors? Same here, but where do you put the factory doors? You can't just leave them somewhere outside, as Mother Nature will have her way (that's bad news for you). And by putting them somewhere in the garage, you may end up scratching or doing even more serious damage. That's where Jeep Door Hangers come in.
They take very little space on the walls and will actually serve as some sort of "décor" for, say, your garage. Mounting won't take more than ten minutes, and the lifespan of good-quality hangers is more than a decade. When the summer's over, and it's time to put the stock doors back onto your Jeep, the hangers will be able to accommodate the tube doors as well.
The most important aspect of door hangers is capacity. On average, 60 pounds is a good starting point, and you can work your way up to 100 pounds if need be.
Install a Soft Top for a Comfortable Ride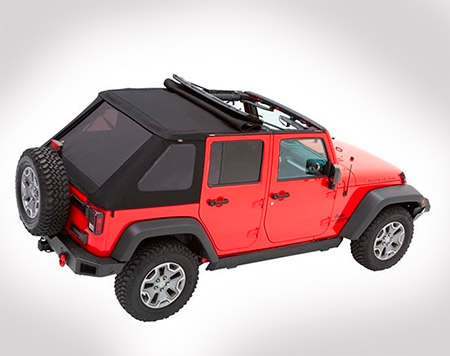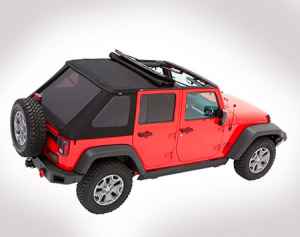 Some die-hard off-roading fans believe that soft tops are a waste of money, but that's far from the truth. With a soft top, you'll be protected from the rain, the snow, UV rays (the sun), and the wind. On top of that, soft tops give you flexibility instead of creating limitations. What I mean by that is it won't take you long to remove a top and go back to roofless driving.
The installation process will take five to ten minutes, depending on your skills. As for my Soft Top for Jeep Wrangler Recommendations, I always check the material quality. This should always be the #1 priority: the higher the material quality, the longer the top will serve you. Marine-grade fabric is considered to be the golden standard. Resistance to fading is also critical – that means the soft top won't lose its color over time.
One more thing: make sure the tinted windows are removable. That will provide an extended view while still covering the roof.
A set of Floor Mats for a clean Interior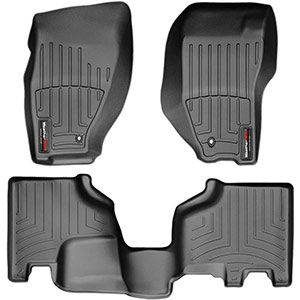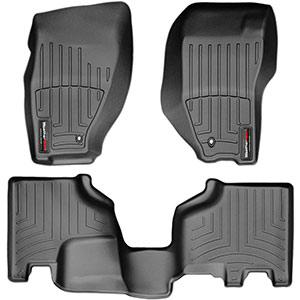 Jeep drivers that live in a desert area (somewhere in Arizona, for example), know very well that dust can ruin the interior in the blink of an eye. That's an even bigger problem for folks that have to deal with snow, mud, and slush. The best remedy for this is, of course, a nice set of floor mats. They are super easy to clean with a hose or even some rags. The first thing you gotta check is compatibility: do the mats that you like fit your Jeep, or not?
Secondly, will they cover the entire interior or only the front? Finally, check whether the mats are non-slip, or not. Trust me: you don't want a set of floor mats that can't to stay in one place and go back and forth all the time. As for the material, it should be thick, durable, and able to withstand temperature extremes. Most leading manufacturers use high-quality rubber for this: it's equally flexible and sturdy.
That's pretty much what the Best Floor Mats for Jeep Wrangler look like. Oh, and I almost forgot: the mats should be 100% odorless for a comfortable ride.
Hardtop Hoists for Roofless Driving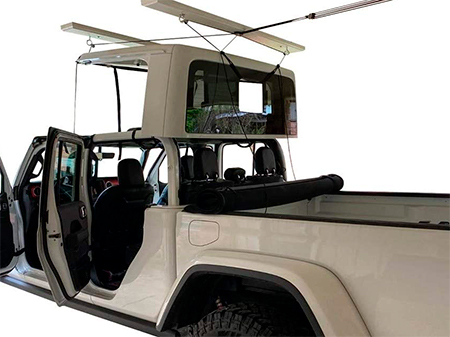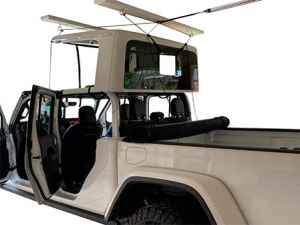 I mentioned the benefits of soft tops a bit earlier, but hardtops are just as good, if not better. However, while a soft top can be stored somewhere on its own, the same can't be said about hardtops. The reason – they're pretty big, heavy, and can get scratched easily. In my opinion, hoists do an excellent job of storing Jeep tops. First, you'll have to mount a good-quality hoist on the ceiling and then hang the top from it.
The Best Jeep Hardtop Hoist should include the anti-drop system. It prevents the hardtop from falling from the ceiling and causing accidents. And, also make sure the package comes with detailed instructions. While the installation process isn't that complicated, you'll still need to know what you're doing.
Get Some Lug Nuts to Keep Thieves at Bay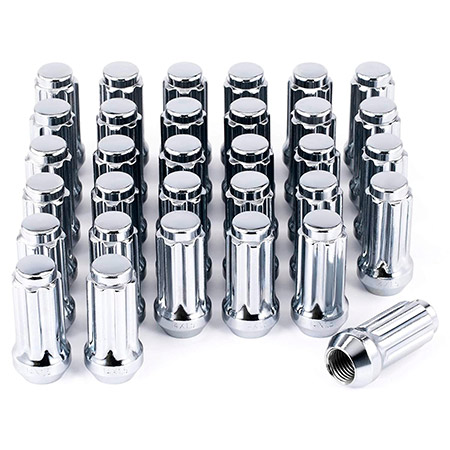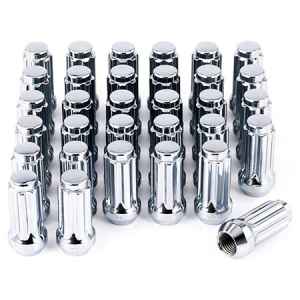 There's nothing worse than installing a sweet set of larger-than-life tires only to have some low-life thieves steal them. Sadly, if they've got the right tools, it won't take long to rob you of your precious wheels. Right now, the most reliable protection for tires is lug nuts. Now, normally, lug nuts are used for securing wheels to vehicles.
But, you should consider getting locking nuts that come with a unique key code for security. It's very hard to "crack" this code, which means your Jeep will be well-protected. That's especially true for keys with computer-designed patterns. Most Jeep Lug Nuts Recommendations tell you to go with hardened steel and triple chrome plating for anti-rust protection, and I totally agree with that.
Headlights for Lighting up the Night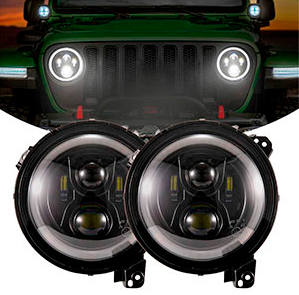 Last, but not least, let us talk about headlights. First of all, they make your Jeep look badass (like from an apocalyptic movie or something like that). Secondly (and this is more important), they light the way when it's dark outside, foggy, or when it's snowing. I've got a fancy set of headlights for jeep wrangler jk installed – they do an amazing job of keeping me safe on the roads during the night.
As long as the headlights have an extended lifespan (80K hours or more), come protected against moisture, and feature die-casting housing, they will be money well spent.
Conclusion
I can go on and on about the best aftermarket parts for your Jeep, but that will take us all day. Instead, I did my best to include only the most useful, affordable, and, of course, the coolest products available for the legendary Jeep. Bull bars, lights, grills – all these accessories carry excellent value and will be money well spent.
Plus, they can "pimp out' your Jeep! If you've got some of your own favorites, make sure to share that list with us all in the comments.