Hi, I'm Andy! Today in this article, I'm going to break down the differences between the mirrors. Whether you're looking for a kit for your doorless adventures or just looking for a major upgrade, it can be a bit difficult to find one that suits you because of the many options that are out there. Different styles offer different functions and some have certain advantages over others.
Well I've selected five mirror options that represent a specific type. The mirrors show you the differences in functionality, style, and how they can help you whether or not you have the doors on your Wrangler.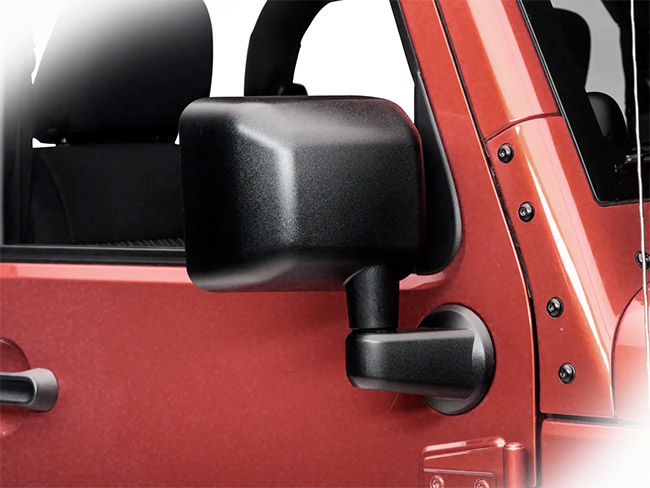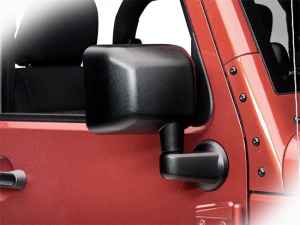 The first type of mirror we will look at is a factory replacement style mirror. This option is pretty self-explanatory considering that this is essentially the same design as your factory mirror and is one of the most common when it comes to swapping out your mirrors. This style will be great for Jeep owners who don't want to worry about taking their doors off and just want to replace a damaged or worn out factory mirror. This is also great for those Wrangler owners who already have an off-road mirror for their A-pillar or door hinge, but just want to freshen up the mirrors that are mounted on each of their doors. The mirror is the right OPR replacement mirror. Moreover, this mimics the factory mirror in the shape of the glass as well as the case and textured plastic surface and even how it attaches to the door. This particular option will apply to a non-powered mirror that will act as a real replacement for the previous generations. There are also replacement options available for Jeep owners who have the heated and electrically powered mirrors ex works. Again, this type of mirror is a great choice for Jeep owners who want to refresh their factory mirrors but want to stick with this factory design. If you're a fan of the factory replacement but want to take it to the next level, this next type of mirror comes into play.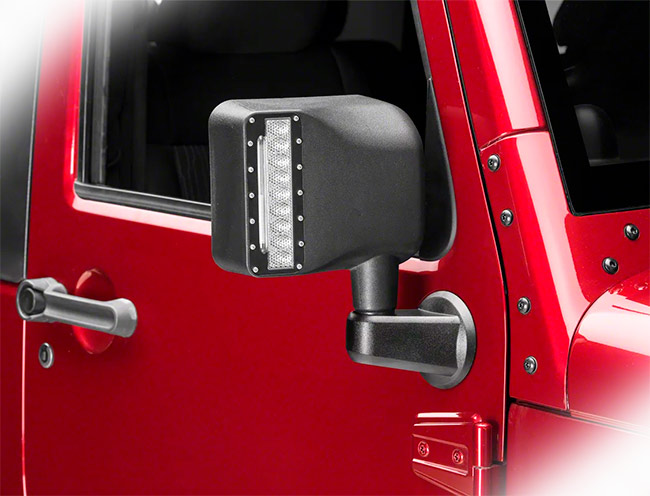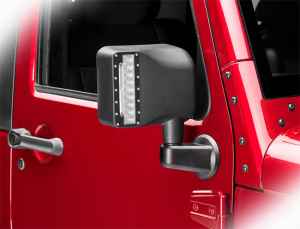 The second type of mirror, DV8 mirror, usually has the same overall configuration as your factory mirror with a similar body and mounting location, but the big difference is in the added features. Many options like this usually include lighting on the mirror housing itself or some additional bells and whistles like the integration of turn signal functions. This type of mirror is ideal for Jeep owners who want to replace their factory mirror housing when it is damaged or worn, but are looking for an upgrade and a more customized look for their Wrangler. This style is even ideal for Jeep owners who want to improve their visibility with this extra lighting for dark trail driving and even dark roads. This particular option is the DV8 off-road LED mirror housing with turn signal options. This mirror is just the housing replacement instead of a full mirror replacement, and integrates all of the factory-installed components. This DV8 mirror even works with the powerful and heated mirrors for the newer generation Wranglers. Similar options may differ in design and come with fully assembled mirrors with included wiring instead of just the case. Overall, this is a great choice for Jeep owners who want to stand out from the crowd with the doors on their Jeep.
However, if you take down your doors frequently, the next style may be more for you. The next type of mirror isn't necessarily a mirror, but it is a solution to relocating your factory mirror. This will attach to your A-pillar and instead of adding a new mirror, it will hold your factory mirror.
A displacement mount is a great choice for someone who doesn't want to worry about their mirrors and wants a no-fuss design when it comes to their Wrangler's visibility. This is even a great choice for Jeep owners who are just a fan of the factory style design and don't want an off-road style mirror. Such a kit usually includes a small A-pillar bracket that holds the top of your factory mirror and relocates the mirror from the door itself to the body of the door to complete the look.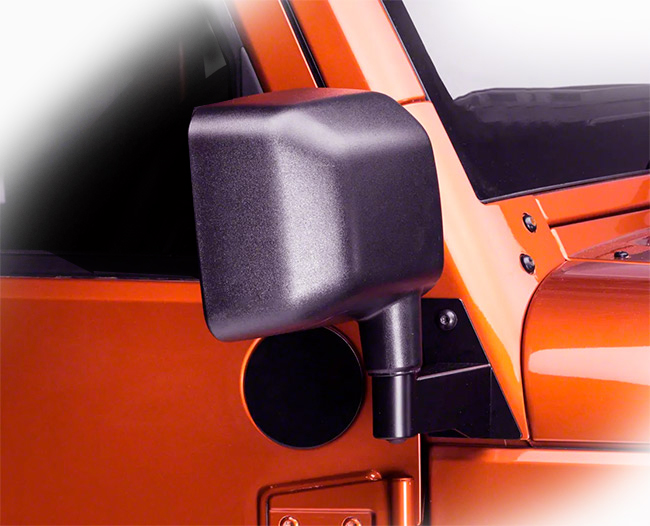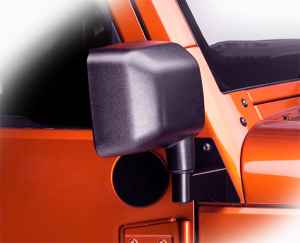 When it comes to the Barricade Textured Mirror Displacement Kit, this option comes with both the bracket and the filler plate for the door. What I particularly like about this option is the adjustability in the passenger side. Moving a mirror towards the A-pillar will move the mirror further forward, which can affect your view if not taken into account. This option from Barricade has multiple adjustment options on the passenger side so you can adjust these to any length you need for the best view. Not to mention this style is ideal for the Jeep owner who is constantly taking down their doors and looking for a solution that they don't have to think twice about. Street or half doors or even tubular doors. The only downside to this option is that it is usually not compatible with electrically powered or heated mirrors due to the built-in wiring harness. Unless you're looking for a more permanent solution like the last one we looked at, this next style will be a quick and easy design when your doors do pop off.
This mirror is known as a track mirror and is attached to a hinge. These are great choices for Jeep owners looking for an easy way to get extra visibility when removing the doors of their Jeep. This usually comes as a full mirror, either round or rectangular as desired, and mounts into the top hinge that the door is usually attached to. This puts the mirror within easy reach of the driver and passenger for easy adjustability and gives you a good view while on the trail or just driving around. The only downside is if your doors are off and those are mounted, you cannot mount a half door or a tubular door. The mirror is more intended for Jeep owners who are happy driving around without doors and just want something that is easy and hassle-free to assemble. That particular choice is the rectangular, textured black adventurer mirrors from Barricade. These will fit Wranglers year-round, and the textured black finish compliments any other accessories they already have on your Jeep. They will be big enough to give you the visibility you need even above the stock mirrors. It also lets it fall directly into the hinge and is secured with a washer and nut.
All you need are a few basic hand tools to tighten them up. Since these are very easy to install on your Wrangler, they can also be very easily removed and stowed away the next time you need them. If you like the last two mirror options but are a fan of both, then this next style is for you.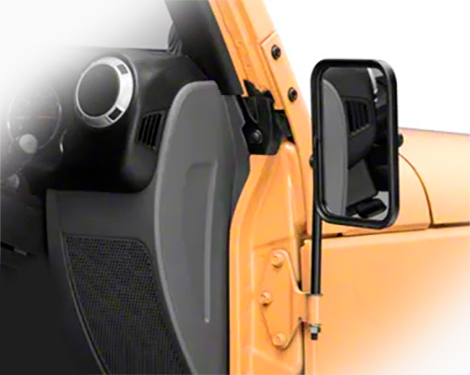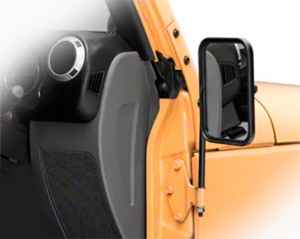 Another mirror is mounted on the A-pillar with a small bracket and has a quick-release system for installing and removing the mirror. When you don't need the mirrors, the flat bracket sits on the A-pillar and is pretty inconspicuous, but if you remove the doors you can attach the mirror to this bracket. This makes it easier than the last option as you don't have a tool on hand to get the job done. Most options like this have a button or other system that holds the mirror in place. What I really like about this system is that it doesn't get in the way of the door hinge, doesn't move your factory mirror, and makes your mirrors extremely easy to use and operate.
That way, you can keep your factory mirror on your door and not have to worry about swapping it out for a relocation bracket or having a wrench on your mirror when you take your door off. It's great for Jeep owners who want to keep that hinge open and don't want a more permanent solution like offsetting the factory mirror. Now you don't have to worry about wiring harnesses either when you have heated and electrically adjustable mirrors. Such a system essentially gives you the best of both worlds when it comes to staying legal on the road and getting the visibility you need on the trail.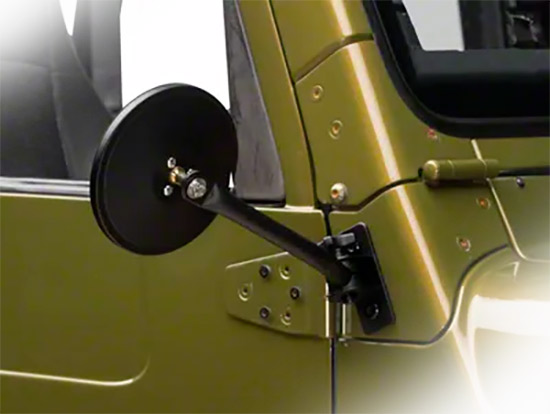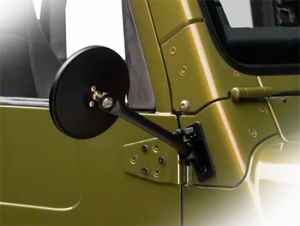 Another option is the Rugged Ridge Quick Release Mirrors for Jeep. These come with a very flat bracket that mounts up to the A-pillar, and the mirror itself is also small but is wide enough to give you a good view. On the back there is a ball joint attachment that allows full adjustment and the best view. Most options similar to this Rugged Ridge system also have this feature. These are, in my opinion, a very elegant option and a functional choice for Jeep owners who want a straightforward design. Again, choosing different mods for your Wrangler, even the small ones like mirrors, can be difficult due to all of the different styles and options that are out there.
Well, hopefully this breakdown is a little easier to narrow down your choices and pick which type of mirror is right for you and your Wrangler. So that'll wrap it up for this article. You can always find more products and useful articles like this here on my blog.