It does not matter the season, it seems that Jeep Wrangler is that universal vehicle that can take you safely through any weather or terrain. While the assumption is clearly a true one, it feels like there is that special bond between Jeeps and joyful summertime.
Observing those picturesque sceneries, conquering the new trails, all that is impossible without a well-equipped truck at your disposal. The fact is that Jeep accessories providers have spotted the relation and have provided lots and lots of summer accessories for an average driver to pick from. It is true that some of them are more than useful, while others can turn out to be a waste. Today we are going to review those Summer Accessories For Jeep Wrangler that are an absolute must-haves for an active driver.
Soft Top
When the summer is right around the corner, it is never a waste to start upgrading your Jeep with a new soft top, in case you have none. It is not that a hardtop is not good enough, it is that soft top offers you a lot more possibilities when it comes to summer months. Whether it is a Soft Top for Jeep Wrangler Unlimited or a Soft Top for Jeep TJ there are plenty of practical and affordable aftermarket options available on the market these days.
The soft top is not only a lot more practical when the sun is about to melt down everything around, but it is also very easy to equip as well as to dismantle. Besides, when you take the soft top off, all you need is just a bit of spare room in the trunk to keep it hidden.
Some Jeeps come with factory soft tops. However, these are usually not designed to withstand those rugged conditions that any quality aftermarket soft top will deal with effectively. Not to mention the fact that factory soft tops are twice as difficult to take off.
Bikini Top
As you may already know, a soft top can also be easily taken off when your primary intentions are to enjoy the ride and the view to the fullest. However, once you take the soft top off, there is nothing to protect you from the heat, and that is a huge disadvantage. That is why there are so many providers offering something called a Jeep Bikini Top.
A quality bikini top is designed to protect both the driver as well as the passengers from the harmful UV rays while it does not block the view. Besides, the number of bikini tops available on the market is more than rick. So, you can choose the bikini top that not only protects you from the sun but also adds up to the general outlook of your vehicle.
Lastly, bikini tops are super easy to install as well as to uninstall not to mention the fact that they are so small that they won't take up a lot of your storage, sometimes the feature matters much.
Half Doors
Among all the other removable parts of the Jeep Wrangler, we can't but point the doors out. Some drivers prefer to take the doors off completely when the summer comes. While we have nothing against that, it should be added that if you are concerned about passenger safety on the road, then you should consider getting yourself half doors.
Just as the name has it, half doors are something in-between no doors at all and regular doors. Their primary intention is to ensure the safety of those inside the vehicle on the trail. However, at times the half doors can even improve the visibility on the trail. What is more, such half doors as Jeep Tube Doors will surely enhance the aggressive appearance of your Jeep.
If you worry about the installation process, in the majority of cases, the half doors are super easy to install, and they are also very lightweight. If your journey is going to involve some puddle cruising or river crossing, then you need to pay attention to solid half doors, which are also available on the market in a great variety.
Cab Cover
Very often, we worry about our own safety and well-being in the first place and leave the vehicle's safety out. That is clearly a wrong approach since, in case anything happens to the truck, the chances that you are going to be stuck with it for a while are considerable. Imagine that you are camping and you have just a bikini top on, what is the storm comes? The possibility of having your Jeep soaking in the rain is not a pleasant one, that is why it is essential that you consider a Jeep Cab Cover that Holds Water.
Such covers are extremely useful, and they are not that pricey so that anyone can afford them. With a cab cover on, your Jeep is well-protected, and there is not a chance that some water is going to get in. It needs to be added that such a cover can be useful when the truck is parked since it will safe your vehicle from overheating.
Keep it in mind that the cab cover can't be used when you are driving in no case.
Quick Release Mirrors
When you decide to take the doors off for summer, to replace them with half doors, it is crucial that you realize that you are left with no side mirrors. Most half doors come without a side mirror, and that means that you are going to need to purchase them separately.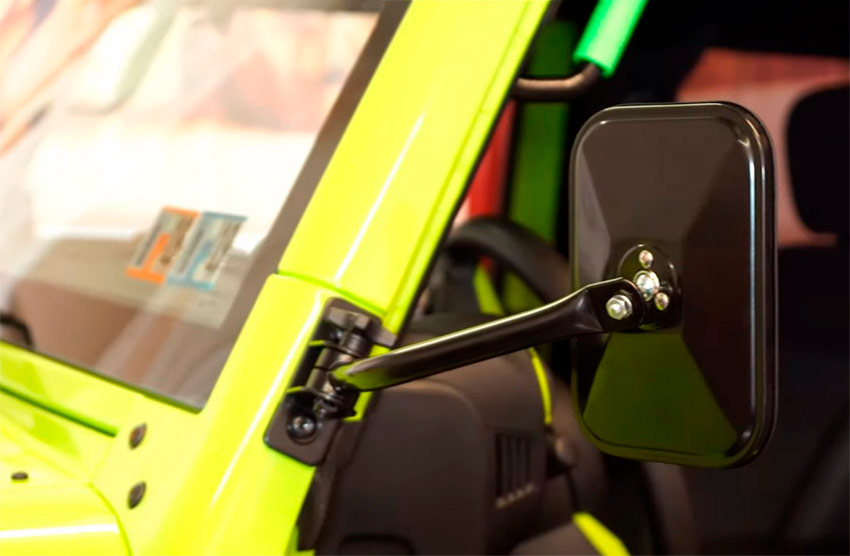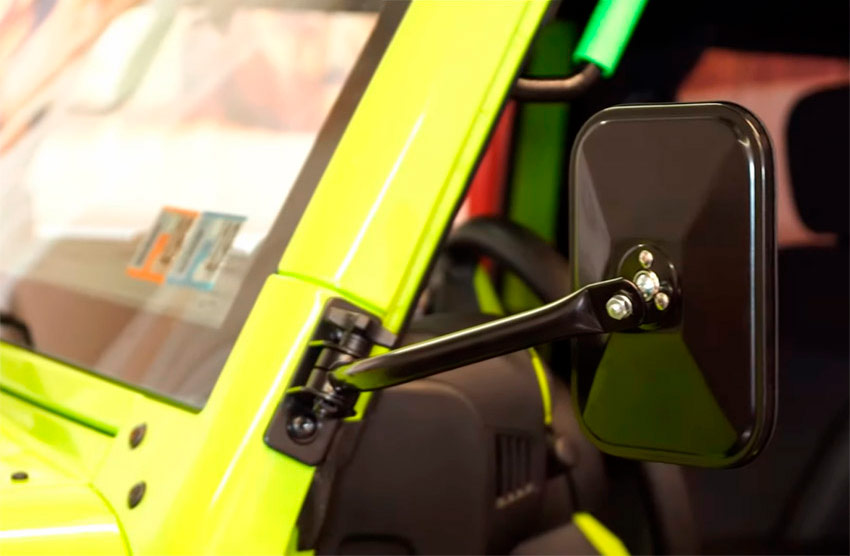 The beauty of all the Quick Release Mirrors for Jeep Wrangler lies in the fact that they can easily be installed since there are special brackets on the windshield frame. You can remove those just as easily when you decide to put your regular doors back on.
Some drivers say that side mirrors are not worth investing into, but we beg to differ. The truth is that there are many unexpected situations when you are on an off-road track, and it is best if you see everything around you clearly.
Led Lights
When it is summer outside, it is only natural to assume that there is going to be enough light to take you anywhere. However, you should not forget that you may also need to travel at night, and the off-road trails can turn out to be pretty tricky at night. Thus, you need to use as much light as you can afford.
Luckily, Jeep is one of those vehicles that can be infinitely modified so that whether you are thinking about the Jeep Wrangler Led Tail Lights Replacement, or you are looking for the Best Light Bar for Jeep Wrangler, you can easily have both as long as you can afford them. Besides, these days many Led Headlights for Jeep Wrangler are not only potent but also customizable, so that you can kill two birds with one stone.
Taillights, headlights, and light bars are only a few options of all possible LED enhancements of the Jeep. If you think that rock lights are necessary, you can add them to your summer accessory list too. Some drivers say that there is little use of those LED upgrades when you are in the highway, but we think differently. Even though you may not be allowed to turn them on, they still add that rugged and aggressive vibe to your Jeep, and that is certainly a benefit to consider.
Seat Covers
Let's not forget about such essential summer Jeep accessory as seat covers. It is true that many Jeep owners leave the accessory out, and they regret it almost immediately. The fact is that when you are on the off-road, and you take the hard top off, some dirt, mud, or sand is going to get into the vehicle. That can only mean one thing – the seats are going to get some. If you have not tried to clean your Jeep seats – then you are a lucky driver.
To ensure that there is no damage coming to your factory seats, you can always invest into Best Seat Covers for Jeep JK. Not only the seat covers are a lot easy to clean they also come in a wide variety of styles and options so that even if you are looking for Jeep TJ Seat Covers Replacement, you will always find more than one option available.
Tailgate Table
It is hard to say that Jeep Wrangler is a vehicle that lacks space. However, when you are on an adventure, it seems that a little extra of space would be appreciated. That is when a Tailgate Table for Jeep comes in more than handy. Not only the accessory does not take up a lot of space, but it also offers some, and that is a huge advantage when you are out there camping or having a picnic in the wilderness.
Camping Gear
You do not need to be a devoted camper to own a Jeep as well as you do not need a Jeep to go camping. However, in the majority of cases, people tend to combine the two. In case it is your first summer you plan to go camping on your Jeep Wrangles, it is essential that you know the type of gear you are going to need apart from the basics.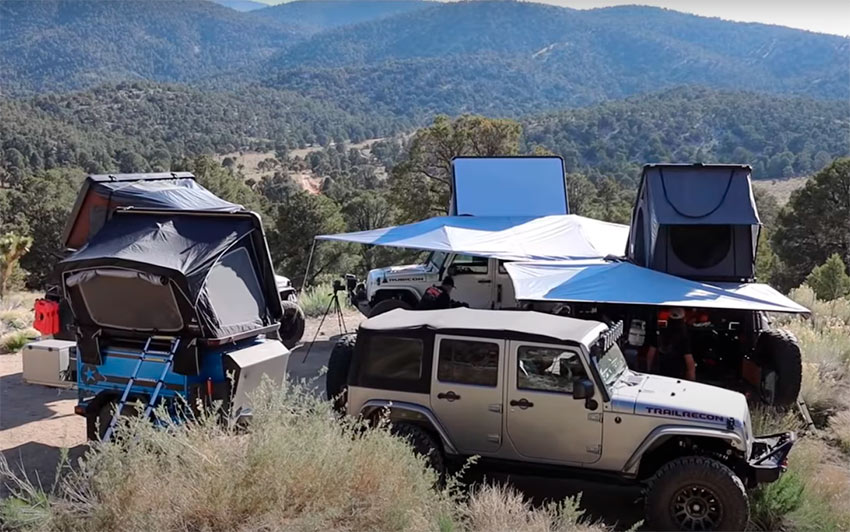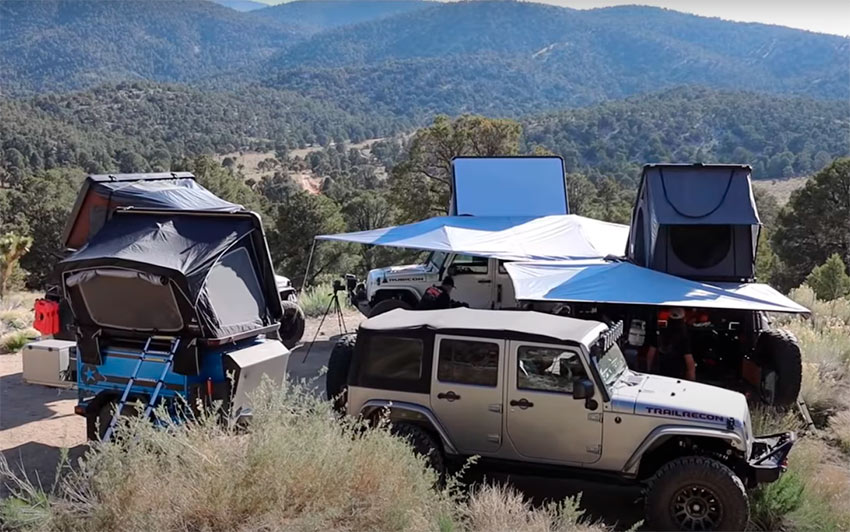 Awning – it is easier than easy to underestimate the importance of the item. Just imagine being stuck in the summer somewhere where there is not a sight of shade? How frustrating would that be? With an awning in your trunk, you won't need to worry about anything of the kind. You can set the awning almost anywhere and create your own shade. Just like magic!
Roof racks – a devoted camper knows how much gear there may be needed to pack into the trunk. However, if you are willing to save up some trunk storage, you can invest into Quality Roof Racks for Jeep, which will deal with all the camping gear quite effectively.
Portable fridge – it is hard to say that it is a mandatory investment, but there is rarely anything better than the ability to enjoy a sip of an ice-cold beverage after a long day on the trail. However, you need to be careful with the fridge so that it does not drain your Jeep battery so that you are left somewhere in the middle of nowhere.
Hardtop Hoist
We have already mentioned it that a soft top is super to install on your own. However, the hard top is not that simple to take off, especially if you are planning on doing it alone. In times like this, a hardtop hoist is merely an irreplaceable item to consider. With the Best Jeep Hardtop Hoist installed in your garage, you will be able to remove the hard top in a matter of minutes and with the least of efforts involved.
To sum all up, it is safe to say that there are many great summer accessories designed particularly for the Jeep Wrangler. While some of them are a lot more useful than others, it is a matter of preferences as to what to purchase. What we did was bringing up the absolute must-haves to your attention. If you think about it, it is hard to imagine a proper off-road adventure without the breeze rustling in your hair, and that is close to impossible if you do not have a soft top or a bikini top at your disposal. The same comes to the seat covers, hardtop hoist, camping gear, and all the rest. At first, it may seem like a considerable investment, but purchasing one item at a time won't blow a hole in your pocket while you will be all-set when the summer comes, that is for sure!
Door Hangers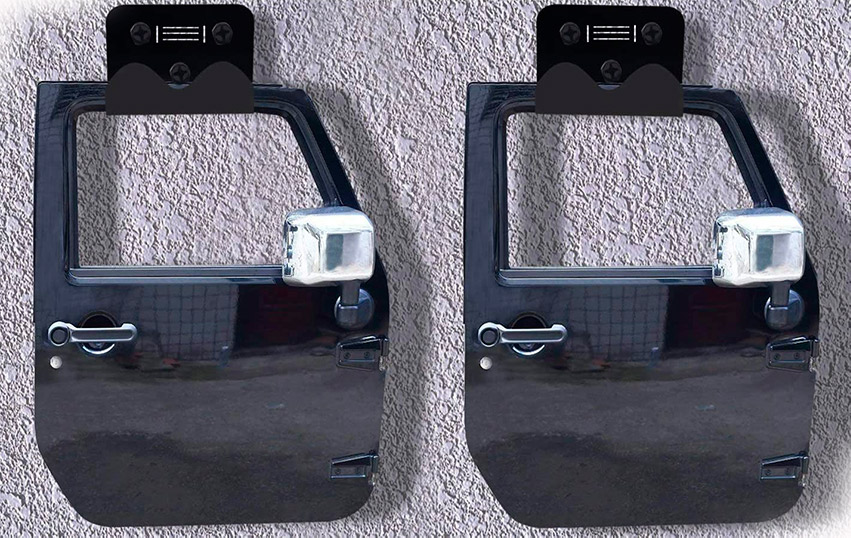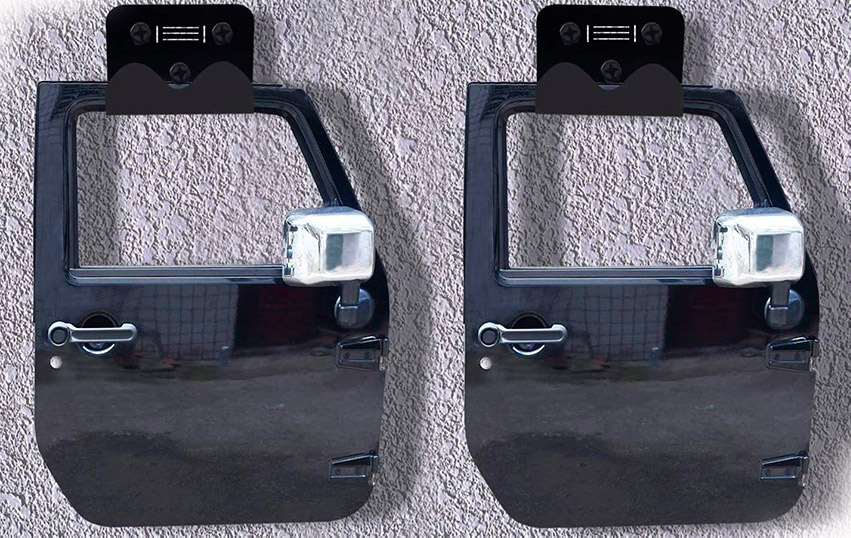 When the summer hits, the idea to take the top will certainly strike you. As long as you have a good bikini top at your side, you may think that it is all that you need. Wait for until you see others driving with their doors off. Fancy? I bet!
In the majority of cases, it is a minor issue to get a set of new tube doors. More issues arise when it comes to storing your stock doors. That is when Door Hangers for Jeep come in merely irreplaceable. Not only are they affordable, they will help you save a lot of room in your garage, and they will also help you keep your stock doors undamaged while hanging safely on the wall.