I bet spring is your favorite time of the year. Just imagine: it's warm outside, the days are longer, and you can't wait to ride into the sunset. When the hardtops and doors are removed, conquering off-road terrain is that much more exciting. The so-called topless season starts when the slush goes away and the grass starts to grow. However, before embarking on a new journey, I always check my Jeep to make sure it's in optimal condition.
All that winter driving doesn't go away unnoticed, and the first thing I do is grab the hose and clean my Jeep till it's bright and shiny again. But that isn't even the half of it. To get your Jeep ready for action, you'll need to do a lot more than just wash it. First of all, where are you going to store the hard/soft top? How are you going to cover the seats from UV rays, rain, and other weather conditions?
Do you have a set of tube doors to fill the open door areas? What floor mats are you going to install to protect the carpet floor from contamination? Yes, the list goes on; so, let's join forces, and see what we can (and should) do to get our Jeeps in proper shape for the topless season!
Storing the Hard/Soft Top and the Doors
Obviously, you can't just put your top and doors anywhere you want. They need special care, a place that's safe and protected from rain, dust, and everything else in between. You could, of course, leave them somewhere in the shed or out in the open, but I can't guarantee that you won't find the doors rusted (or worse) after the spring season. For the hardtop, I recommend using a hoist, especially if you don't have a buddy to help you remove it.
Just hook it in your garage and lift the top – that's pretty much it. That way, the hardtop will be well-protected and won't take precious space in the garage. And when it's winter again, you can lower the hoist and mount the top back. The Best Jeep Hardtop Hoist will include installation instructions, an anti-drop system (protection against accidental releases), and a generous warranty. Carriers and carts are also an option, but, in my opinion, they aren't as effective.
As for the soft tops, they are much easier to take care of. Storage bags – that's all you'll need to keep your soft top safe during the topless season. They are relatively cheap, easy to use, and practical. For the doors, most drivers use wall mounts. They're not very reliable, though, and there might not be the right kind of wall in your garage.
First of all, most walls are made of drywall, which doesn't go well with drilling. Secondly, a full set of doors (four in total) will take a lot of space in a room. So, consider using carts. They haven't been around for a while, but the affordable prices and raving reviews make them a safe bet.
Tube Doors – What Are They All About?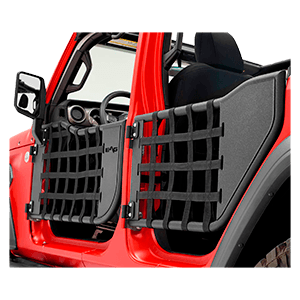 With the doors off, driving around in your Jeep is all kinds of fun. However, you'll need to think about protection. Besides, in most US states, it's against the law to operate a vehicle without doors. So, what can you do in this situation? The answer – tube doors. They are the golden middle between driving with the stock doors and not having anything at all in the door frame.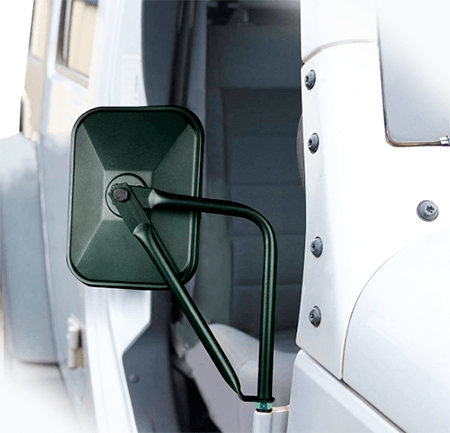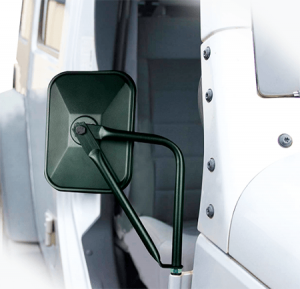 Tube doors do an excellent job of safeguarding the driver and the passengers from water, mud, slush, and debris. The Best Jeep Tube Doors are very easy to install (thanks to the latch-on design) and look super cool. Plus, the most advanced sets come with canvas bags that can hold all kinds of stuff like tools and hardware. On top of that, these doors usually feature side mirrors. They're pretty basic, though.
Speaking of mirrors, you might want to consider quick-release mirrors. Compared to regular ones, they are much easier to install and provide an extended view, which is very important when navigating through rough terrain. Anti-rust protection, flexibility/adjustability, durability, and a generous warranty are some of the things that set the Best Quick Release Mirrors for Jeep Wrangler aside from the less worthy picks.
Floor Mats Come Next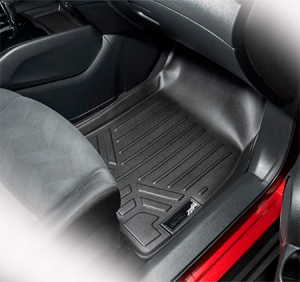 Just imagine how much "abuse" the carpet floor has to take during the topless season. True, the Jeep floors are quite good and easily handle some water after a rainy day. However, they're not at all protected against mud, sand, slush, and debris. For that, you'll need high-quality floor mats (AKA liners). They are available at a reasonable price and will make sure to keep your carpet nice and dry.
The Best Floor Liners for Jeep fit a Jeep's carpet perfectly thanks to the 3D scanning technology. And, they trap all the liquids, keep the mud at bay, and add a trendy touch to the interior. Floor mats are not hard to clean: all you'll need is a hose. You can even use some water and soap – thermoplastic and rubber are great that way. Some manufacturers offer liners that cover the front, the back, and even the cargo area.
Don't Forget to Protect the Seats!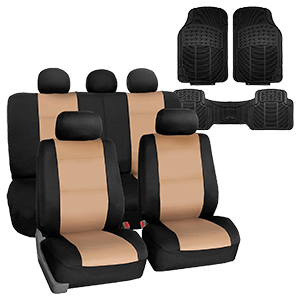 Similar to the Jeep's floor, the seats are also in need of protection. UV rays, spilled coffee, soda, your favorite cat's hair…you get the idea. And when the top is off and the doors are gone, all those "threats" get much bigger. So, yes, seat covers are a must, and you've got several materials to pick from. Those include polycotton, nylon, and leatherette. The latter is my favorite, as it's got a premium look and ensures a comfortable ride.
When it's hot outside and you're driving without a top, seat covers are a life savior. Look for a set that won't be hard to remove and to clean. Seat Covers for Jeep aren't very expensive, by the way, meaning you can just purchase new ones whenever you want to. And don't forget that they can greatly improve the interior. There are numerous color combinations and designs.
Get the Best Cover for Your Jeep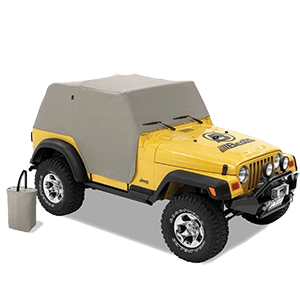 When your Jeep is parked outside, without a roof over its head, it will need the Best Jeep Cab Cover to protect it from rain, sand, and debris. Tree pollen, dust, and animals can also cause a lot of damage. Without proper protection, the vehicle will be overwhelmed by corrosion and the cabin will get dirty really fast. Yes, you can always put the soft top back on and zip it, but that's a lot of work, especially if you're off-roading regularly.
The best thing about Jeep cab covers – they take less than a minute to "install". Just throw them over the top of the Jeep and secure with the straps (they come as part of the package). In the morning, when you're ready to hit the road again, remove the cover, and you're all set!
Consider Installing a New Stereo System and a Radio
Driving in a topless Jeep can be a bit boring unless you've got the right kind of music playing in it. And you won't get good enough sound quality with the stock audio system. I'm not saying it's horrible, of course, but if you want that bass to hit you in the chest, an aftermarket speaker set is a must. There are dozens of options on the market – it can be a challenge to find the right one.
The Best Jeep Speakers are the ones that look good, don't cost a fortune, and are easy to install. Look for a set that is crisp and bright at high frequencies and decent at lows (the bass). The material quality is also important; plus, you should check the size before you commit to any speakers. The good news is big-time manufacturers follow industry standard and you won't have to worry much about compatibility.
If you're after the best sound quality, go with component speakers. Sadly, these won't be easy to install, and they'll cost a pretty penny. In contrast, while full-range speakers might not be as precise, they are much easier to mount and cost less. I also recommend investing in a decent radio. The Best Aftermarket Radio for Jeep will be fully compatible with your Smartphone and be able to play video from the Internet.
I'm talking about USB and Bluetooth support, of course. Add a sleek touchscreen, HD radio support, and touch-free phone calls, and you'll get yourself a bargain. Thanks to the tough competition on the market, even the most advanced third-party devices are quite affordable. In combination with a cool speaker set, a radio will make your off-road trips truly memorable.
Jeep Stock Door Hangers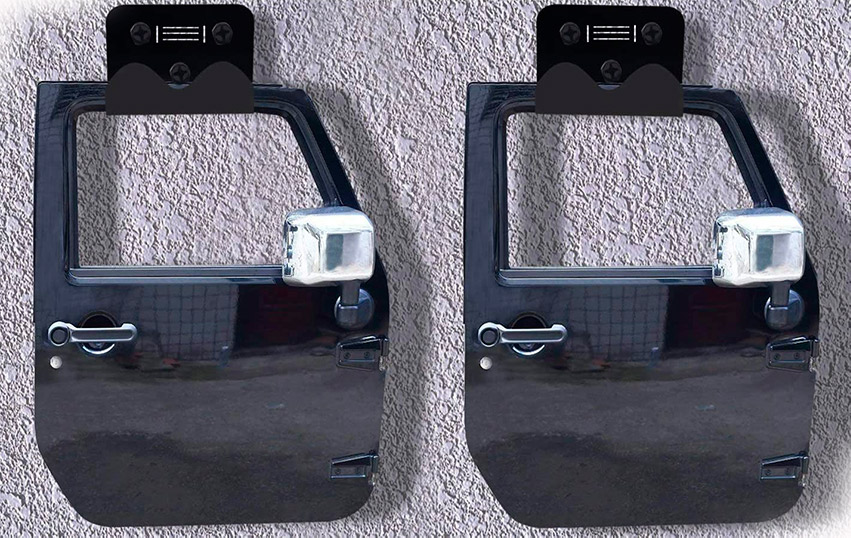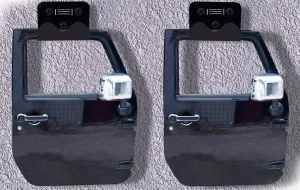 Unless you are not a devoted off-roading fan, it may seem alien to you as to why people take their perfectly fitting stock doors off. However, if you are an experienced traveler, you know how practical aftermarket tube doors are. After you successfully take the stock doors off, the question of where to store them arises. The fact is that at times you may be limited in space too, and that is precisely what the Best Jeep Door Hangers are designed for.
In their majority, the hangers are created to be easily and quickly mounted on the wall. Apart from that, some brands offer modified variations that will keep your stock doors in perfect condition no matter the time they are off. The price range for hangers varies, but mostly, it is an affordable investment that will pay off fast.
Extras
Last, but not least, always keep a set of polishers, cleaners, and protectants in your Jeep. These usually come for cheap and help keep your four-wheel monster is a good shape. Without proper protection against the sun (UV rays), rain, ice, snow, and mud, the fenders, tires, and the entire body will start to look old and rusty.
Conclusion
The topless season is all kinds of awesome, but only if you come prepared. As we learned today, without the right set of tube doors, floor mats, mirrors, and seat covers, you won't get to enjoy your off-road adventures fully. And let's not forget about a hoist for your hardtop and covers for the soft top and the doors. Lucky for us, all these accessories aren't very expensive and won't take a science degree to install/mount.
My advice to you: don't leave this to the last minute. Think about the stuff you'll need and purchase everything in advance. That way, you'll be ready-steady when winter fades and spring comes. That's what I've been doing for as long as I can remember! If you've got some questions, suggestions, or expert recommendations, don't be shy to share in the comments. Drive safely, enjoy the road, and take care of your Jeep!