Jeep is truly a multifunctional vehicle. You can take it on-road, you can take it off, apart from that you can go camping, exploring and even hunting with it. However, while it is a lot simpler to set your Jeep up when it comes to mere off-roading or camping, things get twice as hard when it comes to hunting. Just as fun and thrilling the activity is, so dangerous, it can turn out to be if you are not well prepared for it. Taking all the mentioned into consideration, I have decided to share with you a list of absolute must-have items in your truck when you are getting ready for the hunt, at least these are all the things I usually pack when I am about to get into the wilderness and set my primary instincts free.
First Aid Kit
I will start by stating the obvious – First Aid Kit. Even though you are supposed to have it with you in the truck anywhere you go, you should also consider the hunting conditions ahead. You can enlist all possible things to encounter and then pack your first-aid kit accordingly. Surely, you may never need it, but it is a lot better to have it on you anyway than to get injured with no means of helping yourself out.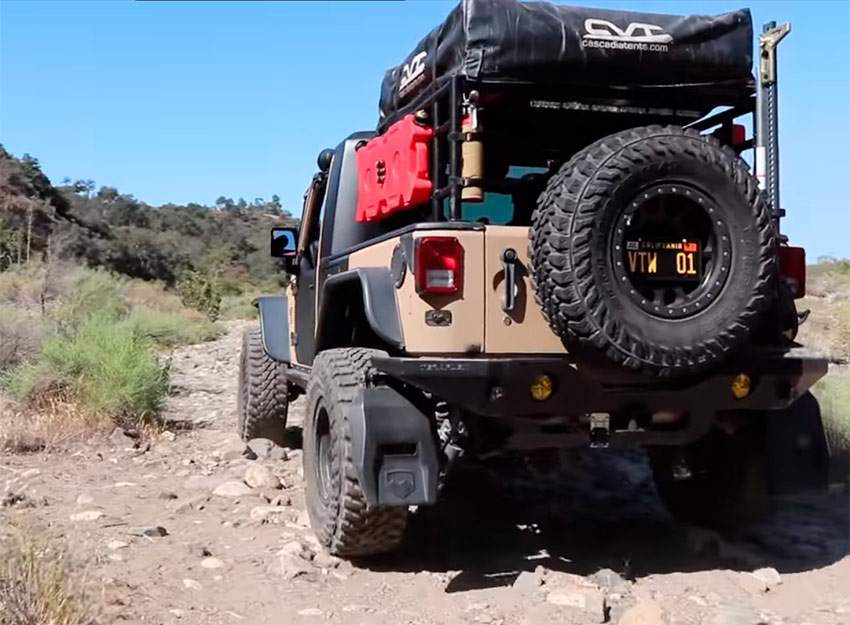 Floor Mats
Again, you may have already invested into quality floor mats a long time ago, but in case you haven't, I suggest you consider the purchase should you decide to go hunting. You may be hunting in all sorts of locations, some of which are quite muddy, and you do not want to bring all that dirt onto the vehicle interior. With quality Floor Mats, things get a lot simpler since all you need to do is to wash them. Besides, those mats will come in more than handy on a regular off- or on-road too.
Seat Covers
I know how fancy the factory seats are, but when you are about to go hunting, you need to consider the fact that you are going to stain them. It does not matter how careful and neat you are, in the end, you will come back with a fresh stain, which at times is not that easy to get rid of. That is why a nice set of quality seat covers is a must-have too. What is more, just like the floor mats, the item is more than universal, so that the chances are that you won't be willing to take those off.
Brush Guards
Protecting yourself on the road, especially when you are on a hunting trip, is essential. However, you should not forget that your Jeep requires additional protection too, when you are getting into the wilderness. That is why I say those brush guards are a nice and useful hunting investment to brood upon.
Basket
When you set out on the hinting adventure, you are definitely planning on bringing home a trophy with you. At times it is hard to predict how large the trophy will turn out to be, and it is best to assume the largest. In such a way, you will know how much room you need for it and how much it is going to weight. That is why getting and installing a basket is more than a great option. Besides, the Best Roof Rack for Jeep will never be of waste in your day-to-day life, that is for sure.
Overhead Gun Rack
No matter the type of hunt, you can't head out bare-handed. That means that you are going to need to bring your rifle or any other hunting firearms with you. While many choose to transport the weaponry in the trunk or the backseat, I offer you a worthy and safer alternative – overhead gun rack. Most of the Best Jeep JK Overhead Gun Racks are well-designed so that they are not only safe but also easy to install as well as to carry.
Light Bars
Very often, the hunting time begins when the night falls, which means that no matter how sharp your headlights are – they may not be enough. The solution to the problem is more than simple since all that you need is the Best Light Bar for Jeep Wrangler. These days the variety of lightbars that can be mounted safely on the roof if quite extensive, and most options are quite affordable. With an investment like that, you will no longer need to fear of the dark, and your hunting trip will be more than successful.
Snorkel
As for me, I do not limit my hunts to land only. The truth is that there is one quite handy accessory available on the market these days that allows Jeep to get into the door-deep water with no damage to the engine's exhaust. That magical item is called a hood snorkel. With the Best Snorkel for Jeep, you will become genuinely unstoppable, and what can feel any better?
Winch
Let's not forget about how tricky those off-roads, and wood trails can be, there is always a chance of getting stuck somewhere in the mud. Since something like that is, at times, unavoidable, all you can do is to ensure that you can pull yourself out of almost any situation. These days you can easily get the Best Winch For Jeep depending upon the load capacity that you are counting on. It is true that a winch is one of those items that may come in more than handy when you are camping or discovering new off-road trails as well so that it is pretty much a universal investment.
Front Bumper
Lastly, I would like to add that getting the Best Jeep Front Bumper is purely optional since you can do without it. However, if what you are aiming at is creating a pure hunting machine than a heavy-duty bumper is an upgrade to consider, there is no doubt about that.
To sum all up, I would like to say that I have brought up to your attention nothing but the basic and necessary upgrades for your Jeep should you choose to become a hunter. However, there is plenty of fish in the sea, and you can go as far with the mods as you see fit!